Ayad Alkadhi is a United States-based Iraqi artist who not infrequently reflects on divisions between East and West in his practice. Born in 1971 in Baghdad, Alkadhi spent his early years between the United Kingdom, the United Arab Emirates and his native country. He left his hometown in 1994, shortly after the conclusion of the first Gulf War when a coalition of allies, led by the US, fought the Iraqi army after it invaded Kuwait. He spent some time in Amman, Jordan and Auckland, New Zealand, but finally settled down in the USA where he received an MFA from New York University's ITP School of the Arts.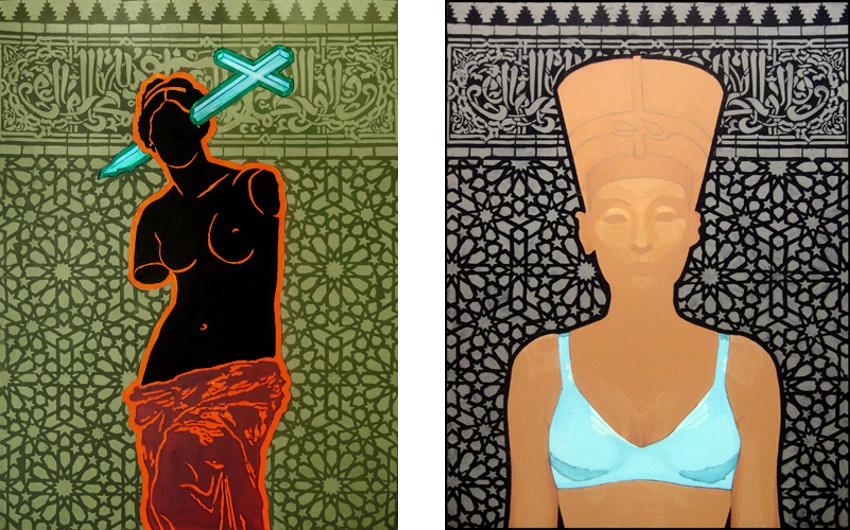 Alkadhi's earlier thick, carved calligraphic paintings celebrates Baghdad's rich cultural tradition, and also responds to the U.S.-led war in Iraq. He focuses on the human condition under extreme political and social circumstances. Using Arabic newspaper on mixed-media canvases, as well as the calligraphy, the artist critiques the 2003 U.S. invasion of his native country, alluding the tens of thousands of unreported Iraqi casualties, destroyed civilian infrastructure including hospitals, schools and educational institutions as well as civilians' private homes. One series of his paintings is influenced by Abu Ghraib torture and prisoner abuse.
Some of his most famous series of work include I am Baghdad (2008-2015) - tackling social and political matters facing present-day Iraq and the wider Middle East; Umbilical (2011-2012) – inspired by the Arab Spring; If Words Could Kill (2013- 2015) - inspired by the art of the calligram. I am Baghdad (Shie'i & Sunni) is one of the artist's latest series of works focusing on the topic of the Shei'a and Sunna sectarian conflict that has boiled to a crescendo after the 2003 invasion of Iraq.
I am Baghdad series tackles social and political matters facing present-day Iraq and the wider Middle East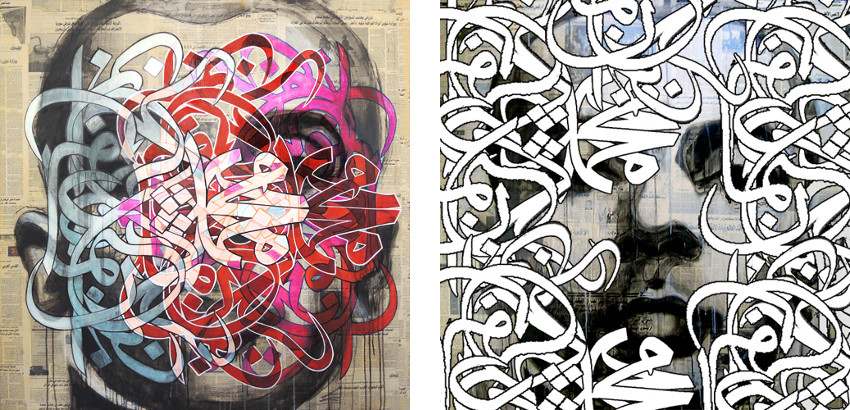 While his earlier mixed media pieces are characterized by graphic images and references to the political situation in his native country, his recent work is less political and more painterly. It is characterized by the looser calligraphy (Arabic graffiti) and abstracted figures.
He has participated in many individual and collective exhibitions throughout the world including the United States, the Middle East, New Zealand, Belgium and the UK, among others. He has exhibited at the Honolulu Museum of Art, Nasher Museum of Art, Herbert Johnson Museum, Nevada Museum of Art, Los Angeles Municipal Art Gallery and Queens Museum of Art, to name a few.
He is represented by Azart Gallery in New York.
Ayad Alkadhi lives and works in New York City.
Images copyright © the artist.