Paintings of Ayman Baalbaki, young Lebanese painter, burst with bold, overwhelming energy, Baalbaki was born during the Lebanese civil war in the 1970s and it is natural that he draws most of his inspiration from this issue. His impressive portraits of war fighters as well as his most famous image from 2011, called Let a Thousand Flowers Bloom made him one of the most praised and most popular Arab artists. In addition to his expressionist paintings, Baalbaki also creates various insightful installations.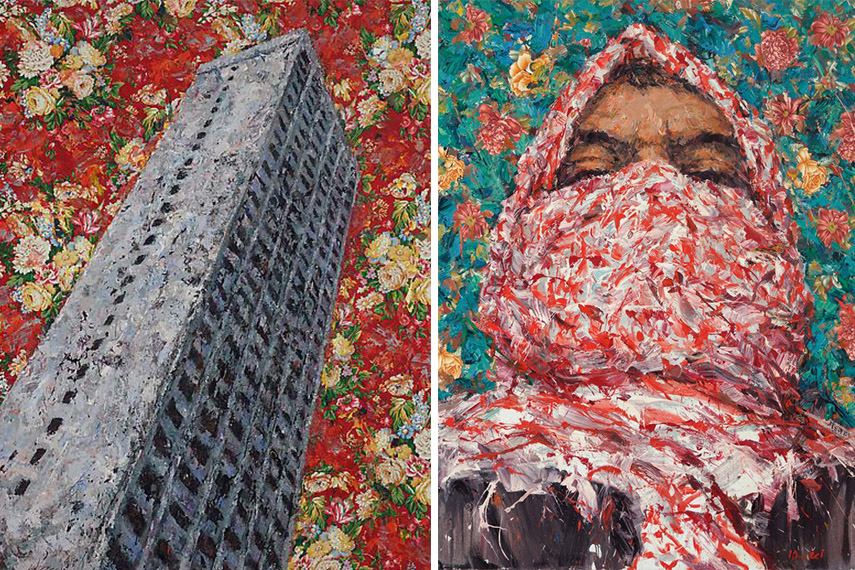 Paintings Depicting Conflicts in the Middle East
Baalbaki was born in Lebanon in the mid-70s and he studied Fine Arts in Beirut and at the Ecole Nationale Superieure des Arts Decoratifs in Paris. Since the Lebanese war has strongly influenced his childhood days, Baalbaki's paintings often represent destroyed buildings, occupied by refugees forced to leave their homeland. After the Lebanon war was over, Baalbaki has created a series of works representing scattered structures, which survived the bombing of Beirut's southern part. The artist's most popular pieces represent warriors wearing veils or casks and these anonymous portraits are symbols of the neverending, heated and tragic conflicts in the Middle East. Baalbaki's pieces portraying warriors have been exhibited around the world, including the Venice Biennale.
After the Lebanon war was over, Baalbaki has created paintings representing scattered structures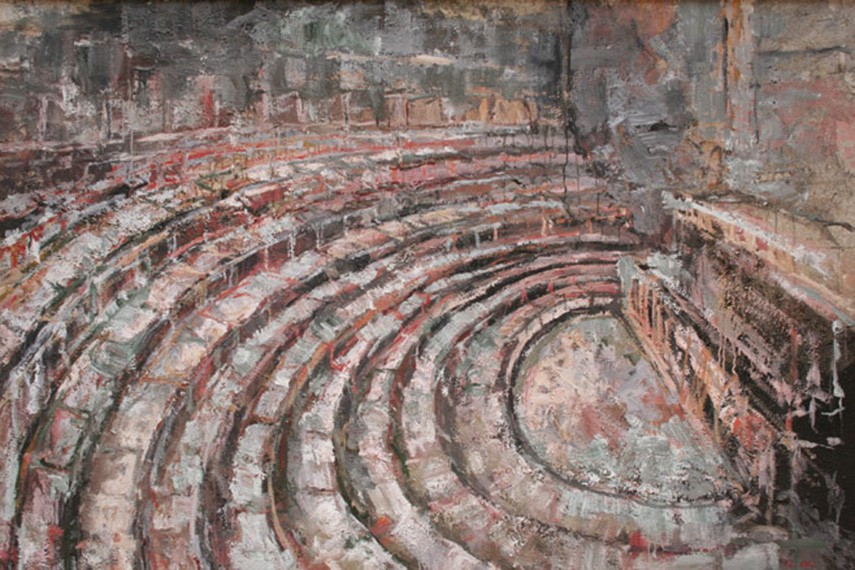 Installation Projects
Even though Ayman Baalbaki is better known as a painter, some of his installation works are quite successful. While he was still a student, in 2001, he created Les Frigos, which is a container with a luggage placed inside. This topic of nomadism and traveling is the recurrent motif in Baalbeki's work and it appears in his more recent pieces as well, such as Destination X from 2010. This piece was featured in Arabicity, an exhibition in Liverpool as well as at Beirut Exhibition Center. Destination X is an installation which represents an old red car loaded with a pile of baggage and suitcases, symbolizing the consequences of war.
Destination X symbolizes the consequences of Lebanese war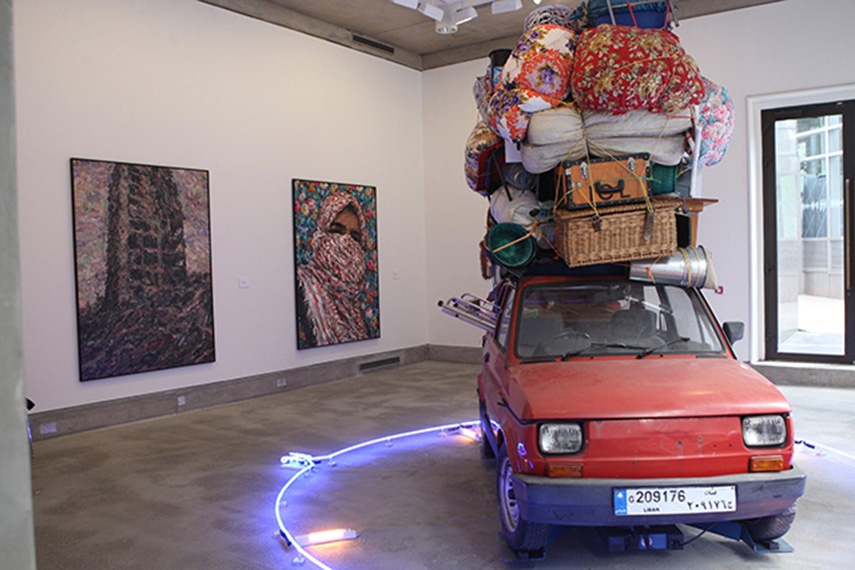 Awareness of Violence and Suffering
Baalbaki's art is powerful because it addresses the long-lasting crisis in the Middle East which is well-known around the world. His paintings and installations portray both individual and collective suffering and anxiety and they are able to stir strong emotions in the viewer. The paintings of young Lebanese artist are also very successful at various auctions – for example, in April 2011, his painting Let a Thousand Flowers Bloom was proposed and it has earned a staggering amount of USD 206,500, which is a great proof of the quality and popularity of Baalbaki's work.
Ayman Baalbaki lives and works in Beirut, Lebanon.
Featured image: Ayman Baalbaki's portrait – image via brownbook.me