Anthony Aziz and Samuel Cucher, also known as Aziz + Cucher duo, have been among the first visual artists to use Photoshop, which is nowadays the most common tool of every digital artist. Aziz and his Peruvian fellow artist Cucher have been working together since 1992 and they are regarded as pioneers of digital art and experimental artists in multiple fields, such as sculpture, animation and video installation. The central idea of Aziz and Cucher's work is the impact of technology and modern lifestyle on the human body and consciousness.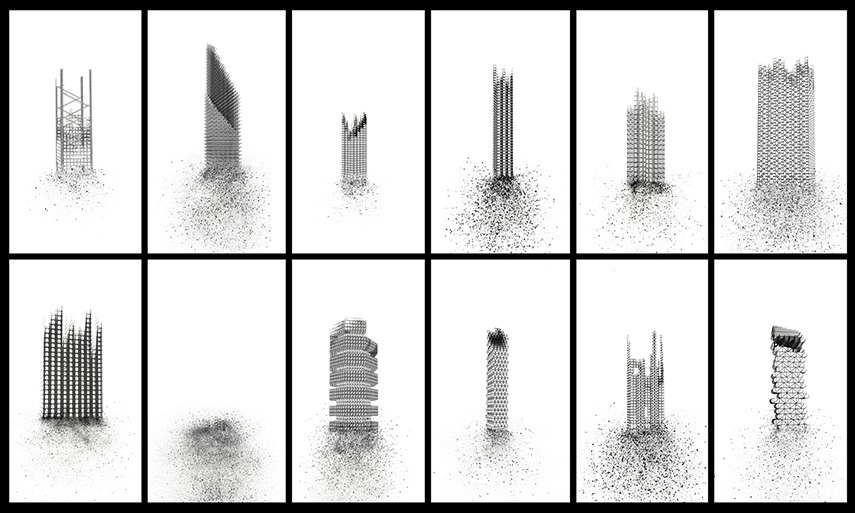 The New Media
Aziz and Cucher didn't know each other before they got enrolled in their MFA programs. Aziz got his BA at Boston College, while Cucher went to Tisch School of the Arts in New York City. They both got their MFAs from San Francisco Art Institute in 1990, two years before they officially started their collaboration. While still in school, Aziz and Cucher discovered they are both interested in the artistic potential of the new media such as digital imaging and video art. This shared curiosity set the ground for their future collaboration. In the 90s, the impact of computers, the internet and generally speaking the reign of digital was growing stronger and faster, which made Aziz + Cucher wonder what will happen to us, human beings, made of flesh and bones. What kind of modifications will our bodies and minds have to go through in order to adapt to the digital environment? Is the human perception going to significantly change so that it can catch up with all the technological advances around us? Aziz + Cucher tried to answer and perhaps pose even more questions in the following series - The Dystopia (1994 - 95), Interior (1999 - 02) and Synaptic Bliss (2003 - 07).
Lack of human contact, the central idea of The Dystopia series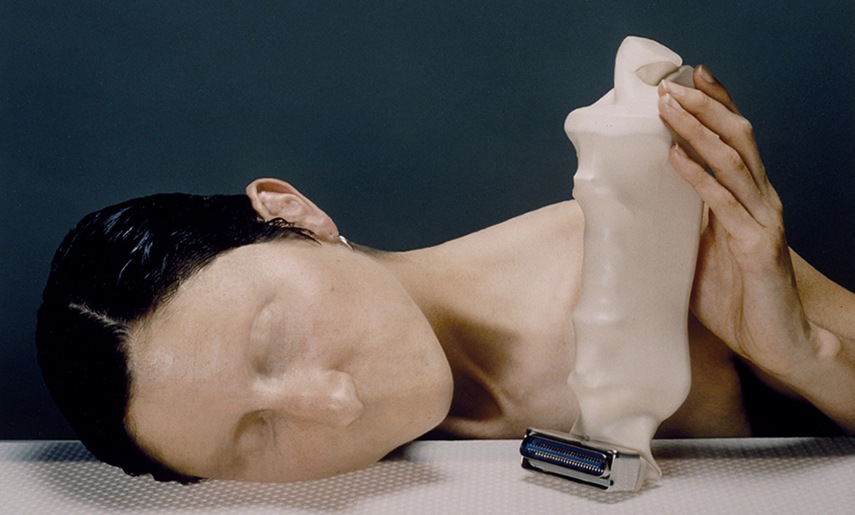 Body Dysmorphia Digitalized
There's a common motif when it comes to the above-mentioned series of Aziz and Cucher's work - the human skin. Our skin is both literally and figuratively a barrier between the world inside and outside of us. Aziz + Cucher are ingeniously using this idea in their series Dystopia, where the additional layer of skin is covering human orifices such as eyes or mouth, suggesting the possible lack of human contact and face-to-face conversations. Aziz + Cucher believe this may happen as a by-product of the technological progress. Their Interior series also conveys the idea of human skin, but this time in an architectural sense. Large digital images in pinkish tones of human flesh are representing walls and hallways made of human skin. This series is quite repulsive and again strongly dystopic, reducing a human body to skin omnipresent in the barren landscapes.
Synaptic Bliss series is made in a different medium – it is a 4-channel video installation, held for the first time at the festival Villette Numerique in Paris, in 2004. The main idea behind these video pieces revolves around raising our consciousness level with the progress of technology so that we can become more aware of our surroundings. During the video installation, the human body is gradually getting transformed into a landscape of intertwined colors and forms, suggesting that new channels of information transfer may appear inside our bodies in the future, which would transform our current level of consciousness.
Dystopia as a Popular Theme
Aziz + Cucher have won a lot of international attention with their works which are not only innovative and visually stunning (at times even frightening), but also because the topics they cover are something that applies to every human being living in this digital era of ours. Aziz + Cucher had more than 20 international shows and numberless group exhibitions. Only in 2008 they were present in various galleries throughout Europe, the Middle East, and the United States. Their latest show was held in 2015, at Herzliya Museum of Contemporary Art in Israel. Being unpredictable and experimental as they are, Aziz + Cucher are among the most interesting video artists of our time. We have yet to see if some of the dystopian ideas presented in their pieces might become true in near future.
The artists are represented by Gazelli Art House.
Aziz + Cucher live and work in Brooklyn, New York.
Featured image: Aziz + Cucher portrait
All images copyright © the artists