B-47 is an artist collective consisting of artists Dênis Rodrigues de Freitas aka DME and Tiago Ramos Gasques aka FRG. They both started with graffiti in the late 90's and since then, they have been collaborating on each other's work, as well working on their own individual projects.
In 2005, they formed the B-47 inspired by the name of the transit mass line that serves the region where they live in Santo André, São Paulo, Brazil. The collective proposal is to unite the individual styles of each artist to create a unique composition.
Santo André Cidade Grafitti
In 2015, B-47 participated in "Santo André Cidade Grafitti", an event that selected 27 artists from A.B.C and surroundings to paint one of the city's main streets.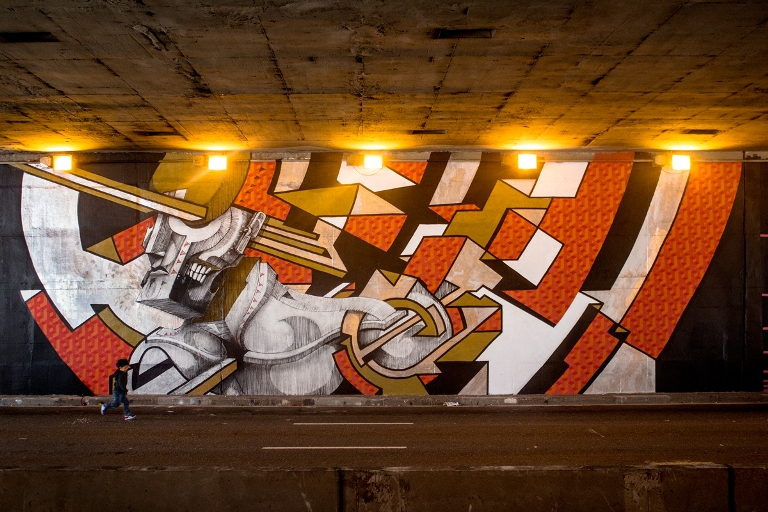 Urban art project at Avenida 23 de Maio
In 2014, B-47 painted a wall as a part of the Urban art project at Avenida 23 de Maio – one of the busiest avenue in São Paulo. Their piece can be seen below the viaduct Dona Paulina – City Center.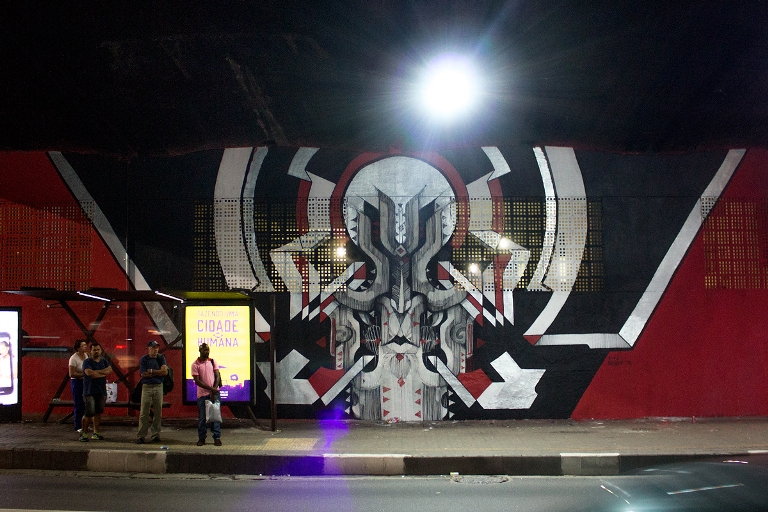 Ocean
"Ocean" is a title of B-47 mural done in the water tank of the Sabina Escola Park do Conhecimento along with friends and artists Daniel Melim and Odirlei Regazzo. The laterals painted on the water tower have 46 feet high by 23 feet extension.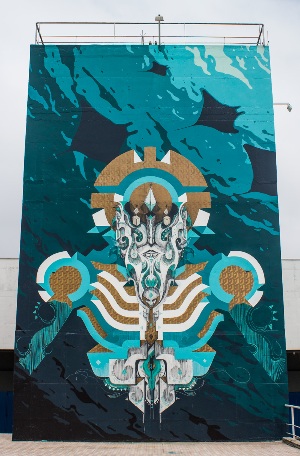 Pinacoteca Station
In 2013, B-47 painted a wall (20 x 5 meters) in the outer area of the Resistance Memorial in the Pinacoteca Station in São Paulo Center. Work was done in tribute to victims of the dictatorship in Brazil. The completion of the work coincided with the Virada Cultural, a famous festival in the capital, which in its 24 hours allowed the public to accompany the painting and check the techniques applied by the four participating artists (B-47, Daniel Melim and Ignore por Favor).

Mural 191
In 2012, The Mural 191 was painted by B-47 as a part of the project to revitalize the neighborhood Sítio Bom Jesus in the city of São Bernardo do Campo (São Paulo, Brazil). The project was an initiative of the Secretary of Housing in partnership with the guest artists. The goal of this project was to transform the wall of 191 meters long where the community was living in a large painting. Currently this site also received a playground, recreation area and a shopping mall.

Dênis Rodrigues de Freitas and Tiago Ramos Gasques live and work in Santo André, São Paulo, Brazil.