Dennis Brown aka Bagger43 is an American artist whose work featured in prominent publications such as Juxtapoz, CMYK and Giant Magazines.
Brown was born in the Philippines and he grew up in Japan at Kadena and Yokota Air Force Base as his father worked for the Air-force. Due to his father's job, Dennis moved around a lot and didn't live in the United States before 2001. He attended Ringling College of Art and Design where he graduated illustration in 2005.
Bagger43's Illustrations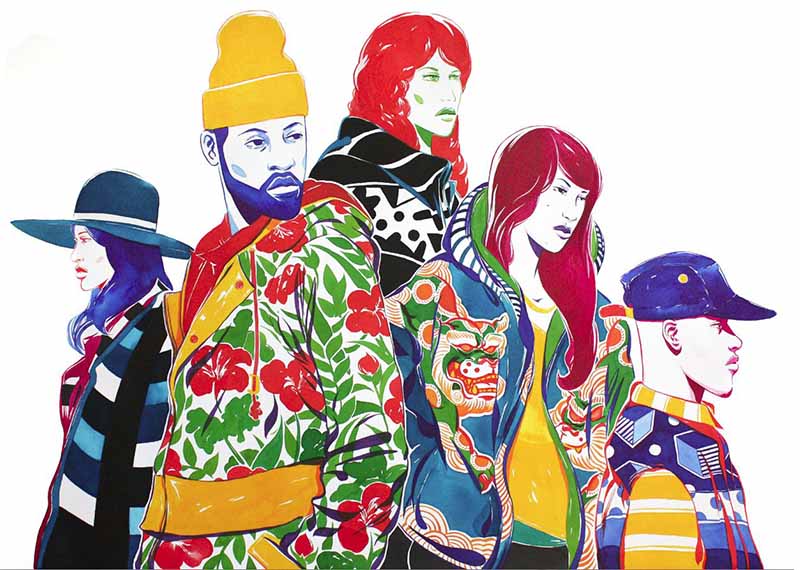 Brown's artistic name, Bagger43, comes from his high school years, when he worked at the grocery store. He was obliged to wear a uniform and bagger pins were part of it. Dennis' bagger pin was bagger 43, so he just went along with that nickname.
"I got that pin when I was seventeen and I still have it to this day."
Dennis Brown is a collector of different cultural objects such as figurines or posters that serve him as a source of reference, nostalgia, and inspiration for his artworks. Beside his collection, Brown is also inspired by his early life in Japan. Traditional Japanese culture has left a pretty deep trace in the aesthetics of this artist. Their pattern making or contrasted tonal composition and exquisite control over the brush, seen at Bagger43, actually belong to traditional Japanese calligraphy.
Bagger43's Ceramics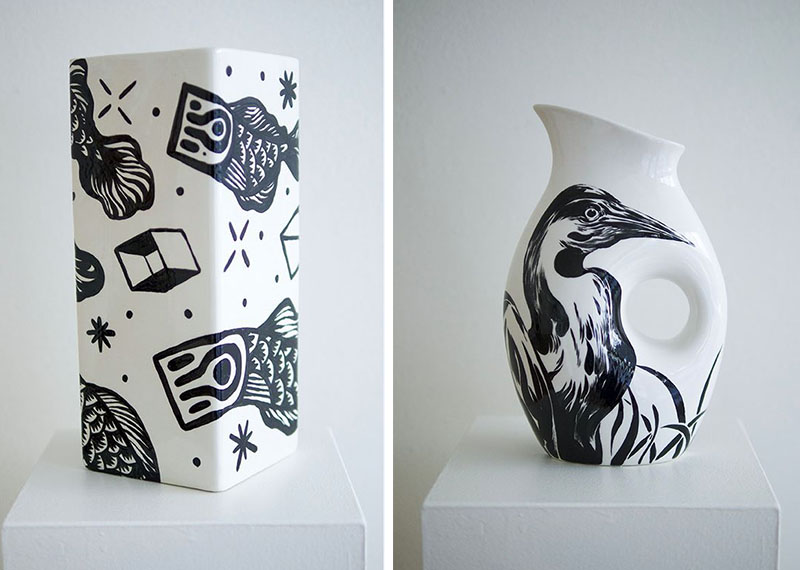 Bagger43 works in different types of mediums: acrylic, collage, silkscreen, laser cut, and most recently pen and ink. Beside paper works, this artist presents his hand-made ceramics, as well. His 2015 exhibition titled Innate Flux, held at Spoke Art gallery, showed Bagger's paper work in combination with painted and glazed ceramics, bringing some new motifs and mediums, but – at the same time – staying true to his expressive style as an artist.
Bagger43 collaborated with such brands as Ecko, Zynga, Razor Fish, and XXL Magazine.
Dennis Brown aka Bagger43 lives and works in San Francisco, Northern California.
Featured image: Bagger43 at Innate Flux exhibition, 2015
Images copyright © the artist