Taking on the name of the legendary white-tailed deer from Disney's workshop, Bambi is the pseudonym of a female contemporary British street artist who has been painting all over the streets of North London's suburb of Islington for years now. This stencil painter has acquired quite a reputation over the years, simultaneously down to her connection with the famed Banksy and the ability to speak her mind freely and uncompromisingly despite any potential consequences. Even though her true identity is still a mystery, Bambi has given us little information regarding her personal life - among other things, we know she took a long time to decide if she will pursue a career of a pop singer or street artist. Since we do not know who she exactly is, we can not be sure if Bambi has a good voice, but urban painting seems to have worked out just fine.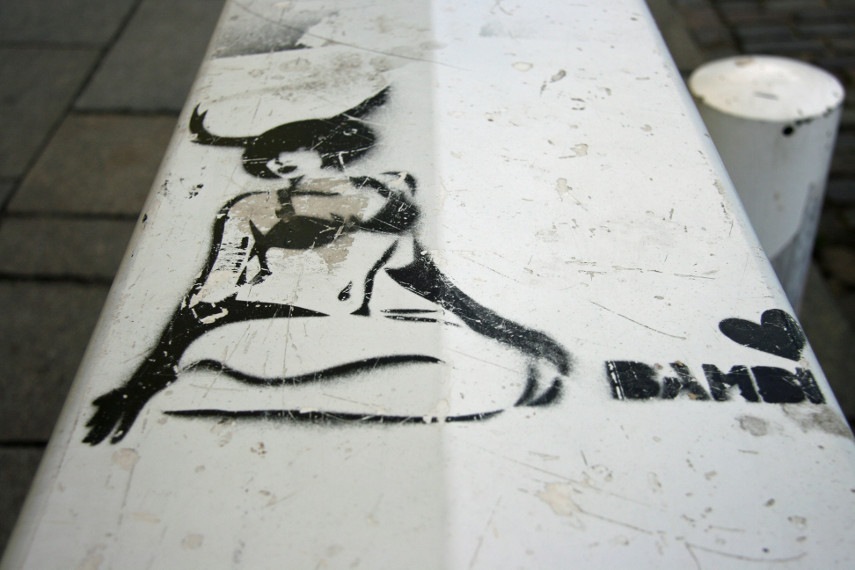 Who Is Bambi?
It's always tempting to attempt and find out as much as you are able about someone that desperately desires to stay anonymous, but if you dare to investigate Bambi's private life you will surely find yourself in a giant cloud of legends and rumors that can not be either confirmed nor disproven. Unfortunately for those that are curious, all that we know about this street artist has been handed to us by Bambi herself and that, actually, is not much. What has been revealed so far is that she is a female, was born around the year of 1982 and that the Bambi tag name is actually a compressed version of the childhood nickname her father had for her, Bambino (meaning a small child or kid in Italian). Another fact that was admitted by the artist herself is that Bambi had a prominent career in the music business as a singer before she traded her voice for a can of spraypaint. After that info hit the streets, there've been numerous reports linking Bambi cloaked identity with the likes of Paloma Faith or Geri Halliwell, singers that both had their five minutes of fame but later on disappeared from the map of stardom. Some journalists have even went as far as saying Bambi is actually Adele or Victoria Beckham, which, in all honesty, makes little to no sense. When you realize just how little is known about her, it becomes obvious that Bambi goes by the old-school rules of street art making as she allows her work to come way ahead of her in importance and to do the actual talking for her - which we can't help but admire. Nevertheless, what also must be handed to Bambi is the impressive expertise of handling the media storm and the perseverance in not responding to numerous rumors that seem to be appearing literally every single day. This cloud of interest circling around her name is doing her a great deal of favor as it makes for fine publicity.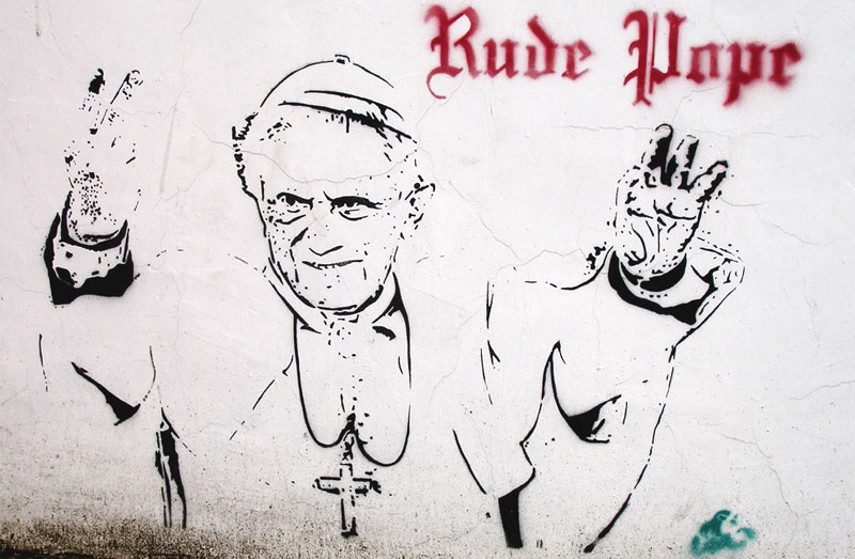 Troubles with Anonymity
It has often been said that Bambi's true identity is known only by a handful of people, namely her manager, her mother and the legendary Banksy himself - this artist with a cult status had a massive role in Bambi's development and street expression. Another inspiration to her is the aforementioned mother who herself is also a successful artist (Bambi's father was a jazz musician in his time who also had a huge influence on his daughter and not only by giving her a pseudonym). As you may expect, she goes through a lot of trouble in order to conceal her true identity - she works at dawn, in white overalls, dust mask and goggles. As was mentioned above, Bambi has been using North London suburb of Islington as a canvas for years, slowly progressing her expression and mastering the skills required to be an efficient street artist. She started to be noticed when her masterful stenciling and spray-painting began appearing in highly visible and public locations where virtually a limitless number of viewers were able to see her creations first hand. She created an additional attention storm by depicting both everyday people and celebrities such as Prince William and Kate Middleton, Queen Elizabeth II and Amy Winehouse. This way, Bambi was able to devise pieces that are both capable of communicating with viewers about aspects they understand completely and simultaneously allow them to identify themselves with the personas painted on London public surfaces. Besides the aforementioned celebrities, Bambi has been depicting many other icons of modern times, including soccer superstar David Beckham, Holywood's most famed couple of Jolie and Pitt, pop stars such as Rihanna and Adele, as well as the secret agent James Bond (it is actually said that Bambi is a huge fan of everything Bondy and that she even drives Aston Martin in order to pay tribute to 007). Of course, things have not always been as fantastic for Bambi as is the case today. Believe it or not, she too once was unknown and overlooked, up until the year of 2011 when she painted a portrait of Amy Winehouse on the wall of a north London supermarket - this was the D-Day of Bambi's career and from then on, she has been going nowhere but up. Due to the obvious intimacy of the Amy piece, many have agreed that Bambi and the late Winehouse were friends before the singer met her tragic end.
Bambi's career was launched into hot stars with a 2011 piece that portrayed the late Amy Winehouse, placed upon a London supermarket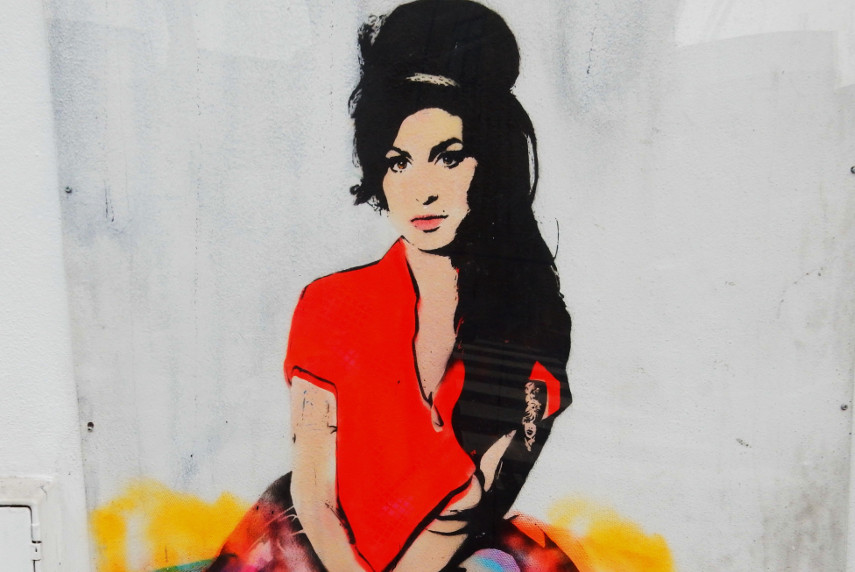 The Banksy Influence and Bambi's Popular Comments
Trying to somehow get a sure grip on the concepts of Bambi's art is a feat easier said than done, despite the fact her work frequently appears to be simple in nature. The best explanation to her portfolio is that Bambi relies on her art to be a relatively neutral and objective reflection of current events - she employs representational imagery to offer social commentary and address political concerns. Among the most frequently used themes one may find in Bambi's work, what really stands out are the topics of feminism, popular and street culture - despite that, her creative output has been frequently described as gritty and masculine in its appearance. It's impressive how Bambi is able to find a fine line between rough exterior and female identity with strong allusions to patriarchal culture. Her artwork has often been compared to the pieces authored by Banksy, which is only natural when you consider the two are obviously friends since he knows Bambi's identity. There is a clear difference between them, however, as the male counterpart concentrates his efforts to commentary on war, globalization, child poverty and shows other social issues - Bambi's portfolio si simply not as politicized and it reveals less dramatic compositions. The street due has a deep relationship as Banksy is obviously Bambi's stylistic mentor, which is far from a bad combination for her as he is considered by many to be the godfather of graffiti. As you may well imagine, juggling such complicated ideas and finding perfect balances as Bambi does demands a high intelligence and knowledgeable control over her subjects - it has often been suggested that Bambi graduated from the Saint Martin's College in London as this institution would be more than capable of giving the young artist all of the creative sparks she ever needed. With such interesting and intriguing concepts, it's no wonder Bambi has been exhibiting her work on various shows, even some that had a fine art context. Her first fine art exhibition was at the Walton Fine Arts Gallery in London in 2012 and she had many more after that.
Bambi finds big influence from a wide range of sources, but the strongest inspiration is obviously found in the pieces of Banksy and pop culture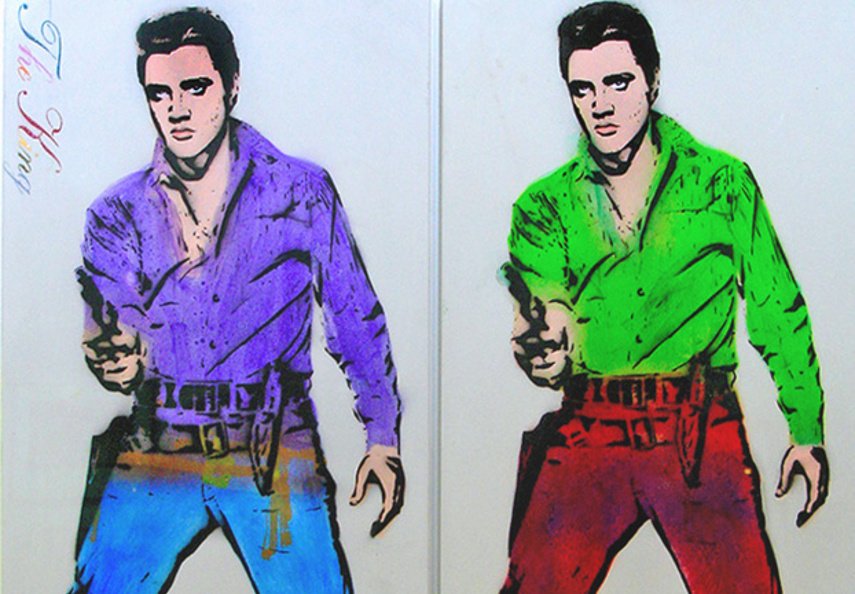 A Great Deal of Success for a Street Artist
As is often the case, the road to success was not paved in roses and it took some doing and patience, but over time, Bambi has been accepted as a leading artist in her field. Arguably the highlight of her career in that department was the moment Bambi was commissioned by model Kate Moss to paint a personal street art portrait of her, very similar to Andy Warhol's classic piece Marilyn. Later on, Bambi's pieces have found their way into prestigious collections of celebrated curators such as Rihanna, Robbie Williams and Take That's Mark Owen, as well as the already mentioned Brad Pitt and Adele. Bambi's work has often been credited with another accomplishment, one far less glamorous - during the year of 2010, some of her pieces in Primrose Hill were brutally vandalized. This started the long-running London debate over the preservation of street art and it ultimately resulted in Islington Councillors suggesting a committee be authorized with tasks taking care of street art's future protection. This way, Bambi has indirectly created a safe heaven for all the new street artists in London as the look on their urban pieces has forever been changed for the better. From that point on, Bambi has been celebrated by fellow street painters and the media attention over the 2010 legal battles made sure she is on everyone's lips, making her one of the most popular urban artists not only in the United Kingdom but in the entire world. She was even handpicked to commemorate the royal wedding of Prince William and Kate Middleton with the satirical slogan A Bit Like Marmite across their chests - how many stencil painters of the streets can say they have such an accomplishment in their curriculum vitae? It should also be noted that Bambi paints indoor pieces as well and that they are, at the very least, as impressive as the outdoors murals.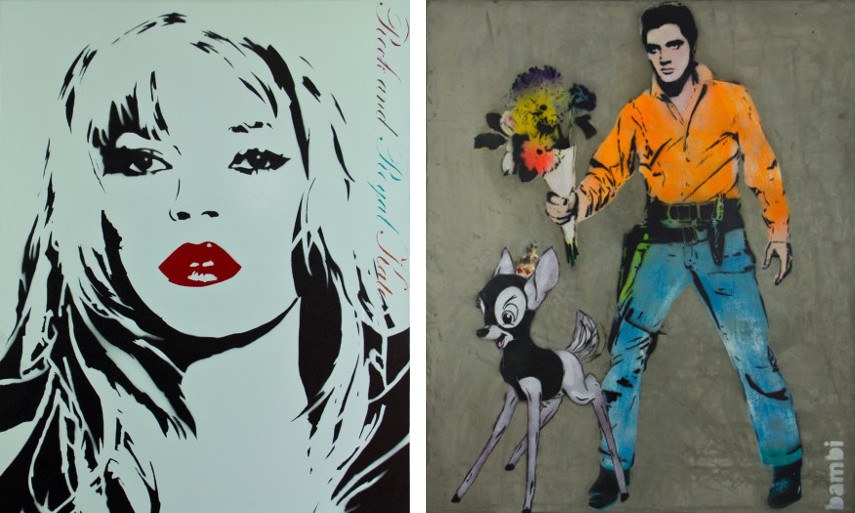 An Incredible Start to an Unpredictable Outcome
As if her urban art was not impressive enough on her own, Bambi has managed to do what almost no other street painter ever did - she established herself in elite circles where contemporary art commands a high market price. That alone makes Bambi the designated American dream of street art, a level of popularity and love that should serve as a guiding star of all urban painters. And all the while aspiring graffiti and stencil artists look up at her, Bambi continues to paint and amaze us on both sides of the Atlantic, regularly bringing us incredible pieces stolen straight out of a bottomless well of her ideas. It will be interesting to see where her expressive methods will lead her as Bambi is (presumably) still quite young and there are many more artistic years ahead of her - will she continue to paint and amaze up until the day she finally reveals her mask or will she simply disappear as swiftly as she emerged? Only time will tell.
This artist is represented by Soho Contemporary Art in New York, Markowicz Fine Art Gallery in Miami and Galerie Fluegel-Roncak in Nurnberg.
Bambi lives and works in London, United Kingdom.
Featured Image: Bambi - Where's the Football - Image via islingtonpeople.com
All images used for illustrative purposes only