Some people become cops because they want to make the world a better place. Some people become vandals because they want to make the world a better-looking place. – Banksy (Wall and Piece)
What started as a subculture on the streets of New York in the 1970s has emerged as a significant art movement in the decades since. Today, street art is often viewed as one the most popular forms of art across the globe. Amongst a number of multitalented artists who emerged with the rise of street art, one of the most popular, yet most mysterious, creatives in the street art circles definitely is Banksy, an English-born graffiti master, activist, filmmaker, and painter, who prefers to remain incognito. He initially garnered fame for his graffiti which combines spray paint and stenciling techniques with commercial, and political imagery, infused with ironic social commentary and humor. His pieces can be found in cities across the globe featuring subjects like rats, apes, policemen, members of the royal family, and children. In addition to his two-dimensional work, Banksy is known for his installation artwork, as well as for his use of copyrighted material and subversion of classic images.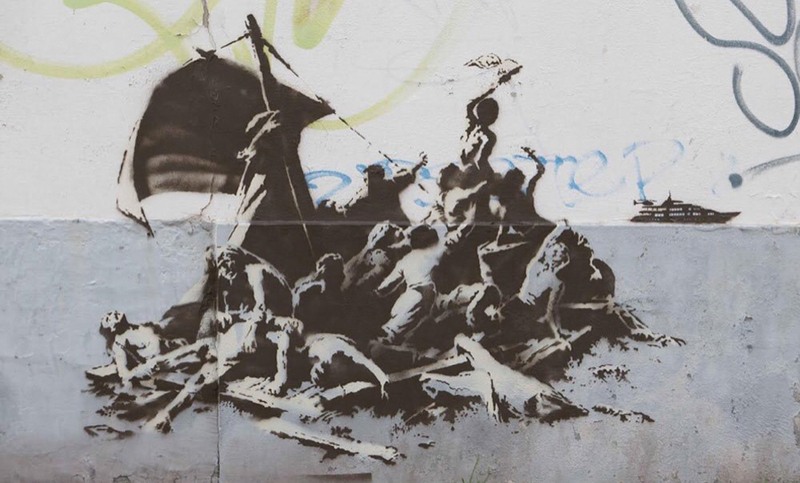 Banksy on Bristol Street Art Scene
He is believed to be a native of Yate, South Gloucestershire, near Bristol and to have been born in 1974, but there is substantial public uncertainty about his identity and personal and biographical details. This multifaceted British street artist, who also works as a painter, a film director, and a political activist, began his career in the early 1990s as a freehand graffiti artist writing on the walls of his hometown of Bristol. During his early years, he worked as a part of Bristol's DryBreadZ Crew (DBZ). He admired works of Blek le Rat, one of the first graffiti artists in Paris, as well as Nick Walker's, his fellow citizen and colleague. He drew inspiration from the local street artists like Inkie and Robert Del Naja, also known as 3D, a graffiti artist and member of the band Massive Attack.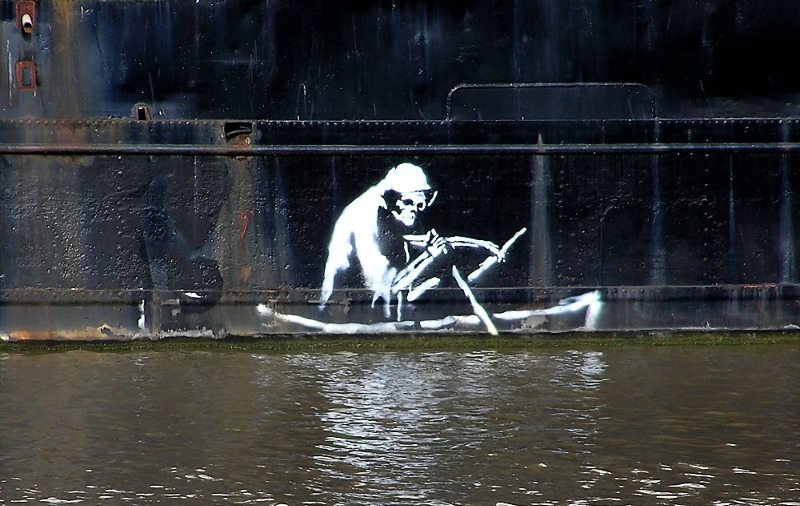 Banksy: (Re)Birth of the Stencils
Although his early work was largely freehand, Banksy turned to pre-stenciled work almost completely by the year 2000. This proved to be quite a practical step, as stencils allowed him to create his work much faster and disappear before the police showed up while it also made his art become more widely visible. Over the years, he has created a hugely famous name for himself with his instantly recognizable stencil graffiti featuring clever and striking images that convey subversive anti-establishment messages, usually spiced with humor and irony. At the beginning of his career, the talented artist was trying out names, sometimes signing himself Robin Banx, but this soon evolved into Banksy. Although the shortened moniker may have demonstrated less of the gangsters' "robbing banks" cachet, it has become the most well-known name in the international art scene.
Banksy has created a hugely famous name for himself with his instantly recognizable stencil graffiti
London Calling, Banksy Answering
In 1999, he was headed to London. His first exhibition in the capital city of England took place at Rivington Street in 2001 when he and fellow street artists convened in a tunnel near a pub. They hung up some decorators' signs "nicked" off a building site and painted the walls white wearing overalls. They got the artwork up in 25 minutes and held an opening party later that week with beers and some hip-hop pumping out of the back of a Transit van. About 500 people turned up to an opening which had cost almost nothing to set up. In July 2003, Banksy mounted Turf War, his breakthrough exhibition. Staged in a former warehouse in Hackney, the show dazzled the London art scene with its carnival atmosphere display, which featured a live heifer, its hide embellished with a portrait of Andy Warhol, as well as Queen Elizabeth II in the guise of a chimpanzee.
After the American pop star Christina Aguilera bought a £25000 painting which portrays Queen Victoria as a lesbian, in 2006, an auction record was set for the graffiti artist after a set of Kate Moss paintings were sold in London for £50,400. In the same year, the six colorful silk-screen prints, featuring the British model as Marilyn Monroe, have fetched £50,000 at a Sotheby's sale in London although the works had been valued at £10,000. Also in 2006, Max Foster, a journalist who followed the early development of the street art movement, found the term "the Banksy effect," to signify the popularity received by other street artists thanks to his artwork. And, so, the legend was (officially) born.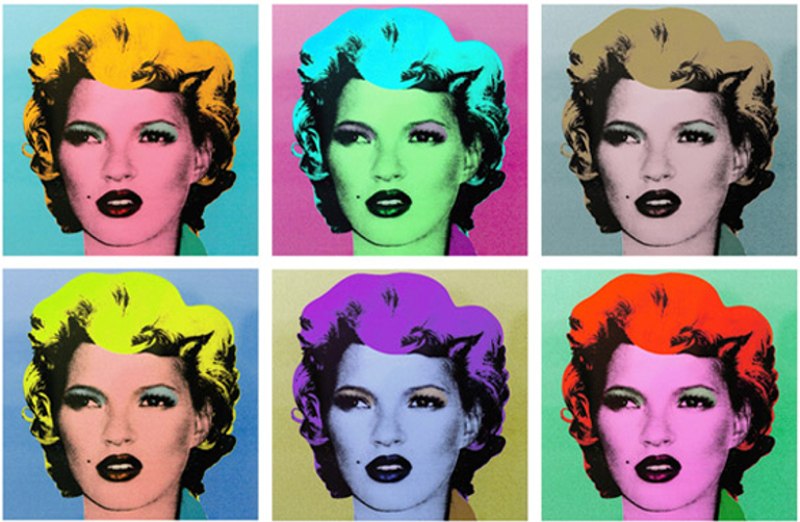 Barely Legal in Los Angeles
Banksy's incursion into Los Angeles with the incredibly successful show Barely Legal happened in September 2006. "Hollywood," he once said, "is a town where they honor their heroes by writing their names on the pavement to be walked on by fat people and peed on by dogs. It seemed like a great place to come and be ambitious." Crowds of 30,000 or so, among them Brad Pitt, were in attendance. The exhibition centerpiece was an 8,000-pound live elephant, slathered in red paint and overlaid with a fleur-de-lis pattern. No other choice but to compare it to the cult scene in Peter Sellers movie Party, right? L.A.'s outspoken animal-rights advocates were incensed; the authorities ordered the paint to be washed off. Fliers distributed to the glittering crowd made the point that "There's an elephant in the room...20 billion people live below the poverty line."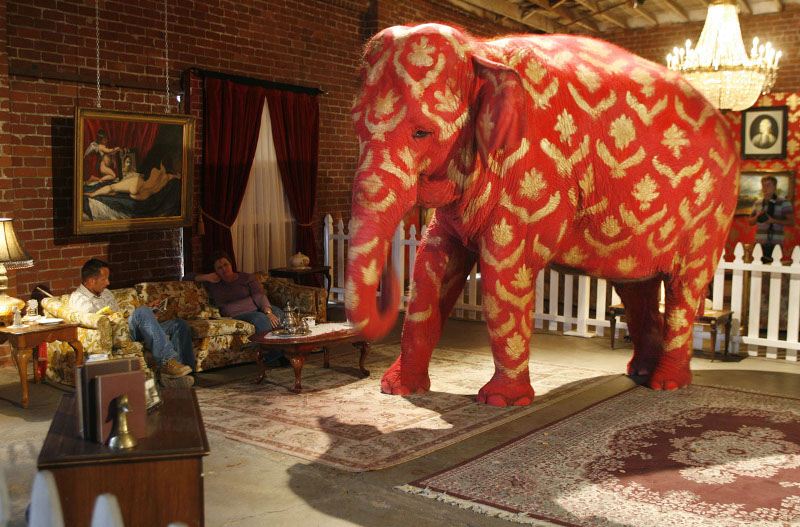 Manifesto and Pest Control
Since 2003, the artist has published several Manifestos on his website. The first few manifestos involved stories from Holocaust, but in time, they became a more random assortment of historical quotations. His worldwide fame has transformed his artwork from acts of vandalism to sought-after high art pieces. Banksy does not sell photographs or reproductions of his street graffiti, but art auctioneers have been known to attempt to sell his street art on location and leave the problem of its removal in the hands of the winning bidder. On February 22, 2007, the day after Sotheby's London sold three Banksy works, all of which soared above their auction estimates and into the six figures, Banksy updated his website with an image of an auction house and the message, I Can't Believe You Morons Buy This Shit.
In the following years, Banksy has continued to make his feeling on the commercialism of his art exceedingly clear. He calls galleries that sell his work "unauthorized". In 2009, Banksy parted company with agent Steve Lazarides and announced that Pest Control, an appropriately named Banksy organization whose tasks are to authenticate the real Banksy artwork and to protect the artist from prying outsiders. It is, in effect, another extension of the artist's darkly humorous manifesto. The simple website informs owners, anxious to authenticate and sell their freshly excavated and exceedingly valuable Banksy treasures, that the authentication process is "lengthy and challenging", as many pieces "are created in an advanced state of intoxication."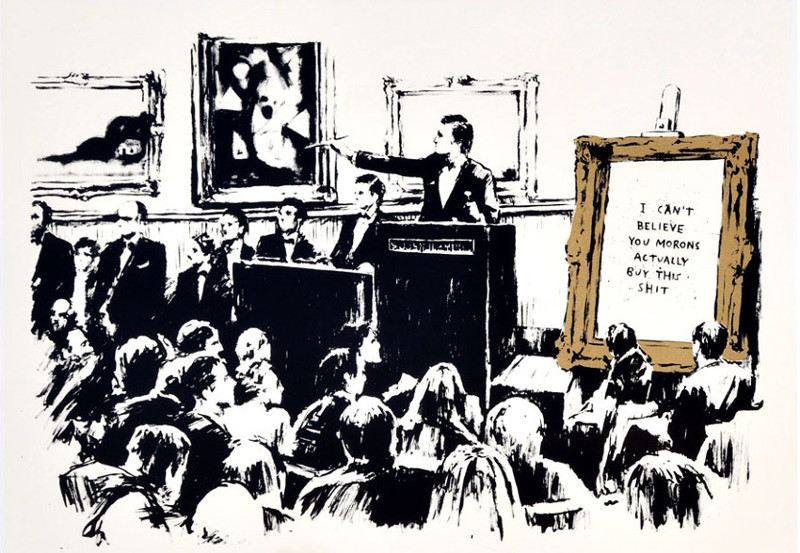 Banksy and a Girl
Girl And Balloon is Banksy's most popular art piece. Banksy has created variations on that theme, but the most famous one was discovered in the South Bank of London in 2002 on the wall of a stairway. The original work depicts a schoolgirl losing a heart-shaped balloon to the wind. A small quote was later etched into the staircase that reads "There is always hope". Another of his girls appeared back in 2007 in the Exmouth Market, located on Rosebery Avenue in London. ATM Girl was directed at the conduct of Britain's banks at the time - a record-setting profits and high penalty fees. The ATM machine spewed a good amount of his false currency, known as "Di Faced Tenners".
In 2003, Banksy first created Bomb Hugger, published by Pictures on Walls in London as a limited edition of prints. A similar work has been also found on one London's East End wall. Bomb Hugger depicts a young girl with a ponytail and a short dress hugging a large bomb. The moppet represents purity and the bomb – war, destruction, and evil. This way, Banksy wanted to challenge the public, press and politicians primarily, for portraying warfare in a positive light, as a way to reach peace. In 2015, one of his girls, a 6ft tall mural of a young moppet pouting, on the side of the North Star pub in Hounslow, west London – was defaced by unknown vandals. The mural is believed to now be worthless after a vandal painted over it so she is now wearing a burka. This girl first appeared in 2007 and it was thought to be worth £100,000. The piece had the word 'smile' in brightly colored letters written above her head. Sadly, now only her eyes remain visible.
Girl And Balloon is arguably Banksy's most popular artwork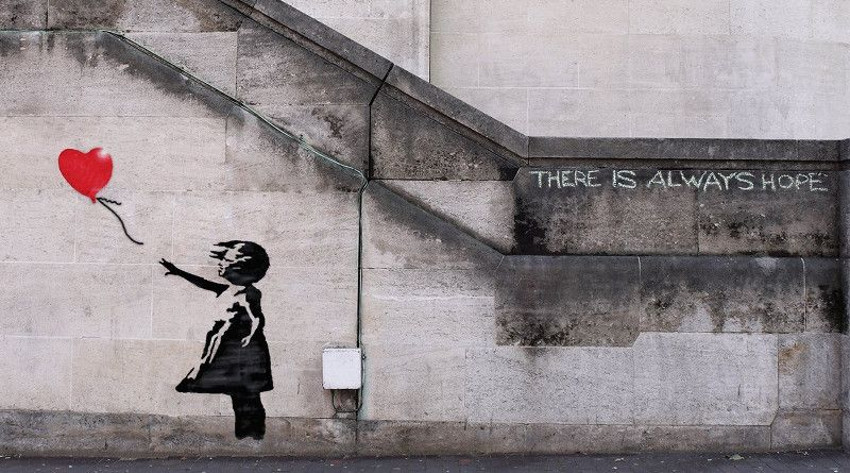 Exit Through the Gift Shop: A Banksy Film
Interest in Banksy escalated even more with the release of the 2010 documentary Exit Through the Gift Shop. The film, which premiered at the Sundance Film Festival, was nominated for an Academy Award. It is a film that tells the story of Thierry Guetta, a French immigrant in Los Angeles, and his obsession with street art. There has been debate over whether the documentary is genuine or a mockumentary, although Banksy answers "Yes" when asked if the film is real. Banksy has said in interviews that editing the film together was an arduous process, "I spent a year watching footage of sweaty vandals falling off ladders" and "The film was made by a very small team. It would have been even smaller if the editors didn't keep having mental breakdowns. They went through over 10,000 hours of Thierry's tapes and got literally seconds of usable footage out of it." Producer Jaimie D'Cruz wrote in his production diary that obtaining the original tapes from Thierry was particularly complicated. A movie reviewer Jeannette Catsoulis wrote that the film could be a new subgenre, a "prankumentary". The New York Times described it as paralleling Banksy's best work: "a trompe l'oeil: a film that looks like a documentary but feels like a monumental con." The film contains exclusive footage of Banksy, Shepard Fairey, Invader and many of the world's most infamous graffiti artists at work, on walls and in interviews. As Banksy describes it, "It's basically the story of how one man set out to film the un-filmable. And failed!"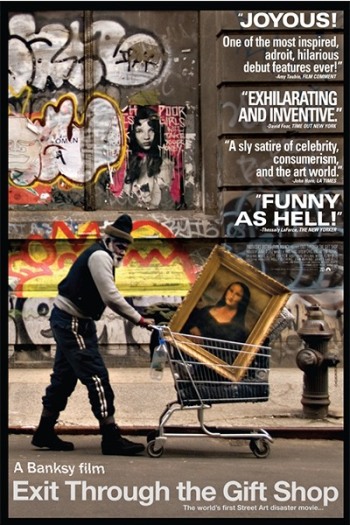 Better Out Than In
Better Out Than In was a residency undertaken by Banksy in New York City during October 2013. Banksy unveiled, at least, one work of art daily, documenting it on both a dedicated website and an Instagram account. The majority of the works were stencil graffiti and chiefly political, a distinctive characteristic of Banksy. Other pieces and multimedia exhibits toyed with dark humor and satire. The month-long show was widely publicized and covered by the media.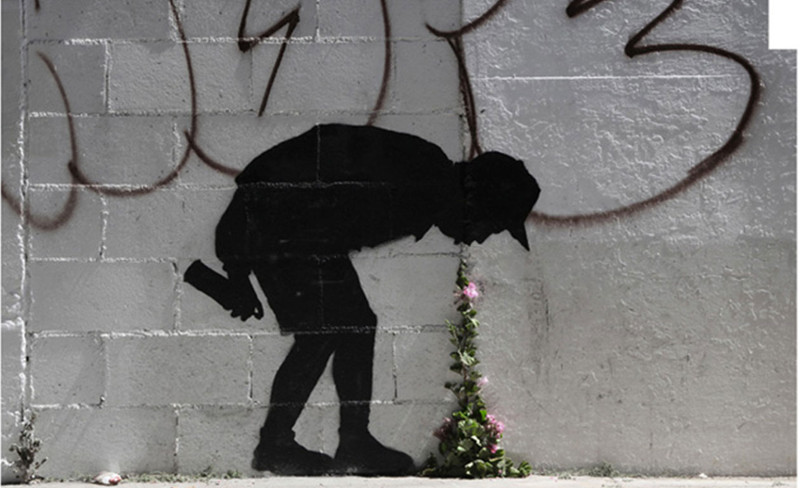 Artworks by Banksy in West Bank and Gaza
In 2015, after exactly one decade, Banksy returned to Palestine - Israel troubled zone. In his first visit, in 2005, he has created nine images on Israel's highly controversial West Bank barrier. On his website, Banksy reminded public that Israel's 425-mile-long West Bank barrier, separating Israel from the Palestinian territories, is considered illegal by the United Nations and that it "essentially turns Palestine into the world's largest open prison." On his second visit, Banksy made a series of new paintings across ruins in Palestine. He even made a film to go alongside the works, documenting the devastation wrought by Israeli militia and bombing campaigns. The film is titled Make this the year YOU discover a new destination. One of the murals features a kitten sprayed on the remains of a wall, posed playing with a coiled ball of rusted metal as if it were wool: "This cat tells the whole world that she is missing a joy in her life. The cat found something to play with. What about our children?" One incident is involved with the artist's second visit. Police in Gaza have confiscated a door bearing one of the graffiti (depicting Nioba, a Greek goddess, weeping for her dead offspring) after its original owner said he was tricked into selling it for $175 after a complaint was filed by Rabie Darduna against a local artist who bought the door from him. The artist, Bilal Khaled, insisted that the purchase was legal.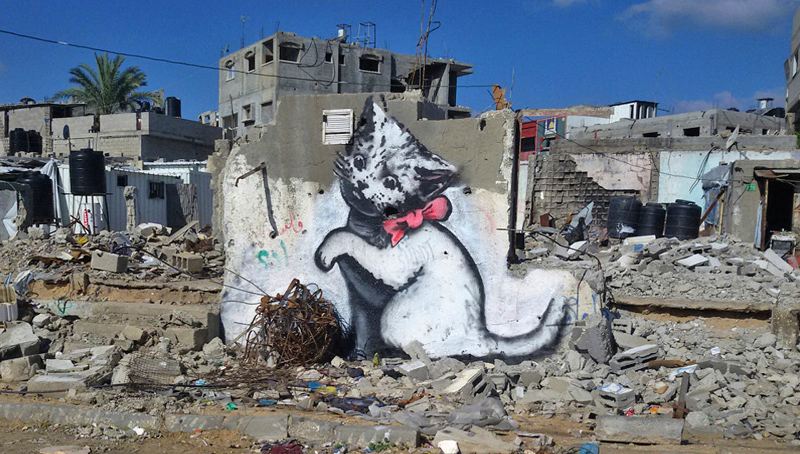 Dismaland - Bemusement Park
Dismaland was a temporary art project organised by Banksy and constructed in Weston-super-Mare in Somerset, England. Self-described as "entry-level anarchism", Dismaland offered a depressing antidote of amusement parks such as Disneyland, where irony, satire and truth-speaking artworks created an atmosphere that not everyone enjoyed or got the point of. For the exhibition Banksy made ten new works and funded the construction of the exhibition himself. Among Banksy, fifty eight international names took part in creating this unique experience, including names like Damien Hirst, Jenny Holzer and Mike Ross. His Dismaland was opened on 21 August 2015, and closed permanently on September 27, 2015, 36 days later. After closing the bemusement park was dismantled and sent to Calais to become a shelter for the migrants.
Dismaland – Bemusement Park was constructed as a subversive theme park, a dark parody of Disneyland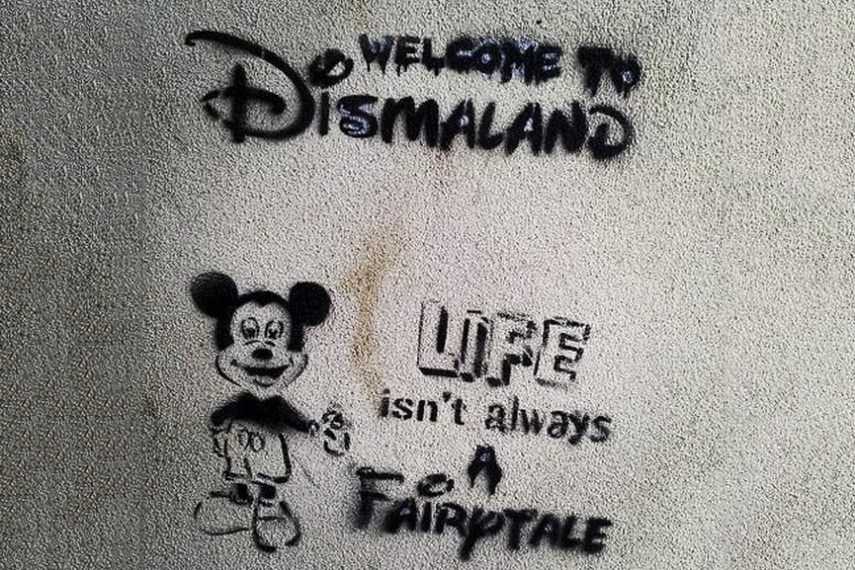 Saving Banksy (2017)
The year of 2017 has been quite exciting for Banksy so far. His complex art world was further explored in the lively, involving documentary titled as Saving Banksy, although the stylized onscreen name of the film is $aving Banksy. The filmmakers behind this documentary chose an interesting title as Banksy would seem to be the last person who would need any kind of saving - he is arguably the biggest name in street art right now with an instantly recognizable and respected style. However, the British street artist's work is in danger and it needs to be protected from an entire list of potential enemies, including the likes of jealous fellow artists, uncomprehending local governments and profit-taking galleries. The story behind Saving Banksy begins in the April of 2010 when Banksy flew to San Francisco and put up a number of pieces all over the city. Unfortunately, these artworks were quickly sabotaged one by one, some by local taggers who put their own work on top of Banksy's and some by the vigilant city officials who saw all the pieces as nothing more than illegal vandalism and threatened property owners with sizable fines if they did not immediately paint the works over. Although Banksy is not interviewed in this film, several of his fellow street practitioners are. All of them feel that the risk of defacement or destruction is a part of the deal when you decide to take your art to the street, although this fact does not make the entire situation seem any less disrespectful or grim. Ultimately, director Colin M. Day's documentary Saving Banksy manages to open the viewers' eyes by discussing opportunists stealing their work to make a buck or simply destroying the piece. It also presents us with a man that is doing his best to remain true to the work and himself along a journey to preserve what was never meant to be preserved.
Take a look at the trailer for $aving Banksy, a 2017 documentary movie about the mysterious street artist
The Search Continues…
Banksy's identity remains unknown, despite intense speculation. The two names most often suggested are Robert Banks and Robin Gunningham. Pictures that surfaced of a man who was supposedly Banksy pointed toward Gunningham, an artist who was born in Bristol in 1973. Gunningham moved to London around 2000, a timeline that correlates with the progression of Banksy's artwork. Another thing about Banksy is his attitude towards high prices of his artwork. He actually doesn't think it's possible to make art about world poverty and trouser all the cash. This is why he provided, on his website, high-resolution images of his work for free downloading. Also, not to be forgotten, Time magazine selected Banksy, all-purpose provocateur, for its list of the world's 100 most influential people in 2010. So, he found himself in the company of Barack Obama, Steve Jobs, and Lady Gaga. He supplied a picture of himself with a paper bag (recyclable, naturally) over his head. Most of his fans don't really want to know who he is (and have loudly protested Fleet Street attempts to unmask him).
All images copyright of the artist
All images used for illustrative purposes only