Renowned for her elegantly sleek sculptures in stone, wood, and bronze, Barbara Hepworth is undeniably among Britain's most significant modern artists. One of her central concerns was the relationship of the figure to its surrounding space - not just a formal, spatial concern but a response to the physical and spiritual world around her. Deeply emotional about her work, she possessed a gift for language and desire to communicate, so she gave speeches, lectures, had conversations and interviews with other artists and journalist, pretty much anyone who was interested in her sculpture or had a similar passion for art as she had herself. These words, accompanied by what is widely considered as one of the most important oeuvres of the 20th century sculpture, tell a story about Barbara Hepworth, an artist that led British art into modernism.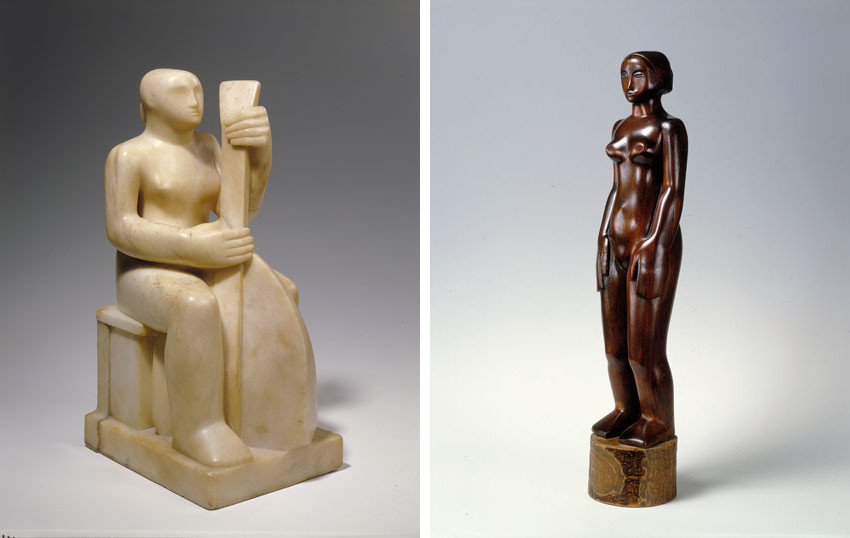 Barbara Hepworth - Early Life and Education
Born in Wakefield, West Riding of Yorkshire, Jocelyn Barbara Hepworth was the eldest child of Gertrude and Herbert Hepworth, a civil engineer who worked for West Riding County Council before becoming a County Surveyor in 1921.[1] During his car journeys all over the West Riding of Yorkshire (made in the course of his work), Barbara would often accompany him. She attended Wakefield Girls' High School, and in 1920, she began studying at Leeds School of Art, where she met Henry Moore, another major figure in British art scene of the 20th century. A year later, she begins her studies of sculpture at the Royal College of Art, and together with Moore and other students at the College, makes occasional trips to Paris. She was awarded the diploma of the Royal College of Art in the summer of 1923 but decided to stay an extra year in order to compete for the 1924 Prix de Rome. She lost to John Skeaping, an immensely talented sculptor, but was awarded West Riding Scholarship for one year's travel abroad. In October 1924, Hepworth travels to Italy and based in Florence, spends the first months studying Romanesque and early Renaissance art and architecture in Tuscany. In May of the following year, she married John Skeaping in the Palazzo Vecchio in Florence. In late 1926, the couple returned to the capital of England due to Skeaping's ill-health. Their son, Paul Skeaping, was born three years later.
Hepworth's first husband was John Skeaping, who was also a sculptor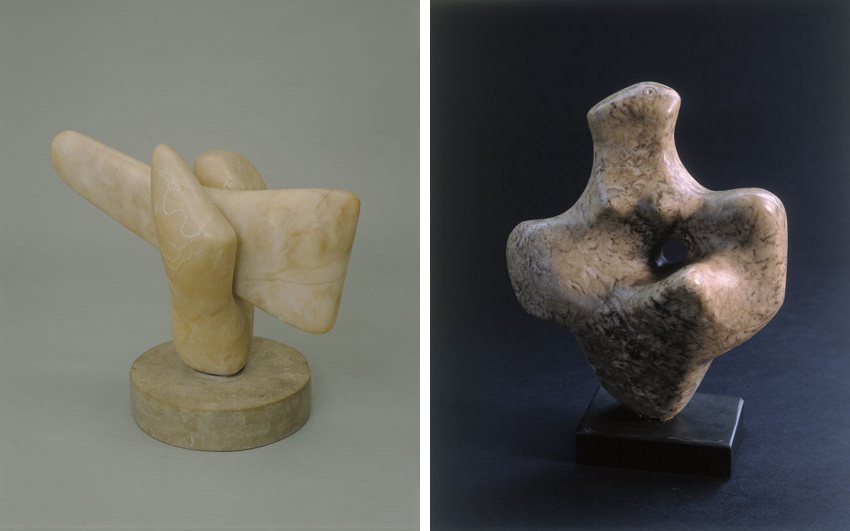 Barbara Hepworth and Related Artists - the Relationship with Henry Moore
In 1931, Hepworth met the painter Ben Nicholson and began distancing herself from Skeaping (they divorced in 1933). A year later, she had several shows with the Seven and Five Society and remained a member until the group was dissolved in 1935. By then, Nicholson and Hepworth were already a couple, and in April 1933, they traveled to Paris, where they met two masters at their studios – Constantin Brancusi and Pablo Picasso. In January 1935, also in Paris, she met Kandinsky and Mondrian. Three years later, as Mondrian arrived in London, Nicholson and Hepworth helped him to find a room near them in Parkhill Road, where he stayed until his departure for New York in 1940. As WWII broke out, and just after settling in St Ives, the couple is joined by Miriam Gabo and her husband Naum Gabo, a Russian prominent Constructivist sculptor and a pioneer of Kinetic Art. Excluding her relationship with Ben Nicholson (with whom she had a romance that culminated in marriage and children), the Hepworth's artistic relationship that arguably intrigues the most is the one with a fellow sculptor Henry Moore.
Both from Yorkshire and both working in the same field, they were crucial figures in British abstract sculpture, and it's next to impossible to crown one of them superior. They had the same education and shared the same fascination with direct carving – a technique of working directly with a material rather than the traditional method of modeling. Probably the biggest difference between the two was the fact that Moore was the vocal, confident artist that the British Council wanted to promote British modern art, a role that Hepworth did not fall into easily.[2] At the 1948 Venice Biennale, this became strikingly clear. Moore received considerable acclaim in contrast to Hepworth's much quieter exhibition two years later. Critics even assumed Hepworth was Moore's pupil and art historian and Barbara's granddaughter Sophie Bowness confessed that "Hepworth was frustrated by always feeling in Moore's shadow".
Hepworth and Moore were representatives of the British modern sculpture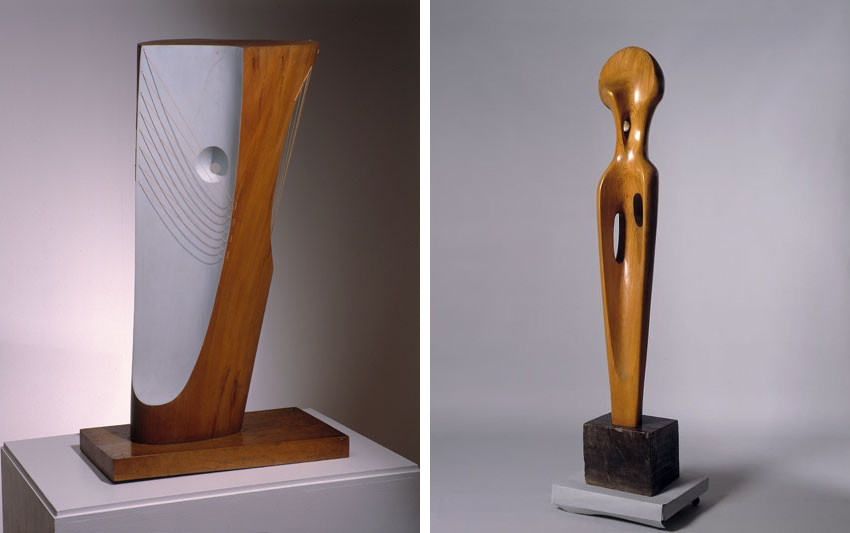 Barbara Hepworth and Ben Nicholson
When Hepworth met Nicholson in 1931, her marriage with Skeaping was already in crisis. The sculptor and the painter soon became lovers and in the spring of 1932, Nicholson moved into her working facilities in Hampstead in north London. Over the next few years, the two engaged in a kind of collaboration as they made work apparently in dialogue with each other. "I met Ben Nicholson, and as painter and sculptor each was the other's best critic."[3] Hepworth's profile became a recurring subject in Nicholson's paintings, prints and fabric designs, and she similarly incorporated into her carvings incised lines to describe faces, hands and other parts of the body, single or intertwined. The two took photographs of each other and of each other's work. These photographs showed the artists with new sculptures and paintings as well as those made before they had met. On October 3, 1934, she gave birth to triplets: Simon, Rachel and Sarah Hepworth-Nicholson. Following his divorce from his first wife, Winifred, Barbara and Ben got married in November 1938. Their marriage was dissolved in October 1951.
Barbara Hepworth and Ben Nicholson were each other's best critics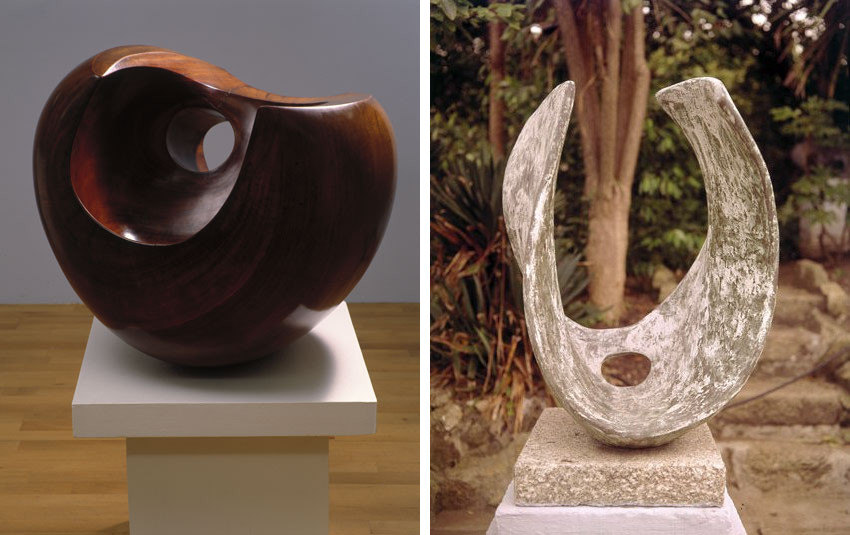 Barbara Hepworth Sculpture – Materials and Personal Style
She emerged in the late 1920s as a leading member of a new generation of sculptors carving figures in stone and wood. In the following decade, she made her debut in the international art world and became acquainted with the work of Pablo Picasso, Georges Braque, Jean Arp and Constantin Brancusi. Under the influence of these contacts, her work became increasingly abstract. Upon viewing the work of Jean Arp, she was impressed by his success in fusing landscape with the human form. From then on, Hepworth began creating her characteristic organic forms, in which the solid mass is pierced by circles or ovals and space played a role in the sculpture. She continued to carve throughout her life, but from 1956 she also made works in bronze which allowed her to produce more and which were better suited to international travel.[4] As mentioned above, she preferred direct carving to modeling, and this approach was seen by many as a key aspect of modernism in sculpture, distinguishing the avant-garde from a more academic tradition of the artist's modeling forms in clay to be cast or carved by a technician. From 1935, her work was becoming noticeably abstract – a direct consequence of exchanging letters and photographs with other artists who created abstract works, such as Auguste Herbin, Jean Hélion, and Georges Vantongerloo. Hepworth was fascinated by the single form and by relationships between forms, and both feature in her work. Part of her interest is expressed in the way she liked to display her sculptures, as if in conversation with each other so that they became more of a group than an exhibition of individual pieces.
Each sculpture was exhibited as if it's in conversation with others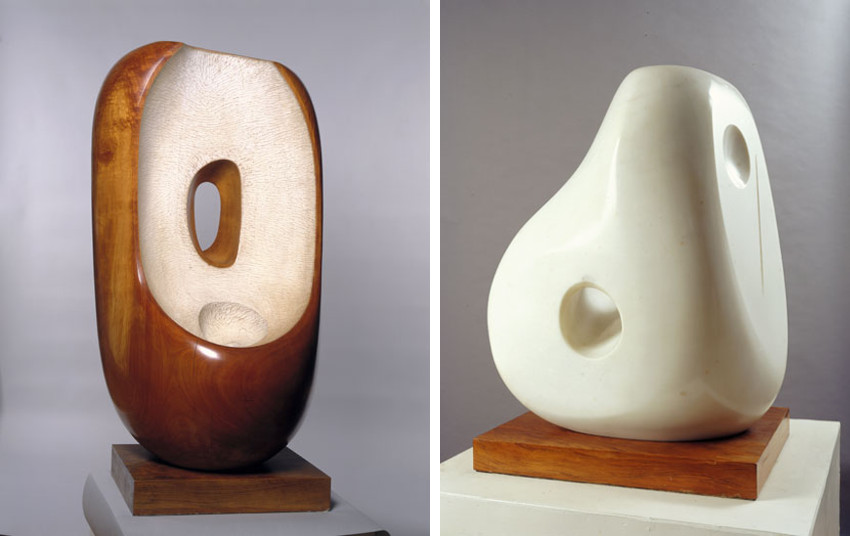 Barbara Hepworth - Late Period and Working on a Larger Scale
After the Venice Biennale in 1950 and after participating in the Festival of Britain a year later, Hepworth's public visibility increased. However, "in 1951, after 20 years of family life, everything was to fall apart." Nicholson left her, and her son from the first marriage, Paul, was killed on a Royal Air Force mission in Malaya.[5] This unfortunate turn of events affected her gravely, setting her work back considerably. After taking a restorative visit to Greece, she began recovering and developing an interest in bigger scale. Her fame rose, as did the demand for her work. Hepworth was frequently dubbed the greatest living female sculptor. Her frequent use of cross-hatching strings, rods or even fishing line in her harder sculptural forms became such a well-known feature in her work that the satirical magazine Punch published a humorous cartoon in 1970 depicting the artist making her sculpture by hand-stitching. She was made the very first female Trustee of the Tate Gallery and was appointed a Dame of Britain. Despite being seriously sick for a number of years, Hepworth worked until her death in 1975, which was caused by a fire in her home at St Ives.
Barbara Hepworth was the first female Trustee of the Tate Gallery and was also appointed a Dame of Britain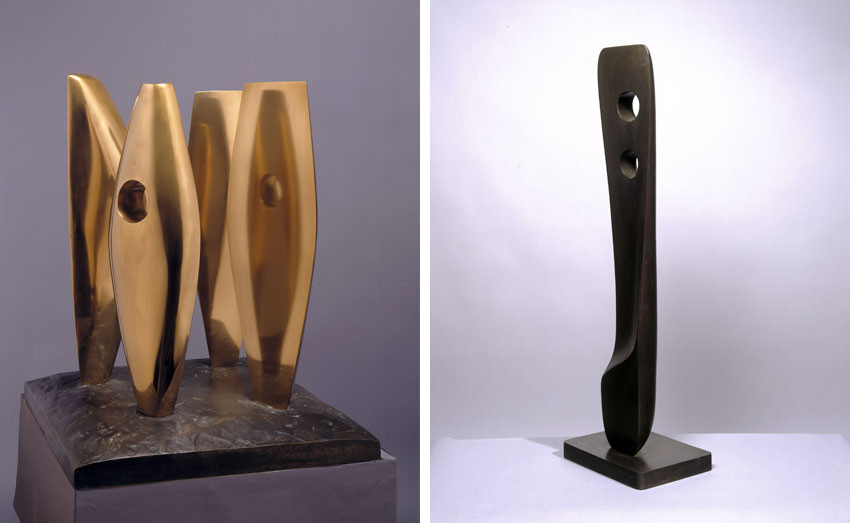 Barbara Hepworth and St Ives
In September 1949, Hepworth acquired Trewyn Studio in the center of St Ives and immediately began working there. She permanently lived there from December 1950 until her death 25 years later. The stone carving studio and yard were at the heart of her creative life consistently throughout this time, in a way that none of the other spaces she used as studios were. Her working facilities were greatly expanded when she was able to buy the Palais de Danse (a former cinema and dance hall opposite Trewyn) at the beginning of 1961. Immediately, she put the freshly bought Palais to use by working on her major commissions. Some of the larger plasters were also made there. However, after the sculptor broke her femur in 1967, her mobility was severely restricted and she was not able to use the Palais herself very much. Trewyn was again the center of her creative life and the Palais was used chiefly by her assistants. In 1976, Hepworth's family opened The Barbara Hepworth Museum, following the wishes expressed in her will. The Museum has been owned and run by Tate since 1980. It contains the largest group of Hepworth's works, permanently on display at Trewyn Studio and garden where she lived and worked from 1949 until her death in 1975.
To summarize the career of Barbara Hepworth: an immensely talented sculptor with a characteristic and innovative aesthetic vocabulary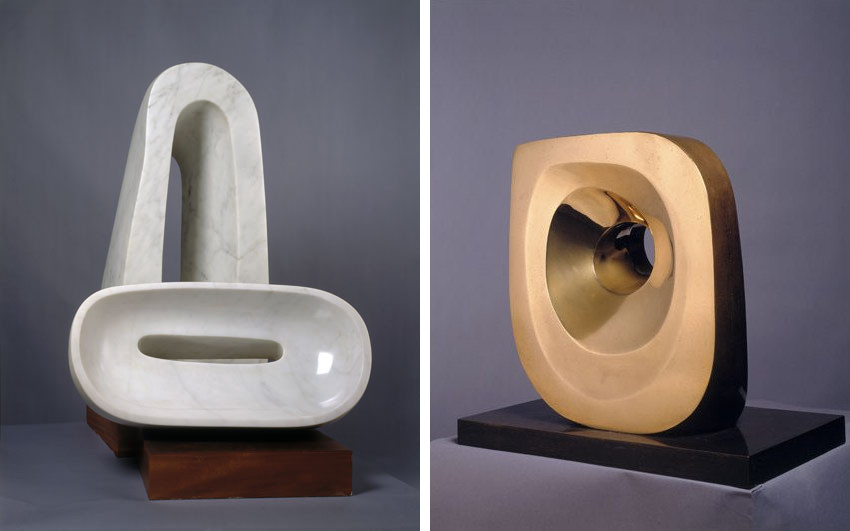 Legacy
The public was always seemed interested in Hepworth's private life than her work. This was probably because she was a woman in a time when man dominated art world, raising four children and managing two artistic marriages. Despite those kinds of responses, it is beyond a doubt that she was responsible for establishing a characteristic vocabulary of sculpture, leading the British art into modernism. Influenced by Arp, Braque, and Brancusi, Hepworth developed an approach and showed dedication to work that have inspired many artists, including Anthony Caro and Eduardo Paolozzi. As a female artist, Hepworth has been cited as inspirational by many contemporary figures, such as Charlotte Moth and Tracey Emin. Coming from a town of Wakefield, Barbara Hepworth manage to establish herself as a major figure in the 20th century sculpture, whose form and works, made mostly at St Ives garden and studio, are known internationally. Her legacy is being preserved by the Bowness-Hepworth Estate.
She is represented by Pace Gallery.
Barbara Hepworth lived and worked in St Ives.
References:
Barbara Hepworth – Biography, Hepworth Estate [November 3, 2016]
Barbara Hepworth vs. Henry Moore, Culture Whisper [November 3, 2016]
Hepworth B., Barbara Hepworth: a pictorial autobiography, Tate Gallery Publications; Reprint edition (September 1986)
Sculpture for a Modern World, The Kröller-Müller Museum, [November 3, 2016]
McCarthy F., Touchy feely, The Guardian [November 3, 2016]
Featured image: Barbara Hepworth at work on the plaster for Oval Form Trezion Palais de Danse, studio St Ives, 1963 – photo credits Val Wilmer, courtesy of Bowness-Hepworth Estate