American conceptual artist Barbara Kruger is best known for her layered photographs, featuring provocative statements on issues like commercial culture, feminism, and identity politics. Her work is based on black-and-white photographs with overlaid with bold, declarative text in red. She prevalently uses Futura Bold Oblique and Helvetica Ultra Condensed fonts and her pieces often contain pronouns such as you, I, us, and we in order to make her statements more personal and dramatic. Barbara Kruger belongs to a circle of feminist postmodern artists, together with Jenny Holzer and Cindy Sherman.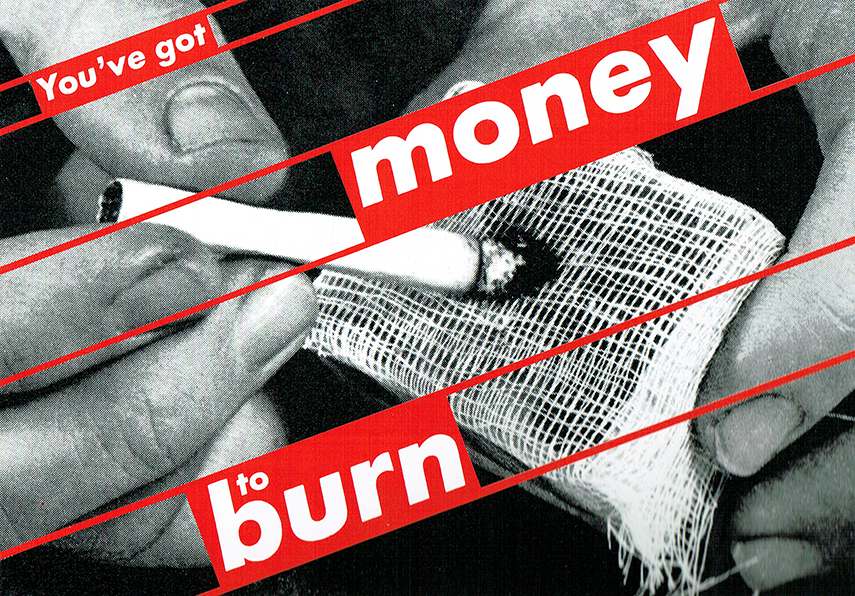 Kruger's Early Career in Graphic Design
Barbara Kruger was born in Newark, New Jersey in 1945 and left there in 1964 to attend Syracuse University. Early on she developed an interest in graphic design, poetry, writing and attended poetry readings. After studying for a year at Syracuse she moved to New York where she began attending Parsons School of Design in 1965. She studied with fellow photographer Diane Arbus, who introduced Kruger to other photographers and fashion magazine subcultures. After a year at Parsons, Kruger again left school and worked at Condé Nast Publications in 1966. Not long after, she started to work at Mademoiselle magazine as an entry-level designer, she was promoted to head designer a year later. Later on, she worked as a graphic designer, art director, and picture editor in the various art departments. Her solid background in design is evident in the conceptual and intellectually appealing work for which she is now internationally renowned.
Kruger's solid background in design is evident in her early work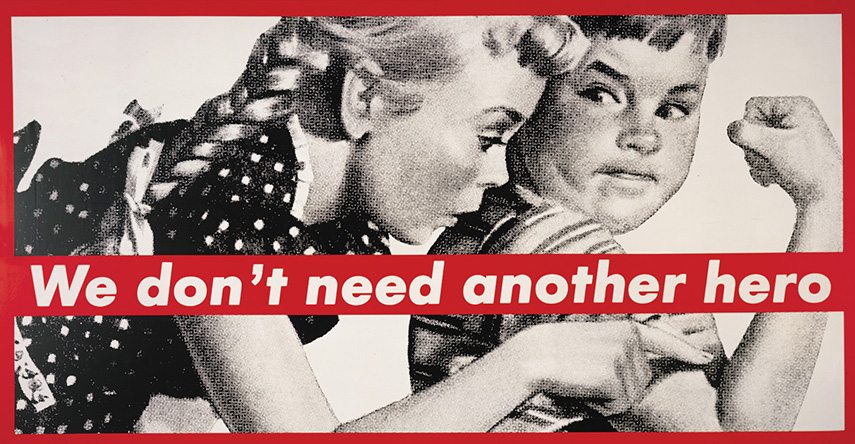 Early Art in the 70s
Kruger's earliest artworks date to 1969. Large woven wall hangings of yarn, beads, sequins, feathers, and ribbons, they exemplify the feminist recuperation of craft during this period. Despite her inclusion in the Whitney Biennial in 1973 and solo exhibitions at Artists Space and Fischbach Gallery, both in New York, the following two years, she was dissatisfied with her output and its detachment from her growing social and political concerns. In the fall of 1976, Kruger abandoned her ongoing projects and moved to Berkeley, California, where she taught at the University of California for four years and steeped herself in the writings of Walter Benjamin and Roland Barthes. She took up photography in 1977, producing a series of black-and-white photo works of architectural exteriors paired with her own shorts writing. This work was published as an artist's book in 1979, called Picture/Readings and it foreshadows the aesthetic vocabulary Kruger developed in her mature work. By 1979, Barbara Kruger stopped taking photographs and began to employ found images in her art, mostly from mid-century American print media sources, with words collaged directly over them. For example, her piece commonly known as Perfect portrays the torso of a woman, hands clasped in prayer, evoking the Virgin Mary. The word perfect is inserted along the lower edge of the image. These early collages in which Kruger used the techniques she had perfected as a graphic designer, were the artist's initiation into the world of ongoing political, social, and feminist provocations and commentaries on religion, sex, racial stereotypes, consumerism, corporate greed, and power.
By 1979, Barbara Kruger stopped taking photographs and discovered new tools of self-expression - she began to employ found images in her art, with a link to media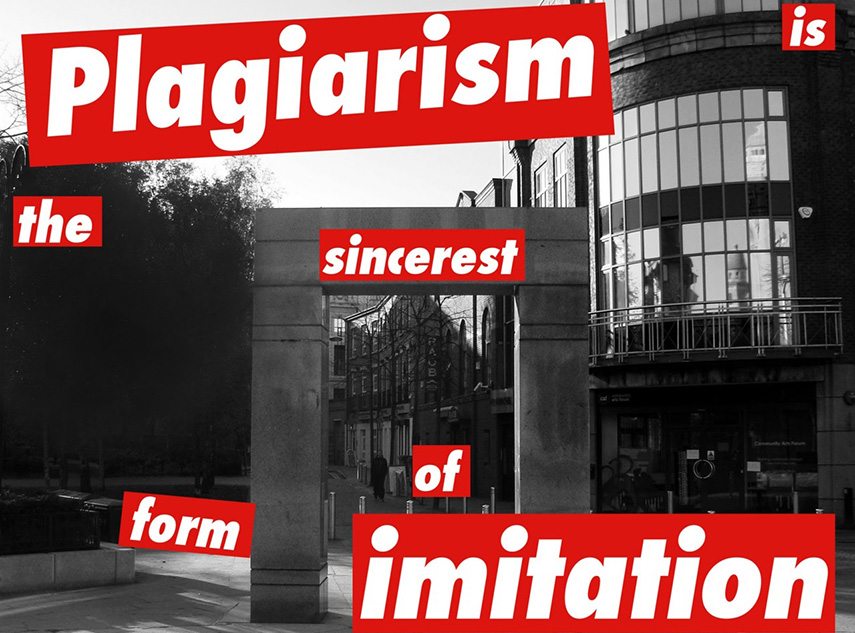 Kruger's Projects in the Form of Text and Video - the 80s and Later
During the early 1980s Barbara Kruger perfected a signature agitprop style, using cropped, large-scale, black-and-white photographic images juxtaposed ironic aphorisms, printed in Futura Bold typeface against black, white, or deep red text bars. The inclusion of personal pronouns in her works such as Your Gaze Hits the Side of My Face from 1981 or I Shop Therefore I Am from 1987 engage the viewers by confounding any clear notion of who is speaking. These rigorously composed mature works function successfully on any scale. Their wide distribution - under the artist's supervision - in the form of umbrellas, bags, postcards, mugs, T-shirts, posters, and so on, confuses the boundaries between art and commerce and calls attention to the role of the advertising in public debate. Since the mid-1990s, Kruger began creating various large-scale immersive video - audio - text installations, which can completely envelop the viewer and his mind. In 1997, she has created a series of fiberglass sculptures of famous (and infamous) celebrities and during the same year in New York, she decorated the city with quotations from important public personas. For her first retrospective that was held at in Los Angeles, she painted 15 billboards with many insightful captions in both English and Spanish. Around the same time, for the public awareness campaign in Unified School District of Los Angeles, Kruger covered buses with bold sentences like Give your brain as much attention as you do your hair and you'll be a thousand times better off or You want it. You buy it. You forget it. Kruger continues to question and advertise various issues of power, control and affection – in 2016, she used the nude image of the American ultra-popular celebrity Kim Kardashian as a background for her insightful new slogan - It's all about me - I mean you - I mean me, which was published as the cover for W Magazine.
During the early 1980s, Kruger perfected her signature agitprop style, which became one of the useful resources for future generations of artists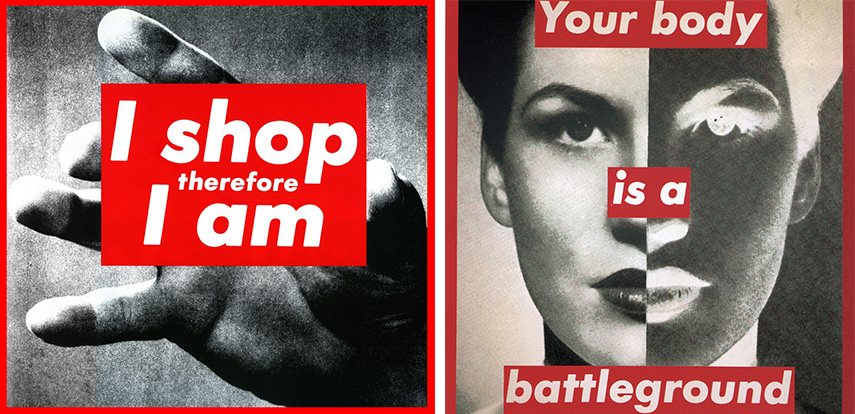 Critique Related to Media and Consumerism
Kruger's work powerfully examines individual participation within consumer and media culture and provides a forceful feminist critique. She has exhibited her work at the Museum of Modern Art and the International Center for Photography in New York, the Museum of Contemporary Art in Los Angeles, the National Center for Contemporary Art in Grenoble, France, and at the Kunsthalle Basel in Switzerland, among other institutions. Her work has also been reproduced on billboards, t-shirts, and other public venues. In 2001, she won the prestigious MOCA Award for distinguished women in the arts.
The artist is represented by Gregg Shienbaum Fine Art, Pop Fine Art and Robert Fontaine Gallery.
Barbara Kruger lives and works between Los Angeles and New York.
Featured image: Portrait of the artist from 1982 – image via pswbportaiture.blogspot.com