Bart Exposito is an American artist known for his geometric paintings that evoke design and architecture. Exposito was born in Amarillo, Texas in 1970. His pursuits as an artist began in the mid-1990s with his studies at the University of Texas, Austin, where he earned his BFA in 1998. Two years later he received his MFA from the California Institute of the Arts, Valencia, LA.
Bart Exposito's Abstract Oeuvre
For more than fifteen years of artistic practice, Bart Exposito has developed a particular style of abstract painting which can be described as a unique mixture of graphic design and abstract expressionism. Using wet, as well as dry media, Exposeito achieves stunning result dissolving the traditional line between painting and drawing. A curved, hand-drawn, black line divide each composition most often vertically but in some cases horizontally, leaving visible themes of landscape, architecture and figuration.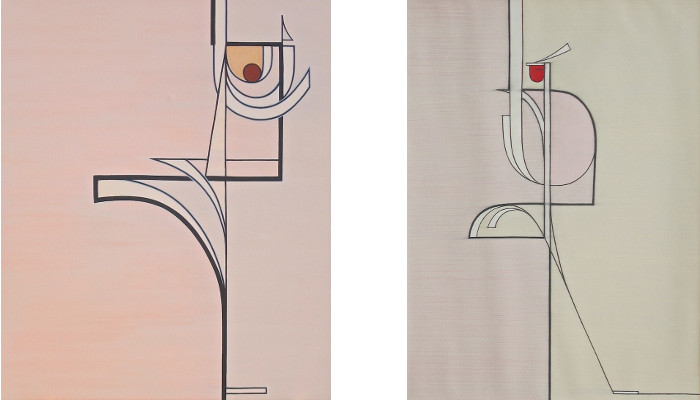 Visual Symbols in Exposito's Paintings
Numerous of Exposito's works imply a large number of visual symbols, primarily alphabets, calligraphic composition and maps. His taste for level, one-dimensional planes and simple combinations of color aren't visually disturbing, instead, they're subversive. When juxtaposed, variously colored shapes in his pieces can hint three-dimensional forms open to interpretation - the unrealistic landscape, or a schematic design for the human movement along a stairway.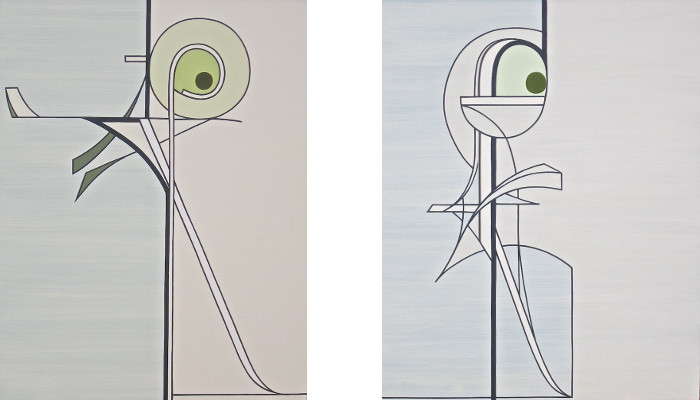 Bart Exposito at Thomas Solomon Gallery
Represented by Thomas Solomon Gallery, LA, Bart Exposito has participated in many individual and collective shows nationally and internationally. His works have been included in group exhibitions at the Nerman Museum of Contemporary Art, Kansas, Thomas Solomon Gallery, Santa Monica, Saatchi Gallery in London and at Ambach & Rice Gallery, Los Angeles, to name a few.
He has also had numerous one-person exhibitions in Los Angeles at Thomas Solomon Gallery (2010, 2011, 2014) and Black Dragon Society (2005, 2007), as well as at the Finesilver Gallery, Houston, Donna Beam Gallery, The University of Nevada, Las Vegas, and at Bill Maynes Gallery in New York City, among many others.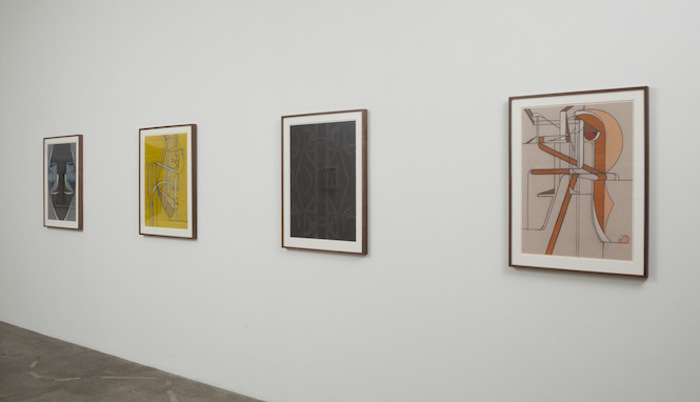 Teaching and Collections
For many years Exposito has lived in Los Angeles where he has taught painting and drawing at the University of California and at the University of Southern California.
In 2012, he shifted to Santa Fe where he has worked as an Assistant Professor of Painting and Drawing at the University of New Mexico in Albuquerque until 2014. Moving from noisy Los Angeles to the oldest city in New Mexico which has a high concentration of artists who have come over the years to find inspiration in the natural beauty of the landscape, influenced Exposito's new work.
Also, he has been influenced by the work of American abstract painters such as Agnes Martin, Richard Tuttle and John McCracken.
Bart Exposito's works are in many notable public collections including Bank of America; Saatchi Gallery, London; Frederick R. Weisman Art Foundation, Los Angeles; West Collection, Philadelphia; Cleveland Clinic Foundation, Ohio; Nerman Museum of Contemporary Art, Overland Park, Kansas, among others.
Bart Exposito currently lives and works in New Mexico.