The need to operate with various meanings and contexts of language in the work of Ben Eine takes the form of general agenda of his. By appropriating the peculiar alphabet lettering style and bright, cheerful coloring, the artist has moved from general lettering conventions and raised peculiar and authentic signature. Interestingly, Eine claims there is a clear distinction between graffiti and street art, stating that graffiti makes the street ugly while street art beautifies it.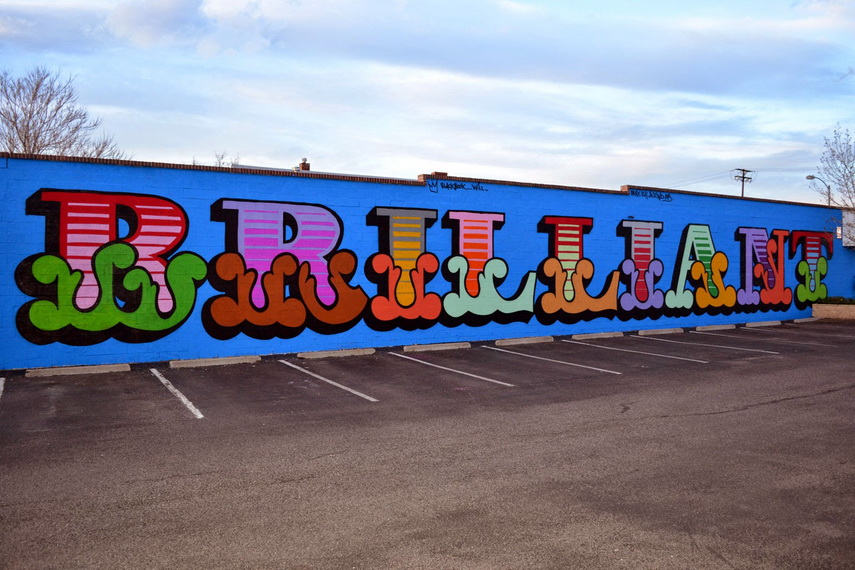 The Street Art Beginnings
Ben Eine was born in 1970, in London. As a youngster, he worked for Lloyds of London and started painting walls as a vandal leaving his first tag all over London. Eine has been arrested for vandalism 14 times and was categorized as an artistic fugitive at a young age, but after two of his fellow graffiti artists were arrested and sent to prison he decided to step aside. After a while, he devoted his full attention to decorating the streets. During the course of time, Ben Eine became master graffiti artist and in past few years established a studio titled simply Pictures on Walls which became known for most iconic works.
Specific approach to coloring and typography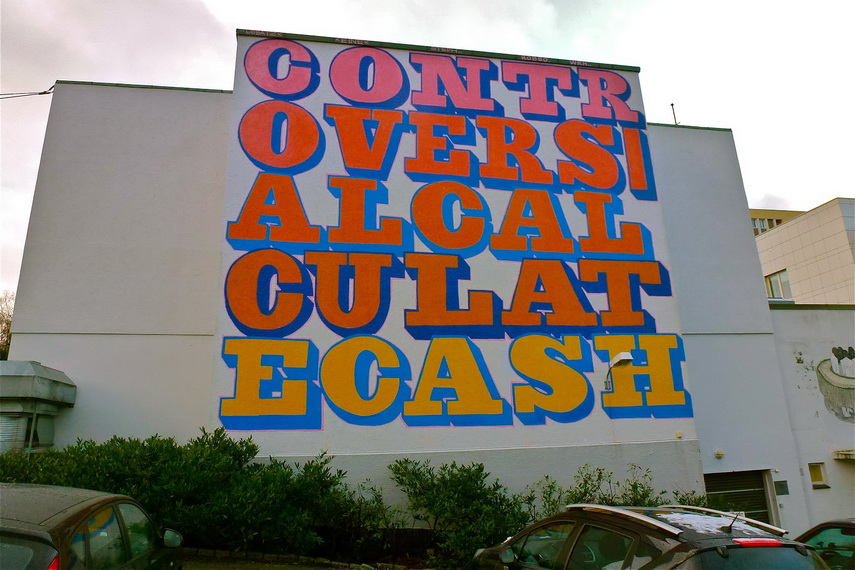 The Path To Success
Before he started flirting with commercial graffiti, Ben Eine was a very famous writer in the underground London graffiti scene. He was known for unusual throw up style which was aimed to stand out from the usual tags and dubs seen on the streets at the time. Largely inspired by the work of subversive fashion designer Noki, he first started to explore more commercial avenues in a workshop in Leonard Street, London. At this time, the artist contributed to sticker graffiti and was prolific in East London with his neon and black EINE stickers (multiple EINE names). In addition to development of his career is the fact that Eine's screen printing skills have helped produce some of the most sought after prints from some of the greatest street artists on the planet.
Introducing different kind of lettering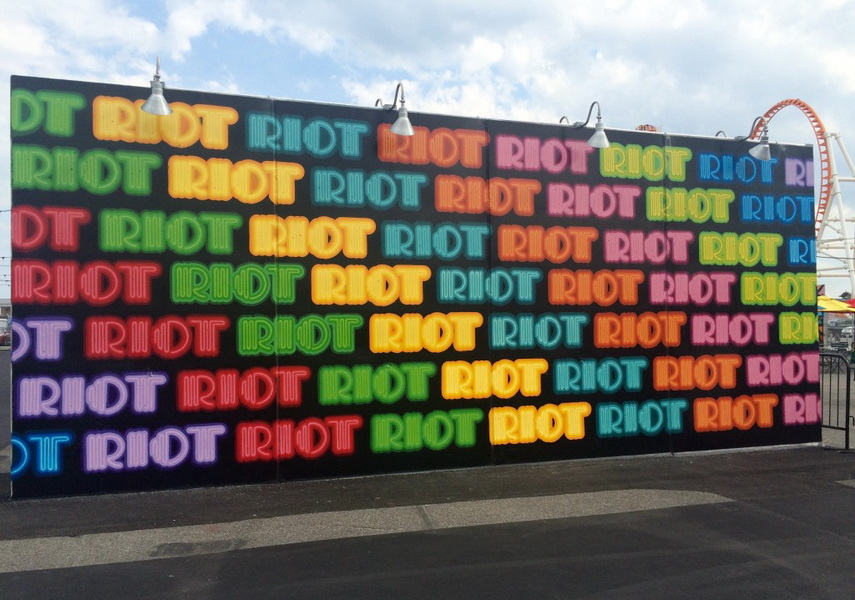 Constructing Authentic Style
When started out, the artist felt the existing graffiti artists were creating designs that were entirely too similar and therefore lacked interest. Eine was prone to invent something else and since was always interested in letters and how they could change shape when combined into words he decided to dedicate himself fully to that task. Therefore, he became completely focused on producing huge letters on shop fronts and his bright, colorful letters have transformed streets around the world in cities spanning from LA, over San Francisco, to Mexico City. Interestingly, in recent years with his commercial work, he has produced numerous lettering styles including shutter, circus, neon, elton, vandalism and wendy.
Symbolical messages for the public eye
The Commercial Aspect of Aesthetic of Ben Eine
His commercial prominence popped up due to a symbiotic partnership with London graffiti artist Banksy. It was a vice versa exchange since, Banksy was able to access the underground scene through Eine and through Banksy, Eine accessed the commercial world. After then Uk Prime minister David Cameron presented one of his works to US President Obama as a gift on his first official state visit Eine's career burst. In addition to the fame were his murals painted in his trademark colors and typography in Middlesex Street, London.
The lettering of Ben Eine is often featured in magazines and promotional material
The Benefactor's Good Will
In 2013 Ben Eine was approached by an entrepreneur Richard Branson who recognized the full potential of the artist's work. The notable airline Virgin Atlantic, which is run by Branson, displayed ten works by the artist in their upper-class clubhouses at Heathrow and New York's JFK airport. The innovative approach included of presentation of Eine's works in a virtual gallery so the passengers travelling between London and New York were able to view, enjoy, and acquire his works.
The works of Ben Eine are fulfilled with simplicity and humor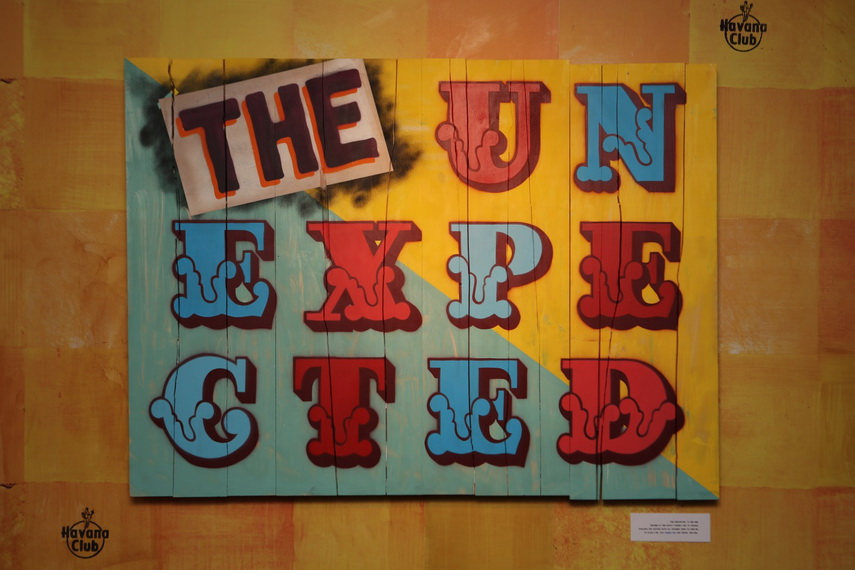 The Significance of Continuous Street Practice of Ben Eine
Over the years, the artist has developed authentic works and from single letters to complex and wry statements the artist has left his mark worldwide. In 2011 Ben Eine was also included in the biggest exhibition of street art to date Art in the Streets at Los Angeles's MOCA and during the same year he was invited by Amnesty International to design their 50th-anniversary poster. The shapes of stunning words and letters are appealing and can be located on shop front shutters and walls as well as in museums and galleries. By drawing inspiration from old typography or letter woodblocks that are hand-carved, cracked, and worn, Ben Eine created simple, yet well-thought tagging and made streets and public spaces look better and more enjoyable.
Ben Eine lives and works in London.
Featured image: Portrait of Ben Eine - image via Widewalls archive
All images are used for illustrative purposes only