Ben Thouard is a French photographer specialized in taking photos of surfing, ocean and water-based sports. By shooting the gigantic 20 meters high waves at Tahiti the artist manages to convey the beauty of nature and the bravery of surfers looking to conquer the ocean. Residing somewhere between fine art and sports photography, images of Ben Thouard resonate with agility and strength present in both his subjects and their watery surroundings.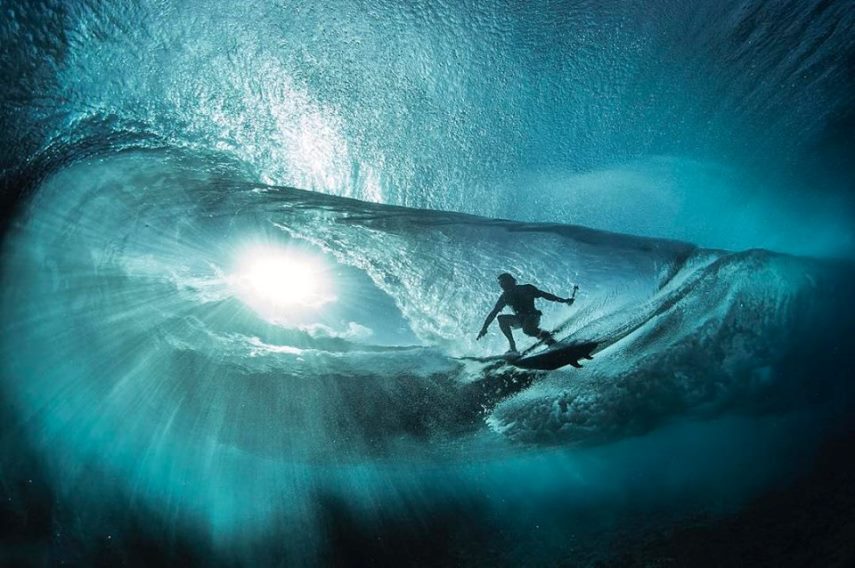 Ben Thouard Art Education
Ben Thouard began surfing at a very young age. In his teenage years, he picked up his father's old Nikon camera and begin taking pictures of his friends while surfing. His father who was a sailor taught young Ben Thouard all he needed to know about winds, waves, and the ocean. Soon he learned how to shoot his surrounding. The artist got his first formal art education in Toulon after which he attended a photo school in Paris.[1] At the age of 19, French photographer achieved his childhood dreams and flew to Hawaii where he began his professional career.
Ben's images usually revolve around water-based sports
Waves the Size of the Skyscraper
Since then the artist has traveled all over the globe while shooting pictures of waves and surfing competitions along the way. At the young age of 22, Ben Thouard was invited to Teahupoo, a city in Tahiti. The artist quickly fell in love with clear ocean and blue skies and permanently moved to Teahupoo where he lives today. Though the majority of his works consists of shooting surfers on the ocean the French artist also takes images of interesting scenes, underwater reefs and people bathing in the ocean.
A video of insane skills of the Tahiti surfers shot by Ben Thouard
The Beauty of Nature and Sport
Ben Thouard's photographs are full of movement and action as he takes pictures of the bravery of professional and amateur surfers alike. More often than not, suffers are shot from up close, inside the waves that encircle the photo like the frame. To capture the stunning beauty of Tahiti, Ben Thouard looks out for shapes and shoots most of his photographs during sunrise and sunset.[2] Sun rays reflects off the surface, creating a rich color palette that captures with intense the beauty and power of mesmerizing, but dangerous waves. Apart from taking photographs Ben Thouard also creates video works with he same thematic and striking effect. In recent years Ben Thouard has become one of the best photographers in the French Polynesia. His work was featured in advertising campaigns and magazine covers including Surf, Surfing Life, Carve and Tide. Ben Thouard ocean image also embellished the cover of Susan Casey's bestseller The Wave.
The artist is represented by Jean Denis Walter gallery.
Ben Thouard lives and works in Tahiti.

References:
Anonymous, (2017) About Ben Thouard, Ben Thouard Official Website, [March 19, 2017]
Kitching, C., (2016) Mesmerising beauty at 'the place of skulls': Daredevil photographer goes inside the monster waves at one of the deadliest surfing spots in the world, Daily Mail, [March 19, 2017]
Featured image: Ben Thouard - Portrait
Images courtesy of Jean Denis Walter Gallery.