Ben Turnbull is a British contemporary pop artist who, fascinated by the dominance of American culture, crafts his realizations about the country's relationship with violence by adopting toys and objects from the Americana youth.
Merging craftsmanship with visual arts - practice of Ben Turnbull
Born in 1974 in London, Turnbull is a self-taught artist and craftsman. As a child, Ben found escape through comic books which heavily influenced his future art. From copying all of the Iron Maiden covers on to his desk at school as a kid, Ben Turnbull has come full circle. Turnbull's training bypassed the traditional art school route. He chose instead to learn his skills from working alongside practicing artisans and craftsmen in a workshop environment. Starting in the studios of interior designers and later, the studios of Shepperton and Elstree working on numerous film productions. Working in workshops since he was 15 years old led to him working on film sets where he started to create his own artworks in his spare time. Consequently, all that led to incredibly successful shows and his art being sold to celebrities such as Jude law, Jared Leto, Harry Styles and Claudia Schiffer.
Turnbull's review of the American society
Turnbull's work is self-described as Angry Pop – he is raising questions of harsh truths whilst targeting difficult subjects. Associating characters and narratives from popular media the work reflects a more honest interpretation of American social and political themes. Creating art from comic books into collages, satirical works based on children's toys and objects, and hand carved pieces, he creates symbolic works which reveal startling truths about war, violence and patriotism. Satirizing and subverting cult objects, he creates his own visual commentary.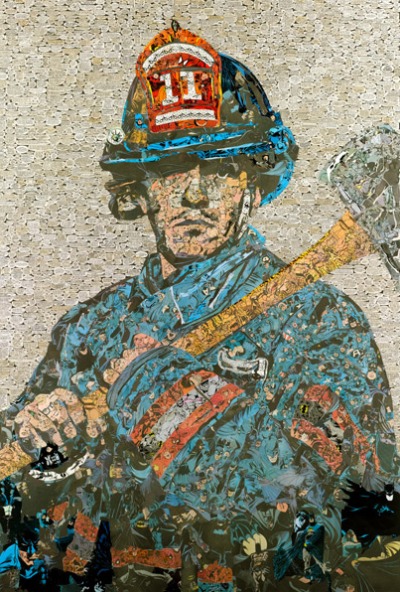 The real-life Supermen - Turnbull's major series
In his famous Supermen series, Turnbull utilizes comic book idols as he constructs portraits and iconography of modern day heroes from our childhood fictional ones. He celebrates the real heroic strength and explores the heroism of 9/11 firefighters.
Ben Turnbull points out that "Superman didn't fly down to save the falling buildings, there was no Caped Crusader ready to do battle with the arch-enemy and Spidey didn't spin his web. Without the need of a phone-booth or a revolving door, these true patriots donned their iconic costumes and sacrificed life and limb for what they believed in."
Ben's creations are based on the visual vocabulary of an entire generation of superhero lovers, only that this time the heroes are completely real. Serving as a bridge between collective fantasy and harsh reality, Ben's work is a reminder that behind any hero is hidden our deepest yearning for a better world.
American History X
Following on from 'American History X - Volume I - The Death Of America' Turnbull's hugely successful 2014 show, 'Smells Like Teen Spirit' is an undiluted take on the lone teen shooter phenomenon which has haunted the U.S for at least half a century. Guns & weapons are beautifully and intricately hand carved into vintage school desks. The carvings and etchings are engrained in violence on bubble gum stained desktops taking us on an uneasy journey into the competitive nature of an American High School disease.
The immaculate design and hand crafted works employed in the show reveal hidden truths of U.S gun policies literally sunk into the graffiti strewn material. Tackling repetitive themes from the 'Texas clock tower sniper', up until the 'Sandy Hook tragedy', the exhibition 'American History - Volume II - Smells Like Teen Spirit' highlights the horrendous reality and regularity of these shocking crimes.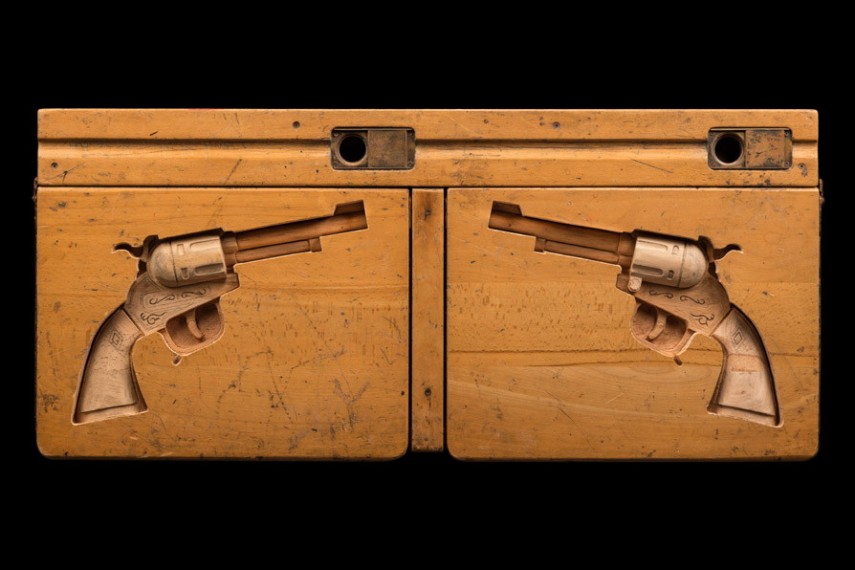 Turnbull's position among other artists - featured exhibitions
In recent years, Turnbull has been featured in two significant public exhibitions. During 2012, Lancaster Institute of Contemporary Art presented a retrospective of Ben Turnbull's practice from the last decade. The exhibition featured over twenty major sculptural and wall-based works alongside newly commissioned pieces and a publication with essay by Richard Dyer. Turnbull was also featured in 'We Could Be Heroes: The Mythology of Monsters and Heroes in Contemporary Art' at Brigham Young University's Museum of Art, Utah alongside other artists including Takashi Murakami and Maurizio Cattelan.
Ben Turnbull lives and works in London.