Bernar Venet is a French conceptual artist, a pioneer of conceptual art in New York in the late 1960s. He is best known for his versatility in multiple mediums, including painting, drawing, sculpture, installation, as well as stage design and musical composition.
Venet: An Early Life
Venet was born in a small village in the French Alps. He was brought up in Chateau-Arnoux-Saint-Auban in the region of Provence-Alpes-Côte d'Azur where he had a religious upbringing, aspiring to become a missionary.
As a child, he was often sick with asthma, leaving him unable to lead an active childhood. In school, he had a problem with vigorous expectations on academic subjects while, at the same time, he excelled in drawing and painting. With the help of a local artist, Venet began to explore art as he became interested in painting and drawing more and more each day. The book about Renoir was a turning point in his childhood - he was only 11 when he understood that he might be able to turn his talent and hobby into a real profession, even career. Same year Bernar is invited to exhibit in the Salon de Peinture Pechiney on Paris.
From 1955 to 1958, he studied at Ecole Libre and Groupe Scolaire Paul Lapie; and then, in 1959, Venet studied for a year at the Municipal Art School of Nice. Right after, he began working as a stage designer at Opera de Nice where he produced a highly stylized paintings described by himself as symbolic.
Venet's Fetishist Works
In 1961, Venet joined the French Army where he converted an attic of the local army reception center to a studio. During this period, he painted with tar, creating art with coal. Venet called this style fetishist works, as he was creating on the floor, with his feet in a gestural style. Later, this has developed into a black monochromatic painting, adopting in time all forms of action painting. In some cases, he worked on a surface without leaving trace of his action, so the blank surface would become a work.
Coal Pile
In 1963, Venet has returned to Nice and opened a studio to continue his tar art, now also photographing coal and gravel piles. At this time, he created his first sculpture or better said sculptures, Coal Pile - piles of loosely arranged pieces of coal whose arrangement varied with each installation. Venet became well known for his amorphous installations made by piling up loose gravel, coal, or asphalt.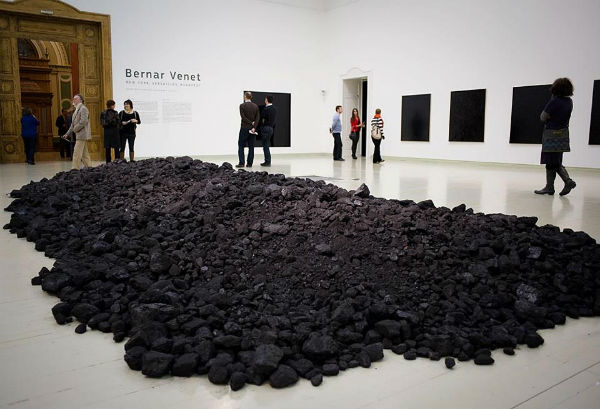 In 1964, Venet found a great deal of inspiration in works by Nouveaux Réalisme style artists. Venet began to make pieces out of used and discarded industrial material, such as flattened cardboard creating so called industrial paintings.
Venet and New York: Minimalistic Influence
On his first trip to New York, Venet was amazed and influenced by the Minimalist artwork he saw in galleries and while encountering Minimalist artists such as Dan Flavin, Donald Judd, and Sol LeWitt. He was stunned by the formal restraint of those works.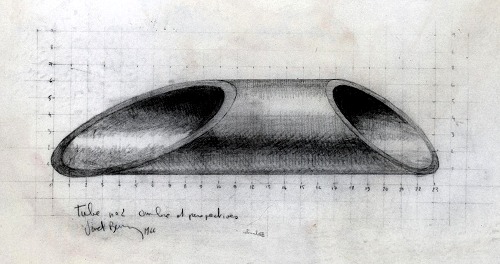 When he returned to Nice, Venet began to work on mono-semiotic works and diagrams, while at the same time he was composing, choreographing and creating costumes and designs for Jean-Louis Martinoty's production of the ballet Graduation, a ballet performed on a vertical surface. Soon after, in 1967, Venet definitely moved to New York.
When he was (in 1966) invited to participate in an exhibition at the Céret Museum in the Pyrenees, Venet simply sent a blueprint of a tube instead of the tube itself.
"Nobody made a plan like this and presented it as a work of art, so I thought what if I present it as a work of art? Why make an object? Everybody makes objects. How about showing the information about an object, but not the object?"
Scientific Idea of Art
In the beginning of his life in NY, Venet has produced conceptual art that used systems, often based on scientific ideas – he collaborated with scientists from Columbia University and produced the non visual works on magnetic tape, as his focus was on content, not the visual characteristics of artworks.
In 1971, Venet decided to cease his artistic work to travel throughout the United States, Europe, and Japan. He even taught art and art theory in Sorbonne, France, lecturing throughout Europe as well. At the time, retrospectives of his work were held at the Krefeld Museum, Germany, and New York Cultural Center, New York.
Venet's Art on Pause
While pausing, Venet resumed his work based on mathematical systems, in paintings, wood reliefs, and sculpture as he wrote about conceptual art and his own work to the time. Upon the return to New York, he soon began his first piece of the series titled Angles and Arcs, a group of extremely restrained paintings of elementary geometrical figures.
Indeterminate Lines
In 1983 Seth Schneidman produced the film Bernar Venet 1983 in New York. Next year he held a first exhibition of Indeterminate Lines sculptures, a series based on randomly created lines, at Galerie Templon, Paris. Venet said about his sculptures:
"They are all about how metal resists. They are a test of strength—a battle between myself and the piece of metal."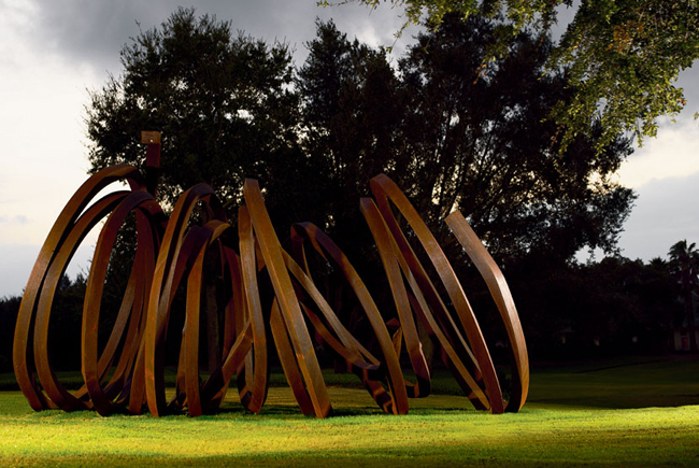 In the 1990s, Venet composed various musical compositions, such as Resonance and Sound. During this time, he had his first furniture exhibition at Galerie Mostra, Paris, and then Galerie Eric Van de Weghe in Brussels. In 2001, Assouline published Furniture, a book on all of his designs.
Venet: Chevalier de la Légion d'honneur
In 2000, he began a series of monumental wall paintings. At the time, Venet also created sound recordings, films (on film festival in Montreal Venet presented his film Acier Roulé XC-10), as well as furniture and stained glass.
In 2005, the artist was named Chevalier de la Légion d'honneur, France's highest decoration and next year, in 2006, Venet received the Robert Jacobsen prize for sculpture from the Würth Stiftung in Germany.
In 2007, his piece Saturation on the ceiling of the Cour des Comptes in Paris was inaugurated by President Jacques Chirac. In 2008, Sotheby's invited for the first time a single artist, Venet, to present his work on the grounds of the Isleworth Country Club.
Continuing to evolve each day, Venet still works in many different mediums – sculpture, painting, photography, film, music composition, performance art and furniture design.
Bernar Venet lives in New York.
All images copyright © the artist