A highly prolific painter and printmaker, Bernd Zimmer is a German artist known for his pieces that are neither figurative nor abstract but movingly fuse elements of both traditions. He has developed his own unique technique and style that are characterized by bright, intense colors and quick, broad brushstrokes. His vibrant and heavily layered gestural paintings are inspired by the beauty of nature and the world surrounding him.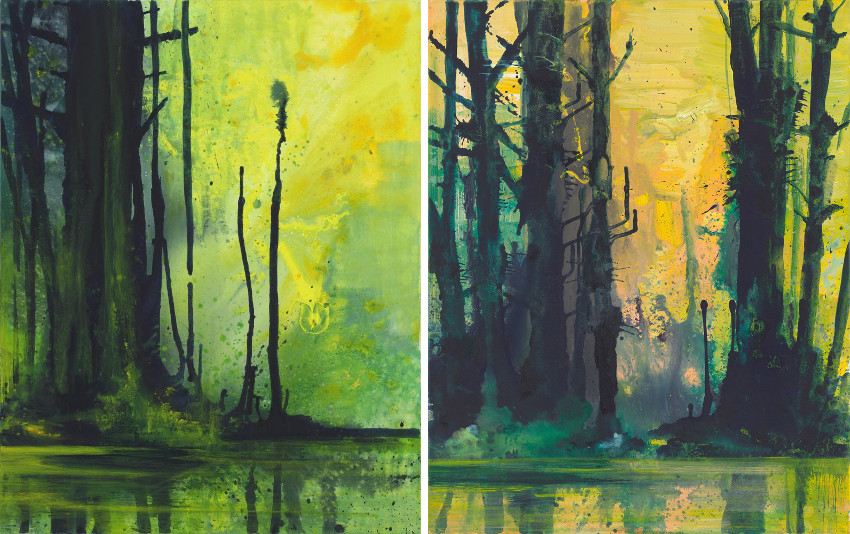 Background and Early Works
Born on November 6th, 1948, in Planegg, Munich District in Bavaria, Germany, Bernd Zimmer settled in Berlin in the early-70s, where he studied aesthetics, philosophy and theology at the Free University. In his early twenties, Zimmer traveled across Morocco, Spain, Malaysia, Thailand, Laos, Burma, Hong Kong, Mexico, and the South of the US. Fascinated with the Mexican landscape and the outstanding murals by Diego Rivera, José Clemente Orozco, and David Alfaro Siqueiros, he began painting as an autodidact upon his return to Germany's capital. Like most of his works, his earliest pieces – characterized by the use of mainly pure basic colors - were painted directly on the large-scale canvases without preparatory drawings.
Zimmer paints directly on the large-scale canvases without preparatory drawings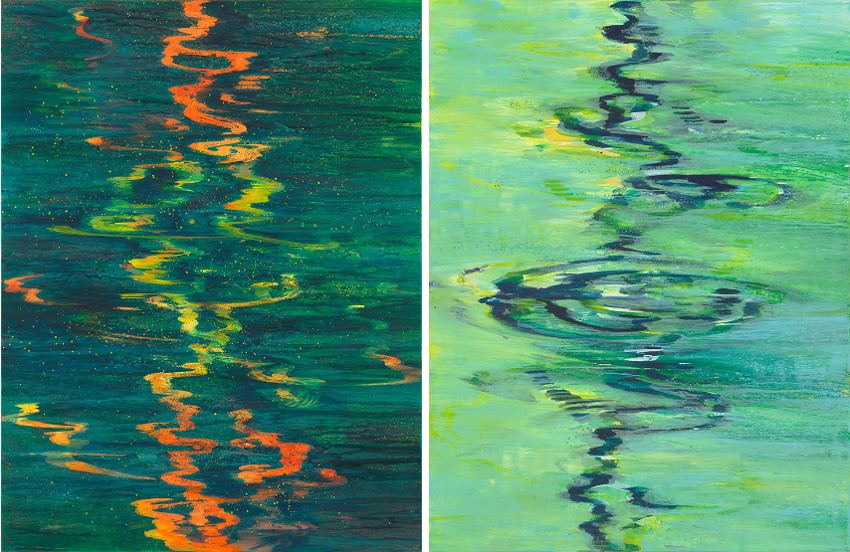 The First Solo Show
After he worked for several publishing houses, in 1977, he founded the Moritzplatz Gallery along with Rainer Fetting, Helmut Middendorf, Salomé and others. The same year, his debut solo show was held at the artists-run gallery. The artist exhibited a number of his still lifes, interiors, pictures with skulls, figures, and Berlin cityscapes, as well as his monumental piece entitled FLUT. In 1979, he dropped out of studies and received the Karl-Schmidt-Rottluff-Stipendium, which allowed him to quit the various jobs and made it possible for him to live as a freelance artist.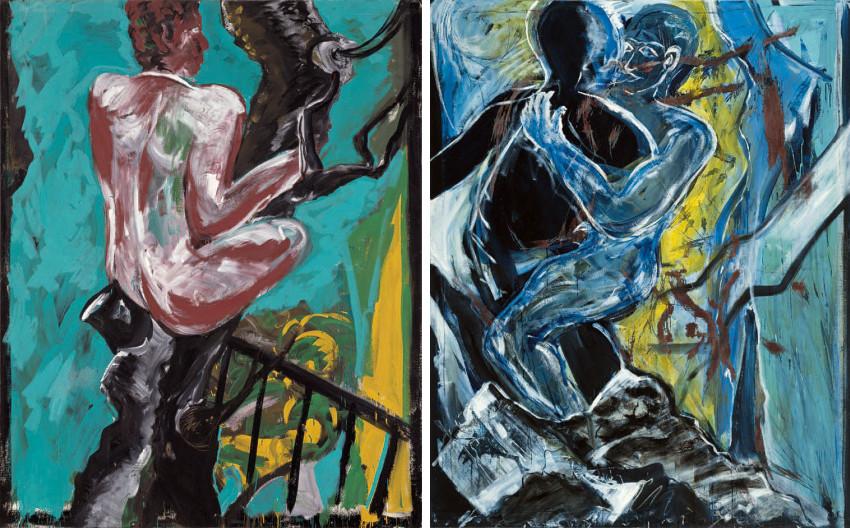 Between Figuration and Abstraction
In a career that spans over three decades, Bernd Zimmer has created an impressive body of work mostly inspired by the landscapes. From the Cosmos paintings via waterfalls, shore scenes and dense vegetation to freely floating light reflexes in the Schwimmendes Licht series, all his pieces have a dreamy, watery feel. Irregularly situated horizon lines offer very different focal points – the pool in some canvases, the forest in others. Although silhouettes of trees or puddle-like shapes in his paintings evoke light and water, his oeuvre succeeds in its moving away from the overly familiar beauty of its subject into more subjective, more abstracted territory.
His work is mostly inspired by the landscapes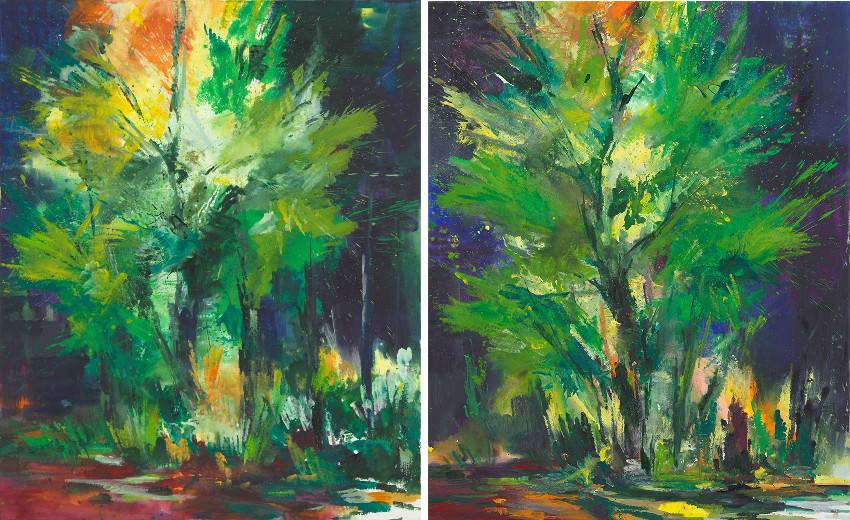 Drawing Inspiration from Traveling
In search of inspiration, Zimmer has traveled across globe visiting almost every part of the world. His landscapes are pointedly painted from memory, highly influenced by his journeys and different experiences. His work has been exhibited in more than one hundred individual and collective shows throughout Europe and beyond. Since 1993, he publishes together with Roland Hagenberg the artist magazine PlantSÜDEN. Today, he has the place among the most important living German painter.
The artist is represented by Galerie Karl Pfefferle, München.
Bernd Zimmer lives and works in Polling, Upper Bavaria, Germany and Monteventano, Italy.
Featured image: Bernd Zimmer in Kunstlerhaus Marktoberdorf, photo credits All-in
All images © the artist