Controversial feminist artist Betty Tompkins has explored the extreme edges of sexualized iconography over the past four decades. She began working on her Fuck Paintings — an ongoing series of large-scale photorealistic images of sex, including exposed genitalia, penetration, and masturbation — in 1969. Often dismissed as too explicit, her works have been censored and labeled as pornography over the years. However, highly sexualized imagery and language have since become omnipresent in mainstream culture, so Tompkins' work finally began getting more attention than shame. In 2003, the American artist participated at the Lyon Biennale where she received highly positive acclaim for her portrayal. Since then, she has been recognized as one of the artists at the forefront of first generation feminist art.
Betty Tompkins has been recognized as one of the artists at the forefront of first generation feminist art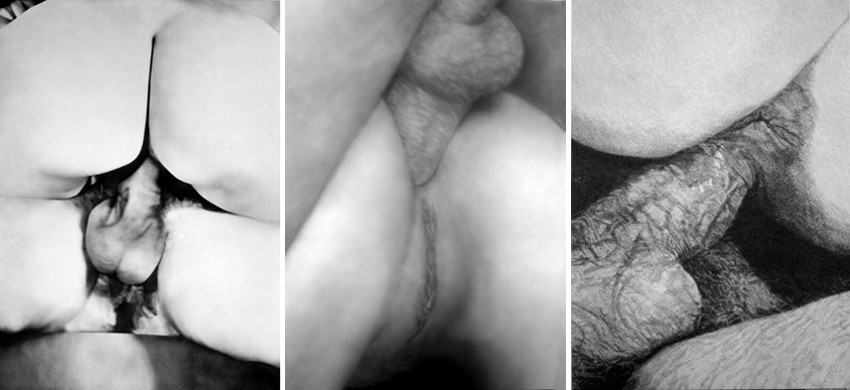 Fuck Paintings
Born in 1945, in Washington D.C. and raised in Philadelphia, Pennsylvania, Betty Tompkins obtained her Bachelor of Fine Arts from Syracuse University in New York. Upon graduation, she married her first husband, who was one of her teachers, and soon moved to NY. The very first Fuck Painting saw the light of the day in 1969. Using porn magazines as a source material, Tompkins depicted delicately explicit paintings of people engaged in a variety of sexual acts, ranging from activities done alone to acts with another person. The pieces were made using hundreds of layers of spray paint; the artist explored a variety of techniques to bring her artworks into being and exhibit her prolific skills as a painter. Tompkins has developed a unique body of work which included large-scale, monochrome compositions of closely cropped sexual scenes that she would become known for.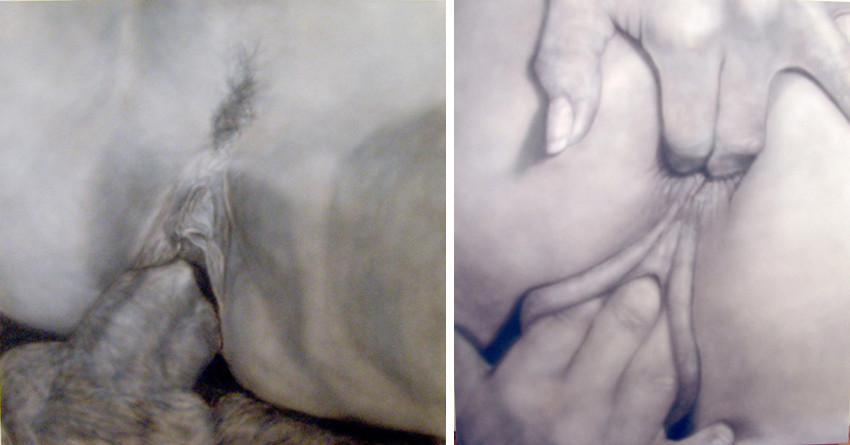 The Radical Feminism and Controversy
Controversy is a term that distinguishes Betty Tompkins' career in the art world. Her large body of work created in the 1960s and 1970s coincided with the rise of second-wave feminism. Although part of a generation of radical feminist artists, who were not afraid to speak up, Tompkins was cast aside by her fellow feminists who claimed that pornography is harmful because it dehumanizes women and encourages sexual violence. But in her practice, Tompkins produces photorealistic, monochromatic paintings of sex, representing male and female genitalia isolated, zoomed in and deprived of identity or any other context. Although her oeuvre is not as shocking as it was back in the day when Tompkins created her first work, her direct, raw and highly detailed pieces can stir controversy even today.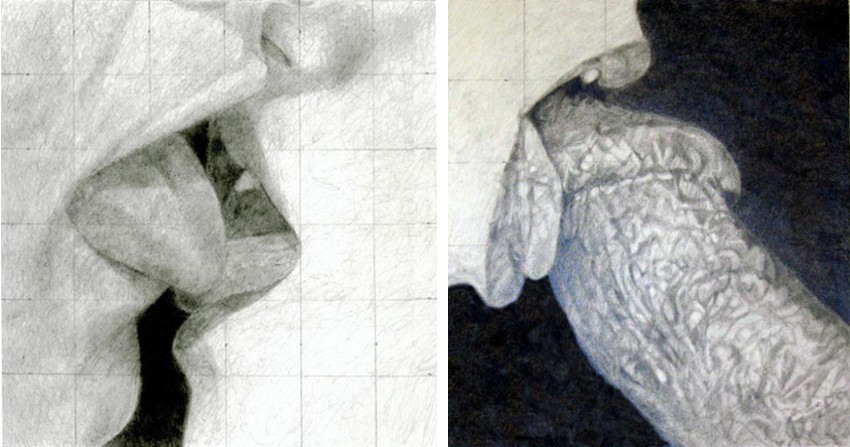 From Censored to Celebrated
In 1973 – after Tompkins' work was included in group shows at Warren Benedek Gallery and LoGuiduce Gallery, both in Soho – she was invited to participate in a show/auction in Paris, but her work was not let into the country. It was the first time that her paintings were labeled "obscene and unfit for public exhibition". The show went on without her, and it took more than a year for Tompkins to recover her works from French authorities. In response to this ordeal, Betty continued to work but left the subject matter of the Fuck Paintings at bay until the beginning of the 2000s when she decided to go back to the theme. The turning point of Tompkins' career happened in 2003 when she participated in the Lyon Biennale, receiving huge recognition for her work. Shortly after, Fuck Painting #1, created in 1969, was acquired by the Centre Pompidou in Paris. Additionally, she has gone on to exhibit on numerous occasions, often solo, to great acclaim, but her Fuck Paintings have never been exhibited in any of the US museums. "I guess the paintings are still considered as shocking now as when I did them". Although much of her "no-sex" work can now be found in such collections as Islip Art Museum, East Islip, New York; Allen Memorial Art Museum, Oberlin, Ohio; and Paterson Museum, Paterson, New Jersey; only the Centre Pompidou owns her fuck painting or any of her sex works.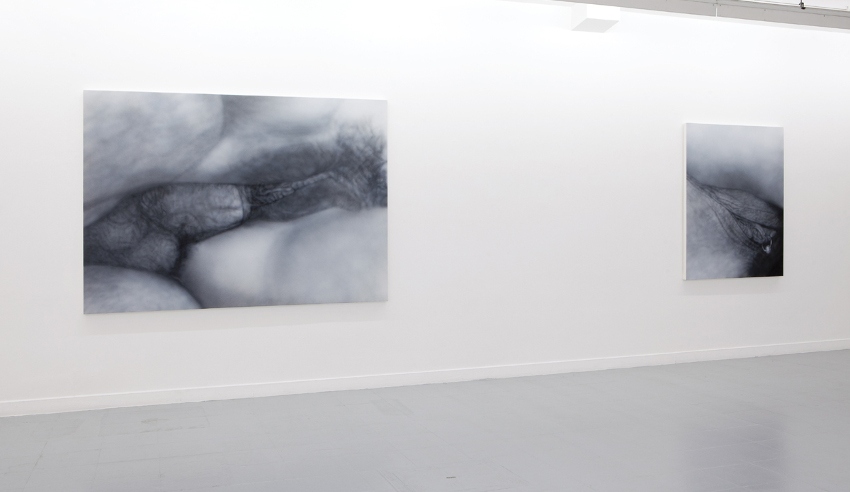 WOMEN Words, Phrases and Stories
In one of her latest series WOMEN Words, Phrases and Stories, Tompkins created a suite of 1,000 small paintings of words used to describe women. For this project, the artist sent out emails soliciting phrases commonly used to describe women, first in 2002 and then again in 2013. As a result, the concept of female identity has been literally fractured into a thousand pieces, which range in size from 4 by 4 inches to 36 by 16 inches and produce loose configurations of meaning among words. Ranging from "Venus", "Divine", and "Baberaham Lincoln" to "Piece of Ass", and "The Only Thing That Would Make Her More Beautiful Is My Dick in Her Mouth", the paintings reveal that women are often still viewed as an instrument of sexual pleasure.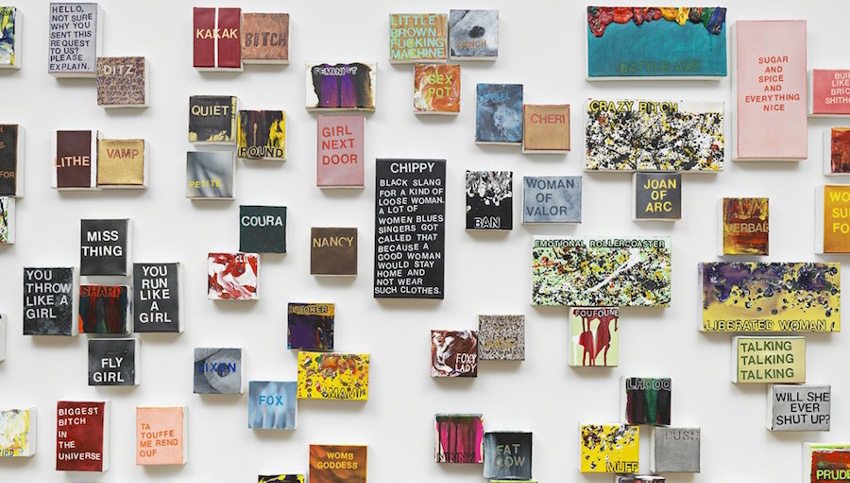 Between Intimacy and Sexuality
While it may be taken for granted in the beginning of the 21st century that women artists make transgressive and explicit sexual imagery, back in 1960 when even owning pornography was embarrassing, Tompkins thrived amidst the controversy. She was one of the artists at the forefront of the era's feminist movement that have altered contemporary life and changed the world. Although her Fuck Paintings had met with so much rejection over the course of almost three decades, she has remained faithful to her peculiar and unequivocal visions. Aged 70, she continues to create paintings based on the tension of intimacy and representation of sexuality.
Betty Tompkins lives and works in New York and Mt. Pleasant, PA USA.
Featured image: Betty Tompkins - portrait, photo credits – Purple
All images copyright Betty Tompkins