Betty Woodman was an American born artist whose creativity became world known through her ceramic work, which is presented in bright colorful pieces, especially on vases and vessels. As her life and passion for art took her all around the world, different influences and traditions shaped her artwork. Hence, Betty Woodman's work reminds viewers of Egyptian art, majolica porcelain, Baroque's architecture, and Greek sculptures. During her career, she received numerous awards and honors and had lots of exhibitions both solo and in a group.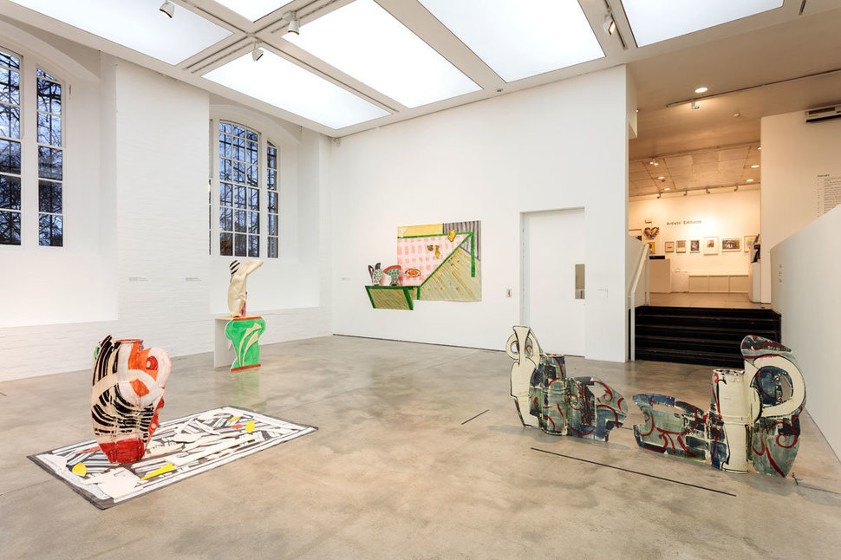 From Production Plotter to Renowned Artist
Born in Norwalk, Connecticut in 1930, Betty Woodman showed her interest in clay while she was a teenager. She got her academic specialization at the School for American Craftsmen in Alfred, New York. At the age of 20, she began to work as a potter and had a full support of her family. Unfortunately, those were not easy years for women to get engaged in the 'men's world' of pottery. If she wasn't so persistent, or even little stubborn, she wouldn't have succeeded. It was only during the 1970's, and the rise of the Pattern and Decoration movement, when women began to participate in line-ups and exhibitions. This was a great opportunity for her to show people her abilities, creations, and possibilities. Betty Woodman's invention of the 'Pillow Pitcher', a shape that represents a combination of Etruscan vessels and Chinese porcelain, has opened her door to the world, and become her 'trademark'.
If she wasn't so persistent, or even little stubborn, she wouldn't have succeeded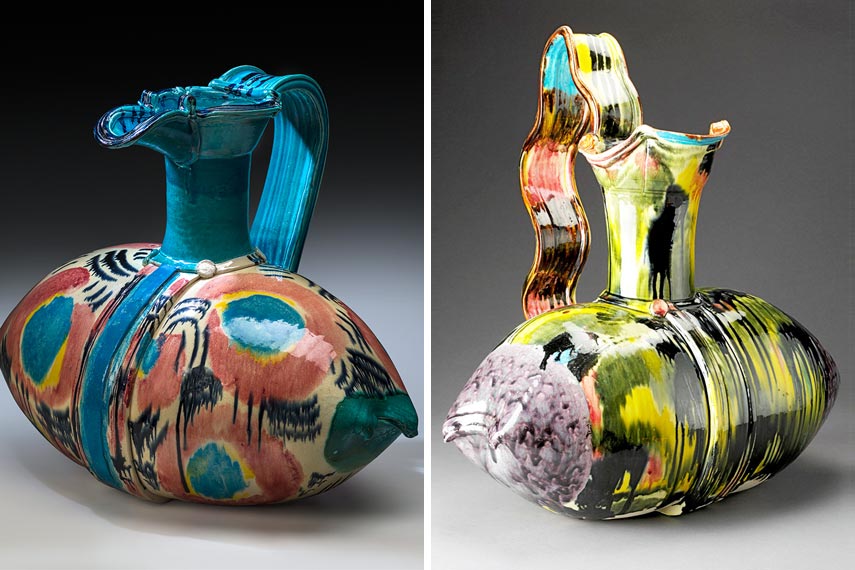 Expression of Limitless Imagination
Ceramics was a key element of Betty Woodman's creative and professional life. Combined with other techniques and materials like paintings, graphite's, ink, lacquer, and wax she showed the world that there are no limits in someone's creativity, except their own imagination. The images and experience she gained during the numerous travels, gave her plenty of ideas for eclectic elements that could be seen in her pieces. By joining clay and graphite's, bronze benches and platters, the artist managed to combine the incompatible, to adjust tradition to be more appealing to the modern audience. The central position of the vase in most of the author's work represents a global perspective on art history and production, as it can be used as a universal symbol. For her the vase can be a vessel, a human body, and animal figure, a metaphor, or an art-historical reference.'[1] Ambitious experiments and boldness let her push the boundaries in innovations. That is why installations, multi-sided Cubist abstraction, and mosaics are not strange to her. The three-dimensional artwork is something that helped her connect with younger generations of artists and audience. Her work was constantly exploring new techniques, directions, and media. Not only that she experimented with different materials, but also different types of the same material, like red and white clay.
Installations, multi-sided Cubist abstraction, and mosaics are not strange to her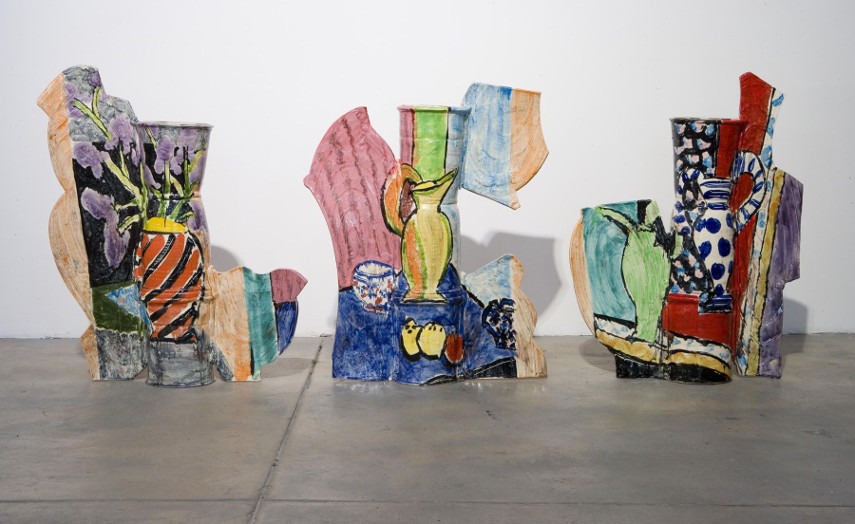 Honors and achivements
One of the most important exhibitions in this artist life was the retrospective of her work between 1950's and 2006, when she exhibited her pieces at the Metropolitan Museum of Art in New York, a rare tribute for the artists that are still alive. Her ingenuity could be seen in Deco Lake Shore (2003, Metropolitan Museum), where she presented a combination of graphite and ink with terra sigillata and wax on handmade paper.[2] Woodman's professional life was under the influence of Italy for the most part, so it is no strange that Italian Baroque had an important role in her creativity. As a reward for her remarkable contribution to the ceramic art, and art overall, she received several recognitions, like two times National Endowment for the Arts Fellowship in 1980 and 1986 or Fulbright-Hays Scholarship in Italy which she got in 1996. Recognitions and honors don't stop there, as this distinguished artist also got the title of Doctor of Fine Arts Causa from the Nova Scotia College of Art and Design in 2006 or Honorary Doctorate of Fine Arts from the Rhode Island School of Design. To date, her paintings, ceramics and other works have been on view in many shows at The Museum of Modern Art, New York, Gallery Diet, Miami, Max Protetch Gallery, New York, Frank Lloyd Gallery, California, Denver Art Museum, and many others.
Betty Woodman died at an age of 87 on the 4th of January, 2018.

Reference:
Anonymous, 2016, Betty Woodman: Theatre of the Domestic Institute Of Contemporary Art, [Feb. 13, 2017]
Anonymous, 2016, The Art of Betty Woodman The Metropolitan Museum of Art, [Feb. 13, 2017]
Featured image: Betty Woodman - Liverpool Fountain, Liverpool Biennial 2016 - Photo credits Joel Chester Fildes
All images used for illustrating purposes only