Betye Saar is an American assemblage artist best known for her artworks that address racism and stereotypes in America.Her legendary piece, called The Liberation of Aunt Jemima, confronted the myths related to the famous African-American female character depicted on the pancake syrup bottle. Saar is interested in combining the fragments of her own memories and historical facts with ordinary objects and technological components. Her work explores the American past and reaches into the future at the same time. In that sense, it forms a unique bridge able to address a variety of topics, such as female emancipation and black consciousness.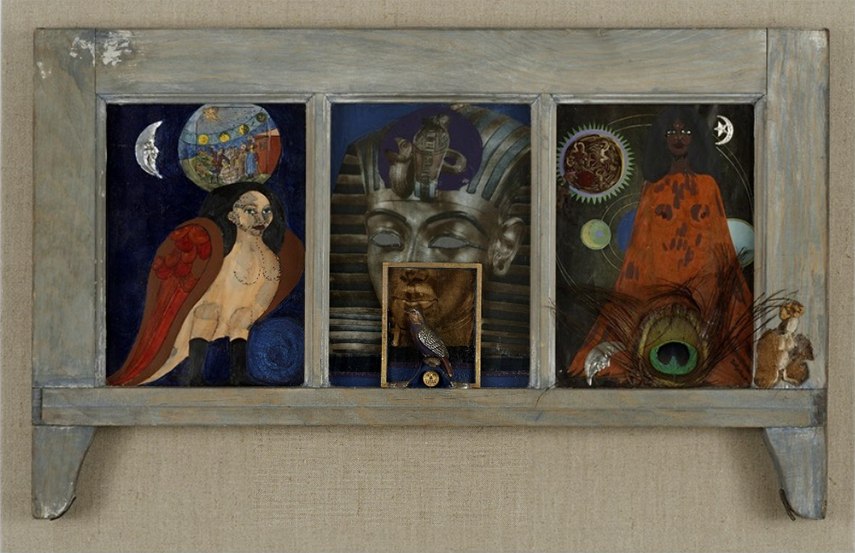 LA as a Center of Feminism and Art
Betye Saar is a native of California, who grew up in Pasadena during the turbulent times of the Great Depression. She was interested in visual arts already as a high school student and she took art classes at Pasadena City College. After she received a BA from the University of California at Los Angeles in 1949, she decided to pursue graduate studies, at California State University at Long Beach. It is important to mention that Los Angeles has been a very important influence and source of inspiration when it comes to Saar's life. In the 1960s and 1970, LA was a melting pot of feminism, visual arts, and black consciousness. At the time, Saar realized that the artists have an amazing power to convert negative events into insightful acts of opposition or resistance. In the late 1960s, Saar started to obtain items which were called black collectibles. These items were caricatures of African Americans found printed on everyday objects, such as food packages and various posters. Especially after the assassination of Dr. Martin Luther King, Jr. in 1968, Saar aimed at recycling such displeasing caricatures into art pieces.
In the 1960s, LA was a melting pot of feminism, visual arts, and black consciousness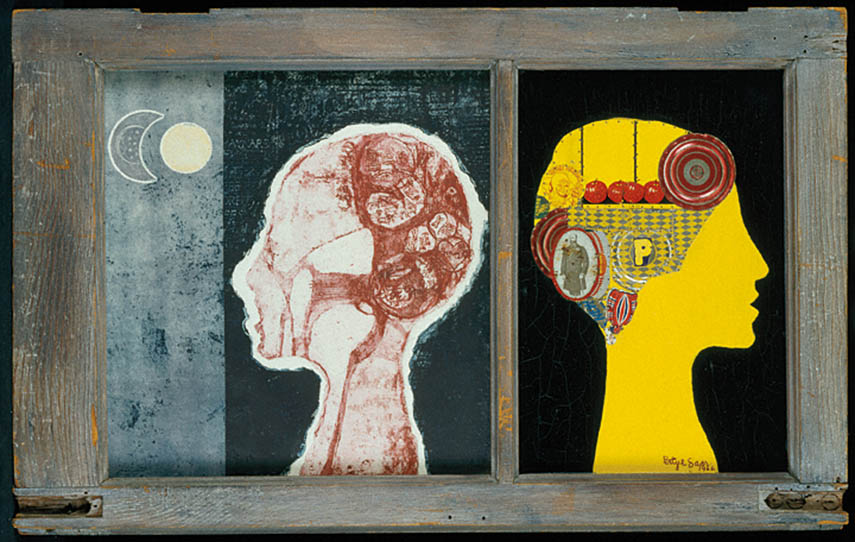 Interest in Assemblage
Saar's interest in assemblage was initially inspired by Joseph Cornell, who was one of the pioneers of assemblage in the United States. Her early work consisted of combining various found items placed within a frame made of boxes or windows. The items Saar has been using in her art point out at her mixed ancestry - African-American, Irish, and Native American. During the 1960s, Saar was collecting images of stereotyped African-American figures, such as Aunt Jemima, Uncle Tom and Little Black Sambo and she incorporated these images into her collages. In such way, once stereotyped depictions of African Americans got transformed them into artistic expressions of political and social opposition. The Liberation of Aunt Jemima from 1972 is Saar's most famous piece which addresses this issue. It is a mixed-media artwork in which Saar subverts the meaning of the stereotypical mammy figure of Aunt Jemima, by placing not only a broom but also gun into her hands. However, Saar's artistic focus is not entirely related to the issues of feminism – in the 70s, she started exploring rituals of the African cultures, such as shamanistic fetishes. After her great-aunt died in the mid-70s, Saar made another different series of collages, which were more personal, since they were based on old family photographs and letters, as well as nostalgic mementos, such as dried flowers. In the early 1980s, Saar became interested in teaching fine arts and started working at the University of California and the Otis College of Art and Design. Around the same time, he work got transformed again and she began creating larger, site-specific installations, often inspired by mysticism and Voodoo tradition, as well as technological advances – for example, her later work combines computer chips with amulets and jewelry related to magical practices. Since then, Saar's work has been continuously exploring realms of the technical and the spiritual.

Saar was collecting images of stereotyped African-American figures, such as Aunt Jemima and Uncle Tom and incorporating them into her collages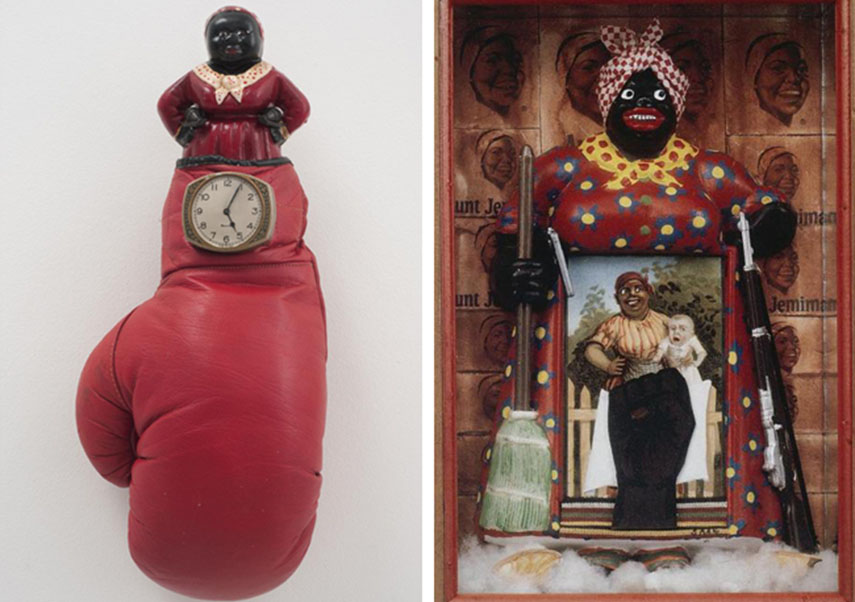 Awards and Honors
Saar has received a plenty of awards for her socially and politically engaged art. She won two National Endowment for the Arts Fellowships (1974, 1984), as well as Flintridge Foundation Visual Artists Award (in 1998). More recently, in 2013, The Museum of Contemporary Art in Los Angeles, awarded her with the Distinguished Women in the Arts Prize. Saar has three daughters who are also visual artists and in 2005, the Ackland Museum at the University of North Carolina exhibited work done by Betye and her daughters, called Family Legacies: The Art of Betye, Alison and Lezley Saar. Saar's work is the part of many museum and gallery collections, such as Detroit Institute, High Museum in Atlanta, Los Angeles County Museum and the Metropolitan Museum. She has been awarded several honorary doctorate degrees for her outstanding career that spans over four decades.
Saar was awarded several honorary doctorate degrees for her outstanding career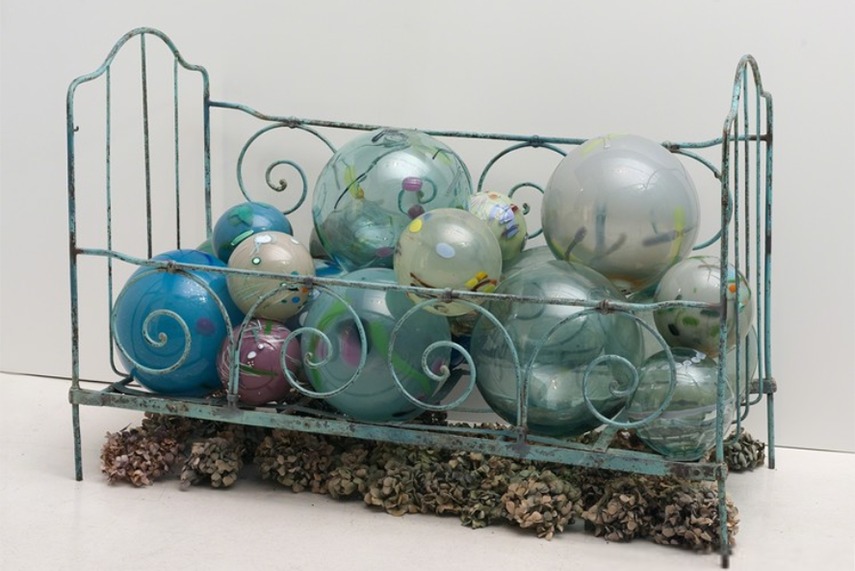 Addressing Racial and Gender Concerns
Saar's pieces are of extraordinary value because they represent political, racial, religious, and gender concerns omnipresent in the modern Western culture, especially the American one. Her work is bridging cultural diversities and revealing marginalized and hidden histories of not only individuals and families, but also entire societies and cultures. Saar has thoroughly explored African less known religions and traditions, as well as the importance of everyday objects we handle since they preserve the memories and histories of the specific era.
Betye Saar lives and works in Los Angeles, California.
Featured image: Betye Saar's Portrait - image via articles.latimes.com
All images used for illustrative purpose only.