Bifido is an Italian street and urban artist who uses his art to make a statement and create an impact on important issues of war, violence, capitalism and childhood. When he was asked for biography information, Bifido responded by quoting Italo Calvino, an Italian journalist and writer "I'm one of those who believe that an author should count just his works. So I don't give biographical information, or I give them false, or at least I always try to change them each time. Ask me what you want to know and I'll tell you. But I'll never tell the truth, you can be sure of this."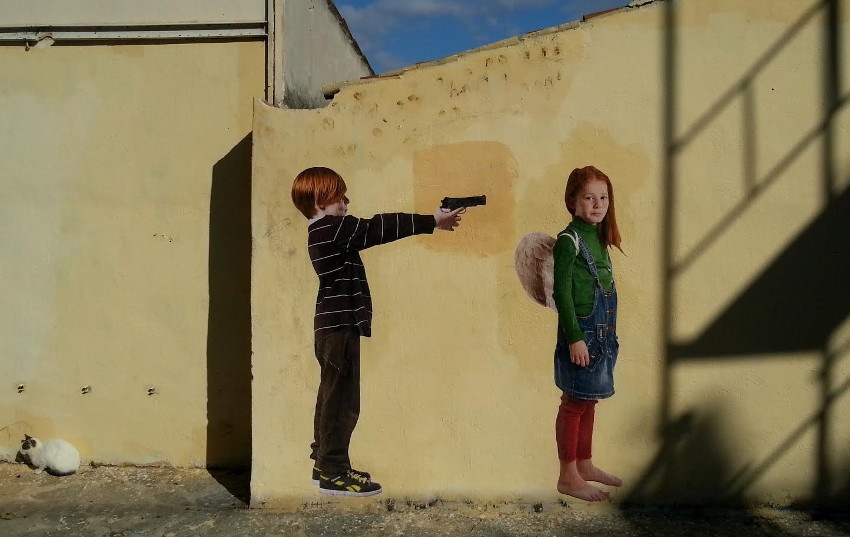 Bifido Bacterium
Bifido was born in Caserta, a city located near Naples in the south of Italy, in 1984. He studied cinema and literature, but luckily for him, never attended any fine art academies. In his own words, he would have to unlearn too much if he did. His tag and moniker, Bifido, comes from the Bifido bacterium, a natural part of the bacterial flora in the human body known for reinforcing the immune system and easing digestive concerns. To the artist, it seemed like the best way to define his art and practice. Bifido has always been a street artist, working on the road. He considers that the galleries are as similar to art as tests tubes are to life. His travels inspire his works, and his works inspire his travels, keeping him at a safe distance from being just another tourist. Recently, Bifido marked some walls in Budapest, Hungary; Marseille, France; and Mostar, Bosnia and Herzegovina.
Some of his recent artworks can be found in Budapest, Marseille, and Mostar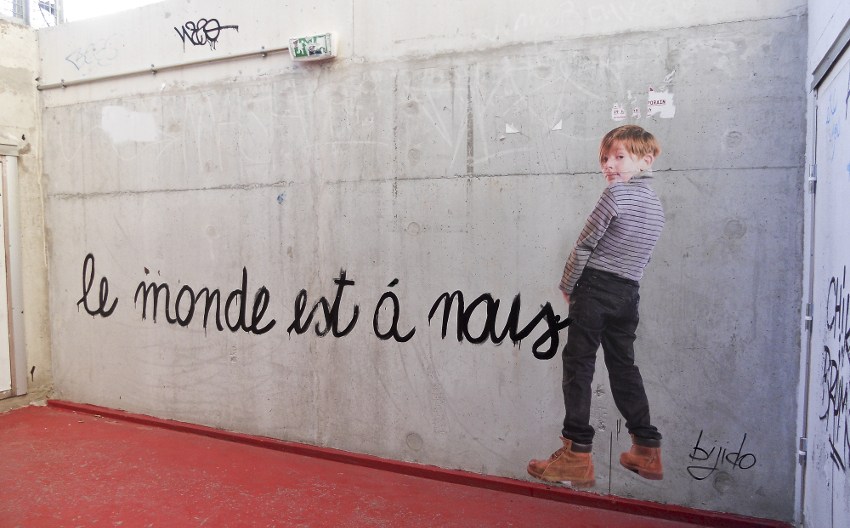 The Artist's Role in Society
Bifido is a genuine artist – he prefers that art takes all his time and, just if it's necessary, sacrifice few hours for getting some money. For him, art can't ever be a hobby. Bifido states that "spare time is the maximum expression of capitalistic slavery: if I have to cut free time, this means that the rest of my life isn't free." For Bifido, an artist is someone who does what other people don't do because they are afraid, lazy or embarrassed. Drawn by the same intentions, he prefers artists who use the streets not just to decorate but to express something. Taking his opportunity as a street artist, Bifido tries to reach out to as many people as he can. His oeuvre often addresses important problems in our society.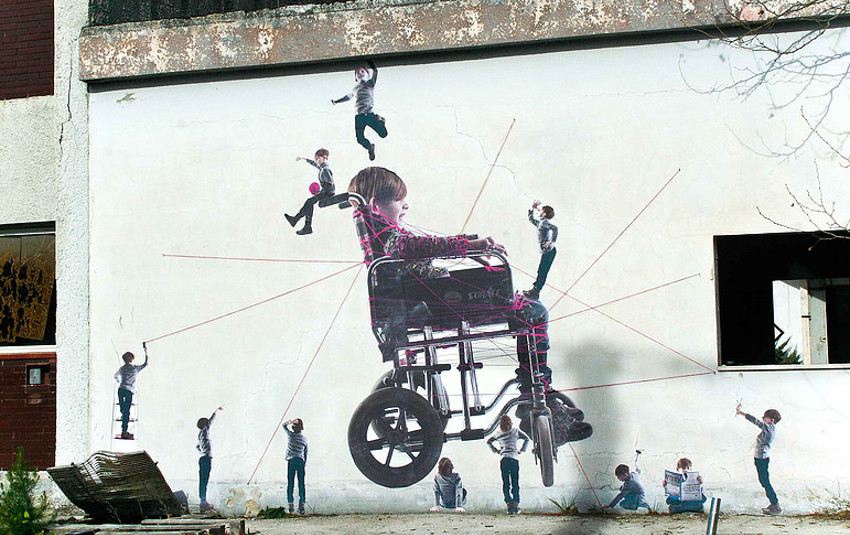 The Process of Work
Bifido uses paste up technique – paper, glue, and photos. After he finalizes the concept of the overall idea and the draft (written, drawn or digitally realized), he shoots the photos in the studio. Usually, they are just single subjects that Bifido digitally edits later on and prints on paper. Another important stage in his process comes right between shooting photos and attaching them to the walls - it's when he rearranges the initial draft using the photos to better define distances, volumes, and measures. Laid-back and never in a hurry, Bifido lets everything to leave a mark on him. For the artist, many different things are a source of inspiration, from literature and photography to everyday situations. Not the things themselves, but the kind of relationship Bifido establishes with them determinates his later artistic flow and artworks that he creates.
Bifido usually uses paste up technique – paper, glue, and photos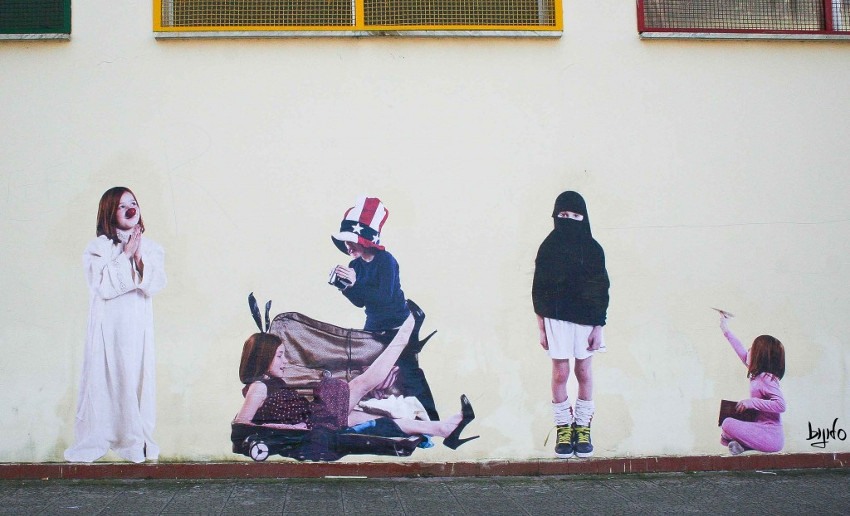 Children as Sources of Artistic Inspiration
Bifido's work and aesthetics are constantly changing. The works he made in Bologna in 2015, were inspired by the paintings of the Renaissance and the aesthetic of the Surrealism. In the previous phase, Bifido has been concentrating on multiple themes, but currently, he almost exclusively focuses on children, and on compositions. His earlier works were composed of a single, unique subject, strongly symbolized and often in black and white. Today, Bifido's works are more similar to biblical scenes than to simple portraits – colors, subjects, positions and their interactions create a sequence in which something happens. Led by a motto - "children find everything in nothing, nothing in all the adults" - Bifido is a creative adult, a child that survived.
All images courtesy of the artist