Birgit Lorenz may not be a household name just yet, but the style in which this German artist creates her paintings is quite remarkable. Lorenz usually focuses her artistic attention towards themes of womanhood and feminity - she concentrates on the women that to this day have to fight for their rights for self-determination and independence. Technically speaking, her artwork is a mixture of many materials and styles - as you will soon have an opportunity to see for yourself. Birgit Lorenz lives and works in Bavaria near Kirchweidach, a place so idyllic in nature that it represents a perfect corner of the world in which to create art.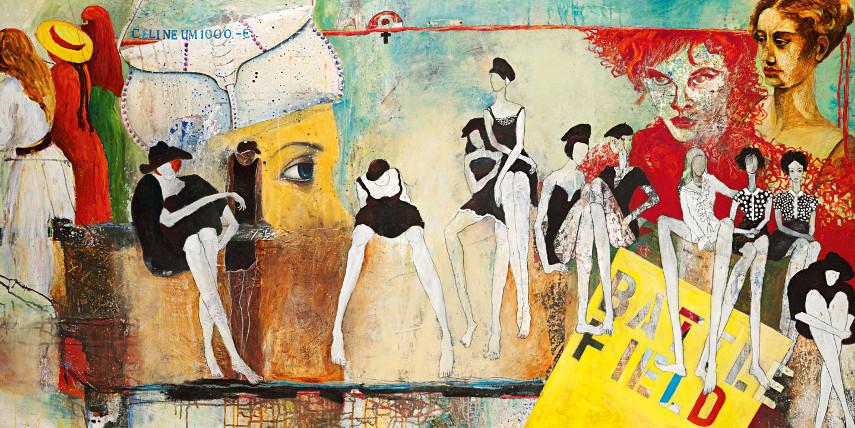 Lorenz's Artistic Life
Birgit Lorenz was born during the year of 1963, in the heart of Berlin, the German capital. Since the earliest days of her life, she had an intense artistic relationship with crayons and enjoyed drawing with them for hours upon hours. Such fascinations and dedications would only advance themselves to higher levels as the artist was growing up, ultimately leading to the commitment she has to her work today. Lorenz studied many interesting things during her lifetime, dabbling in the likes of restoration, printmaking and art history. All of the above proved to be an extremely valuable foundation for Birgit's career. Arguably the biggest artistic success Birgit Lorent achieved so far is the opening of her own personal art gallery during the late 1990s. Although this was an incredible accomplishment, this was nothing more than a next natural step for Birgit - she has already established herself as a leading teacher at various art academies and the communication with the viewers and people interested into learning was not a novelty for Lorenz. Maybe the strongest feature Birgit possesses inside her artistic arsenal is the sheer versatility and openness to different styles, as well as experimentation with all sorts of materials and techniques.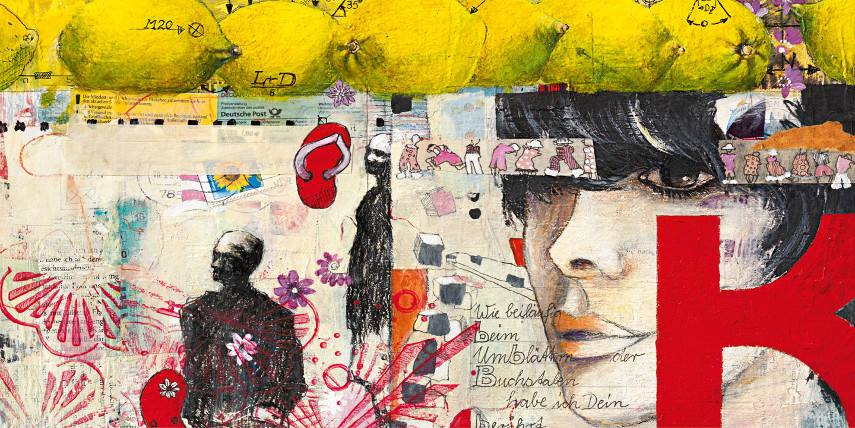 Investigating Her Artwork
Birgit Lorenz's works are predominantly a mix of a couple of techniques: oil paint, acrylic and pigments are mixed with photos, press cutting and fragments of handwriting sentences - therefore the aforementioned versatility, which we yet again highlight as the most incredible aspect of Birgit's artistic arsenal. She even uses glass in order to achieve her expressive goals! Mixing so many different materials requires not only great skill but also an incredible imagination, as making such pieces demands much combining and planning. What stands in common with all Lorenz's artworks is the portraiture of feminine subjects. The artist often combines the iconic pin-up girls that were popular during the 1970s with different feminine characters from history. She concentrates on the powerful charm of the women's auras of strength, as well as their fragilities - all in all, the artist toys with the exposed intimacy of her subjects. Birgit Lorenz has an incredible method that is really highlighted by a colourful and irresistible style - pretty interesting when you consider that this artist regularly depicts events such as violence, prostitution and pimping. We can start fully grasping Birgit's paintings only after we realise that her images are just sequences of a bigger story - only when they are all put together as jigsaws do they start making complete sense. By developing and realizing such concepts, Lorenz can surely be considered a director of some sorts, maintaining all the strings that hold her feministic universe together.
You can't help but admire the way Birgit Lorenz uses colorful approaches in order to depict her themes that often wonder into very dark and morbid waters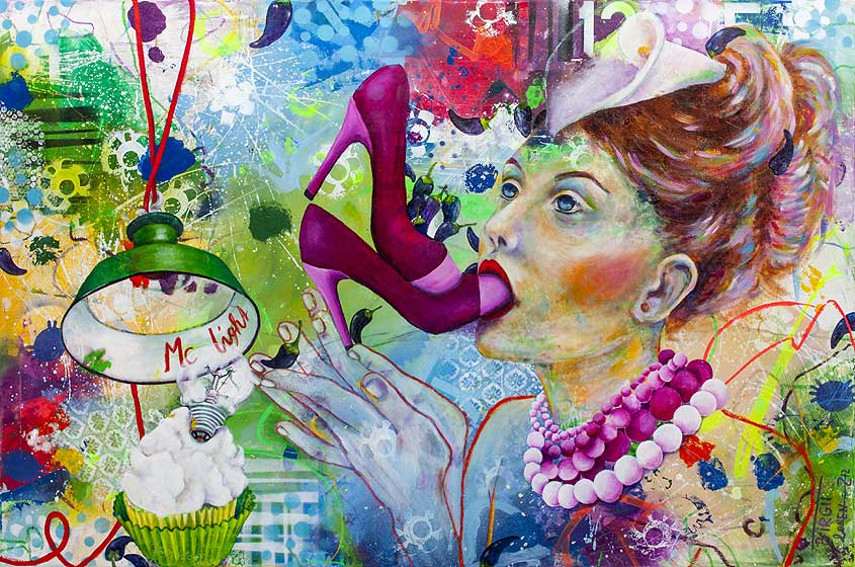 Looking Forward To The Future
Birgit Lorenz was the focal point of several different exhibitions during the 2010s, so this versatile artist has had her first taste of success at an international level. Since her work is so unique, interesting and powerful, we honestly can't see nothing but bright things for Lorenz in the future as far as her art is concerned. Her paintings are brutally direct, charmingly colorful and as imaginative as humanly possible - what else can we demand from one artist? Keeping these things in mind, we can't wait to see what's next that Birgit has in store for us.
The artist is represented by Galerie Hegemann in Munich, Germany.
Birgit Lorenz lives and works in Kirchweidach, Germany.
Featured Image: Birgit Lorenz - Photo of the artist - Photo Credits Linth24
All Images Photo Credits Birgit Lorenz