BLU is a talented street artist from Bologna, Italy. He has been active in street style scene since 1999. When he started painting walls he worked with spray paint, but as his appetite for beautifying industrial sites grew, so did his tools. He makes massive murals all over the world. In doing what he loves, BLU tries as much as possible, to emphasize the message he's sending. Art is important, not recognition. A name is nothing in comparison to the artistic value of a painted wall. Many of his murals were never signed, many of them were destroyed by the artist himself, but his integrity is incorruptible. He believes in freedom of information and stands firmly on his system of open source beliefs.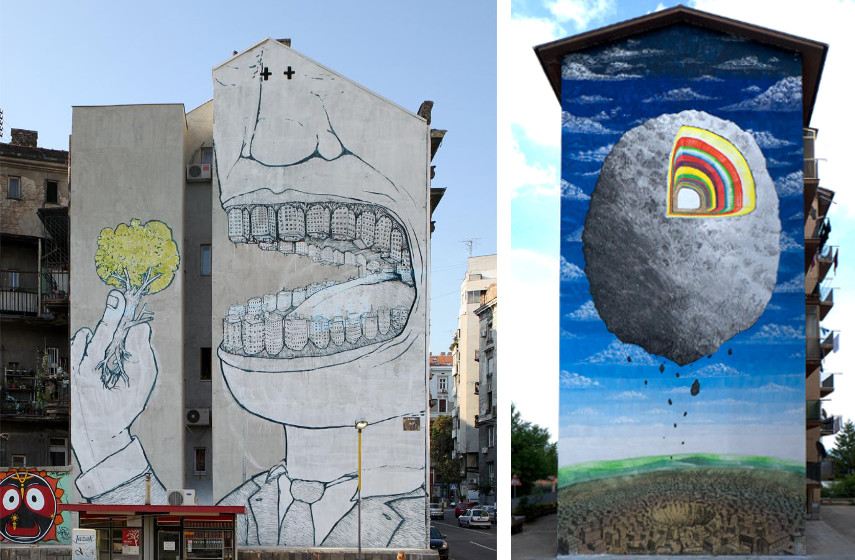 Open Sharing
Choosing a road not often taken, he shares all of his work on the web. Accessibility only made him more popular and wanted, not that his mission was to gain followers with this attitude. Showing some anarchistic properties he chose to share his work with everyone, people online, cities, or buildings he painted. He stands against modern tendency to keep art elitist, unreachable and expensive. Even in this behavior he stays modest and reasonable. What he sells are copies or prints of his work, and he sometimes gets payments from galleries he collaborates with. His idea is to give something of true value to society, and even though his work often exists in short time span, he still manages to work his magic all over the world.
Choosing a road not often taken, BLU shares all of his artwork on the web for free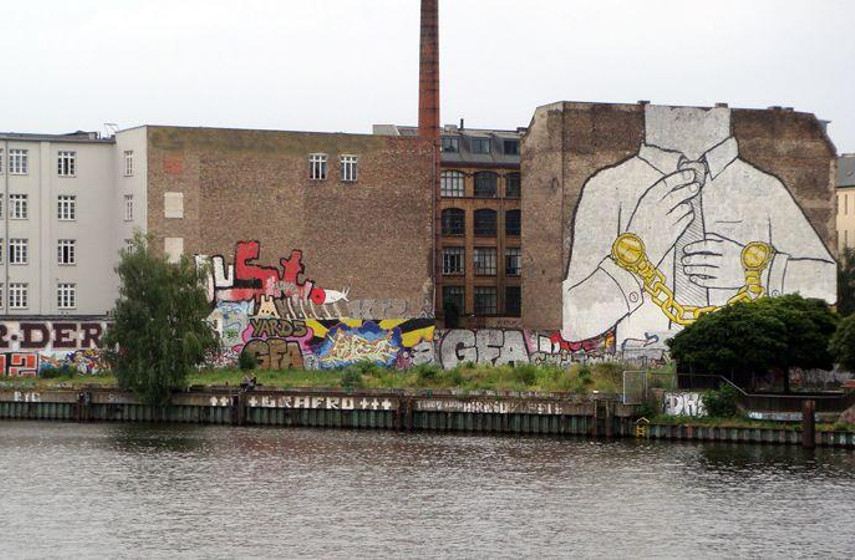 The Larger the Format, the Bigger the Influence
When BLU started painting it was important to establish himself with right clique. With a group of fellow artists, he worked in Bologna. Suburbs of the city were covered in their graffiti. Just a few years after the first big success he started using house paint and expanded the surfaces he worked on. Large murals were painted with paint, spray cans using big rollers, and brushes. Larger formats helped him to increase the intensity and impact of the message he wanted to send. He drew white murals with pictures of comic-book looking like men, who were involved in corporate, industrial, financial and government jobs. Whether they were meant to extrapolate the satirical conclusion, or just stand as a warning of not to convey to social norms, citizens valued their presence.
Larger formats helped BLU to increase the intensity and impact of the message he wants to send
MUTO Animation
BLU often makes sketches that he later uses as inspiration for larger works. When he draws he anticipates and projects the consequences of the image his making. It is important to have an impact on people, but for him, the genuine artistic self-exploration is an imperative too. Along with the murals, he makes great video clips. His style is silent graphic animation and a seven minutes length film called Muto is a perfect example of his amazing video animation skills. The murals, walls, and graffiti for this short film were painted in Buenos Aires and it took a long time to be completed, and even more skill and talent. The film won many awards, but more important it won the hearts of a worldwide audience. It has more than 11 million views.
BLU's short animated film MUTO won many awards and hearts of a worldwide audience
Accros the Continents
The artist travels a lot. Whether that is for leisure, work, festivals or just for inspiration, he spreads his positive energy around the globe. BLU listens, observes and investigates both the industrial place he is about to paint, and the story of its residents. He makes work that matters, and his anti-globalisation, human rights protecting and anticapitalistic murals are favored by almost everyone, except those whose job is to paint over them. What is quite entertaining is that BLU sometimes paints over his murals. The accent is on value and impact, and his murals can sometimes affect people immediately, so there is no need to leave them be. Other times, they are covered in a patina of time, being slightly washed out and damaged by rain and the wind. They stand there, bringing comfort and support to those who are being affected by the negative sides of the system.
The artist makes anti-globalisation, human rights protecting and anticapitalistic murals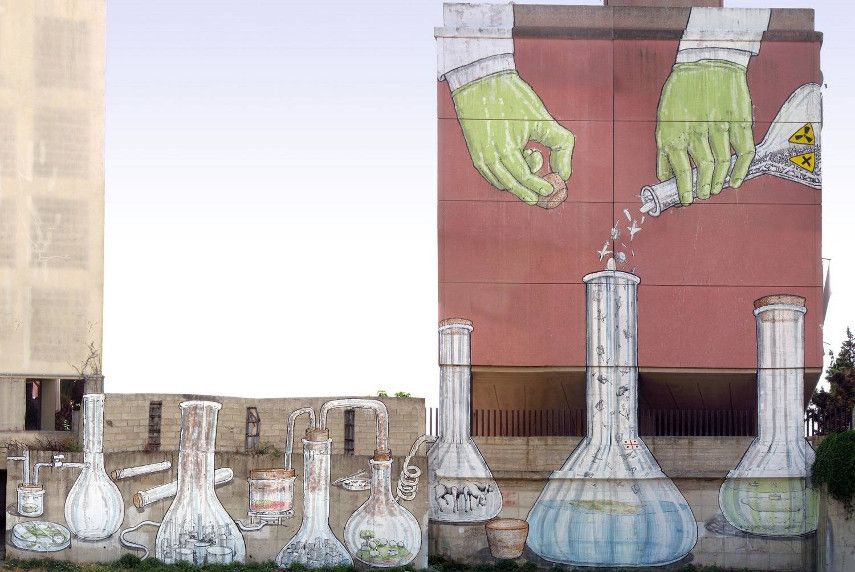 Social Commitment and Political Satire
The artist is good friends with Ericailcane, with whom he collaborated for years. Wanderlust and desire for exploration took him to South America, North America, then all over Europe. When traveling to Nicquaragva BLU spent time as a children's art school teacher, and that is where he painted his famous Hombre Banano (Banana Man) mural. He wanted to raise the awareness on treatment and rights of labor workers in banana plantations and to show the brutality of leading banana corporations. He criticizes firearm laws, monetary money system, wars, historical tendencies to fall into the trap of blindly following the political leaders, and, of course, he criticizes the environment policies in urban areas. This wonderful artist continues to enhance the looks of public scenes and to spread his amazing positive energy through his wonderful murals.
The artist is represented by Hang-up Gallery London.
BLU lives in Bologna and works all around the world.
All images used for illustrative purpose only © BLU
Featured image: BLU - Mural, Sicily, 2013