Bom.k is a French artist, a member of DMV crew, best known for paintings based mostly on his highly detailed pencil sketches.
Bom.k and French Street Art Movement
Bom.k was born in the suburbs of Paris in the 70's, close to Orly airport. He discovered graffiti during his youth and soon he joined the burgeoning French street art movement. With the help of a few school friends, Bom.k quickly initiated himself to the mystery of spray cans on his neighborhood walls until Henry Chalfant and Martha Cooper's Subway Art and Spray can Art definitely converted him to the noble art. After moving to the South of France for a few years, Bom.k returned to live in Paris creating graffiti crew DMV (Da Mental Vaporz) with Iso and Kan, in 1999.
Da Mental Vaporz Crew
DMV crew opened up to a new generation of painters in the 2000, welcoming in its ranks artists like Jaws, Gris1, Brusk and Dran as well as Sowat and Blo. These nine members of this collective traveled the world - England, Spain, Denmark, Belgium and Australia, to participate to numerous festivals putting together ambitious DIY shows.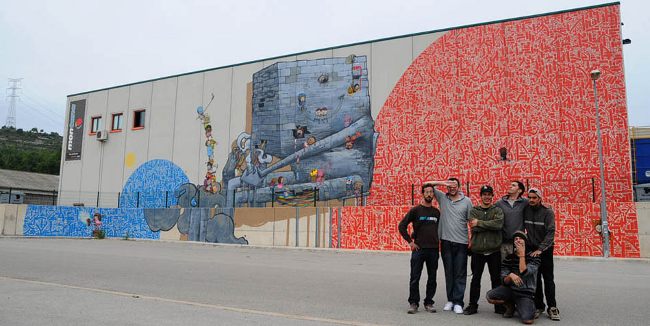 DMV, one of the most creative French street art groups, keeps pushing the esthetical boundaries of graffiti, developing groundbreaking themes for the times, such as madness, life in the peripheral suburbs, social exclusion, fear and hate.
Today, Da Mental Vaporz crew consists of Bom.k, Blo, Brusk, Dran, Gris1, Iso, Jaw, Kan, Sowat & Lek . The works of these artists can speak for themselves independently, differentiating from each other mostly in medium as in style and technique that which as soon as they are shown in a common context, creates an extraordinarily interesting and thrilling relationship. As can be deduced from the name Da Mental Vaporz, which, translated, means The Vapors of the Psyche it is for the artists a matter of concern to make the observer aware of the abyss of the personal psyche.
Bom.k Fearsome Creatures
In 2005, Bom.k started developing his style in a studio - armed with pencils, spray cans and a certain chemical products. Soon, his work was noticed by galleries both in France and the rest of Europe as well as abroad –United States and Asia. Bom.k continues to render his studio work with aerosol on canvas, fine-tuning his execution with custom caps that enable him to spray fine lines for detail-oriented work.
Bom.k is centering on the themes such as fearsome creatures, a monstrous mix of beast and human. His hybrid humans in pornographic postures, humour and tragedy, are influenced by Jeff Soto, Chris Cunningham, HG Giger, Rustin and Francis Bacon. Bom.k's nightmare universe gave birth to creatures like a lunatic Micky Mouse in mid- nervous breakdown – it was just another way to create a different interpretation on this symbol of popular American culture.
"I am always amused by manipulating the human body. I love creating figures that can't really exist nor be imagined. My works are nothing but the smallest fractions of images that goes through my mind everyday in full speed."
HB Black Trace
Bom.k uses aerosols to create his deformed bodies stretched to their limits, often enhancing these ghostly pictures with fluorescent shadows, evoking toxic chemical radiation. However, architectural references with housing estates, barbed wire, street lights and lorries can be found in his work, together with graffiti references with tags and markers, crowbars and gas masks, hip-hop references…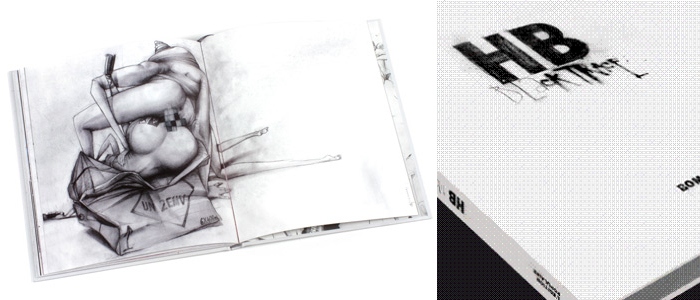 In 2008, he published a book of his work titled HB Black Trace (Éditions Populaires), and his work was catalogued in reference works Hors du temps (tomes 1 and 2) that catalogue photography by "Urbex" (urban exploration) graffiti artists.
Aérotik sculptures
Bom.k's Aérotik sculptures are collectible figures, in Pink or Black version. All pieces are entirely handmade by Bom.k himself.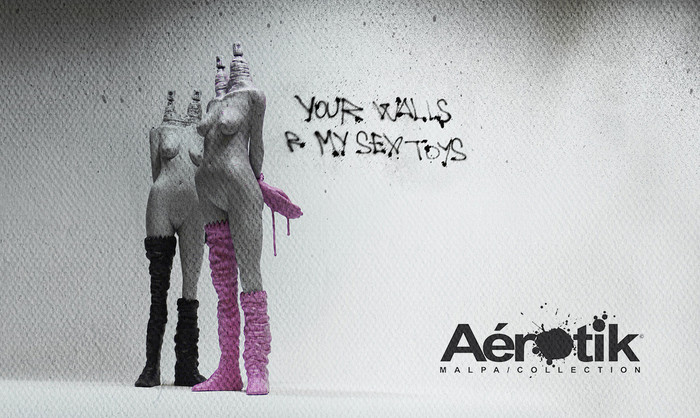 Each Aérotik statue is bearing unique marks of mastic polishing, drill sculpting and spray or brush painting. From conception, to creation and packaging Aérotik is a fully studio-made creation.
The Aérotik characters have been present in Bom.k's work for years - Bom.K has transported this Aérotik world on all kinds of formats, from paper to canvas and to walls.
Mausoleum project
In 2012, graffiti artists Lek and Sowat unveiled their Mausoleum project (Mausolée) involving about 40 French graffiti artists. This project occupied a 40,000-square-metre derelict supermarket in Aubervilliers, and covered it with paintings. Bom.k. was one of those artists. The entire Da Mental Vaporz crew worked together on this collective project, using the exquisite corpse method - also known as exquisite cadaver (French term cadavre exquis) or rotating corpse, a method by which a collection of words or images is collectively assembled. Each collaborator adds to a composition in sequence, either by following a rule or by being allowed to see only the end of what the previous person contributed.
Vertiges & Somnolence at Galerie Itinerrance
In 2013, Bom.k had his first ever solo show in Paris at Galerie Itinerrance. The exhibition was titled Vertiges & Somnolence, Dizziness & Drowsiness in English, showcasing a series of large scale canvases, drawings, and sculptures.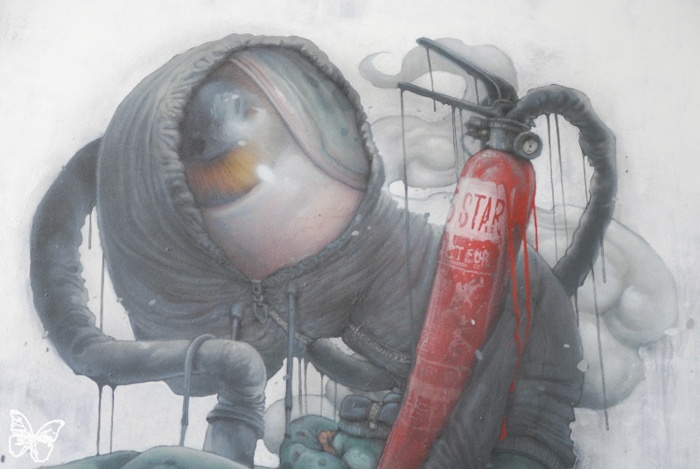 "Vertiges & Somnolence (Dizziness and Drowsiness) is a warning to the public as most of my paintings are done without the intention of pleasing. This is a way for me to focus on the instant of an idea, paint it, and let it provoke reactions, rejections and interrogations."
Confusions at Known Gallery in Los Angeles
In 2014, his second solo show Confusions was held at Known Gallery in Los Angeles.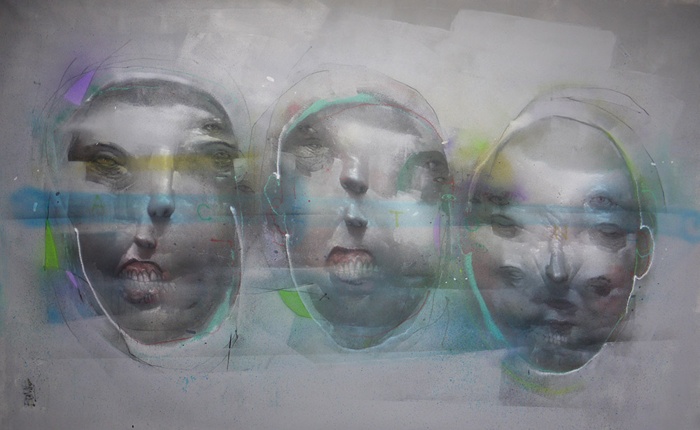 There, Bom.k presented mostly large size canvases, with almost photorealistic elements, as well as abstract and surreal ones, created with his masterful technique of handling the spray can. Mostly using different shades of gray, with bright colors only accenting the uneasy feeling, all the big canvases and the whole Confusions show feels very coherent and complete.
Today, Bom.k lives and works between Paris and the North of France.