Inspiration can come from a lot of different ways to artists, and some choose to dedicate their practice to problems affecting the society on a global scale. Art has often been used to avert the attention towards certain contemporary issues, reaching out to the viewers through the appeal of artistic expression. It's less than easy to do, as the artists are, in a way, forced to incorporate the issue within their practice, and Bordalo II does it with great success. Creating murals that utilize various discarded objects, he depicts animals that are affected by the same, possibly perishing to the effects of such waste existing in their natural habitat.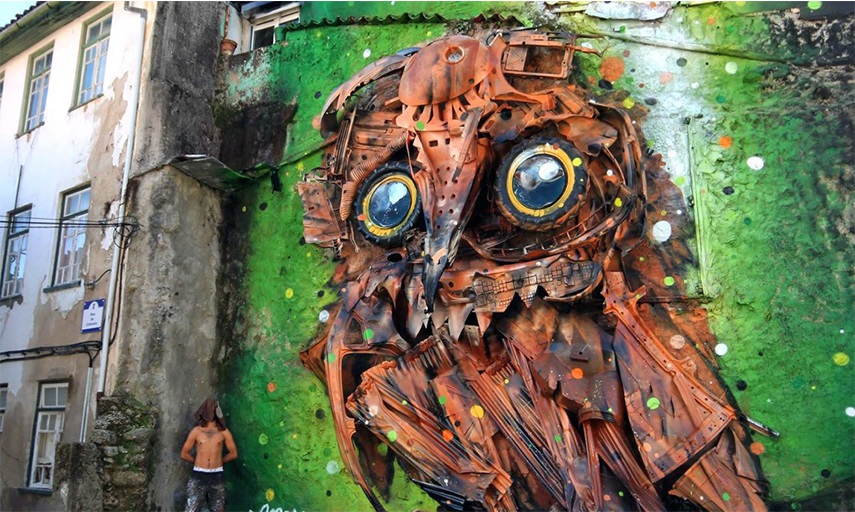 Building Blocks of Pollution
Based in Lisbon, the Portuguese artist Artur Bordalo, known as Bordalo II, is becoming increasingly popular not only for his keen artistic eye, but for the message he is trying to carry across through his work. Collecting various discarded materials around the city, Bordalo II incorporates stuff like old tires, appliances, aluminum cans, and other objects into his street art installations. Although each piece is comprised of trash, the final product can't be further away from it - forming various animals that are directly affected by the junk used to create the actual work, the artist sends a message of the danger of pollution. Many species have already found their way into Bordalo's portfolio; depicting the penguin, rabbit, grasshopper, raccoon, and many other species across the city, Bordalo II brings closer that which might perish if we keep building upon the blocks of pollution.
Bordalo II forms various animals that are directly affected by the junk used to create his works
Nature's Representatives
Exploring and experimenting as he creates, Bordalo II forms a practice of constant innovation, never failing to amaze with his large-scale works. Following in the footsteps of his grandfather who also painted the city walls, Bordalo chose to visually entice the fellow inhabitants while engaging in a dialog about a concern that encompasses all of us. Depicting the nature's representatives in an innovative way, the artist can be credited with being more than just a rising contemporary figure.
The artist is represented by GraffitiStreet.
Featured image: Bordalo II - Space Grasshopper. All photos credit inhabitat.com.
All images used for illustrative purposes only.