Boris Hoppek is a German contemporary artist, who began his career in graffiti. Throughout years, he has developed his artistic expression and has expanded his art to photography, painting, sculpture, video and installation art.
Background
Hoppek was born in 1970, in Kreuztal, a small German village. According to him, he was brought up in what he describes as a hippie community. He has said that he tried marijuana before he could even walk, and that he would often "play hooky" while at school. When he was eleven, he got Commodore VIC-20, his first computer. For Hoppek, the games he played opened the door to the world of visual art – he started making videos and taking photographs when he was a teenager. At one point, he applied to Kunstakademie Düsseldorf, but his application was rejected, and Hoppek turned to the streets.
Technique and Style
The symbol in Hoppek's art is a symmetric oval, a shape on which Boris bases his art. In his work, oval can appear alone, or in groups of three or more, forming faces. Many people may find his work familiar from commercials and advertising campaigns. He is the mastermind behind The C'Mons, a fictional rock band he created for the purpose of promoting and advertising Opel Corsa car. Hoppek's works may appear cute and innocent, but the underlying perversion and nihilism are ever so present. He tackles the issue of racism, violence, misogyny and sex and forces his audience to face their own prejudices.
Formative Years and Graffiti
Some people may know him as Forty, as that was his alias when he began doing graffiti in 1990. In 1995, he moved to a town called Siegen, where he started showing his first artworks. The venues would vary – from cafes, to banks, even to the university library. But it wasn't until he moved to Berlin a few years later that he really got in contact with the German graffiti scene. At the turn of the century, he started making a name for himself – he appeared in a few street art books by Bernhard van Treeck, a German writer. Because of police pressure today, Hoppek chooses not to do graffiti in cities as frequently as he did before. He continues, however, to paint murals. One of his more recent ones is Group Love, for MACRO Future, a 2010 piece commissioned by the Museum of Contemporary Art in Rome.

Moving to Barcelona, Reaching Higher
It was in 2003 that his career was at the turning point. Around that time, Barcelona became the capital of street art world, and many artists flocked there. Hoppek was no exception. He decided to stay there, as he made a connection with Iguapop, an art gallery that gathered numerous street artists in Barcelona. That same year, the gallery organized Hoppek's first one-person show, titled "Sexo Extra Ordinario Ahora". The show propelled him even higher, and he expanded his circle of friends and acquaintances, becoming a part of the ROJO network. He also worked with Miss Van, an already well-established artist. Another significant year was 2006, when Hoppek partook in Barcelona's Bread & Butter fashion fair, contributing an enormous architectural structure made of cardboard. The structure became the basis which Hoppek expanded for his similar projects.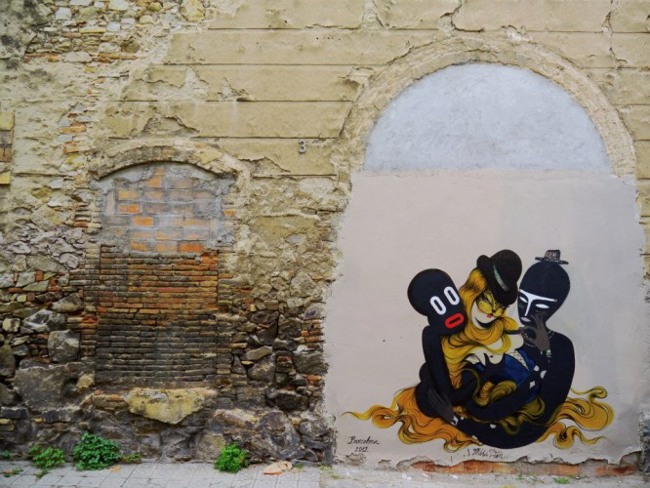 Advertising Opel: The C'Mons
The C'Mons is an advertising project that Hoppek undertook in 2005 for the fourth generation of Opel Corsa cars. The organizers took a liking to his Bimbo stuffed sculptures, which Hoppek based The C'Mons on. He slightly altered the original look of Bimbos – instead of using his trademark oval shapes, he opted for elliptic ones. Since 2006, the fictional rock band, The C'Mons, have appeared in numerous Opel TV commercials and ads.
Lavagina
Originally conceived as a catalogue for a heliumcowboy artspace exhibition in Hamburg, Lavagina is a sort of a parody of sex magazines – an irregular publication, which Hoppek started making in 2007. What principally started as a parody is now a real magazine featuring mainly Hoppek's artworks and texts of numerous authors and contributors.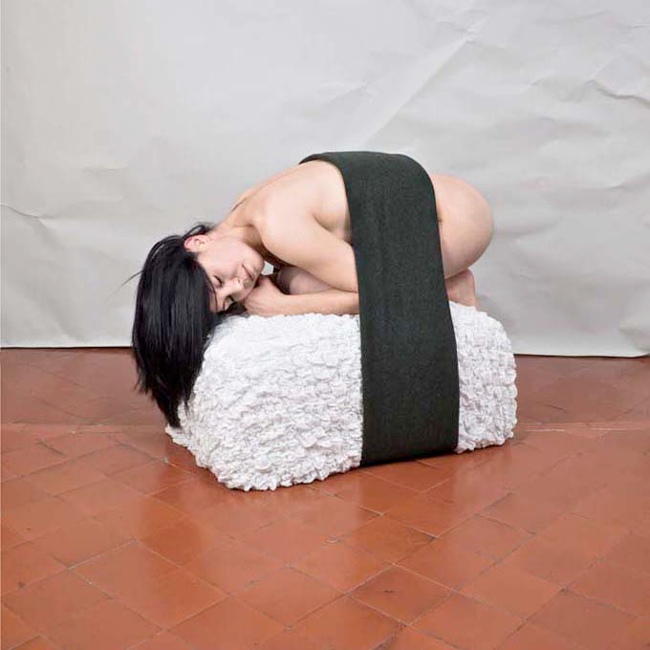 Taking a Stance: 86 Negritos
In 2007, Hoppek came to Cádiz, a town in Andalusia, to stage an exhibition at Baluarte de la Candelaria cultural center. However, the exhibition quickly became an artistic protest highlighting an illegal influx of African immigrants. A boat filled with 20-odd cardboard black men, floating in water, was also a part of the exhibition. It reminded of the rickety vessels frequently used in human trafficking. The exhibition also featured an interactive installation "Shoot the Black", where visitors could shoot at cardboard black people. Of course, this was Hoppek's highly ironic way of denouncing and criticizing the unfair treatment of immigrants in Spain. The show caught the public eye and was widely covered by Spanish media.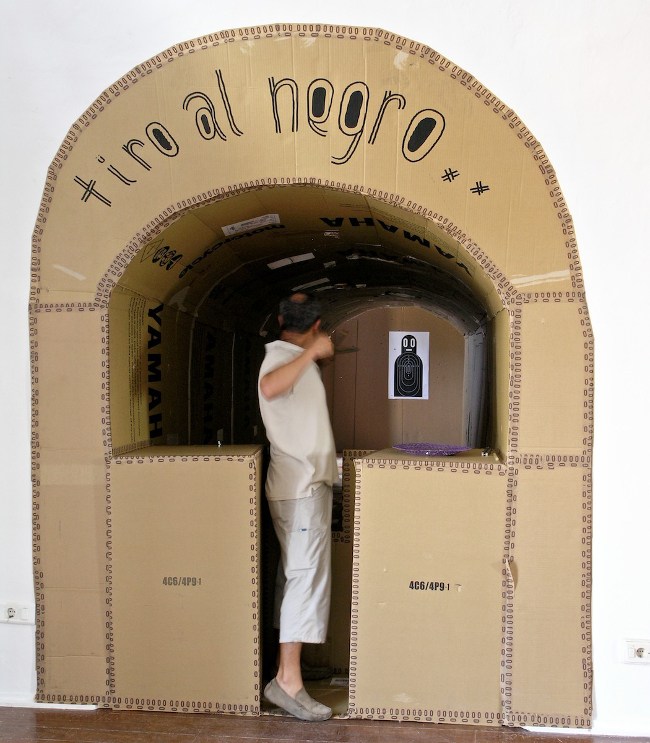 Exhibitions
Hoppek has organized numerous exhibitions throughout Europe, the US and Japan. Some other more notable one-person exhibitions include Ever in Diesel Gallery, in Tokyo (2010) and I Won't Fuck With You Tonight at heliumcowboy artspace in Hamburg (2007). He has also taken part in many group shows, most notable being 2009's Apocalypse Now! at MACRO Future Festival in Rome.
Boris Hoppek is represented by Die Kunstagentin Gallery. He resides and works in Barcelona, Spain.