A single piece of art may leave the viewers with various impressions depending on individual perception and what we decide to take away from it. Often, a closer inspection will reveal that behind the paint and the forefront there is a whole other world of symbolism, and it can push the scale of the narrative into a completely different direction. Revealing both the light and dark sides of her character in her vivid paintings, Brandi Milne's subjects portray the emotions that drive her in her work, ones of love and pain, joy and loss, heartbreak hiding behind a happy smile.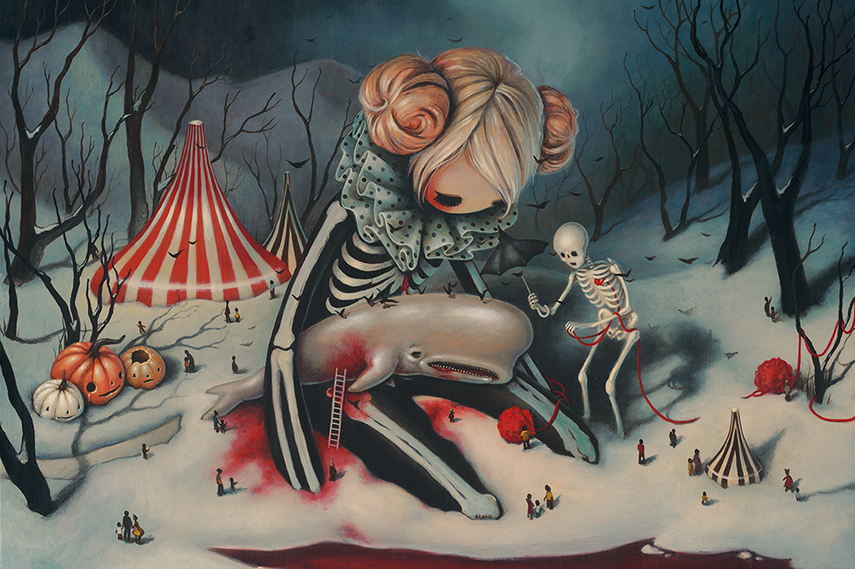 Self-Exploration
Having been born into a devoutly religious household, Brandi Milne has been exploring the higher purpose and sense of things for the bigger part of her life. Using illustration and drawing, she found a means to transfer these thoughts into the physical realm, although with no clear purpose to her craft. Turning inwards and focusing on honing her artistic skills during her college years, she would use the artistic expression not only to portray the rich pool of emotions that she garners, but to present the chapters of her life and hopefully "connect the dots" and find answers to some of the questions we all pose ourselves.
Brandi Milne portrays both her emotions and chapters of her life through her paintings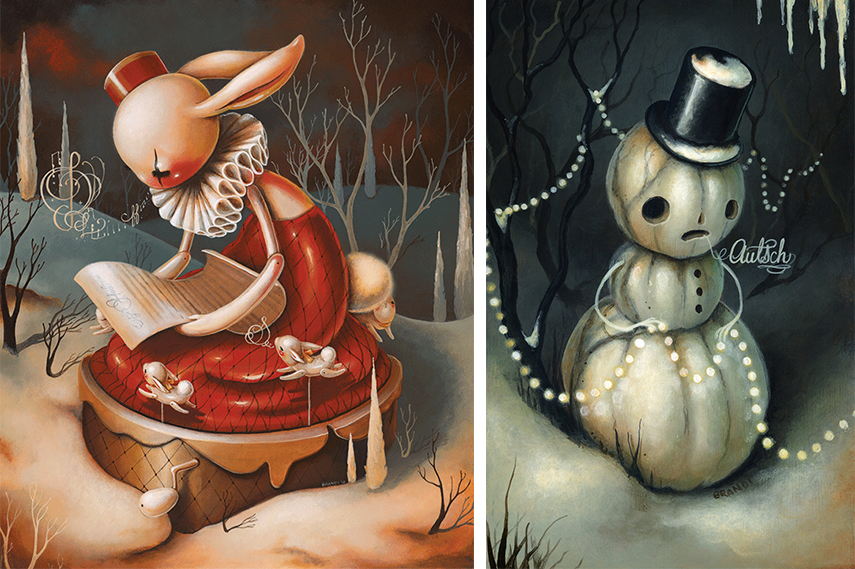 Depth of Emotion
Although we all may explore the depth of our emotions, question where we're heading and the sense of it all, Brandi Milne does it through an alluring and stunning set of paintings. Self-taught, her talent has been mostly fueled by her own desire to push herself and progress, learning from what the other artists would tell her. More than successful, her vivid pieces are filled with emotional details that give us an insight into the artist's character, often balancing between joy and sorrow. Inspired by the classic cartoons and coloring books she would interact with as a child, her candied-coated paintings tackle heavy subjects of emotion, forcing an immersion into and connection with each of her works.
Milne's pieces are filled with emotional details that give us an insight into the artist's character
Between Oppositions
Playful and light at first sight, the paintings of Brandi Milne investigate the depths of her emotion and character, as she finds herself often between the oppositions of emotional tides. Embodying both ends of the spectrum, the feelings she portrays can be found both in obvious depictions and tiny details, making the story of her canvas one easily capturing and relatable. Candied-coated and permeated with a bit of humor, the artist's pieces will attract you and introduce you to the person that is Brandi Milne.
The artist is represented by Corey Helford Gallery.
Brandi Milne lives and works in Orange County, CA.
Featured image: Brandi Milne. Photo credits thehundreds.com. All other photos credit the artist.
All images used for illustrative purposes only.