Brian Donnelly is a Toronto-based artist who makes intuitive portraits with an original touch. He makes a solution of hand sanitizer and turpentine and sprays it onto the wet paint on canvas. The effect he gets is disturbing but quite authentic. The images melt, they bring chaos into the order. Somehow, this seems quite normal and reasonable - it's the life force that always distorts all the good and diligent work one does with dedication. Not being troubled by giving the right answer to the question what his art is about, Donnelly is certainly being troubled by the need to search for that answer. It's not about the destination. it's about the journey, so this artist explores his theme, which could be, for now, about limitations, and how we over cross them, in life and in art.
Brian explores how chaos finds its place in the order we're trying to create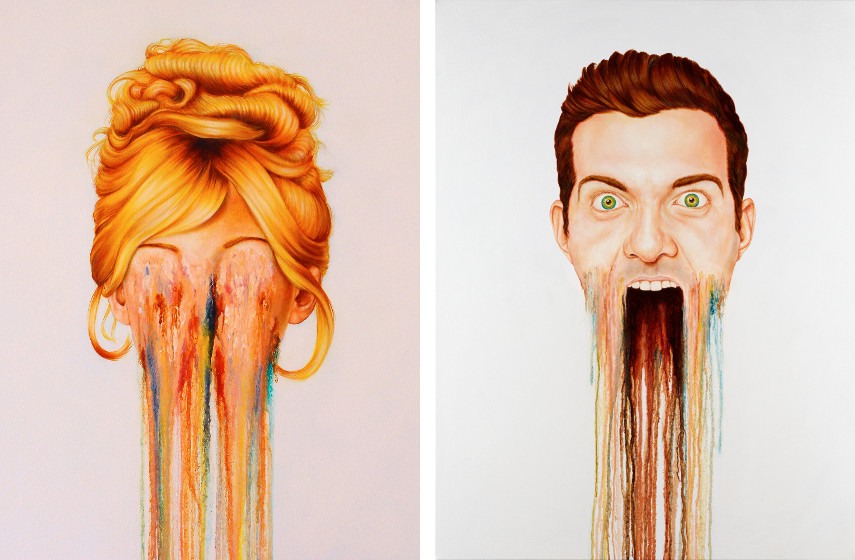 Nature is Fragile, People can Melt
He makes portraits where he is the protagonist, the antagonist; he makes portraits of people transforming into animals, and he negates the realistic and detailed representations with turpentine. What can be deduced is that nature is fragile, people can melt, nothing is certain. What is certain is his artistic talent. Sometimes he feels regret after destroying the paintings, sometimes the experience is purifying, anyway, a range of emotion is included in this creation process. Still exploring, Brian always experiments with new ways to combine anarchy and hierarchy in details. Percentage of a disorder is significantly smaller than the amount of order in Donelly's painting. He learns from his mistakes and tends to look at his failed paintings so he could examine what went wrong. No wonder his art is so perfected and organized, he doesn't leave anything to chance.
Brian uses white paint to remove entities from existance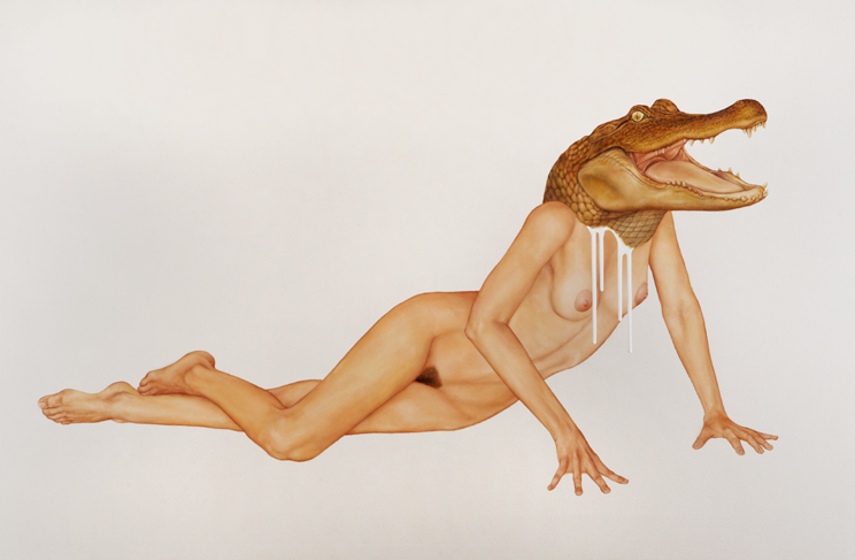 Radio, Coffee, and Cigarettes
He works best with a quiet radio playing, having coffee in the morning and focusing his mind entirely on his work. He uses images of North American dogs, pigs, bears, crocodiles. The paintings look like collages, but there is a great deal of work put into making them look so. He named the series Blasphemies, Monstrosities and other Perversions and when he first exhibited in 2011 he noticed that no one criticized animals. They are portrayed with open mouths, not because there is a better chance for them to bite, no, it's because they tell a story. Female and male bodies are painted nude and the white paint that connects the head with the body is actually a painter's primer that is used at the start of the process. He uses it at the end, to erase what is there and to close a circle. From nothingness to details, back to nothing.
Animals are portrayed with open mouths to be able to tell a story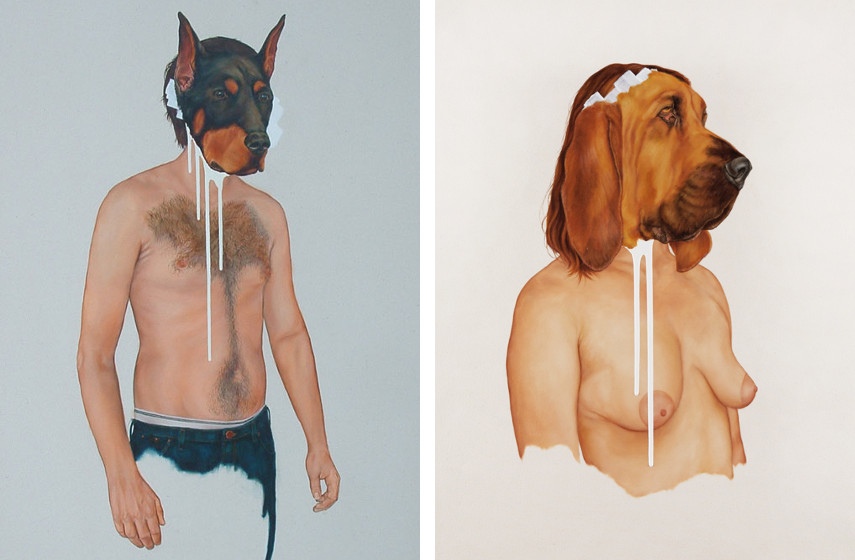 Antagonist of Egotism
Since the graduation from OCAD University's Painting program in 2003, Brian has been painting constantly. He embraces new technologies and uses Adobe Photoshop while doing preparations, and he uses Instagram to record his progress. There is a mix of personal and business on his profile, but it's the same with his paintings. His put his artwork on custom made skate ramps for the Destroy and Create show in Washington. His work from 2015 is still melting, and the older animals are still telling their stories, and when it comes to Brian, he continues to experiment, to try and win, to think about how the work reflects him. There is a lot of him in everything he does, but this egotism is not of the vanity type, it is more of a kind that will make one ask the same questions and try to find himself.
The artist is represented by Stephanie Chefas Projects.
Brian Donnelly lives and works in Toronto.
All images © Brian Donnelly