Known for her singular paintings which present the viewers with different illusions and effects, Bridget Riley is an abstract painter who came to fame during the American Op Art movement of the 1960s. Her paintings are all based on a concept of alluding on movement. Due to her contributions to her particular art movement, Riley's paintings have been presented alongside pieces made by such artists as Victor Vasarely, Richard Anuszkiewicz, Frank Stella and Ellsworth Kelly. Interestingly enough, Bridget did not claim that her influences could be found amongst any of those names also associated with the Op concepts - instead, she revealed that her greatest inspiration was the work of Georges Seurat. The Pointillist painter served as an influence to Riley because of his ability to construct patterned abstractions by using color and perception.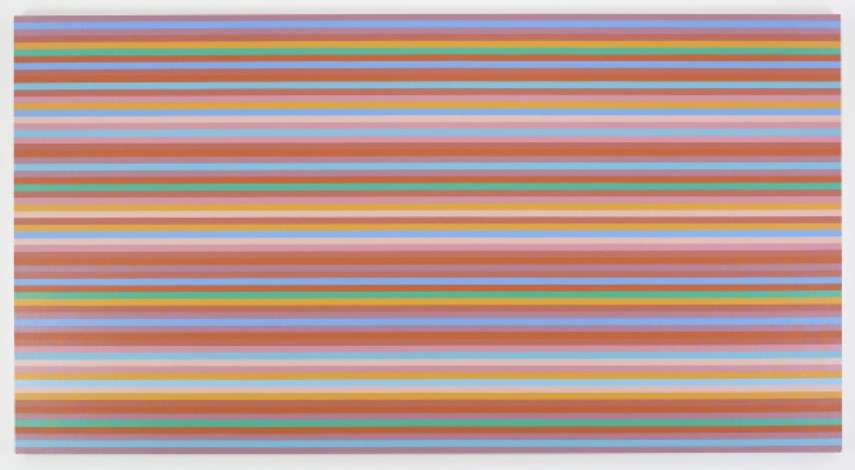 A Tough Life Story
Bridget Riley was born in London during the year of 1931. Her father, whose name was John Fisher Riley, was originally from Yorkshire and was a printer by trade. In the year of 1938, John moved his printing business, together with his family, to the county of Lincolnshire. However, after the World War II broke out and the head of the family was drafted into the British army, Bridget went to Cornwall alongside her mother and sisters. It was in this rural environment that Riley received her informal education, mostly by listening to retired or non-qualified teachers. After the war, she attended Cheltenham Ladies' College and later studied at the Goldsmiths College and Royal College of Art. Interestingly, she was in the same class as Peter Blake, a painter who ultimately took another course of art making. After the graduation in 1955, Riley had been involved in a serious car crash and suffered a mental breakdown as a result. After much therapy and time, Bridget joined the J. Walter Thompson advertising agency as an illustrator. During the winter of 1958, the aspiring artist visited Jackson Pollock's show held at the Whitechapel Gallery and this experience had a massive impact on Bridget. However, her early pieces were much more figurative than Pollock's and had a semi-impressionist style. However, her early pieces were much more figurative than Pollock's and had a semi-impressionist style. Eventually, this practice grew into the aforementioned qazi-pointillist technique[1].
Bridget Riley came to fame due to her painted optical illusions which are often used as highlights of the Op Art movement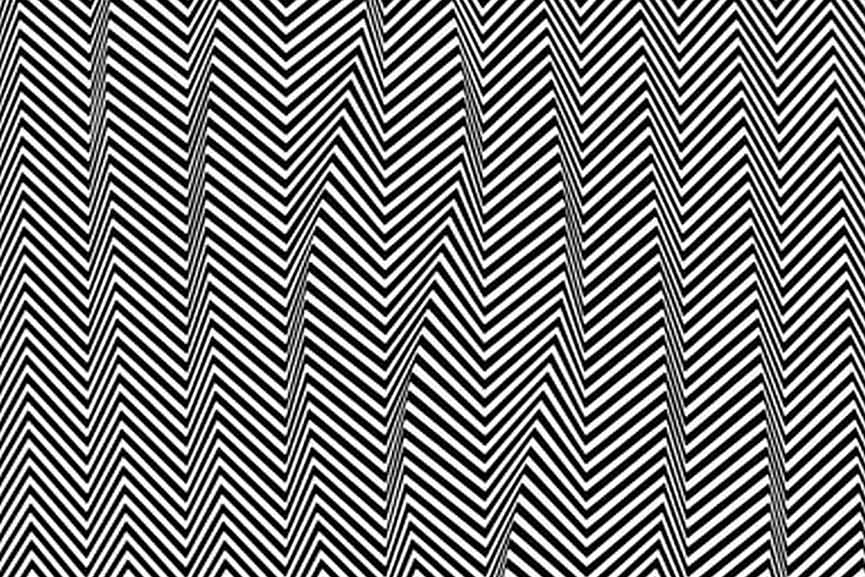 The Turn to Opt Art
Somewhere around the year of 1960, Riley began to develop her signature Op Art style consisting of black and white geometric patterns that explore the dynamism of sight in order to produce a disorienting effect on the eye[2]. It took her about two years before she was finally in a position to present her illusions to the wider public. Bridget was given her first solo show by Victor Musgrave in 1962 and was held at the Studio One in London. Her pieces from the 1960s are the reason why her name is engraved in art history as Riley's variety of geometric forms that produce sensations of movement was without a doubt the highlight of her career. Some critics from the time went as far as stating that her art had a tendency to induce sensation in viewers as varied as seasickness and skydiving. Interestingly, many works Bridgit authored depended heavily on the audience participation[3] - this is why her art was often related to the Happenings. In later parts of her career, Riley experimented much more with color than shapes, leading her to numerous stripe painting series. Additionally, the artist also explored the boundaries and abilities of contrast within her work. Bridget was even oftentimes prepared to let someone else paint her piece, leaving her to be concentrated only on the actual design of the work.
Although most of her pieces are based on lines and illusions, Riley also painted many artworks which experimented with shapes in different directions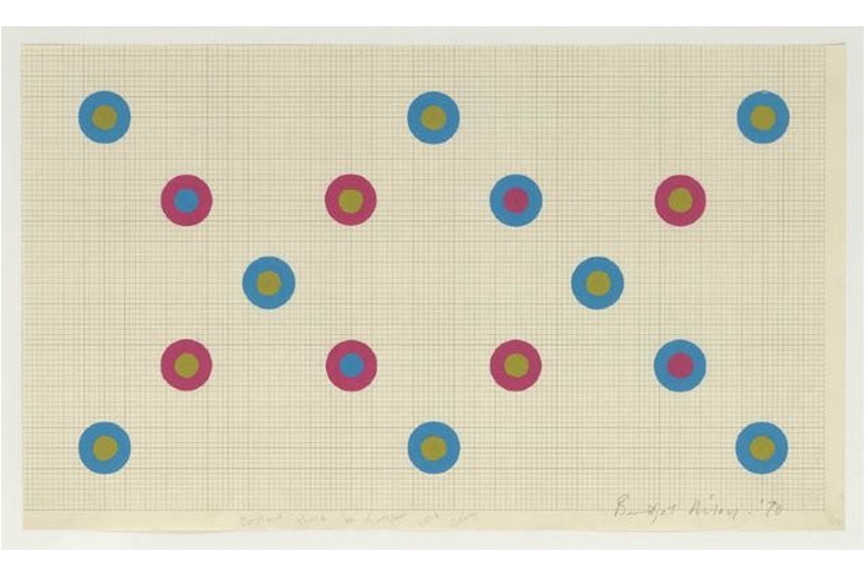 Bridget Riley and Her Legacy
When Riley was once asked where her ultimate inspiration is usually found, many were surprised by her answer. The artist stated that nature and its wonders are what drives her, explaining it with the following: For me, nature is not a landscape, but the dynamism of visual forces—an event rather than an appearance. Not many saw this kind of comment coming, but it does make sense when one analyzes Bridget's shifting patterns of forms and changing, optical mixtures of colors. Ultimately, this was not the only thing that separated this painter from the rest of Op art representatives. What distinguishes Riley's art from her colleagues is the masterful use of gradients and variations in tone. And we do not see anyone overthrowing her in that regard any time soon.
This artist is represented by David Zwirner London, David Zwirner 19th Street New York, Marlborough Fine Art London, Marlborough Gallery Monaco and David Zwirner 20th Street New York.
Bridget Riley lives and works in London (United Kingdom) and Paris (France).
References:
Bracewell , M., Riley, R., Kudielka, R., Bridget Riley: Flashback, Hayward Publishing, 2010
Follin, F., Embodied Visions: Bridget Riley, Op Art and the Sixties , Thames & Hudson Ltd, 2004
Riley, B., The Eye's Mind: Bridget Riley - Collected Writings 1965-2009, Ridinghouse, 2010
Featured image: Bridget Riley - Photo of the artist - Image via thatsnotmyage.com
All images used for illustrative purposes only.