Creating art of any sort can take anywhere from an instant to years and most artists like to do it at their own pace, not having to insert the time variable into the equation. After a while, the process of creating art becomes the art itself, as Bruce Nauman came to realize in his practice. Focusing primarily on the activity of art making rather than on the product itself, Nauman produces a variety of works across several mediums and techniques that fundamentally question the role of the artist. Dealing with and inspired by all the gory details of life and death, he reveals, as his inscription states every artist should, all the mystic truths.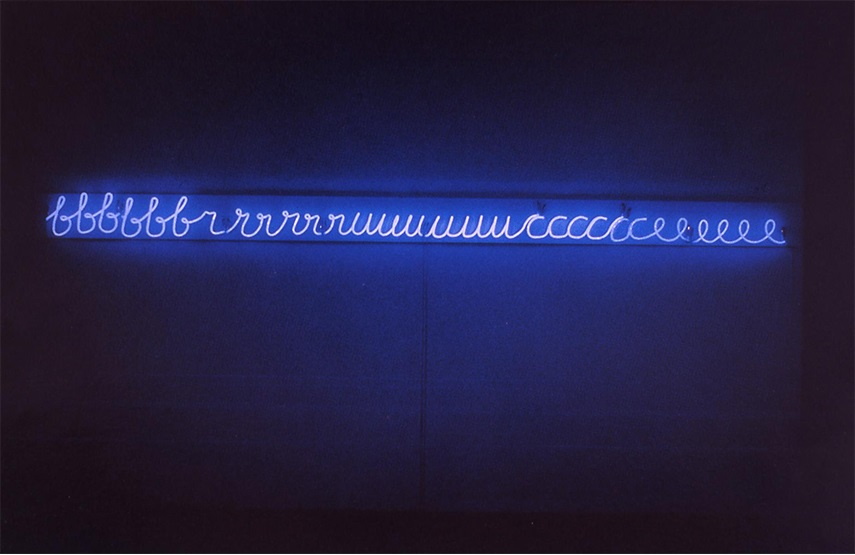 Restless Beginnings
Bruce Nauman was born in 1941 in Fort Wayne, Indiana. Throughout his life, he was moving a lot with his family because of his father's work as an engineer for General Electric. At the University of Wisconsin-Madison he studied physics and mathematics between 1960 and 1964, and with William T. Wiley and Robert Arneson at the University of California, he studied art from 1965-1966. In 1964, he decided that he wants to dedicate himself to sculpture, performance and cinema and upon receiving his MFA in 1966, he taught at the San Francisco Art Institute until 1968 and at the University of California at Irvine in 1970. The following decade, Nauman moved a couple of times until finally finding a home in New Mexico. In 1989, he established his home studio in Galisteo, the place where he works and lives to this day accompanied by his wife, the painter Susan Rothenberg.
In 1989, Bruce Nauman established his home studio in Galisteo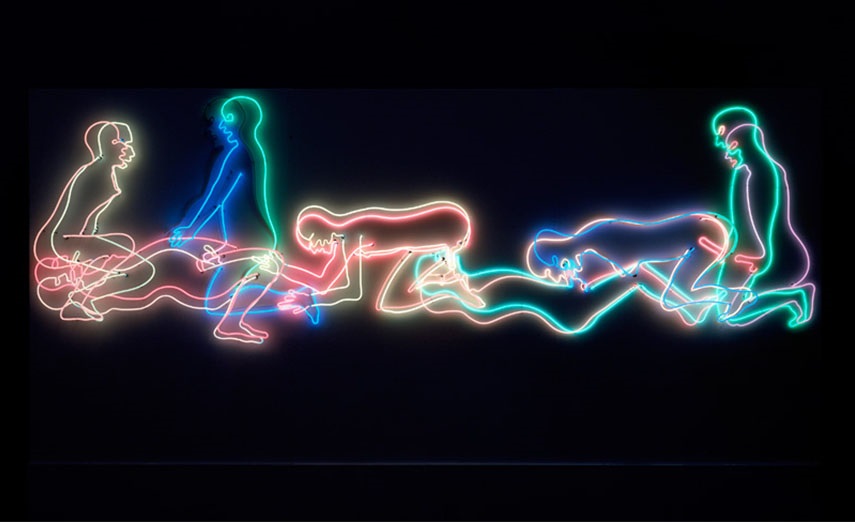 What to Do?
With his studio set up and ready, Nauman was confronted with the question "What to do?" and soon he'd come up with a simple yet profound realization that "If I was an artist and I was in the studio, then whatever I was doing in the studio must be art. At this point art became more of an activity and less of a product." Other than his home studio in Galisteo, he's got another one set up in a former grocery shop in the Mission district of San Francisco as well as in a sublet from his university tutor in Mill Valley. These two locations server Nauman for performance art that he filmed on a fixed camera, making 10-minute duration takes. He made several videos in the period of 1966-1970, in which he used his body to investigate the role of the artist and psychological states and behavioral codes.
"Whatever I was doing in the studio must be art," realized Nauman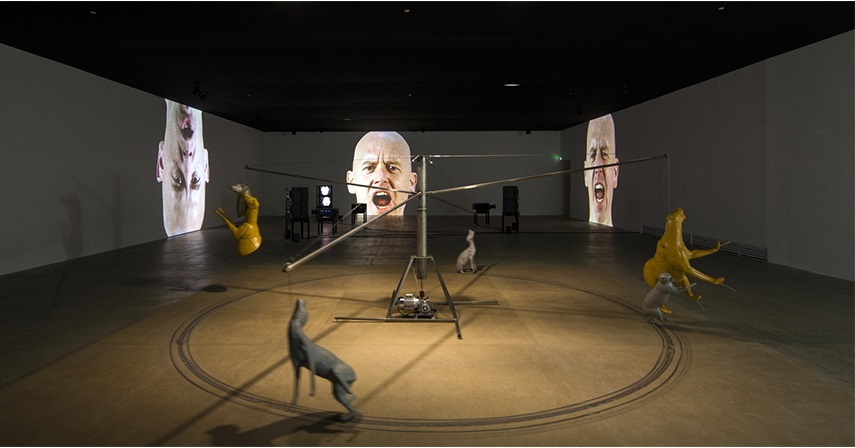 Artist as a Perfect Communicator
A big part of his work is characterized by an interest in language, as Neuman explores the role of the artist in this field as well. This often manifests itself in a playful, mischievous manner, and a good example of this practice is the neon Run From Fear - Fun From Rear, or the photograph Bound To Fail, which shows the literalized title phrase as the artist's arms are tied behind his back. At the heart of his practice are some, one could say, serious concerns. His fascination with nature of communication, language's inherent problems, and the role of an artist as a mean of communication and manipulator of visual symbols manifest itself through his art. As a major influence on his art, Bruce Nauman cites Samuel Beckett, John Cage, Philip Glass, La Monte Young, Meredith Monk, as well as Ludwig Wittgenstein for whom he, in a 1970 interview, says: "Just the way Wittgenstein proceeds in thinking about things, his awareness of how to think about things. I don't think you can point to any specific piece that's the result of reading Wittgenstein, but it has to do with some sort of process of how to go about thinking about things."
Neuman explores the role of the artist in language and communication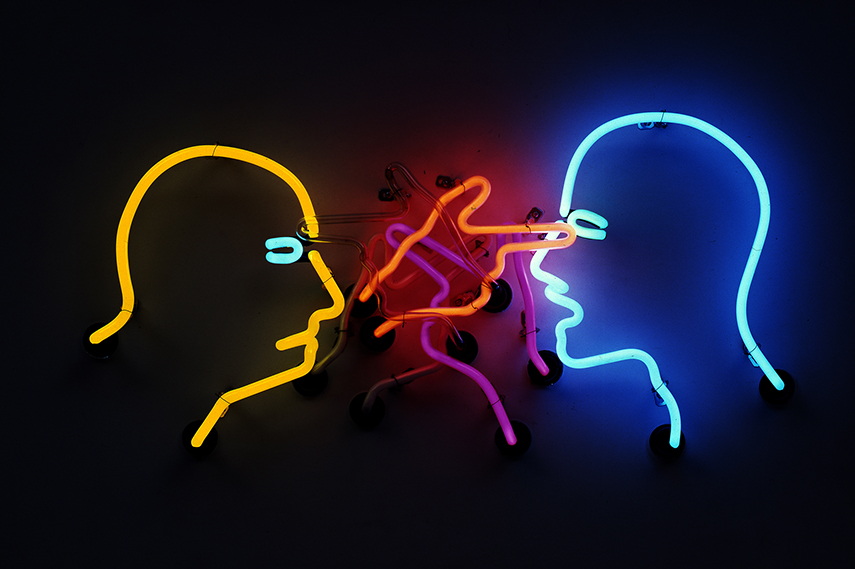 Sculpting the Mind
The beginning of the 1970s marked a time of investigating the psychology of the mind for Nauman, portraying the realm of dreams as much as phobias through his sculptural work. During this time, he began constructing claustrophobic and enclosed corridors and rooms that gave out a feeling of entrapment, being closed in and left abandoned. The sculptures were "usable" and viewers could enter these spaces, getting a first-hand feeling of what the artist is trying to convey. A series of works created between 1983 and 1988 was inspired by one of his dreams, and they were brought together under the title of Dream Passage. Another piece from this period is the installation titled Changing Light Corridor with Rooms from 1971; it is made as a long corridor shrouded in darkness, with two rooms on either side that are illuminated by bulbs timed to flash at different rates. This period evolved into sculptures and videos after the mid-1980s when Nauman had developed disturbing psychological and physical themes that involved images of animal and human body parts.
Beginning in the 1970s, Nauman constructed claustrophobic and enclosed corridors and rooms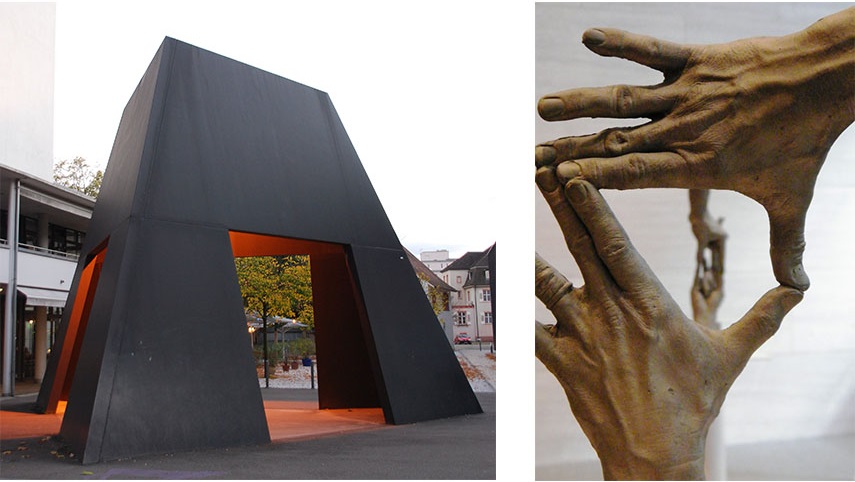 More Than Half a Decade of Exhibitions
Nauman's monumental art inspired many other artists through the second half of the 20th century, and it's no wonder his work has been exhibited widely across the globe. His first shows occurred in the 1960s with exhibitions at Nick Wilder's gallery in Los Angeles and in New York at Leo Castelli in 1968, with some of his early solo shows taking place at the Los Angeles County Museum of Art and the Whitney Museum in 1972. Demonstrating his talent, the Nicholas Wilder Gallery held his first solo exhibition of fiberglass sculptures in 1966, before he even received his master's degree. Fame followed, and some of his later exhibitions, like the one at The Los Angeles County Museum of Art and Marcia Tucker at the Whitney Museum of American Art, New York, traveled across Europe and the United States in 1972; the major retrospective held at the Kröller-Müller Museum, Otterlo, and the Kunsthalle Baden-Baden. Walker Art Center, Minneapolis, also traveled to many venues throughout America and Europe in a period from 1993 to 1995. In 1997, the Kunstmuseum Wolfsburg mounted another major retrospective, which toured the Centre Georges Pompidou in Paris, Hayward Gallery in London and Nykytaiteen Museo in Helsinki.
Nauman's monumental art inspired many other artists through the second half of the 20th century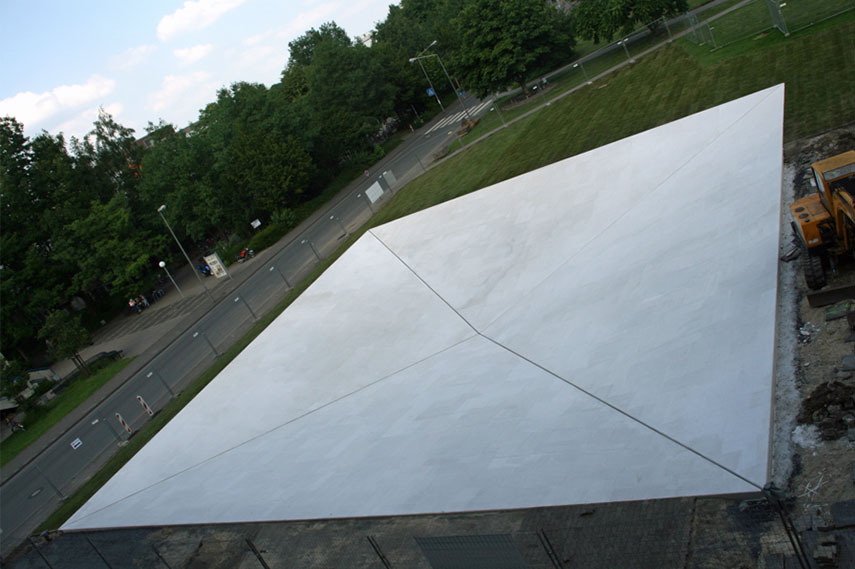 Master on Many Fields
Speaking of his brilliant craft are his many awards on several fields of artistic practice. Bruce Nauman holds honorary Doctor of Fine Arts degrees from both the San Francisco Art Institute and the California Institute of the Arts. In 1993, he received the Wolf Prize for his distinguished work as a sculptor as well as his extraordinary contribution to twentieth-century art. It was followed by the Golden Lion of the Venice Biennale in 1999, and Praemium Imperiale for sculpture in 2004. The same year, he was named by Time Magazine as one of their 100 most influential people, elevating his practice even further. Although his works span a wide variety of styles and materials, it hasn't diminished neither his ability to produce first class art nor their value; on the contrary, his mastery on so many fields makes him one of the monumental contemporary artists.
The True Artist
In the words of Peter Plagens, an artist, writer and art critic, Bruce Nauman isn't afraid of throwing all the chips in the air, picking them up and starting again. In his explorations of reality, truth, and the artist's role in all of it, his practice has led him to many different mediums. Mastering all of them, he became one of the key figures of the contemporary artistic era, and The True Artist for Plagens who wrote a book about him. With his works revealing ideas and mysteries and the artist's relation to them, there's no telling where his practice might take us next.
Bruce Nauman currently lives near Galisteo, New Mexico.
Featured image: Bruce Nauman - portrait, photo credits johnlucasmedia.wordpress.com