Bruno Leyval is a French artist whose work specializes in the use of black and white. The artist is known for his politically and socially engaged artworks done in a variety of media and techniques, including drawing, photography, performance, street art and sculpture. Comic books and Eastern calligraphy represent Bruno Leyval's main influences, while Chinese ink is the artist's favorite medium as it allows him to be precise when creating his highly detailed pieces. In took his years to learn to use this unusual media that symbolizes simplicity and purity, two principles that the artist tries to live by in his personal life as well.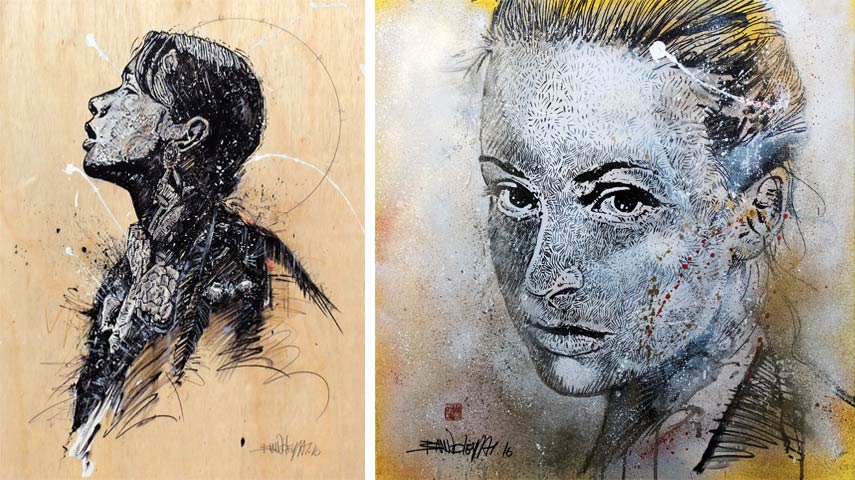 An Artist and an Activist
Bruno Leyval is a born in 1971 in Mulhouse in France.[1] Since the early age he was highly interested in details, the little lines, and dots that are almost invisible but can create anything when brought together and arranged in a certain manner. It's not surprising than that his street art and studio works are produced with a technique of merging numerous small lines skilfully organized to create images of human forms that are the main motif of the artist's work. His subjects often come from different cultural backgrounds and the artist likes to honor these various traditions by creating images of humans accompanied by the symbols characteristic of their culture. Apart from Chinese ink, Bruno Leyval is also fascinated by the power of hands. This motif was meticulously explored in his Namaste project when he invited people to take photos of their hands and share them on social networks. There's a strong activist line in his studio and outdoor works as the artist tries to honor the women, minorities, and deprived social groups. In march 2016 the artist visited Tibet where he participated in Art For Free Tibet project whose goal is to help raise awareness about the problems of Tibetans who are fighting for independence from China for 57 years. Bruno Leyaval was one of the 15 artists who painted pictures on the wall of a local village depicting images from the home life of Tibetans.
Bruno Leyval's Namaste project included an array of Twitter and Instagram users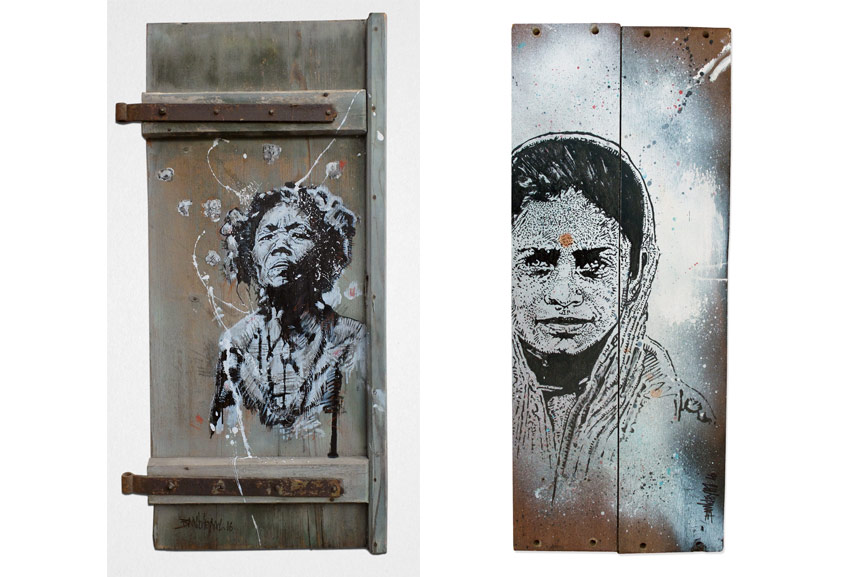 Bruno Leyval's Monographs
Throughout his career, Bruno Leyval published three monographs entitled The Way of the Ink, A few leaves on the road, and Some absences.The Way of the Ink, his first publication includes the interview with the artist about his influences and favorite exhibitions as well as a selection of his finest drawings. His second book A few leaves on the road is dedicated to his son and embody's the artist's love for words, life, and his family[2]. Apart from these art books that contain more visual works than words, Bruno Leyval also created a book of poems entitled Some absences. Some absences, is composed of a variety of poems spanning from haiku to automatic writing[3].
A few leaves on the road book is dedicated to artist's son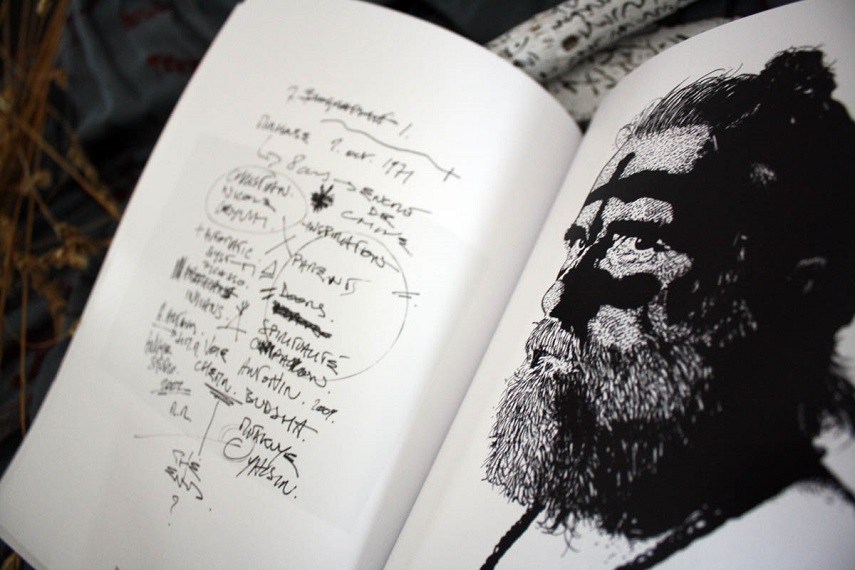 Famous Clients and Other Projects
Bruno Leyval was a founder of an artistic platform named Studio Awake. The project initiated in 2002 included an online magazine, a design studio and a collective of artists. After 6 years the project was paused because Bruno Leyval decided to focus more on his own work. Throughout the ages, he has done commercial works for numerous clients including Nike, Warner Bros,Stencil History x and so on. For Nike, Bruno Leyval designed special series of apparel including t-shirts for acclaimed basketball player Kobe Bryant plus a t-shirt for a famous tennis player Rafael Nadal. In 2015 he used his experience gather from collaborations with the famous companies to create a new brand of his own entitled NOIR DE L'ÂME that contains a web shop and a journal.
Bruno Leyval is represented by Orlinda Lavergne Gallery.
He lives and works in Mulhouse, France.
References:
Anonymous.

About

, Bruno Leyval Official Website [November 18, 2016]
Leyval B. (2015) A few leaves on the road, Plan9 Entertainment
Leyval B. (2015) Some absences, Plan9 Entertainment
Featured image: Bruno Leyval - work in progress, photos courtesy of the artist
Images courtesy of Orlinda Lavergne Gallery unless otherwise credited