Aiming to turn the relatively narrow vision of the world upside down, Bruno Pontiroli is a French contemporary artist, whose work disturbs the imagination of his viewers, all while bombarding the acceptable reality with images that are as comprehensible as they are familiar. It's the world where a different kind of logic reigns; it's a universe comprised of absurd and paradoxes. The processes of mixing opposing universes and distorting a symbol allow the artist to identify things so he can go on and reinvent them. Once belonging to the guild of street artists, Pontiroli drew graffiti on subway trains in Paris and all major European countries. As he admitted, it was a fun period of his life, when the objective wasn't so much to paint something beautiful, but rather to simply succeed in working for only a few minutes in conditions that were sometimes quite difficult, and on a very original, and often guarded material.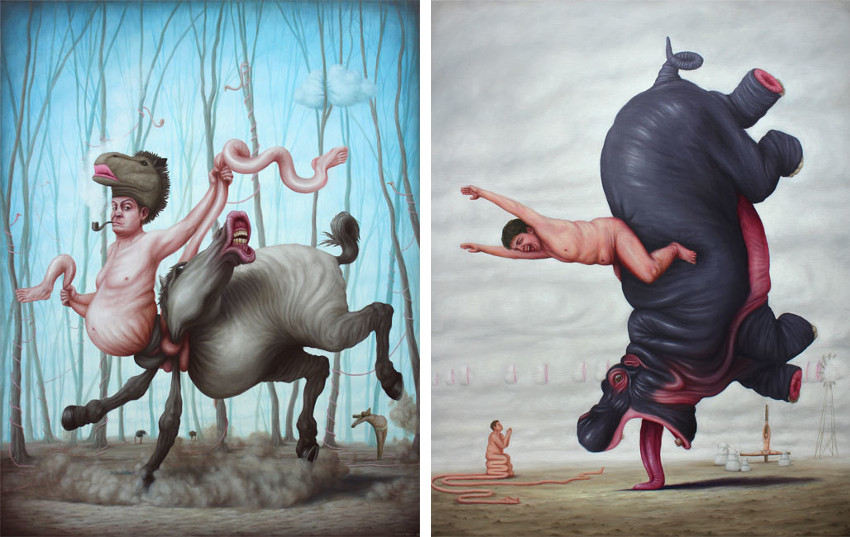 Personal Life
Pontiroli has been painting, drawing, and sketching from an early age – somehow he always knew he wanted to become an artist. One day he simply "felt the urge to put on canvas this absurd and off the wall world I was imagining"[1], and for almost a decade now, he's been dedicating most of his time to it. As for his education, it coincides with the decision to dedicate more time to art. The artist wanted to be better at drawing and sketching, and he would spend almost every evening at open workshops for several years. He did learn a lot there, but speaking of oil painting, Pontiroli learned everything by himself, sometimes using books, and he often referred to the masterpieces in the Louvre or other museums. As expected, he made numerous mistakes in the beginning, but he accepted every single one of them, considering them important stops on his was to improvement.
The artist made raw artworks with many mistakes in the beginning, but considers them very important for his progress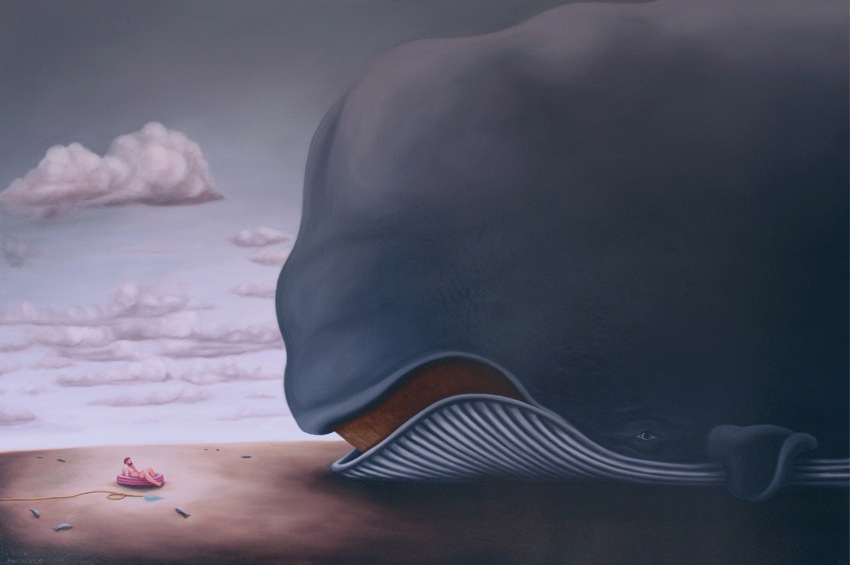 The Art of Bruno Pontiroli – a Search for Another Version of Reality
Upon seeing his work for the first time, people tend to label it as Dadaism and Surrealism, but Pontiroli doesn't want to categorize it, as he wants to propose another version of reality and a different way to see different things. The viewers are rarely indifferent about his pieces (whether loving or hating them) and are rather interested in discussing their opinion – it's something the artist is looking for. As for the typical workflow – it includes writing down every idea (it doesn't matter if it's a bad or a good one) and sketching most of them using watercolor, pencil, or Indian ink. One particular idea usually becomes the central subject for a brand new painting, and some of the others are used for building the surrounding universe. A sketch on a paper is the next step, simply for Pontiroli to confirm the overall composition. And finally, he proceeds to the actual painting on the canvas, which is a two-step process: first, he works with black and white acrylic, and then uses oil and color.
The art of Bruno Pontiroli revolves around the idea of proposing another version of reality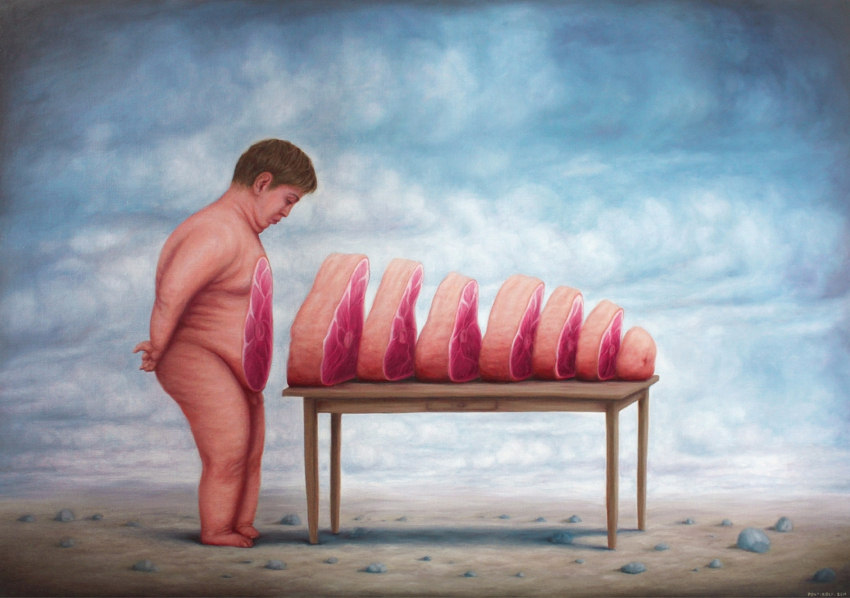 Influences and Everyday Routine
Pontiroli has numerous artistic influences. From the top of his head, he would name Rembrandt, Rubens, Topor, and Magritte, stating he could name many more. Aside from specific artists, he also finds inspiration in books, situations, images that surround him – a simple photo of a mundane subject or situation can serve as a basis for a new artwork. The most important event in his life was the birth of his son. "I felt very happy when I was told I was going to be a father, but it was all very abstract until the baby boy was actually here. It's probably the biggest change in a man's life and it's also a great joy."[2] Pontiroli's everyday routine includes arriving quite early to his studio. With a cup of freshly brewed coffee, he sits in front of his latest work, observing it critically. After preparing his colors, he paints until early evening. Then he goes home to his family and enjoys a couple of hours playing with his son. Once he's sleeping, Pontiroli reads books or surfs on the Internet, since those activities help in stimulating his creativity.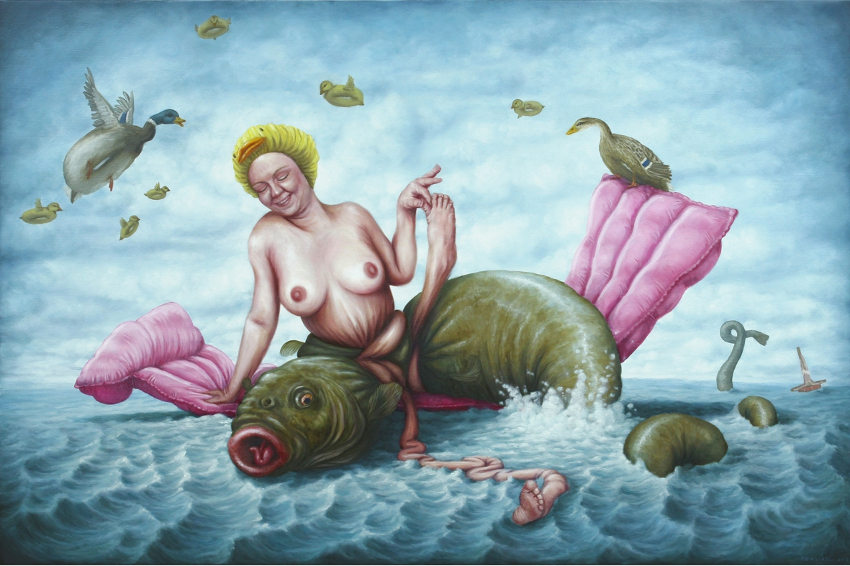 The Flaws of Being an Artist and Perseverance
The biggest lesson the painter has learned so far is that making art is not enough – one must learn to communicate it. However, no matter how much Pontiroli enjoys in creating artworks, there are several thinks he dislikes about the art world. Probably, the most difficult thing for him is having to answer a very classical and recurring question – what does he want to say with a painting? In reality, Pontiroli resents the idea of being the provider of the interpretation of his work because the public usually only considers that interpretation, which the artist finds quite counterproductive. He's actually searching for the exact opposite result, where each and every individual makes up their own opinion of what lies behind every work. It opens an entire universe of possibilities. Loneliness is another problematic emotion, as he sometimes feels isolated because of his painting. However, every time he thinks about why he made this particular choice and how his life would turn out otherwise, Pontiroli is more than confident that being an artist is the right path for him.
He is represented by Fousion Gallery.
Bruno Pontiroli lives and works in Paris.
References:
Bergerova L., Interview with contemporary surreal artist Bruno Pontiroli, Oh So Surreal [February 25, 2017]
Capone D., Jesus & the clouds with Bruno Pontiroli, Dioniso Punk [February 25, 2017]
Featured image: Bruno Pontiroli working in his studio
All images courtesy of the artist