Known for his adorable one-eyed characters living in brightly colored lollipop landscapes, Buff Monster is a famous street and urban artist currently based in New York. Born in Hawaii in 1979, he began his prosperous art career making graffiti over two decades ago. In 1997, the young creative moved to Los Angeles, California where he quickly made a name for himself by putting up thousands of hand-silkscreened posters and stickers across LA. After a while, his creativity extended into many different areas, so today he also works on paintings, collectible toys and design projects. Buff Monster's distinctive style – influenced by black metal music, ice cream and Japanese culture – is dominated by different shades of pink that he associates with confidence and individuality.[1]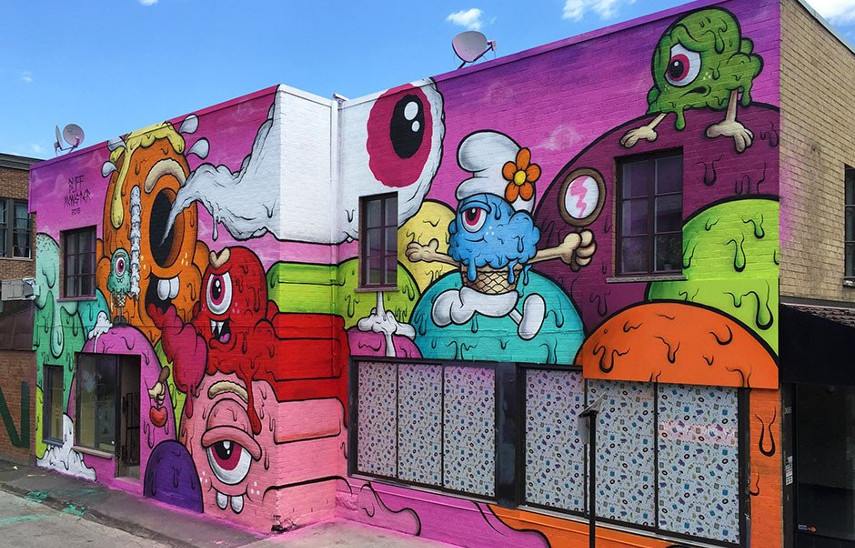 Background and Early Works
Born and raised in Hawaii, Buff Monster began painting graffiti back in his early teens. At the age of seventeen, he moved to California to pursue his further education at the USC for Business Administration and Fine Art. After receiving a BA in Fine Art with a minor in business, he lived in Santa Monica for a couple of years, then, he moved to Hollywood. The history and the culture of contemporary LA along with the movie industry, the culture of image in the city, and even the porn industry on one hand, and the dirty industrial areas downtown on the other inspired artist to start putting posters on the walls across a neighborhood in the central region of Los Angeles.[2] The experience in painting graffiti gave him a good understanding of the fun and effectiveness of displaying works in the street.
A video of Buff Monster painting his signature characters in the midst of Hollywood:
Buff Monster Characters
The Hawaiian-born artist creates amazing wheat-pasted posters and colorful murals filled with cherries, breasts, ice cream and gooey cheerful monsters painted bright colors. All of his works are characterized by bubble gum pink that became his trademark over the years. When he began creating the "Buff Monster" characters, he wanted something simple, versatile and fun, but at the same time, something he would be able to draw very easily, at any scale and any proportion. So, he came up with his early creature that was versatile enough he could make a million different characters from it and draw it with a million different faces. It was everything he ever wanted, but he probably couldn't imagine how famous his characters would become.
His works are filled with cherries, breasts, ice cream and gooey cheerful monsters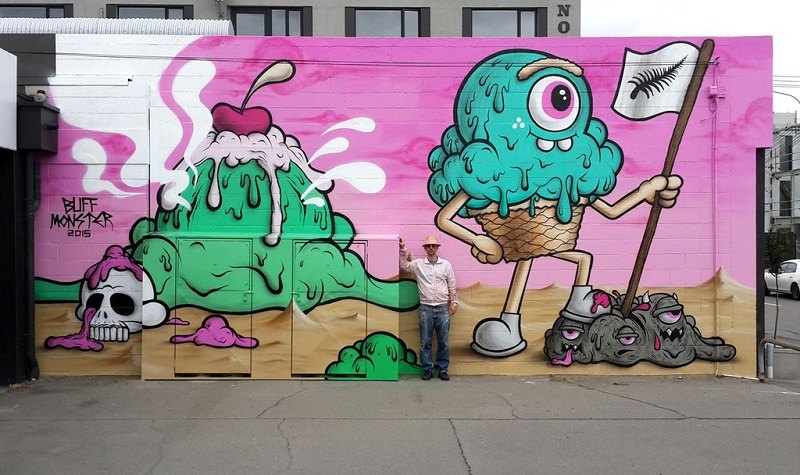 The Melty Misfits Sticker Cards
Originally released in 1985 by the Topps Chewing Gum company, Garbage Pail Kids is a series of trading cards designed to parody the Cabbage Patch Kids dolls, which were immensely popular in the early '80s. Buff Monster started collecting these inspiring cards in second grade always admiring to major Garbage Pail Kids artist John Pound, who created idea sketches, pencil work, color roughs, and final paintings for hundreds of GPKs. In 2012, Buff created a high-quality homage to Pound and the iconic Topps character series through the collection of trading cards - The Melty Misfits - curated with the artist's original work. Produced in association with Sidekick Labs, these cards are reproduced from original 5x7 acrylic and airbrush paintings - the same manner in which the original GPK work was created. The back of each card features puzzles, checklists and reproductions of pencil sketches. In 2014, the globally popular painter published The Melty Misfits series 2 featuring 41 new colorful, cartoonish gross-out characters, all hand-painted using acrylic and airbrush on watercolor paper.
The Melty Misfits trading cards are Buff Monster's greatest works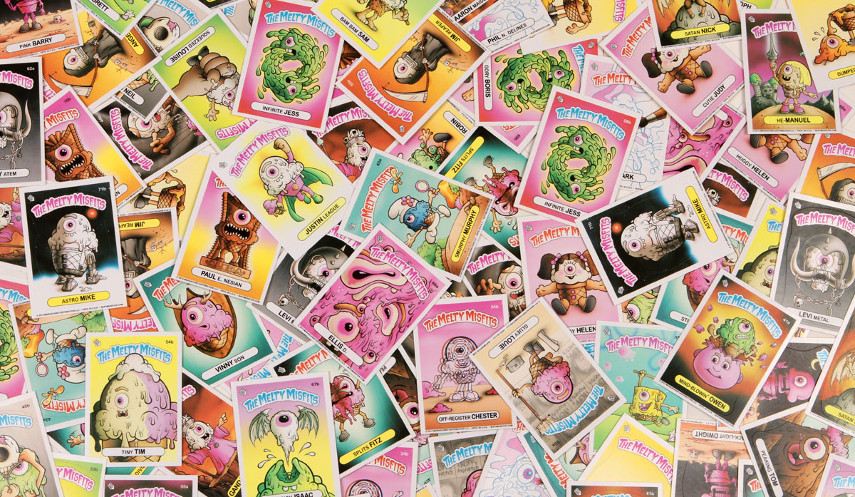 Buff Monster's Vinyl Toys
The multitalented Buff has released numerous signature vinyl objects through MINDstyle, and has many other projects in the works with leading toy companies. The muralist got into making his adorable sculptures in the mid-2000s when he made a little 3-inch piece in his recognizable style. Since then, countless of these cute figures were born as he enjoyed the fact that he could make little 3D representations of the characters imagined in his mind. These pieces range from tiny Munnys to Buff's own Ice Creams based on the icon he popularized in his early career. One of the most famous pieces has been a 14-inch-high Destroyer (Embrace the Darkness Version) made in 2010. Toy Machine Toys is Buff Monster's double machine inspired by Duchamp's readymades and Koons' Equilibrium and Banality series. Full of hand-cast resin figures, the piece was created in NYC in collaboration with PK Shop. The work features two different machines, each of which is filled with designs from one of two series. The first is Ice Cream Resin Heads which includes four main variations - Original, Zombie, Devil, and Skull designs, along with three rare variations - Split Devil/Zombie and 2 different Double Zombies. The second machine includes Melty Misfits Cheap Toys with three characters: Double Heather, Graffiti Petey and Alice Island.
One of his most famous sculpture is Destroyer made in 2010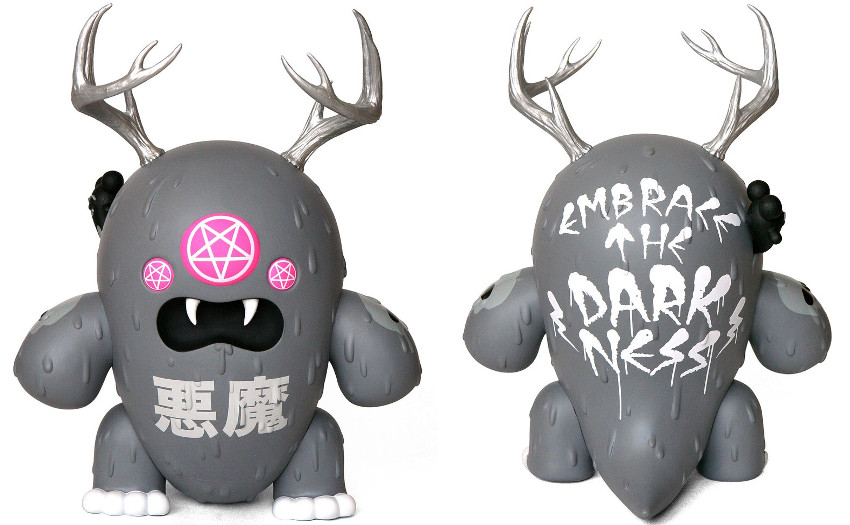 Books by Buff Monster: Life is Sweet and Stay Melty
The first book of Buff Monster's work, Life is Sweet was published in 2009 by MINDstyle. Layed out by the man himself, the book includes images of paintings, figures, posters, installations and more – all in a style that oozes confidence and happiness. Stay Melty is his second book published in December 2015 by Gingko Press. The full-color book features 600 images of the artist's work created between 2013 and 2015 covering everything from his paintings and murals to resin releases. It offers a unique view into Buff's amazing body of work.[3]
Buff's books offer a unique view into his oeuvre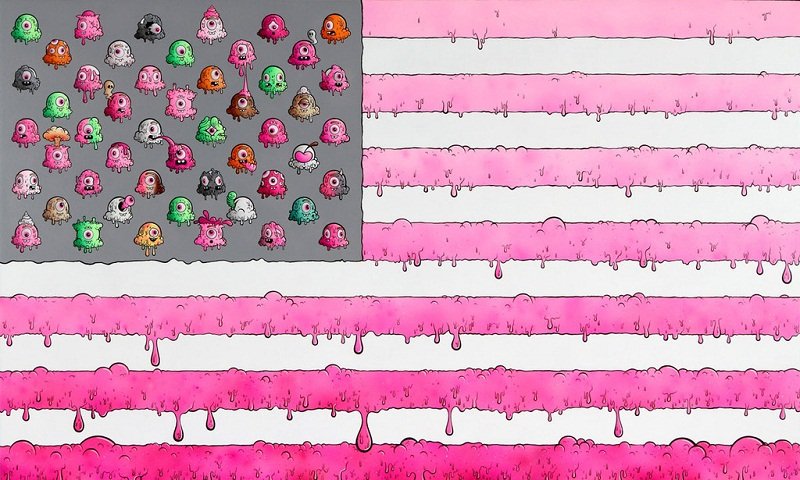 The Army of Fans
Over the years, New York based artist has built a virtual army of fans. His Facebook page has more than 685,000 followers while his Instagram account is followed by more than 128,000 fans. His Twitter account is followed by just 18,500 people. They are devoted to Buff's irresistible artistic style that spread happiness and joy. His work has been included in many one-man and group exhibitions in such galleries as Corey Helford Gallery, LA, Kolly Gallery, Zurich, Thinkspace Gallery, Culver City, 101/exhibit Gallery, LA and many others. Various magazines, websites, newspapers and books wrote about his artworks, including Juxtapoz, Paper, Nylon, Cool Hunting, Angeleno, The Los Angeles Times, LA Weekly and much more. Buff was also featured in Banksy's Oscar-nominated documentary movie Exit through the Gift Shop. Home or abroad, he still likes painting large and vibrant murals that can be found everywhere from the United States to Italy to New Zealand.
He is represented by Corey Helford Gallery.
Buff Monster is currently based in New York City.

References:
Anonimous (2014), Buff Monster, Back of House [September 30, 2016]
Anonimous (2006), Candy Coated City: Non Sequitur interviews Buff Monster, Archinect Features [September 30, 2016]
Monster, B. (2015), Buff Monster: Stay Melty, Gingko Press Inc.
Featured image: portrait of the artist
All photo credits of the artist