Growing up with an architect father and surrounded by images of great contemporary structures, artist Callum Morton was fascinated by the world of architecture from a young age. Inspired by some of the architecture's iconic structures, like Le Corbusier's Palace of Assembly, Morton's installations can best be described as transcending the boundary between sculpture and architecture, as he asks us to re-evaluate our relationship with our human-made surroundings.  How do we, often subconsciously, evaluate or experience personal and communal space? For Example, his 2003 work Habitat envisions living space as almost a living form of its own, as if the stories of the building align following nature's algorithms. Skillfully intertwining both tragedy and comedy into his work, Morton infuses narratives from our everyday lives, books, and movies into his buildings, as they come alive with sounds of domestic life and conflict. His art is a compelling mix of personal narratives, past histories, transformation, community living and utopian concepts.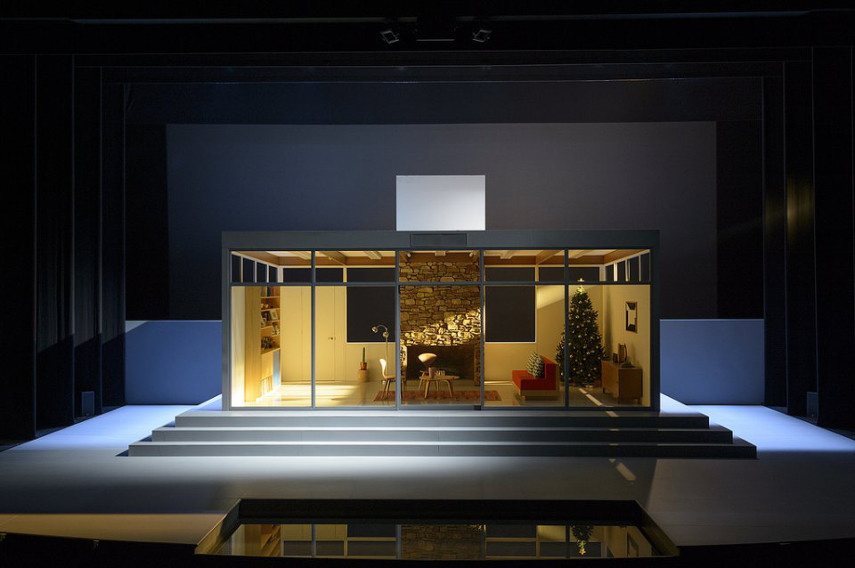 Varied Education Influencing a Mixture of Styles
Callum Morton was born in 1965 in Montreal, Canada, but went to university abroad, in Australia. He attended Architecture and Urban Planning at the Royal Melbourne Insitute of Technology (RMIT), but completed a BA in Fine Art at Victoria College, Melbourne in 1988 and an MA in sculpture at RMIT in 1999. In 2007, Morton and two other artists represented Australia at the Venice Biennale.  Callum had his first solo exhibition at Store 5, Melbourne in 1989, and since then has been prolific in producing works that spark viewers' interests, having his exhibitions shown in a variety of locations including artist-run spaces, private homes, shop fronts, cinemas, gardens, museums, public and commercial galleries.[1] Significant solo exhibitions include Habitat, Anna Schwartz Gallery, Melbourne and Roslyn Oxley9 Gallery, Sydney, 2003; Babylonia, Australian Centre for Contemporary Art, Melbourne, 2005; Valhalla, Melbourne International Arts Festival, 2007; Grotto, Fundament Foundation, Tilburg, the Netherlands, 2009; Smokescreen, Anna Schwartz Gallery, Melbourne, 2009; Ghost World, Queensland Art Gallery/Gallery of Modern Art, Brisbane, 2010; and the survey exhibition Callum Morton: In Memoriam, Heide Museum of Modern Art, Melbourne, 2011.[2]
Callum Morton reimagined his childhood home as a three-quarters scaled down, scorched ruin in his 2007 piece Valhalla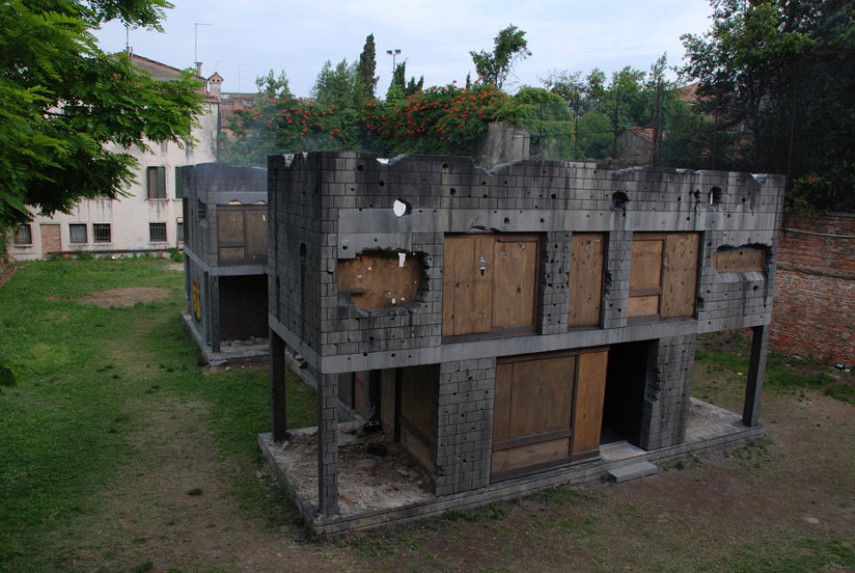 Canberra's Public Space Soon to Be Richer with Morton's Winning Design
In March 2015, Callum and his team took the victory at Canberra's design ideas competition with their 3D wavy steel structure design. The contest asked for propositions for a site-specific public sculpture which reflects Australia's immigration history, because, according to the site's traditional owners, the Ngambri, the womb of a spirit woman rests on the site. The sine-wave shape of the structure relates to the idea of a mother's "womb", while also symbolizing the rolling turbulence of the ocean and a type of cloud reflecting migration via sea and air.[3] The layers of steel from which the sculpture is constructed reflect the innumerable stories of migrations, from the earliest to recent times.
Morton and team's contest-winning layered steel structure to be built in Canberra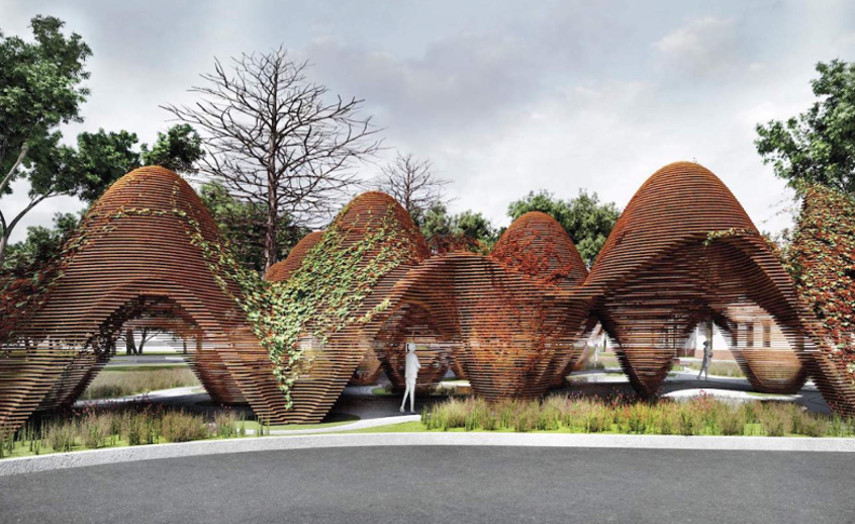 Enjoying Collector's Appreciation
A biennale-confirmed artist, Morton's work is held in many major collections including: Art Gallery of New South Wales, Sydney, National Gallery of Victoria, Melbourne, Monash University Gallery, Melbourne, Queensland Art Gallery Corbett and Yueji Lyon Collection, The Michael Buxton Collection, Artbank, Bendigo Art Gallery and many private collections, locally and internationally.
Callum Morton lives and works in Melbourne, Australia.

References:
ACCA, Callum Morton Kit
National Gallery of Victoria, Meet the Artists: Callum Morton, NGV
Linda Cheng (2015), Callum Morton et al win Canberra public sculpture ideas competition, ArchitectureAU [8 Apr 2015]
Featured image - Callum Morton portrait, via monash.edu