Borders are just imaginary lines whose sole purpose is to divide. So, why not simply erase them and bring the people, countries, even art, together? Camilla d'Errico is a contemporary artist with Italian and Canadian origins, who blurs the lines between fine art and comics. Originally, she started in comics, but similar to the characters portrayed in them, her art also evolved, and now she paints, designs toys, accessories, and clothing. The influence of manga is clear and ever-present, and yet her art seems closer to what is understood as a fine art rather than comics. She considers herself a manga artist, though, and her dream of being able to work creatively for a living has come true.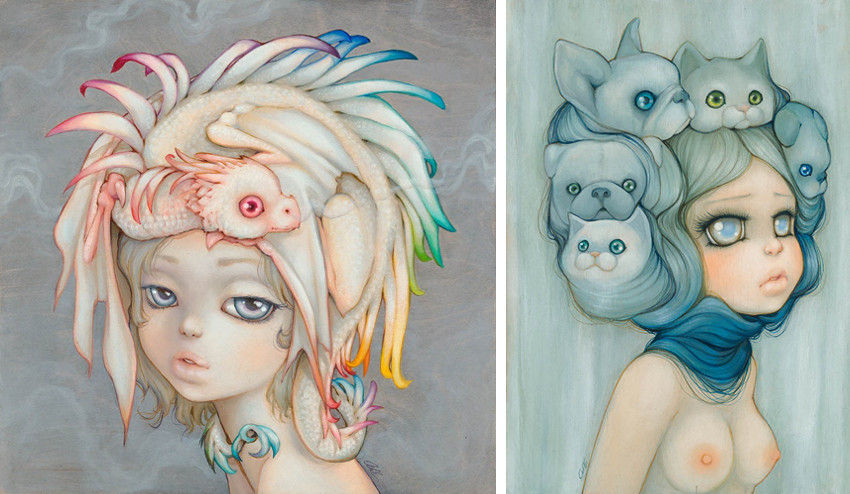 Between Manga and Pop Surrealism
She draws, paints, and designs, and her style, heavily influenced by manga, could be described as Pop Surrealism. D'Errico states it is difficult for her to single out a source of inspiration that predominantly defines her art. Obviously, manga and anime are in the top, as are the Asian literature and all other fancy things coming from there. The artist enjoys nature and is a hopeless romantic, so that affect her art as well. She is also inspired by the work of other artists, such as Range Murata, Masashi Kishimoto, Maki Minami, Bobby Chui, Alberto Ponticelli, and Ben Templesmith, to name a few.
The artist enjoys in Asian literature, manga and anime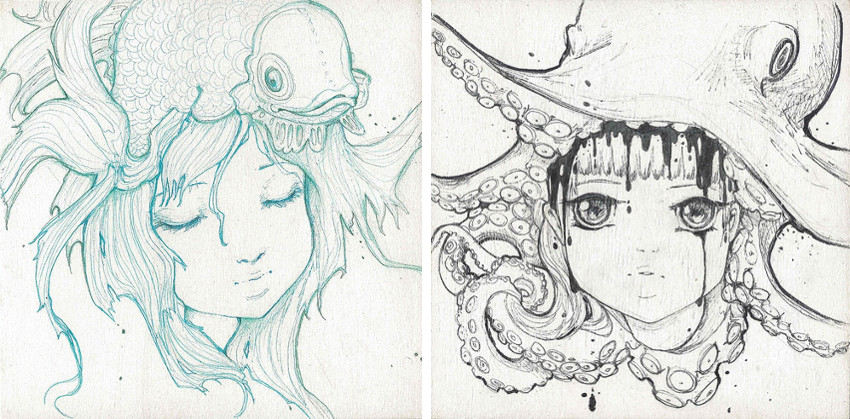 From Comic-Con to Stan Lee
D'Errico studied at the Okanagan University College in Kelowna, Canada, and also earned her Illustration and Graphic Design Degree from the Capilano College in 2005. Her training involved animation, fine arts, illustration, and design. She took elements from all of these fields, and it helped her in developing a sense of storytelling and layout she probably couldn't have learned on her own. The San Diego Comic-Con in 1998 made her feel at home, and then she definitely knew that there was her future. That was also the starting point of her career as she started working with a small company, the Committed Comics. From there, it was one way up towards success for her. The jobs for SLG, Arcana, Dark Horse, and Random House followed, and she even worked with Stan Lee.
She is trained in animation, fine arts, illustration, and design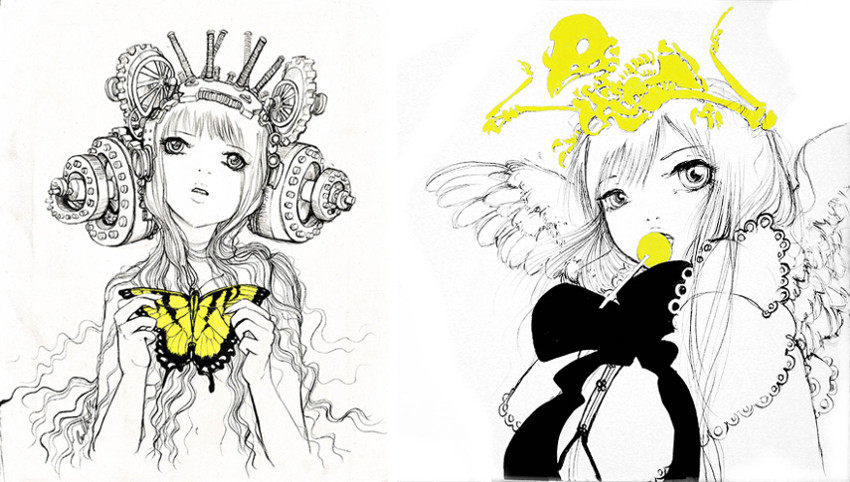 A Fan Favorite
It is truly astonishing to see d'Errico enjoying working so much. Even if she wasn't a manga-inspired artist, she would still read the comics and watch anime. She simply turned her passion into a profession, without making it a job. The results are amazing, and her work is equally appreciated by those who prefer the comics and those more interested in fine art. Her work is erasing the borders between the two very different worlds, not to mention she is one of the leading artists of the today's Pop Surrealism. To point out how appreciated she really is, we will say that the hardcover of her series of graphic novels named Tanpopo is financed through a Kickstarter campaign, amassing more than 100 thousand dollars that came solely from the fans.
She is represented by Corey Helford Gallery in Los Angeles.
Camilla d'Errico lives and works in Vancouver, Canada.
Featured image: Camilla d'Errico – portrait
All images © Camilla d'Errico