Camille Rose Garcia's impressive art, which floats in the limbo between fairy tales and gothic horror, belongs to the underground art movement called Pop Surrealism or Lowbrow. Garcia's paintings, sculptures, and prints, which are bittersweet and grotesque yet hauntingly beautiful, represent the artist's personal childhood memories, warm and nostalgic, mixed with the counterculture of Los Angeles, which was somewhat ominous and violent, drug-ridden world. At the same time, Garcia's surreal gothic imagery and her dark humor admired by the worldwide audience raise multiple questions about basic existential and human values.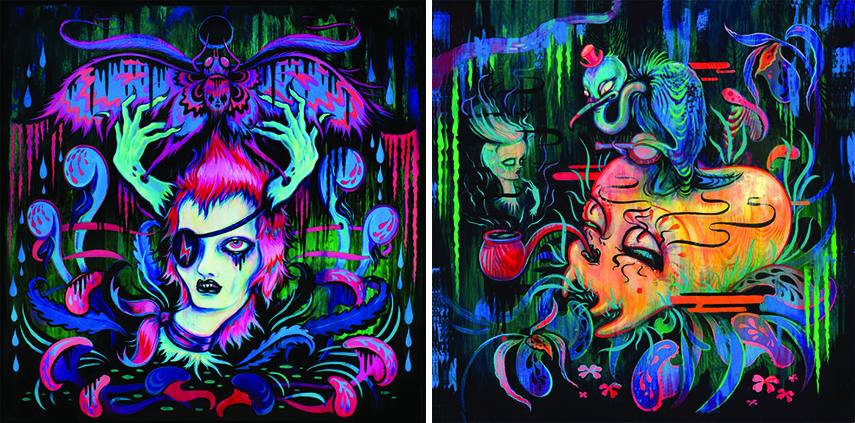 Disneyland and Punk Shows
Garcia was born in 1970 in Los Angeles, exactly at the time when the counterculture was strongest in California. Being the child of a Mexican filmmaker father and a painter mother, it is not surprising that Garcia already as a teenager excelled in painting murals in the suburbs of Orange County in California. Together with other rebellious youth of that era, Garcia equally enjoyed visiting Disneyland and attending punk shows, which later on became apparent in her art and its amusing awkwardness. Garcia has a strong formal education in fine arts – she received her MFA degree from the University of California at Davis in 1994 and her BFA from Otis College of Art and Design in 1992. After six long years of art school, Garcia was somewhat tired and disillusioned, so instead of immediately looking for a job, she decided to stay home for a while and formed a band called The Real Minx.
Garcia was visiting Disneyland and attending punk shows, which became apparent in her art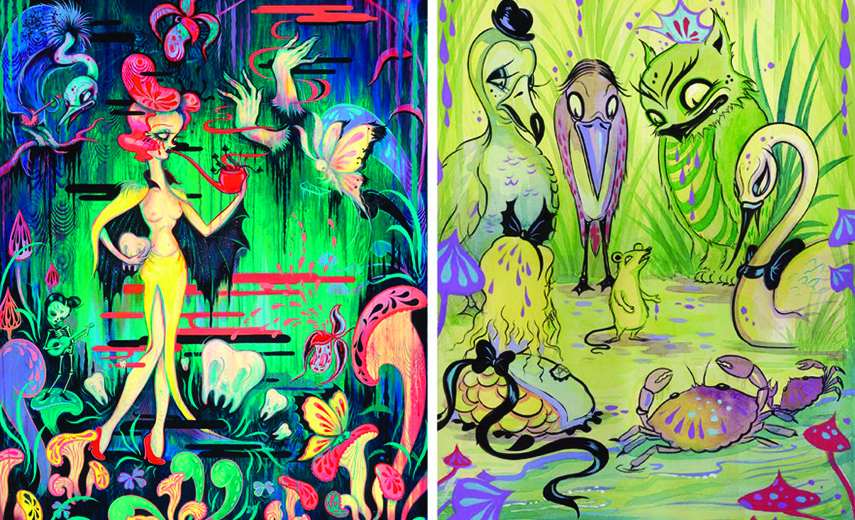 Lowbrow Movement
Garcia's art is the great example of Lowbrow, an underground visual art movement born in the Los Angeles area in the late 1970s. This movement, also known as Pop Surrealism, is influenced mainly by underground comics, punk music, and street art. Lowbrow is also typical for its dark and sarcastic sense of humor. The majority of the artworks that belong to this style are paintings, but digital art, graphic design, and toys are not uncommon as well. Garcia's art revolves around the excerpts and broken narratives of well-known fairy tales and stories, such as Snow White, Alice in Wonderland or Disney's work in general. The artist is also inserting surreal and bizarre elements in her pieces, influenced by the writers of the beat generation, most notably William Burroughs, Allen Ginsberg and Jack Kerouac. Beat generation writers are known for their exploration of American and Eastern religions, honest portrayals of the human condition, and experimentation with various drugs. The same ideas are present in Garcia's work and even though it might not be straightforward and obvious, her pieces offer a bitter commentary on the capitalist utopias. For example, one of her paintings called The Pain Collector is quite clearly depicting the idea of painless, perfectly sedated society, often mentioned in dystopian movies and literature.
Garcia's art revolves around the excerpts and broken narratives of well-known fairy tales and stories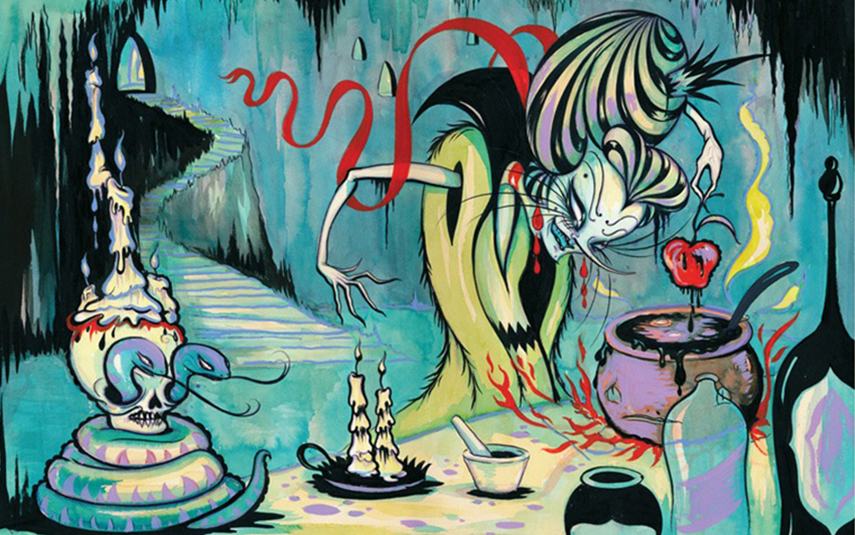 Book Illustrations and Other Projects
In her work, Garcia aims to achieve both visual appeal and social criticism. I think I have always approached art making in the same way as a lot of my favorite bands. Bands like The Clash and the Dead Kennedys make this really rad music, that in some cases sounds really fun, but still has a social commentary, Garcia claims. In addition to her recognizably stylish, eerie gothic paintings, the artist is also working on the illustrations for various books. Her most famous project so far was the illustrated version of Alice's Adventures in Wonderland, from 2010. Of course, Garcia offered a bit darker interpretation of the characters than the original illustrations. The artist's paintings have been featured in the most renowned magazines such as Juxtapoz, Rolling Stone, and Modern Painter, and they can be also found in the collections of the Los Angeles County Museum and the San Jose Museum of Art. Because of the great reputation and popularity of Garcia's pieces, in 2007 the San Jose Museum of Art held a retrospective of her entire body of work, called The Tragic Kingdom.
Garcia's most famous project so far was the illustrated version of Alice's Adventures in Wonderland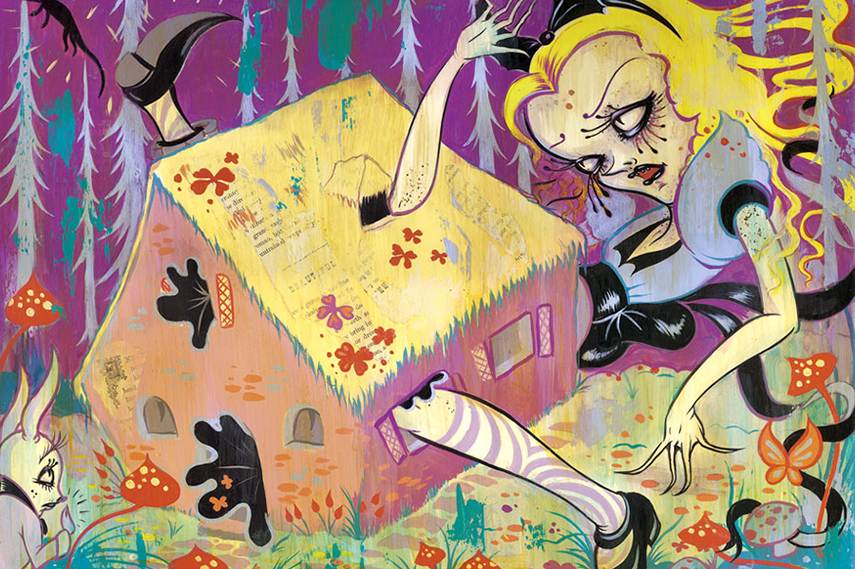 Meaningfully Dark Fairy Tales
Garcia's art, through the clever appropriation and transformation of Disney imagery and motifs from fairy tales and dystopian literature invites the viewers to scrape below the surface of her creations and enjoy her humorously bittersweet commentary on the modern society and various human issues. Garcia is rarely straightforward in her approach and there is so much to explore and discover in the perplexing world of her glittery yet ominous paintings and illustration that carry the universal appeal. Her pieces are adored by both children and adults for their charming playfulness.
The artist is represented by Corey Helford Gallery.
Camille Rose Garcia lives and works in Los Angeles, California.
Featured image: Garcia's portrait - via arrestedmotion.com
All images courtesy of the artist.