Cane Morto (Dead Dog) is an Italian street art collective composed of three friends active on the streets of their native country as well as beyond.
Their main goal is a permanent search and need to move away from the accepted and recognized perception of beauty by depicting such in a visceral colourful manner. The trio is looking for beauty in ugly aspects of street life, their work is infused with life, vibrant, gestural creations full of outstanding creatures and humans.
Art by Cane Morto
Last year they spent two months in Lisbon, which served as a canvas for their artwork. They decided to document the whole experience of the trip to Portugal's hilly capital. The recap of the journey came in a form of fanzine entitled simply Cão Morto em Lisboa.
As they invaded the streets of Lisbon, they gave town a total of 30 interventions, and a number of night bombings. All of the pieces - characterized by distorted images and rendered faces - were done without any kind of permission or authorization.
In September 2015, they will be releasing a film Amo-Te Lisboa: An Ignominious Street Art Movie chronicling two wild months of unauthorized street painting in Portugal.
Cane Morto in Portugal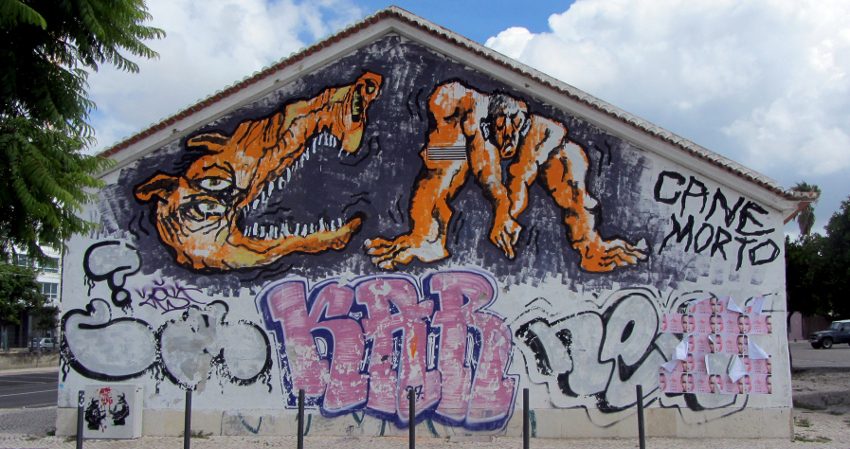 Cane Morto is represented by 999Contemporary in Rome, Italy.
In December 2014, the crew participated in group show The Pitiless Gaze of Hysterical Realism hosted by the 999 Contemporary project.
Cane Morto lives and works in Italy.
Featured image: Cane Morto - artist collective in Lisbon, photo © Tanguy Bombonera
Other images copyright © the artist