CANTWO, aka CAN2, is a German graffiti artist with over 30 years of experience. He started drawing and painting when he was a child, and during the teenage years he already made graffiti and started tagging. He specialized in letters with a 3D overview. CANTWO mainly paints on walls using spray paint. The first graffiti were done in his hometown Mainz, and the inspiration came straight from the New York graffiti style of the 80's, especially the Bronx. He adds special depth to his lettering with dynamic shading and electrifying color. Writings are sometimes conducted with elements of popular culture, movies, and cartoons, complementing his self-titled Semi-Wildstyle.

Biography and Beginnings
CANTWO was born in 1970 in Mainz, where he made his first graffiti while he was still in school. Inspired by hip-hop culture and music videos, he took silver spray paint from his father's garage and wrote first graffiti saying Windmill. After that, he started sketching, constantly trying to evolve and grown in style. His high-school teacher put him in charge of painting a wall in the school yard, and since then his ambition was to work on walls exclusively. In 1986 he got his first graffiti assignment, and later participated in Hip Hop exhibitions all over Germany. The success followed the ambition and all the hard work, which led him to open his own graffiti workshop in 1991. His private interests in drawing and street movements motivated him to complement his knowledge by pursuing formal education in Graphic Arts in Hamburg School of Technical Art. He graduated top of his class in 1995.
Video featuring CANTWO and MadC painitng a wall
Exploring the Different Graffiti Styles with his Crewmates
He founded an artistic group, graffiti crew called Stick up Kids, where they did apparel design. CANTWO enjoyed the freelance career that enabled him to develop his creative ideas, particularly the practical ones, like the creation of new spray can colors. He made 20 new oxygen spray-can colors, adapted to the need of street artists. CANTWO first met legendary artist Seen in 1996, and three years later they designed vinyl covers for All City Style Wars in New York. Using his resourcefulness and creativity he switched jobs from advertising agencies to MTV show host. There is no shame in hiding that he wanted to become famous, and CANTWO does not hide it at all. His wild, but readable style openly shows his identity.
There are influences of old-school Bronx style in his artworks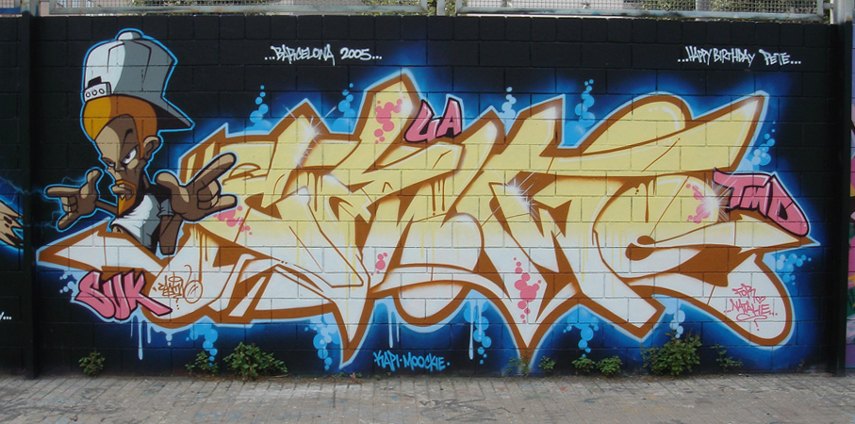 Wordwide Feme and New Types of Picture Styles
He participated as a jury for many graffiti competitions and works as a mentor to young artists. Enterprenuinal spirit led him to open an agency for the web and graphic design. In his mature work, CANTWO started working on canvases and exhibiting artwork in galleries. There are still influences of old-school Bronx style in his artworks, particularly the gallery pieces he exhibited in the USA and New Zealand. He uses imagery from Disney movies, Micky Mouse, female princesses and portrays them in a humorous or satirical way. CANTWO has a specific formula for a good wall: nice coloring, funky characters, and wild, but readable letters.
The artist is represented by Green Flowers Gallery.
CANTWO lives and works in Germany.
Featured image: CANTWO - Portrait of the artist in Paris, 2012, photo credits Paris-one.com
All images courtesy of the artist