Probably the greatest painter to have ever lived, Italian artist Caravaggio was unquestionably the most revolutionary author of his time. One of the main fathers of modern painting, Caravaggio abandoned the rules that had guided a century of artists who had idealized both the human and religious experience led partially by the practices of the Renaissance period. He is best known for his striking, lifelike style and the dramatic expression of his remarkable compositions, as well as his masterful control of light that has never been matched by no other painter and, by all likeliness, never will be. Caravaggio's dark corners, severed heads and overflowing bowls of glistening fruit have allowed this artist to single-handedly create what is now known as the Baroque style[1].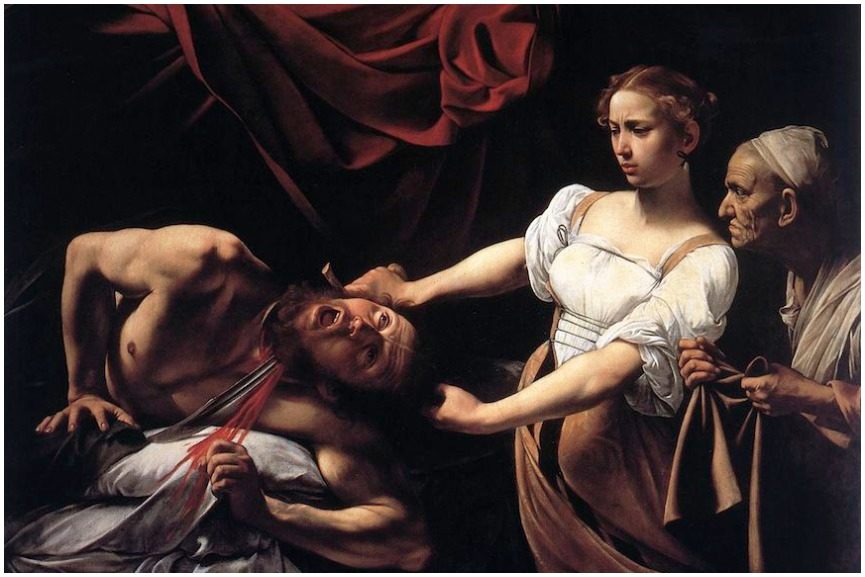 Early Life in Milan
Michelangelo Merisi da Caravaggio was born in the city of Milan where his father, Fermo Merisi, was a household administrator and a decorator to the Marchese of Caravaggio. Around the year of 1576, the entire family moved to the Caravaggio estate where the father worked in order to escape a plague which was ravaging Milan at the time - unfortunately, both of Michelangelo's parents died there. The young boy, orphaned by the plague, grew up in Caravaggio but stayed in contact with the remainder of his family that were tied to the Sforza and the Colonna family by marriage commitments and family alliances. These powerful households were destined to play a major role later in Caravaggio's life. In the year of 1584, young Michelangelo was apprenticed to the Lombard painter Simone Peterzano, a man who was described in the preserved contract of apprenticeship as a pupil of the famous Titian. Caravaggio appears to have stayed in the Milan-Caravaggio area of his childhood after his apprenticeship with Simone Peterzano ended, but it is possible that he visited Venice where he saw the works of Giorgione. These works of Giorgione were the ones Federico Zuccaro accused Michelangelo Merisi da Caravaggio of imitating, stating that too many resemblances were to be found between the two's arts.
Caravaggio in Rome: Escaping the Clutches of the Law
Growing up near the cultural center such as Milan, young Michelangelo Merisi was naturally exposed to many artistic wonders of the Italian art history. He became familiar with the creative treasures of Milan, including Leonardo da Vinci's Last Supper and the regional Lombard art, a style of painting which valued rusticity and attention to naturalistic details - a concept much closer to the naturalism of Germany than to the stylized formality and grandeur of Roman Mannerism at the time. This is one of the reasons why German artists and art historians valued the work of Caravaggio so much, to a point that many German authors of the later ages intentionally relocated to Italy in order to be spiritually closer to their idol. During the year of 1592, young Caravaggio was forced to flee from Milan, setting his sails for Rome after certain quarrels led to the wounding of a police officer. When he arrived at the capital of his country, Michelangelo was naked and extremely needy ... without a fixed address and without provision ... short of money; however, after a few months of getting by, he started performing hack-work for the highly successful Giuseppe Cesari, Pope Clement VIII's favorite painter at the time. Talented but unproven, Caravaggio was in charge of painting flowers and fruit in a factory-like environment that valued quantity over quality.
From his early years to the date of his death, Michelangelo Merisi da Caravaggio was a problematic man whose hot-blooded nature often led him to troubles with the law2]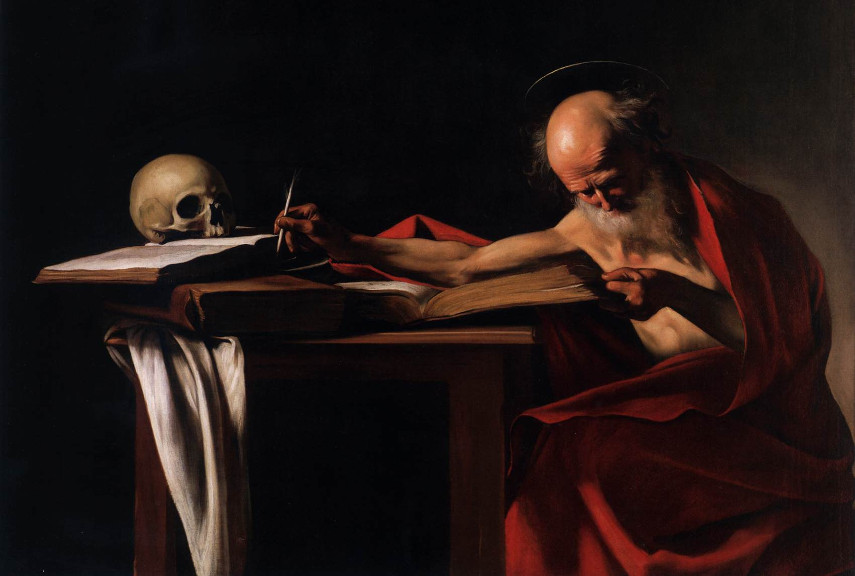 Initial Successes of Caravaggio in Rome
During the early years in Rome, Michelangelo Merisi da Caravaggio made many artworks in his free time besides working on the details on the paintings of his mentor. It was during this time that he painted A Boy Peeling a Fruit (this is, in fact, his earliest known painting), a Boy with a Basket of Fruit and the Young Sick Bacchus - this last piece is actually thought to be a self-portrait done during convalescence from a serious illness that ultimately was responsible for ending the young man's employment with Cesari. All of these paintings demonstrate the physical particularity for which Caravaggio will become renowned in time. After leaving Cesari's studio in January 1594, Michelangelo was determined to make his own way and prove that he deserves to paint as an independent author and not as someone else's assistant[3]. Although this period of his life was a troublesome one (like many other periods of it, for that matter), he forged some extremely important friendships back then - he became acquainted with the painter Prospero Orsi, the architect Onorio Longhi and the sixteen-year-old Sicilian artist Mario Minniti. All three played major roles in Caravaggio's life - Orsi introduced him to influential collectors, hot-blooded Longhi introduced him to the rough world of Roman street-brawls and Minniti served as a pictorial model for years, as well as being instrumental in helping Caravaggio land important commissions in Sicily later in their careers.
Caravaggio preferred to paint his subjects with all their natural flaws and defects instead of aiming to portray idealized creations that were far from reality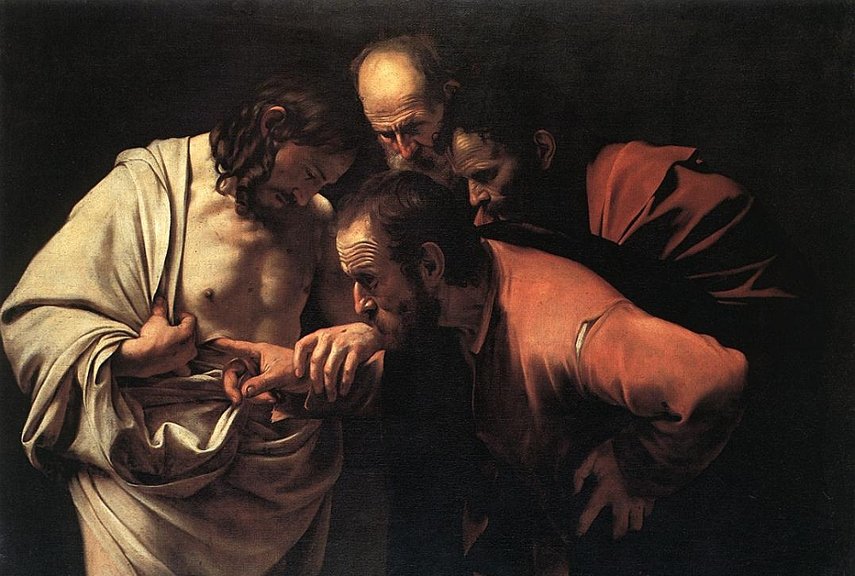 Making the Additional Creative and Stylistic Step
When Italian art pundits first saw The Fortune Teller, Caravaggio's first composition with more than one figure, they were amazed - the painting showed a young man cheated by a gypsy girl. This unconventional theme was quite new for Rome, a cultural center that was used to religious and humanistic compositions and The Fortune Teller proved immensely influential over the next century and beyond[4]. However, at the time, desperate Caravaggio sold it for practically nothing. The next piece, The Cardsharps, showed another similar scene - an unsophisticated boy falling the victim of card cheats. This was Caravaggio's first true masterpiece. The Cardsharps attracted the patronage of Cardinal Francesco Maria Del Monte, one of the leading connoisseurs in Rome who hired Michelangelo to paint him a number of intimate chamber paintings like The Musicians, The Lute Player, Bacchus and the allegorical but realistic Boy Bitten by a Lizard. Interestingly, the homoerotic ambiance of these works has been the center of dispute amongst academics and biographers since the later half of the 20th century when the interest in the Baroque started to appear across the Old Continent. On that note, we should state that the critic Robert Hughes memorably described Caravaggio's depicted boys as overripe, peachy bits of rough trade, with yearning mouths and hair like black ice cream.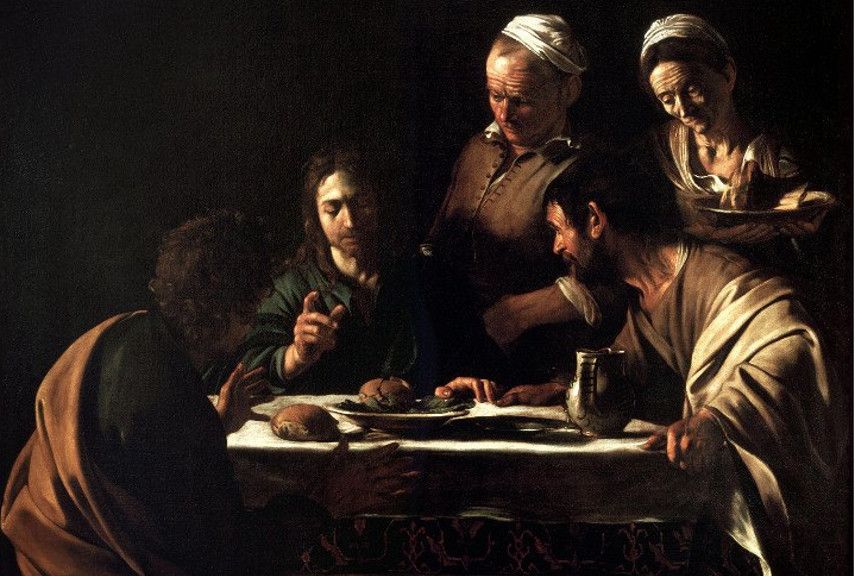 Caravaggio - The Leading Painter of Rome
By the end of the 16th century, the intense realism and masterful naturalism for which Caravaggio is now famous were already evident. In 1599, the young painter was hired to decorate the Contarelli Chapel in the church of San Luigi dei Francesi - the two main works making up the commission, the Martyrdom of Saint Matthew and Calling of Saint Matthew, were finished in 1600 and were an immediate sensation that echoed throughout Italy[5]. By that time, Michelangelo was already a master of the famous heightened chiaroscuro technique that brought high drama and an unbelievable level of emotional intensity to his subjects. However, opinion among Caravaggio's artist peers was polarized as some denounced him for his insistence on painting from life, without any drawings involved in the process. During the next five years, Caravaggio worked on many religious works that were featuring violent struggles, grotesque decapitations, torture and death. Some of these paintings were well-received by the contemporaries[6], but some were not so successful at the time, like the Michelangelo's version of Saint Matthew and the Angel that featured the paragon as a bald peasant with dirty legs attended by a boy-angel.
Using all the artistic tools at his disposal and relying on his unique combination of pictorial languages, Caravaggio quickly came to be known as the most famous painter in Rome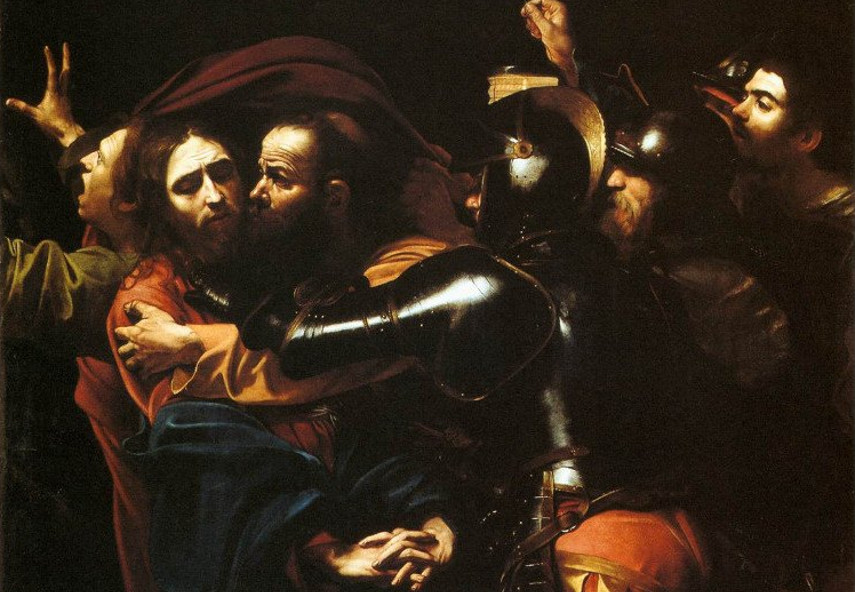 Later Years, Exile and Death
Despite enjoying a lot of popularity, Caravaggio still led a tumultuous life. He was notorious for brawling even in a time and place when such behavior was commonplace - in fact, the perceived transcripts of his police records and trial proceedings connected to the painter are so long that they can fill several pages. In 1606, when he was at the top of his critical acclaim, Michelangelo killed a young man named Ranuccio Tomassoni. The high-placed patrons that were known to get him out of uncomfortable situations with the law could do nothing about concealing a murder. Caravaggio, outlawed and disgraced, fled to Naples in order to get himself out of the jurisdiction of the Roman authorities. He was protected by the aforementioned Colonna family whose members secured the artist many important church commissions, including the Madonna of the Rosary and The Seven Works of Mercy. And just like that, the most famous painter in Rome became the most famous one in Naples[7]. However, homesick Caravaggio soon left for Malta so he could secure a pardon for Tomassoni's death from Alof de Wignacourt, Grand Master of the Knights. Unfortunately, he was arrested and imprisoned by 1608 for another brawl, after which he was exiled from Malta. After a spell of time spent traveling around Sicily with Mario Minniti, Caravaggio took a boat northwards in the summer of 1610 hoping to receive a pardon from his powerful Roman friends. What happened next is the subject of much confusion and conjecture, but the aftermath of that trip was the death of the painter. No body was found, but a poet friend of the artist later gave 18 July as the precise date of Michelangelo's death[8].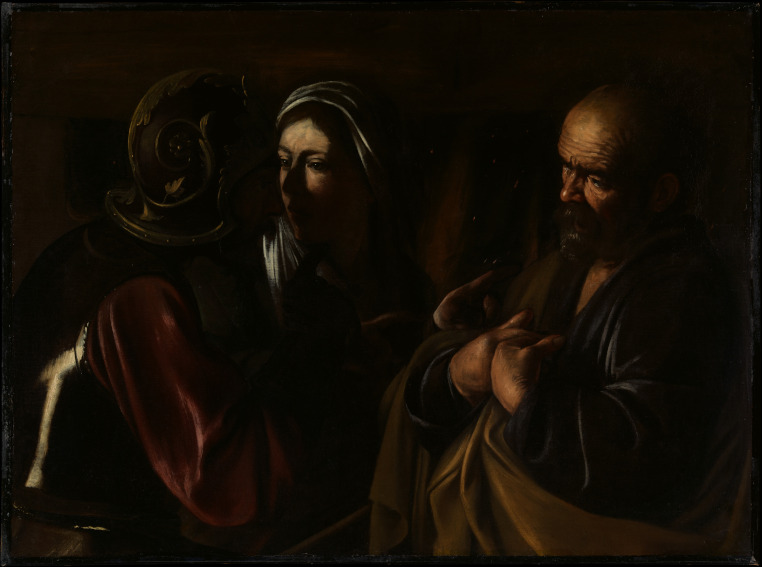 The Legacy of Michelangelo Merisi da Caravaggio
As if his artistic accomplishments were not enough, Caravaggio's biography may even be the most compelling life story in the history of art, only maybe rivaled by the sad tale of Vincent van Gogh. Michelangelo Merisi da Caravaggio was a rebellious, hot-tempered person who, despite all his shortcomings and quarrelsome antics, became the most important figure in the history of painted art. His unconventional pictures[9] were so electrifying that their quality still echoes to this day as Caravaggio's style was the inspiration for many younger artists. Individuals such as Peter Paul Rubens, Rembrandt van Rijn, Diego Velázquez and Bartolomé Esteban Murillo have all been inspired by the works of Caravaggio. Even some contemporary and very different kinds of artists, like Martin Scorsese and David Lynch, have been influenced by the visual and psychological intensity and energy of Caravaggio's paintings.
References:
Ebert-Schifferer, S., Caravaggio: The Artist and His Work, J. Paul Getty Museum; 1st edition, 2012
Graham-Dixon, A., Caravaggio: A Life Sacred and Profane, W. W. Norton & Company; 1st edition, 2012
Treves, L., Weston-Lewis, A., Finaldi, G., Tico Seifert, C., Waiboer, A., Whitlum-Cooper, F., Beyond Caravaggio, National Gallery London, 2016
Prose, F., Caravaggio: Painter of Miracles, Harper Perennial; Reprint edition, 2010
Bonsanti, G., Caravaggio, Riverside Book Company, 1991
Schütze, S., Caravaggio: The Complete Works, Taschen, 2017
Payne, R., Caravaggio, Endeavour Press, 2016
Zuffi, S., Caravaggio in Detail, Harry N. Abrams; Pck Har/Ps edition, 2016
Fried, M., After Caravaggio, Yale University Press, 2016
Featured image: Caravaggio - Portrait of the artist by Ottavio Leoni, c.1621 (detail) - Image via jeremydummett.com
All images used for illustrative purposes only.