Initially inspired by Pop Art, Abstract Expressionism, and Surrealism, at the very beginnings of his career, Carroll Dunham painted abstract geometric compositions on a wooden surface. His characteristic was the using of exotic veneers, such was elm, oak, rosewood or pin. Respecting the natural pattern of the surface, he was creating vibrant compositions. Spurred on by the revival of interest in Surrealism in the 1970's, Dunham began to make abstract, biomorphic paintings reminiscent of the work of Arshile Gorky and André Masson, executed with a comic twist enhanced by lurid colors and the suggestion of contemporary psychedelia. Recognizable cartoonish details from his early artistic beginnings turned into the larger formats of bodily shapes resembling lips or teeth recently became more figurative, displaying striking male and female caricatures placed in familiar, but at the same time fictional surroundings.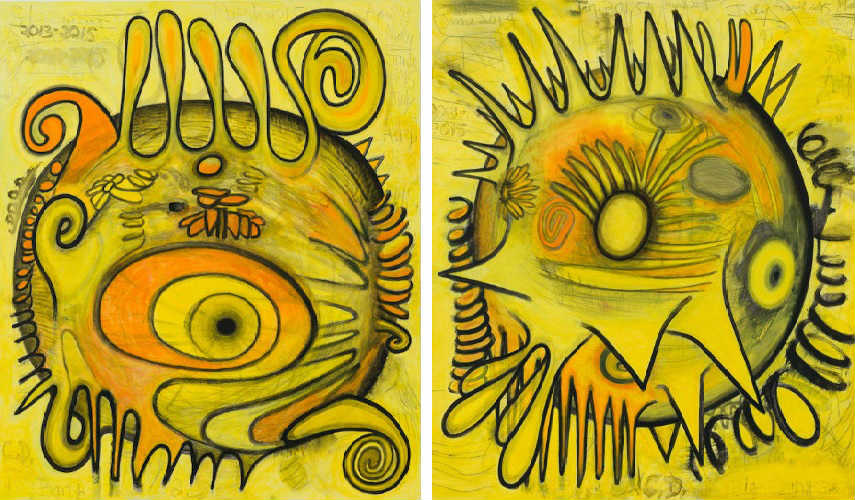 Cartoons and Nudes - An Exciting Road from the 80s until 2015
Towards the late 1980's, Dunham began to work with more singular motifs. Among the recurring figures in his work are wave-like forms, hated male figures in a variety of settings, mounds, trees set in pastoral landscapes, and nude female bathers. His series of Mound, which he began in the early 1990s, resemble mounds of earth but are covered with holes in neon colors. More recently, Dunham has focused on cartoon-like figures and nudes, as well as textured trees. Exploring the relations between abstraction and figuration, the artist was able to learn and develop the conceptual approach to painting and drawing. His drawings demonstrate the artist's skill in using thin lines and delicate shadings. They celebrate his ability to manipulate simple materials and lines. Carroll Dunham has been the subject of numerous solo exhibitions, including a mid-career retrospective at the New Museum in New York and an exhibition of paintings and sculptures at Millesgarden in Stockholm, and has participated in the Whitney Biennials of 1985, 1991, and 1995. His work is part of a many public collections, including the Art Institute of Chicago, Astrup Fearnley Museum of Modern Art, Oslo, Brooklyn Museum, New York, Museum Ludwig, Cologne, Museum of Modern Art, New York, Museum of Contemporary Art, Los Angeles, Philadelphia Museum of Art, Tate Gallery, London, Walker Art Center, Minneapolis, and Whitney Museum of Art, New York.
Beginning his paintings by "following his nose", he starts the process by drawing a shape that is usually changed during the painting. It becomes finished at the moment when it comes alive and not just being a mess of stuff on a surface. Dunham admits that he always spends a long period of time looking at the painting and trying to hear what it's telling him. Dunham's paintings need to be read apart from the subject matter and the content contained on the canvas. Aware of the things that he doesn't want to say, his greatest concern is its literal content. Tending to return into the past, Dunham is not nostalgic but strives to question his path and development as a painter. Returning back to the earlier works and basic methodology, he is trying to find the way and reason to go forward reconsidering what an artist of a certain age is supposed to do. This focus on a passage of time is visible in his paintings where scrawled dates becoming the component of the image. Attempting to make paintings that don't resemble anything familiar in the world, Dunham created the trio of Big Bang works that actually represent the world itself. With the working title Blobs of Yellow Plasm, he only knew that he wishes to create something large and blown up. Seeing them as abstract paintings, he remembered the Big Bang theory and realized that his depiction possesses all the associations on this occasion.
Carroll Dunham has been the subject of numerous solo exhibitions in Miami, Chicago and New York City
[caption id="attachment_215927" align="alignnone" width="855"]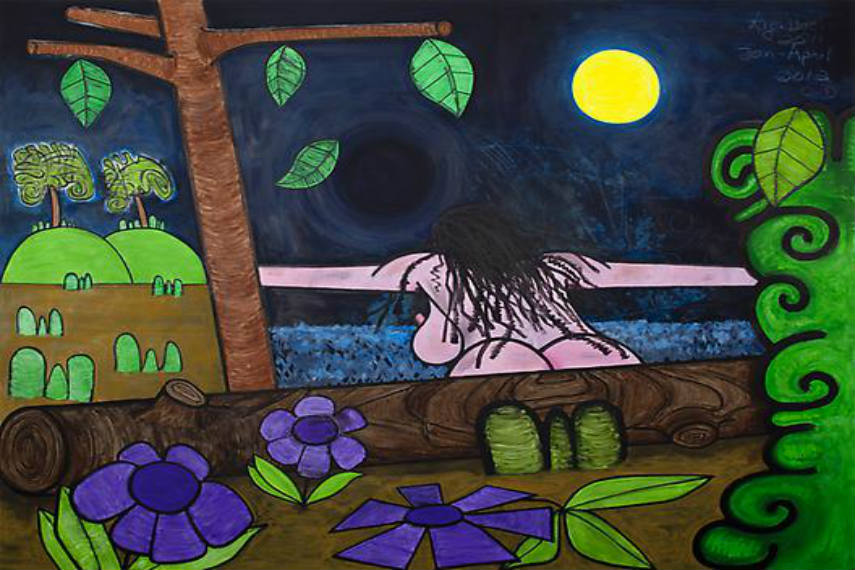 Carroll Dunham - Bathers seventeen (Black hole), 2011-12[/caption]
Theme of Bathers throughout Art History
Dunham's representations always involved concrete figures, as man or woman, but during the time, he started to build a graphic world of "things with the name" – house, tree, gun – in the attempt to purify the subject and reduce it to its essence. For example, when he draws a tree, it is not the specific one, but just tree, actually the idea of the tree. Never having the problem to talk about artists who influenced his work, Dunham would always mention Otto Dix and his contemporaries Elizabeth Murray and Kara Walker. On his series of Bathers, strange geometries collide with organic form. The figure of a female bather is composed of outlined, shaded shapes created from the painting's white ground. Unlike the other object, she is not filled in, which emphasizes her presence. Faceless, her body might belong to a specific woman, but without representing a real person. Writing some review on Otto Dix and late Renoir, Carroll Dunham was drawn to late 19th and early 20th-century French painting, starting to think about the theme of bathers throughout art history.
The best example of his subject vs. content concerns is Horse and Rider (My X), 2013-15, which makes the viewer considers what is the real subject – the X that splits the surface into four quadrants, marking the center of some other realm, or a horse with a woman on his back who obviously have a question for a viewer, whose figure represents the beginning of recessive planes of composition that make the impression of depth. When he started this painting, first move that he done was a chalk line X that noted the segments of the surface. Initial theme was a fantasy of woman on a horse, but he later realized that the other level is equally important (X as a generative principle) and must be a part of a title. Creating the horse that stares into the viewer, Dunham, unlike in his previous work, made a weird eye contact, giving the narrative implications that courage the people to imagine the story behind. The other major Bather painting Game, 2013-15, abounds narrative implications. With the swinging bather in the foreground, four strange birds randomly staggered around have fully occupied the space, taking over the role of main subject.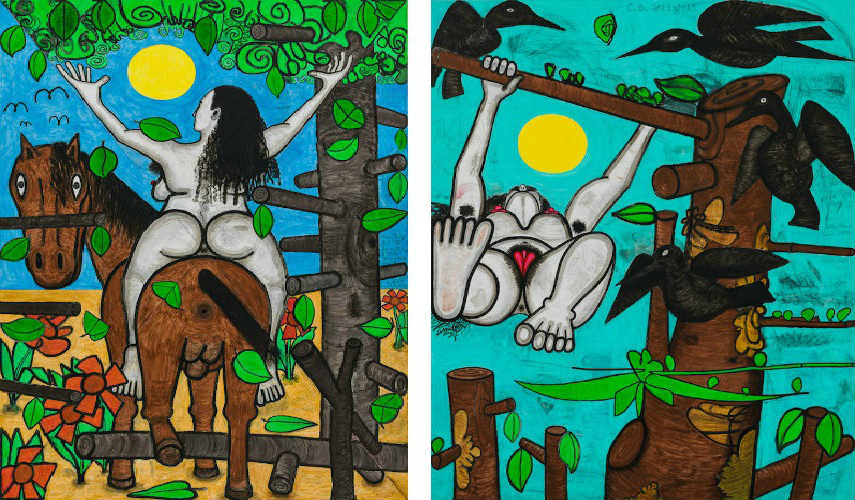 From Masculine Dystopia to Feminine Utopia
While he paints, Dunham often thinks about different theories and meaning of painting itself. Always looking for some answers, he reexamines his early thoughts about his art, comparing them to things he feels or thinks today. His idea about how to make an artwork came from the presumption about of diagram of painting or its function as the demonstration model. Still, aware of differences and progress, he can't find the source of his change, having the subjective experience of stagnation because of the same problems and characteristic approach to them through his whole career. He spends years building pieces of his universe, developing each fragment of his visual language, from hallucinatory, anatomical abstraction of biomorphic shapes from the beginning of his career to the first signs of angry faces and fat bodies, and sun, tree and a mountain as the basic elements of a usual landscape. The next step was a masculine dystopia, the world inhabited by eyeless, penis-nosed men in suits and top hats, compulsively recreated from different angles, through numerous drawings, paintings, and sculptures. Since 2010, Dunham changed the territory, moving from hell into the feminine world of heaven. Blue skies, green hills, and colorful flowers are the place where lives nude woman with the long black hair and emphasized vagina and nipples. Still, for Dunham, his direct subjects, and the scenes are just a part of a construction that he skillfully uses, making the numerous arrangements that transform his abstract thought into the worldly shape.
At the beginning, Dunham's art was based on painted abstract compositions
[caption id="attachment_215931" align="alignnone" width="855"]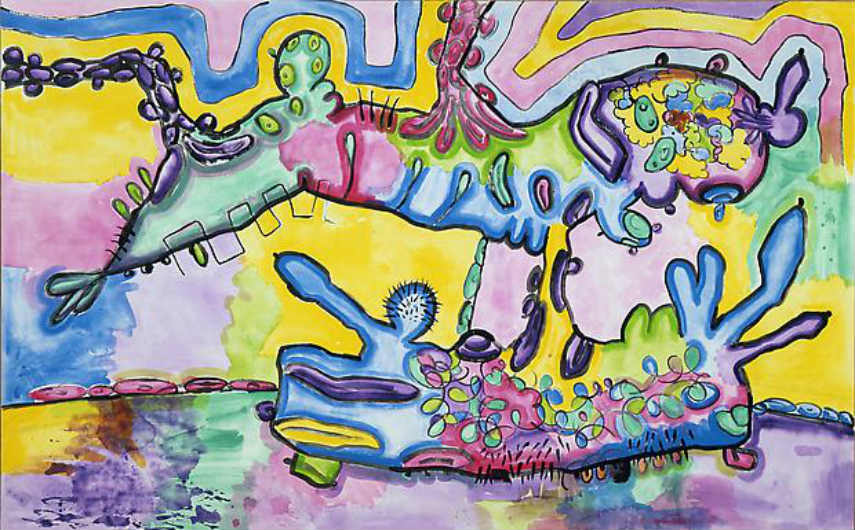 Carroll Dunham - Shape with puddle, 1990[/caption]
Now and Around Here
Always striving to create the atmosphere of possibility where things seem to be in a kind of motion, the artist indicates the movement that could be going forward or backward. The viewer has a chance to see only the fragment of it. Dunham also asserts the fact that he is not kind of painter that thinks symbolically. There are no references or literary terms, but the pure truth, like any other experience in anybody's life. The things that come up in his paintings tends to be much more an expression of an attitude about the process than of an attitude about the subject matter. Deprived of a female presence, his series Now and Around Here is prepared through 150 drawings before he achieved the final version. Feels like "femaleness needs maleness" to achieved the balance, he included the first appearance of a man in about eight years. Starting from his own body he tried to understand how to approach to his new theme. Taking the example of Mantegna and John Semmel as precedents that used to represent the body in space in that kind of way, Dunham still chose to experiment with his own train of thought. His final canvas, number 3, is the most striking, having the unexpected depiction of the dog looking out at the viewer. Like horse or birds on the previous paintings, the dog represents human's close friend, the animal that has been there since the beginning. The falling leaves and autumnal colors leave the impression of sorrow, but also of the hope at the same time. His reclining man has seen bright skies of green and purple, but things have changed. The dog is a narrative signifier and abstract code, created of colors and lines, but with the longing gaze.
He created series of paintings deprived of female presence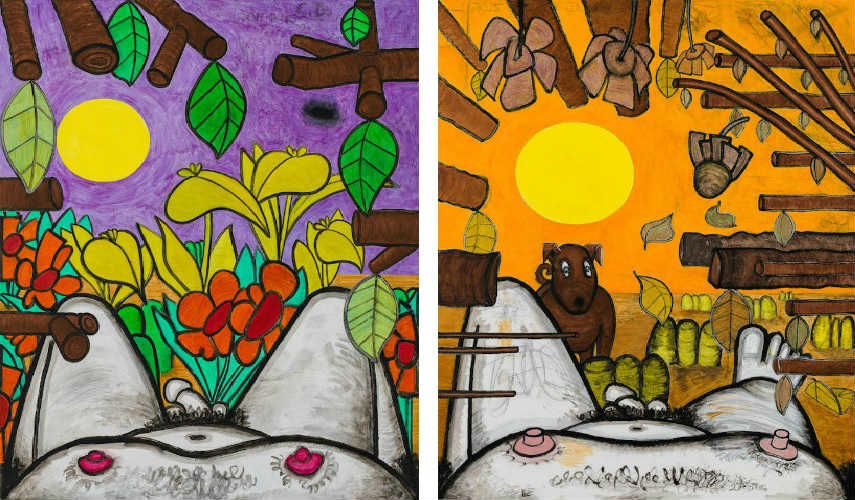 Painting as the Mixture of Craft and Philosophy
During his long career, Carroll Dunham developed a highly personal style. Some people connect Dunham's work with cartoons. Sometimes, they find his paintings funny, although the author himself don't think they are. He is trying to let something open up, not necessarily his personality, but his emotional side as an artist. Juxtapositions can be humorous, even when the artist has no intention to be funny. Viewer's imagination has no limits and sometimes goes over any expectations. Creating scenes with multiple cartoonish and biomorphic subjects interact, his works often have sexually suggestive narratives. Considering painting as something that is not about individual subjectivity, but the mixture of craft and philosophy, Dunham's only interest lies in the process and tradition of painting, instead of symbolism and metaphorical meanings. Unifying elements of Pop Art, Graffiti, Surrealism and Abstraction, his work reference Paul Gauguin, Arshile Gorky and Philip Guston.
Carroll Dunham lives and works in New York and Cornwall, Connecticut.
Featured image: Carroll Dunham Portrait by Grant Delin
All images courtesy of the artist