Cathy Bélanger is a Canadian artist best known for her academic technique she uses to make a grisaille oil and layering thirty glaze thereafter.
Japanese and American Tatoo
Cathy Bélanger was born in 1985 in Trois-Rivières, a city in the Mauricie administrative region of Quebec, Canada. Cathy has a degree in visual arts from the Université du Québec à Trois-Rivières as well as a Masters degree in art education from the University Laval in Quebec City.
Cathy's unusual still life paintings are fresh, colorful, and charming. The common paintings, such those of a vase and flowers, that comes from her hand, takes the viewer to another dimension. Chosen vibrant colors she uses could be a reminiscent of the pop art era which made such a grand artistic impact in the mid 50's. Another source of inspiration for Cathy Bélanger is Japanese tattoo art, its exotic and colorful painting that sometimes covers the entire body. Besides Japanese, American tattoo also triggers Cathy's art.
Cathy Bélanger at Beauchamp Art Gallery
Bélanger's 2009 exhibition at the Beauchamp Art Gallery, revealed the American tattoo in its pure form. From this form comes one leitmotif that Cathy uses – a rose, the utmost symbol of love. Cathy represents the rose differently than any other flowers that is depicted on her paintings. Cathy's rose is always more glazed and more intricate, with more emphasis placed.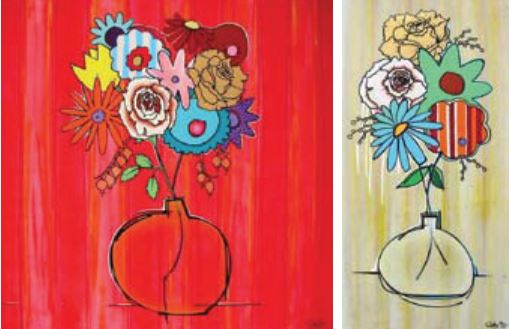 The discordant meeting of these two techniques, a studio work and the other, marking the body, results in a confrontation between a bygone institutional culture and postmodern popular culture. By endorsing elements of the past and stripping them of their significance to register as a new aesthetic standard. Cathy creates original and very harmonious compositions. Her technique, precision, and skill are already very mature even though she is a young artist.
The artist is represented by Galerie C.O.A.
Cathy Bélanger lives in Trois-Rivières.
All images copyright © the artist