Are figurative and abstract mutually exclusive? Does the existence of one means the demise of other? Cecily Brown certainly doesn't think so. As one of the Britain's (and world's) leading painters, she has placed her work somewhere between the two extremes. Embracing both representational and abstract elements, her depictions of figures and nudes are quite sensual. She's freeing her subjects from their original context, positioning them within new aesthetical reality. Her personal vision transcends classical notions of genre and narrative. Observing the world through women's eyes and utilizing the no-man's-land land between figuration with abstraction, Brown is creating an oeuvre that's unique and easily recognizable.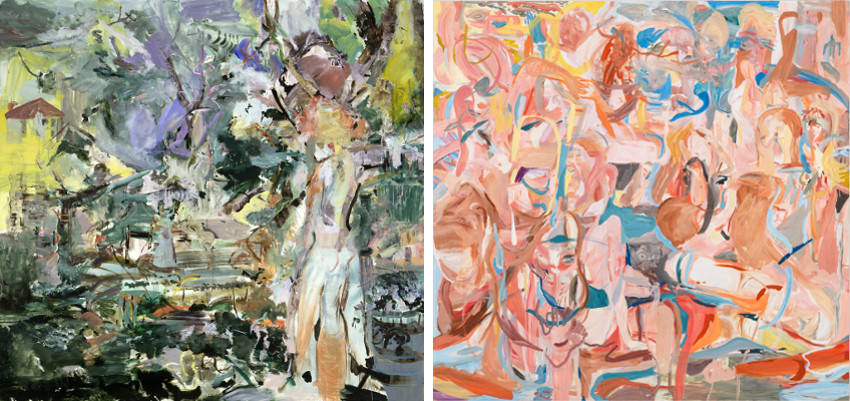 Early Life and Education
She grew up in Surrey before moving to London suburb of Upper Norwood with her mother, the novelist Sheena Mackay, her two sisters and Robin Brown who, as she discovered when she was 21, was not her father. Instead, it was David Sylvester, a man some believe to have been England's greatest art writer since Ruskin. This piece of a puzzle offers an existential clue about Brown's identity and her aspirations towards painting.[1] She lost interest in regular school fairly early – by 16, she had already dropped out and went to Epson Art School, already sure she wanted to be a painter.[2] She earned a B-TEC Diploma in Art and Design in 1987, and in the next couple of years, attended Drawing and Printmaking classes at Morley College in London. In 1989, she began her studies at Slade School of Art, where she earned her BA in Fine Art in 1993. One year prior to graduation, Brown went to New York on a student exchange, immediately comprehending the difference between two cities. Energy, street life, human scale, the grid – everything was on a completely different level. Upon completing studies, she made a decision to move to New York. The fact that she didn't feet in England only sped up the process: "What I hated about the Young British Artists was that it was a closed club, it made me feel a could never be a part of this…"[3] By the time Brown joined the Gagosian Gallery, one of the world's most eminent gallery owners, she was thoroughly embedded in the Big Apple's art scene.
She visited a lot of exhibitions with David Sylvester, before she found out that he is her father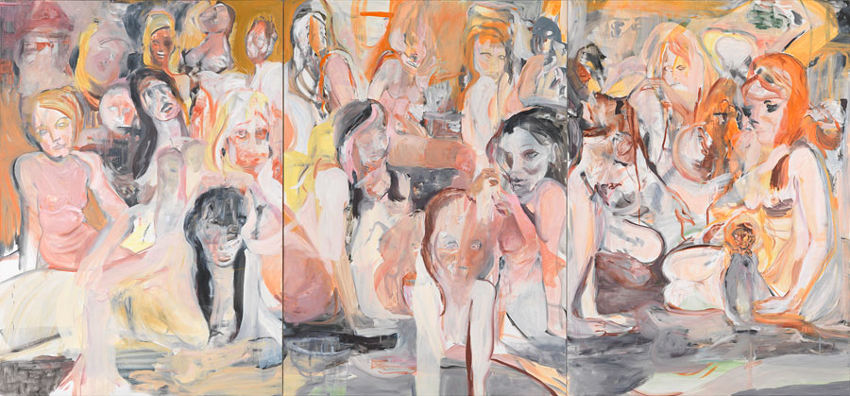 Stories of Related Artists, Abstract and Figurative
She met a lot of emerging artists around that time – there were John Currin, Rachel Feinstein, George Condo, Elizabeth Peyton, Peter Doig, Chris Ofili, and many others. Speaking of her style, it can be compared to that of American Abstract Expressionists Willem de Kooning and Jackson Pollock. Simultaneously, it can also be compared with Francis Bacon and his figurative paintings, in which bodies are often seen in tense relationships. Her range of interests and variety of influences includes Hieronymus Bosch, Chinese eroticism, Aubrey Beardsley and El Greco. It bothers her when her work gets described as purely abstract because she actually never lets go of figuration. There's always a figurative thought in her head as she creates. "I take all my cues from the paint, so it's a settle back and forth between my will and the painting directing what to do next."[4] During the painting, things naturally break down and become more abstract. When that occurs, she definitely feels she wants to bring the figure back. Striving for something that's not between figuration and abstraction, she wants her paintings to be both. In fact, "I often avoid using the terms figuration and abstraction because I've always tried to have it both ways."[5] At an earlier stage in her career, Brown used photographs as sources, now she looks up the other art. In 2016, she's been working a lot faster than before, completing her paintings in a matter of days, as opposed to months. These fast-produced pieces are her favorites, as they seem really fresh.[6]
She uses simple tools - a canvas, a brush, a paint, creating her own universe between abstraction and figuration, pushing the boundaries of painting even further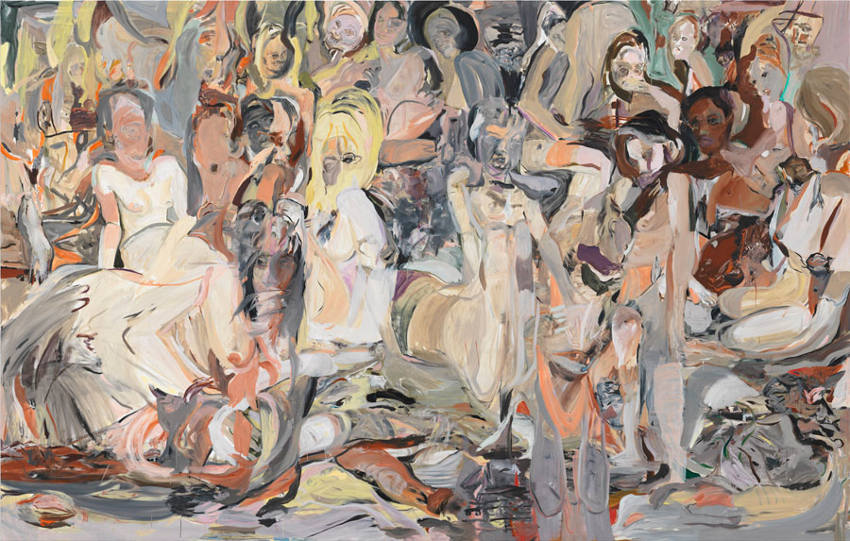 Hot Name of the Scene – the Critiques
Cecily Brown made a real fuss in New York. Critiques praised her for reviving the Abstract Expressionism, but enriching it with a female perspective, distancing from a fierce masculinity. Her work was called groundbreaking, fighting both traditions and gendered assumptions. However, some critiques were not so enthusiastic. In 2000, Roberta Smith, a fierce critic of the New York Times, said: "…the lackluster nature of Ms. Brown's third New York show in three years, suggests that her career is ahead of her artistic development. With these eight large, seemingly abstract paintings, which feature dense generically gestural brushwork mostly in shades of pink and beige, she comes across as a diligent, ambitious young painter who has a lot to learn."[7] This particular opinion, but also some other negative criticism she had received, did not help her self-esteem. She could only continue working, trying to express herself, to learn and evolve. And fifteen years later, Roberta Smith, the very same critic that once gave Cecily Brown the worst review of her life, once again wrote about her. This time, it was about the artist's show of small garden painting at the West Village gallery of Michele Maccarone, and Smith named it one of the best shows of 2015.
Cecily Brown lives and works in New York.
References:
Cohen D. Cecily Brown at Gagosian and Marc Quinn at Mary Boone, artcritical [September 5,2016]
Roux C. The One That Got Away, British Vogue [May 2016]
Wullschlanger J. Lunch with the FT: Cecily Brown, The Financial Times [June 10, 2016]
Peck D. Cecily Brown, AnOther [September 5,2016]
Lewis P. Cecily Brown: I take things too far when painting, The Guardian [September 5,2016]
King E. Larger Than Life, Porter Magazine [Summer 2016]
Smith R. ART IN REVIEW; Cecily Brown, The New York Times [September 5,2016]
Featured image: Cecily Brown – portrait – image courtesy of The Artist Project/Met Museum
All other images courtesy of Gagosian Gallery