Nothing is forever. Nature is reminding us of that fact over and over, with ending of each season and birth of the next, through the endless cycle of life. Right there, within nature itself is the source of inspiration for Cezary Stulgis, artist born in Poland and currently living in Australia. His interdisciplinary approach has made him recognizable and famous, be it the raw expression in the streets, his talent in sculpture-making or the ability to shift to the subtlety of classical techniques when it comes to painting. It doesn't matter if it's a large-scale project or work in a studio, Stulgis can express himself without any kind of problems.
The artist finds inspiration within nature itself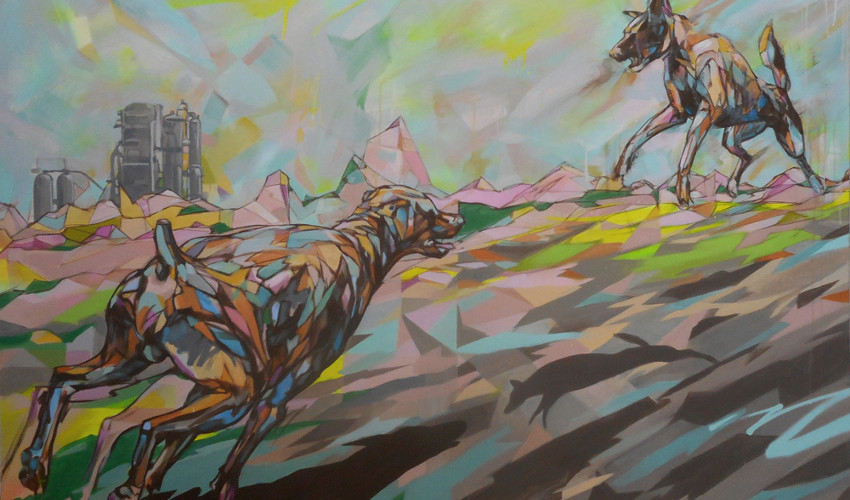 Visual Art - Painter, Sculptor and Street Artist
The artist describes his field as a visual art, working mostly as a painter and a sculptor, but also not forgetting some primal urges which compel him to go out in the streets and let his raw talent do the most of the work. In sculpture, he prefers clay but enjoys welding steel and using wood as well, while in painting he uses acrylics and spray paint. His pieces usually feature animals, most often dogs, imagined as impossible recombinations or in mythological x-ray form. The main reason dogs are overwhelmingly present in Cezary's work is they are a metaphor for pack mentality and human behavior. Going further, the artist seeks human attributes in other animals as well, like pigs, monkeys, wolfs and bears.
Dogs are a metaphor for pack mentality and human behavior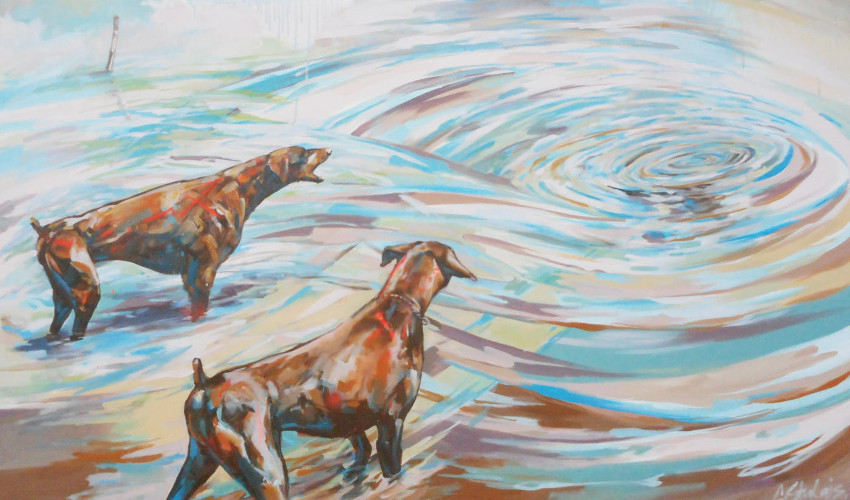 Talent Meets Education
Poland and Australia have a special place in the life of the artist, as he studied in both countries. He earned Bachelor of Visual Arts from the Queensland University of Technology in Brisbane in 1995 and Masters with Distinction from the Jan Matejko Academy of Fine Arts, Faculty of Sculpture, Krakow, Poland in 2000. Stulgis also completed several courses, including the Certificate of Art and Design in 1992, TAE Certificate 4 in Training and Assesment in 2012 and Certificate 3 in Engineering Fabrication Trade. The formal education was added to his talent, and it allowed him to become an unstoppable force of creation, with a never-ending source of inspiration.
Poland and Australia are special places for the artist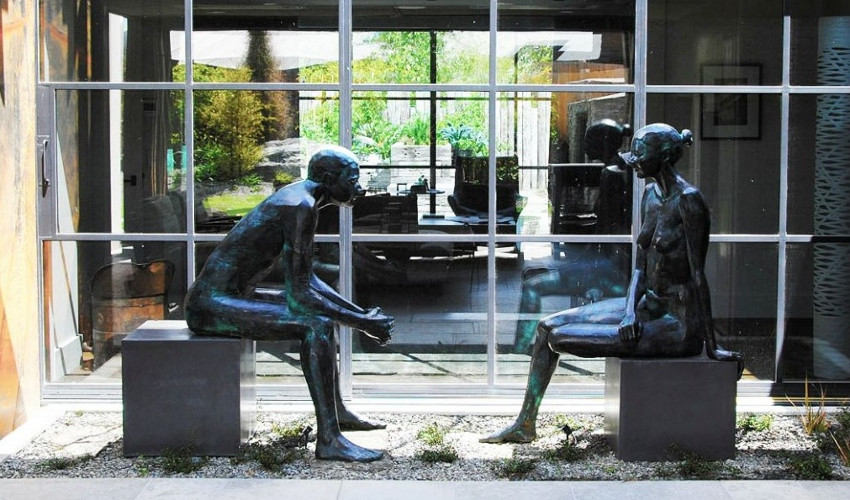 K9 Symbolism
The artist's last solo show was in 2011, titled K9 Prototypes. It can be interpreted as an homage to a history that connects dogs and humans. They have been our close companions, they are our 'best friends' and are allowed into our personal space more than any other animal. Perhaps that is the reason dogs are anthropomorphized and raised to a level where they understand us, our needs, why they are guardians, trackers, workers, guides. Their obedience and loyalty are unquestionable.
Stulgis manages to capture both the primal and machinic qualities, and the power of his sculptures lies in the tension between these opposites. Frameworks made of steel, wired forms and a style of construction similar to assemblage give the impression of factory products, but they are real dogs in the core, expressed through the charred and burnt wood, the steel welds, the raw and unrefined nature of the forms and the mess of paint and plaster.
The power of sculptures lies in the conflict between primal and machinic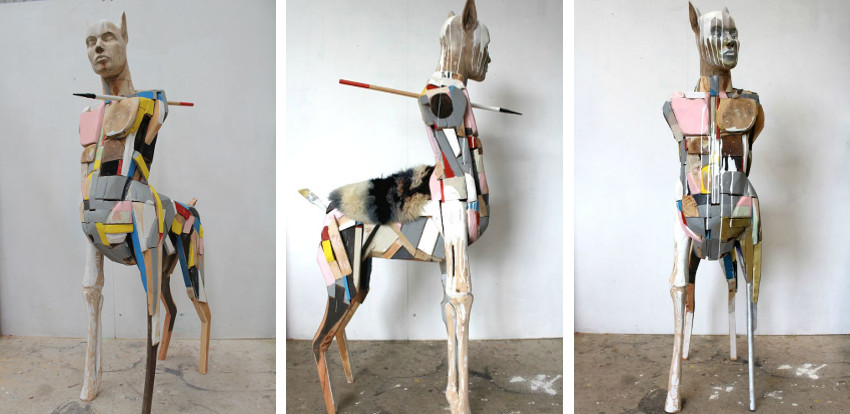 The Creatures We Will Become
Cezary Stulgis knows well the artistic path he's on. His ability to shuffle different techniques and styles is amazing and his works carry a message. The connection to dogs is everything but accidental. Through it, the artist is developing a new way of portraying animals, giving us a hint to explore that pack mentality we possess and forge strong social alliances. Then we will understand his pieces as a work of an artist. These artworks may just be an introduction into the creatures we will become some day.
He is represented by 19 Karen Contemporary Artspace in Gold Coast, Australia.
Cezary Stulgis lives and works in Brisbane.
Images, including featured – copyright © Cezary Stulgis and 19 Karen.