Chanoir is a moniker for Columbian-born artist Alberto Vejarano, working both in streets and in studio. He is best known for his easily recognized, eponymous cat character – Cha. Chanoir was born in Bogota, Columbia in 1976, and raised in France, where he graduated from the Fine Art of Paris at Jean-Michel Aberola studio in 2002. Paris was the place where Chanoir began his graffiti art.
Chanoir on the Streets
Chanoir became known for his graffiti and especially for the iconic cat that in the mid-90s began to flood walls in different cities in Europe and Latin America.
Considering that his dad is an artist, Chanoir has been surrounded by art world since his early years. When he was 20, in 1996, he took a spray can and created his first cat on the street. Raised in the 19 arrondissement of Paris, he started doing graffiti when this way of expression almost disappeared in his neighborhood. For a while Chanoir was the only street logo in his area. Educated at the prestigious Paris' Ecole des Beaux Arts, he already had education, knowledge in the history of art, but that wasn't enough thrill for him. The world of street art attracted him - magical interaction that happens between the passers-by and the work presented on the walls of their town. Chanoir sees the beauty in painting in the streets in that that anybody can create work there, without knowledge, just by instinct, from how they feel using a spray, how they feel about the street and about people.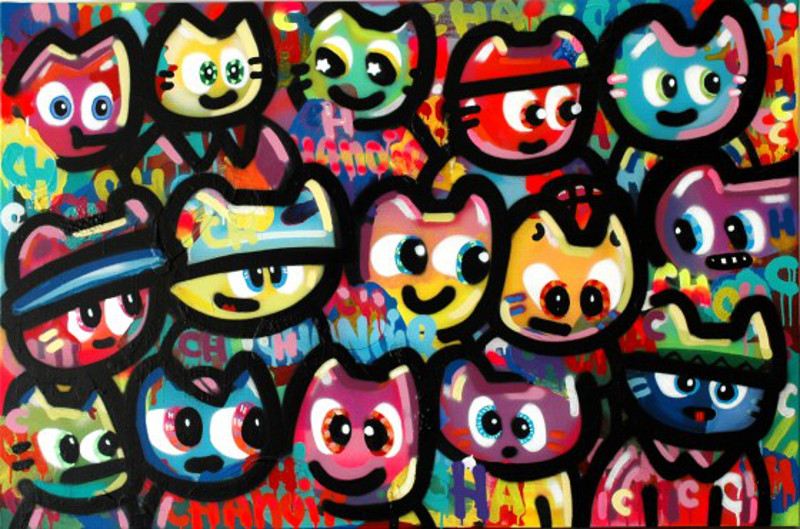 Chanoir's Colorful Cats
For Chanoir, the artist must remain in place and keep its original purpose without mixing politics. Without media influences or references, he manages for his paintings to cause strong emotions among viewers. Chanoir describes his works as subtle blends of colors to appeal to the good mood - the viewer is immersed in a world strangely happy, serene and comforting, which often leads to the feeling of clean carefree childhood.
Using his distinctive cat characters, he guides the various famous cartoons of a globalized culture, such as Mickey Mouse, Winnie, and Superman, and reinvents them through systematic metamorphosis of his own logo. His body of work feeds on his childhood memories and experiences, inspired by many different 1980's cartoons he grew up with.
No Hard Feelings
No hard feelings, the first solo exhibition in Miami by Chanoir, held in 2013, questions the basis of unnecessary suffering and tyranny of power undisturbed. The content for this exhibition is based on our experience as human beings, our fears, and emotions and how consciousness and society interferes and manipulates our reality.
In Chanoir's works shown at the No Hard Feelings exhibition, the chains symbolize powerlessness and stuffed animals symbolize the carnal and mortal condition of man. The use of these popular characters allows the viewer to feel identified with the subject. By torturing these inanimate beings there comes an inquiry on human instinct and why they feel satisfaction when others are tortured, killed and humiliated.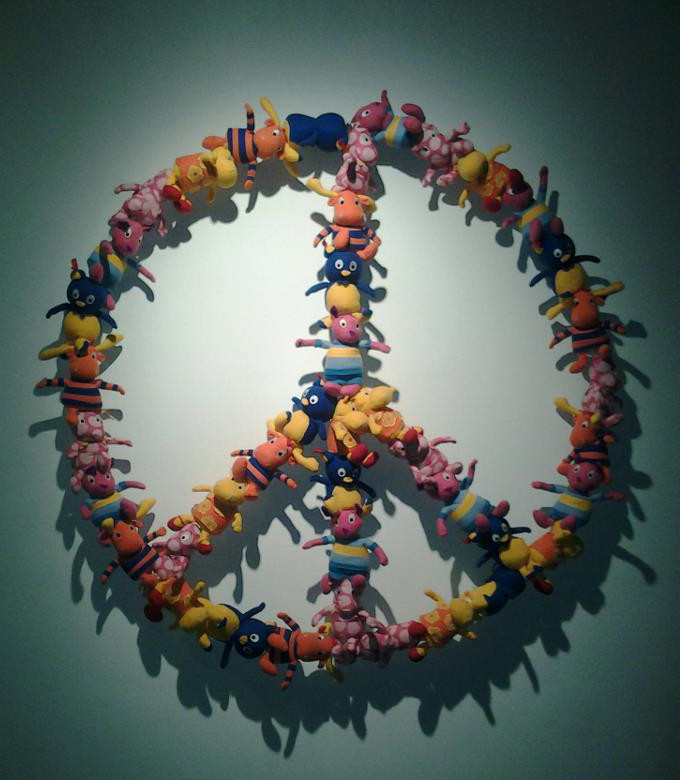 The 1980 Crew
Chanoir is also one of the members of 1980 Crew. The 1980 Crew are based in Barcelona, one of the big capitals of street art and graffiti. Its members are RODRIGONE, MISTER, MALICIA, FLAN, KOAR, CHANOIR, TROTTER, and IBON – all of them belong to a generation who grew up watching television, and are inspired by the cartoons of the 1980s. Their artworks are full of color and imagination. They love to experiment with big murals in public places, mixing their own special sign language with comic-inspired characters.
As a member of the 1980 collective, Chanoir designed a Halloween mural for Disney along the Champs Elysées Avenue.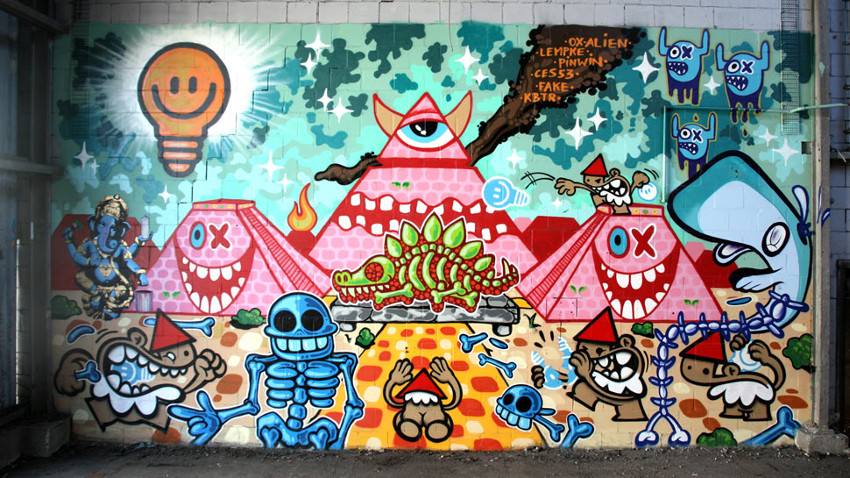 Murs Libres: the Street Art Documentary
Over time, his cats began to take on their own personalities and went on from the Parisian streets to become famous on the Barcelona graffiti scene. When Chanoir became extremely active within the Barca street art arena, an Erasmus grant enabled him to explore the street art culture through a documentary, titled Murs Libres. Realized and produced by Chanoir himself, the Murs Libres movie (Free Walls in translation) speaks about the golden years of Barcelona graffiti.

Chanoir was commissioned by prestigious brands like Disney, Cacharel, and Samsung. His work has been shown in Paris, Barcelona, Bogota, Miami, San Juan, and Beijing.
Chanoir is currently living between Paris and Barcelona.