There are times in people's lives when we feel lonely or isolated. Although these feelings sometimes are normal, if a pattern of isolation continues over time, or turn into depression, it can be something difficult to deal with and to overcome. Increasingly fascinated by these conditions, Charlotte Colbert, an acclaimed British photographer, has created an immersive series of work entitled A Day at Home (2013), particularly focusing on the housewives and the writers who spend plenty of time at their homes. Her oeuvre is a study of madness and the fragility of existence, actuality, and closeness.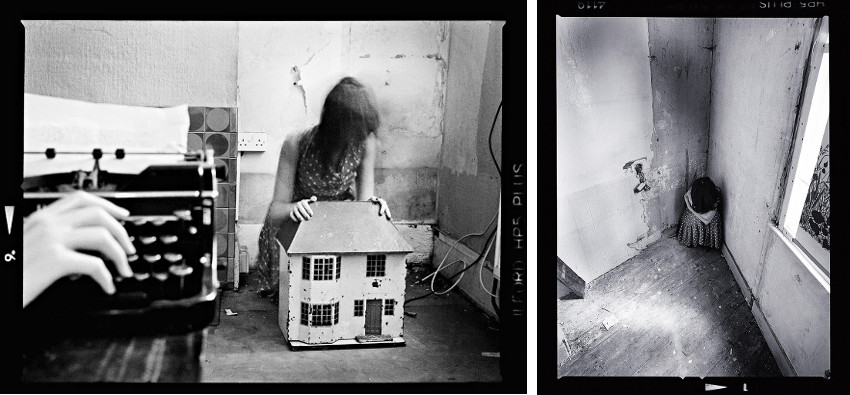 Photographs of Loneliness and Isolation
Described by Laura Bailey in Vogue, a prestigious fashion and lifestyle magazine, as "A truly original visual storyteller," Charlotte creates an imaginary world where the figure of the fictional writer and the housewife manage to live. The artist explores the mundane lunacy of being a woman trapped in her domestic home. Colbert's subjects live within their four walls, so thus, live inside their own heads. The photos from the breathtaking series depict the ominous and distorted story of A Day at Home. All the images were taken in a derelict residence in Bethnal Green, the east London. The ruined walls and the architecture that reminds of a labyrinth or asylum took a character of its own, molding a psychological scenery that captures the surrealism of daily life and evokes the feelings of confusion, loss, and fear. The use of medium format film, and displaying the images within an oppressive negative frame, further expanded the sense of imprisonment.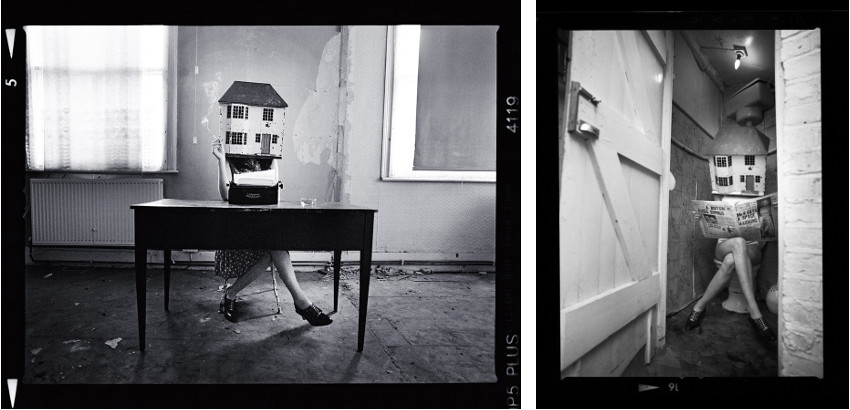 The Homage to Stanley Kubrick
Colbert's work has often been compared to Surrealists Salvador Dali and Andre Breton. Drawing from her experience as a screenwriter, the artist's photographic oeuvre mirrors her writing through strong storytelling elements. Using black-and-white film, she creates evocative, fragmentary narrative photographic oeuvre. In one of her recent bodies of work entitled In and Out of Space, the artist rendered homage to Stanley Kubrick to commemorate the fifteenth anniversary of his death. Referencing the iconic imagery of 2001: A Space Odyssey, her images depict an astronaut visiting the past, in this case, the abandoned spaces of the vestige of our history, the infamous In & Out Club on Piccadilly in London.
Colbert's rendered homage to Stanley Kubrick through In and Out of Space series
Charlotte Colbert: A Multitalented Visual Artist
Outside of her photography, Colbert is also a talented screenwriter who earned an MA from the London Film School. She co-wrote feature film Leave to Remain that was premiered in 2013 at the BFI Film Festival, and won Best Youth Film at Buff Film festival, and best debut feature at Zlin Film Festival. She also wrote and directed a short movie The Girl With Liquid Eyes in 2009, as well as a short sequel film, The Man With The Stolen Heart, two years later. Her work has been on view across the globe including such art fairs as 2014 Istanbul Art Fair and Art Basel Hong Kong. In England's capital, where she lives with her equally talented husband, a fashion designer Philip Colbert, she continues to develop her signature work. She creates photographs that take the viewer in a parallel universe where the difference between reality and fiction is blurred.
Charlotte Colbert is represented by Gazelli Art House.
All images copyright © the artist