Beginning as a painter, Chintan Upadhyay is an Indian contemporary artist who has moved on to installation work and making sculptures. In a certain amount, he has remained faithful to his first love, as the pieces he makes are painted by the artist himself. Known for his provocative artwork, Upadhyay never fit into the expectations of his surroundings, choosing instead to create a world of his own. Among his artistic endeavors, he is also the man behind Sandarbh, a nonprofit organization dedicated to promoting the arts and raising awareness about contemporary art in rural areas of India. Consisting of residencies, workshops, and various programs, it represents a radical experiment that brings together artists from India, but also from all over the world, to the artist hometown, Partapur in Rajasthan.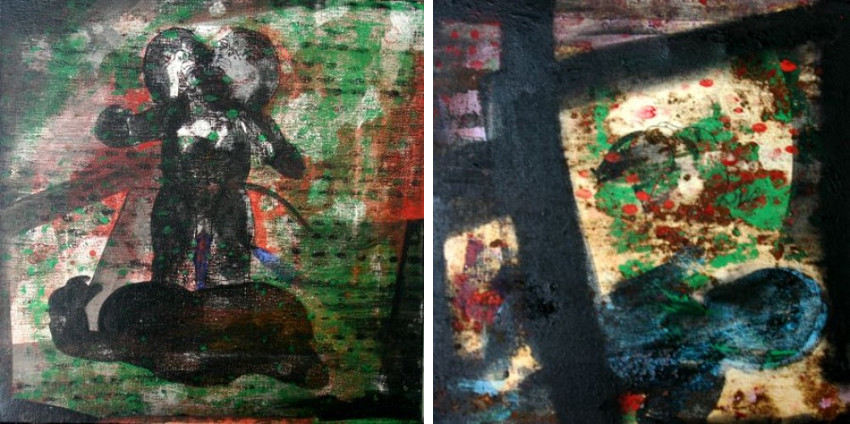 Chintan Upadhyay – a provocative Artist
In 2015 and 2016, he created a series of sketches which he fondly calls Gandi Baat. Works from the series frame men, women, and children in caricatures as they bring up subjects of sexuality, the aggressive male gaze, and among other, moral policing. Gandi Baat is a direct reference to the abusive language and gestures that pervaded the public space, be it the street, social networking sites, or films. As he states: "Abusive language has become the new aesthetic. Gandi Baat has entered the public domain, but it is no longer taboo. It's become cool."[1] Designed to provoke, these sketches employ acerbic, unrestrained language, often left incomplete for the viewers to form their own interpretations. They evoke visuals that are designed to either make you uncomfortable or smirk with familiarity. Whether his viewers feel comfortable is of no concern to the artist, as he addresses some complex issues in the society and he likes to bring out those things. A shift in focus from painting to sculpture occurred in 2006, when Upadhyay, in a solo show titled The Mutants, showed many enamel-painted fiberglass sculptures. Smaller than life-size, the Mutants represent the artist's intention to depict that scientific experiments in the areas of cloning and genetics might lead to disastrous results in the future. His arguably most popular creations are created in an ongoing series Pet Shop project, where he makes a "model baby" for every season, Baby fetish.
In Mumbai, on December 22, 2015, Chintan Upadhyay was arrested in connection with the murder of his wife Hema and her lawyer Haresh Bhambhani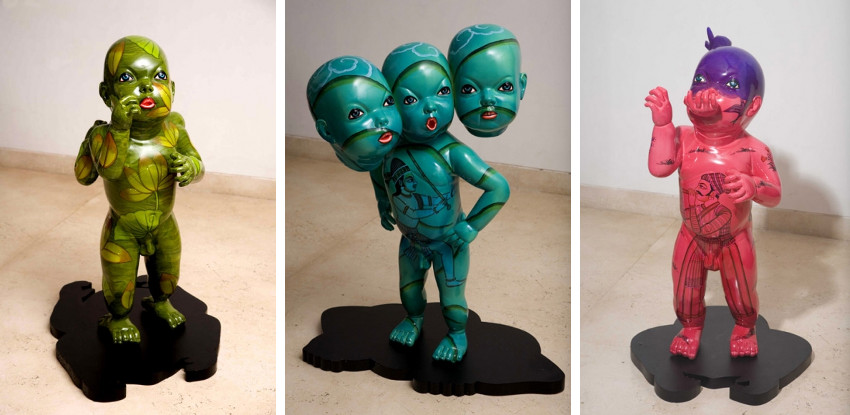 Biography
Born in Partapur, Rajasthan, Upadhyay traversed four major cities — Jaipur, Baroda, Mumbai and Delhi, and now draws inspiration and influences from each of them. His first influence, however, was his father – an abstract artist constantly at odds with both the traditional arts and artists from the state of Rajasthan. This contradiction proved immensely significant for his son, who dropped out of a BS course and instead helped his father's Jaipur studio, before moving to Baroda to pursue art. There he studied at the Maharaja Sayajirao University of Baroda, earning a Bachelor of Fine Arts in Painting in 1995, and Masters of Fine Arts in Painting, two years later. Upadhyay married Hema Hirani, a fellow artist of wide renown. After the bodies of Hema Upadhyay and her lawyer Haresh Bhambhani were discovered in a nullah at Kandivali West on December 11, The Times of India reported on On December 22, 2015, that Mumbai police had arrested Upadhyay in connection with the double murder[2].
He is represented by Kunzt Gallery.
Chintan Upadhyay lives and works in Mumbai.
References:
Pundir P. I'm a provocative artist: Artist Chintan Upadhyay builds a narrative around sexuality, the male gaze and gandi baat, The Indian Express [October 4,2016]
Natu N. Hema Upadhyay's estranged husband Chintan Upadhyay arrested over murder of wife, lawyer, The Times of India [October 4,2016]
Featured image: Chintan Upadhyay – artist, photo credits – New Indian Express