London-based Irish contemporary artist Chloe Early merges abstraction and figuration in her oil paintings on linen and aluminum creating stunning compositions, while pushing beyond the perceived limitations of her medium. The figures in her pieces - seemingly suspended between a rise and a fall - reflect the artist's fascination with acrobats and aerial performers, projecting both redemption and hope. Supple and aestheticized on the surface, Early's paintings convey a strong and uncompromising message, investigating the sensitive and intimate sides of human beings. Her art is an outstanding mixture of the old masters' painterly traits, romanticism, and contemporary representation.
Colorful Contradictions by Early
Chloe Early's well composed, beautifully chaotic oil paintings depict figures that exist in suspension along with intense colors portraying emotional states that range from euphoria to fear. Her subjects float seemingly effortlessly in a scene free of space and time striving for a heightened purpose and state of enlightenment and happiness. Fascinated with the opposition of darkness and light, beauty and destruction, love and hate, peacefulness and violence, she has created her own abstract urban universe occupied by figures which have an air of oblivion, they are lost in a fantasy world full of balloons, planes, birds, flowers, and carnival rides, but also bombs, bullets, and urban development.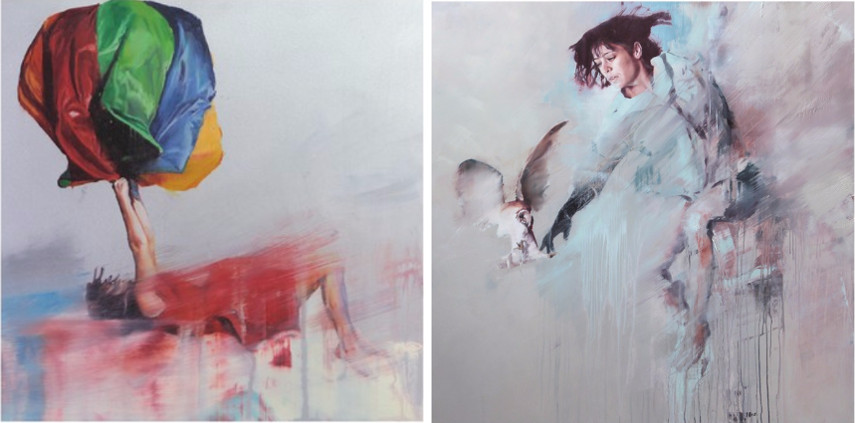 Dreamlike Paintings by Chloe Early
Since the mid-2000, Chloe Early has created a remarkable body of work that includes such series as Feathers and Wax, created through the careful mixing of euphoric colors and graceful subjects, and Rainbow Ruins which tells a story of nature fighting back against human expansion. Using a pastel color palette with neon accents, the artist added a sense of lightness to Rainbow Ruins paintings. In one of her latest series of work, she captured the drama and emotion of Renaissance and early Baroque artwork by depicting a single figure in a state of weightlessness. The stunning series of oil paintings entitled Suspension was presented at The Outsiders' gallery, London in April 2014. For this show, Chloe Early and filmmaker Andrew Telling have made a collaborative video, also called Suspended, as a sort of extension of the work in the show.
Revival of Representational Painting
Born in 1980 in Cork, a city in Ireland, Chloe Early graduated in printed textiles from the National College of Art and Design, Dublin in 2003. Her large and powerful work has been included in individual and collective shows in England and Ireland, but also beyond the UK in New York, Miami, and Los Angeles. Often described as "a leading figure in the revival of representational painting", Early's paintings are characterized by bright, captivating colors and the smooth, glimmering surface of the aluminum panels used instead of canvas. Amongst her clients are many notable people, including a singer Alicia Keys, who was so impressed by one of her pieces, she wrote the song Zebras and Airplanes.
The artist is represented by Corey Helford Gallery in Culver City and Hang-Up Gallery in London.
Chloe Early lives and works in London.
All images courtesy of the artist and Lazardies