Chloe Trujillo is an LA-based visual artist, designer, and musician who creates works infused with an uncanny spirituality and joy. Her refreshing and sincere body of work presents a unique combination of eclectic motif from ancient Aztec designs, skulls, eyes to flowers, birds, and pop culture icons like Uncle Sam. The artist has embellished various canvases and everyday objects with her complex colorful motifs and we can see Chloe Trujillo's intense, vigorous artworks on canvases, accessories, skateboards, and guitars.
Early Life and Inspiration
Chloe Trujillo grew up in Paris surrounded by art. Her parents were fashion designers and her grandparents classical musicians, so the artist enjoyed a childhood full of music, art, and design. But interestingly when it came to education art wasn't the first choice for the talented artist. She was attracted to science and studied matter structure and quantum mechanics but was eventually drawn back to art. Her colorful spiritual artworks are inspired by an array of human experiences colors, vibrations, and life. The artist creates her works by tapping into the very essence of creativity and by letting the words, images, and text flow trough her before their spill over the canvases. Her body of work has been exhibited worldwide in numerous group and solo exhibitions in Paris, Los Angeles, and San Francisco.
Chloe Trujillo creates her works by tapping into the very essence of creativity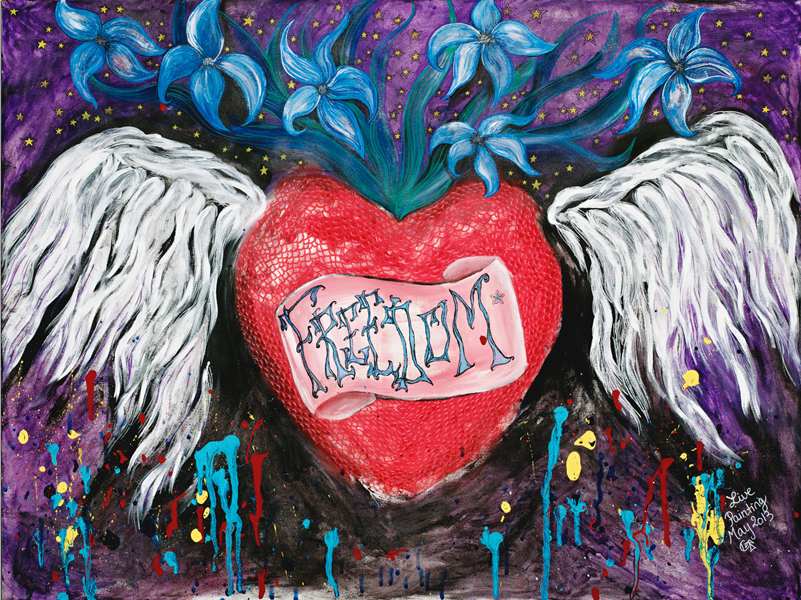 Silk scarves Art Fans Care About
Her long hair has over time become the artist's trademark and has inspired the line of custom made accessories - silk scarves. Just lie her canvas works, the scarves are created by taking the artist's most conspicuous motifs like skulls, flowers, and birds and transporting them on high quality Italian silk. Following an outstanding reception from the fashion world Chloe Trujillo created her own brand of accessories accompanied by bags, clutches, and bikinis. The artist also collaborated with the famous brands Vans and DC Shoes to create custom made snickers. Her fashion items represent the expansion of her artwork to a new media while simultaneously keeping the same joyfulness and sincerity as her fine artworks. Chloe Trujillo's imagery can be viewed on skateboards as well and guitars that she often embellishes for her husband famous bass guitar player from the celebrated band Metallica Robert Trujillo.
The artist's fashion designs represent the expansion of her work to a new media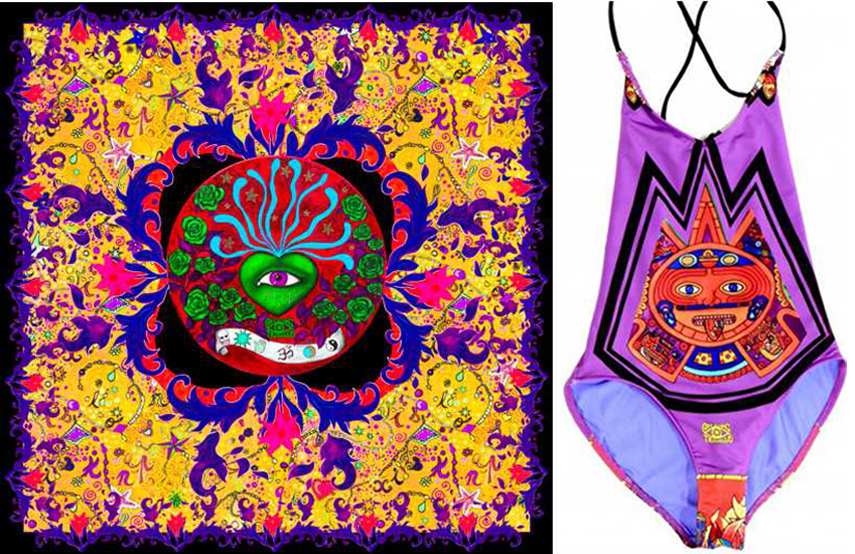 Chloe Trujillo's First Music Album
Apart from being a visual artist and a fashion designer, Chloe Trujillo is also a musician. Her love for music goes back to her childhood and she spent years performing in bands, cabaret, rock operas and off-Broadway. Her music is infused with a variety of influences including the mix of metal, gypsy music, rap, and blues tunes. She collaborated with a variety of performers and composers, and she is currently working on her first solo album.
The artist is represented by Imitate Modern gallery
Chloe Trujillo lives and works in Los Angeles
Featured image : Chloe Trujillo - Portrait
Images courtesy of the artist and Imitate Modern