Time affects all. Second after second, minute after minute, year after year. Everything changes and that change is often too subtle to be even noticed. Christian Benoist likes to observe the time as it turns imperceptibly the world around him. There is a beauty in this mutation, as both the natural and artificial places fascinate the artist. He paints long forgotten worlds gnawed by time, inspired by the real locations that have affected him. In a way, it's a story of bygone eras, long lost memories of childhood, or even our most intimate fantasies. The pieces offer the opportunity for the viewers to dive in and became sole inhabitants of decay plagued realities.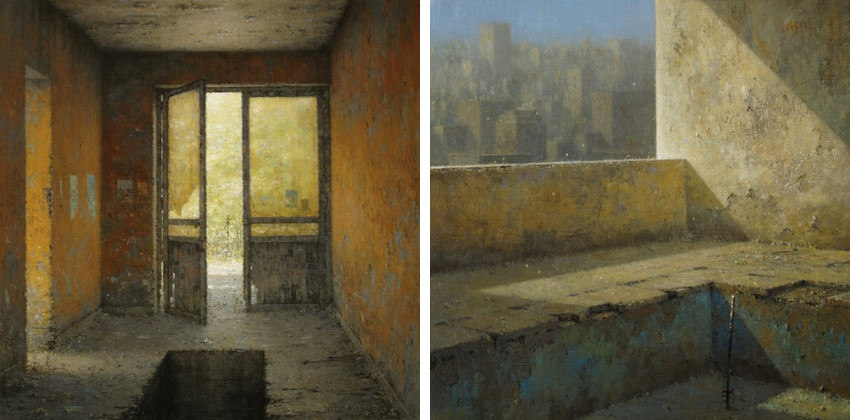 The Obsession
Benoist's work is influenced by the Impressionists and their striking restitution of light, so vibrant and palpable; the Symbolists and their understanding of aesthetic, and of course the Surrealists, who so often insist on exploring the mysteries of the unconscious. The majority of the pieces are interiors, but there are also some exteriors. What is mutual for all the painted places is that they are based on the real locations that have left some impression on the artist. The artist wants them realistic and luminous, as they simply appear in his mind without any previous thought process and just stay with him until he paints them. This approach has allowed Benoist to further push his explorations of the object of his obsession.
All the painted places are based on real locations that have left some impression on the artist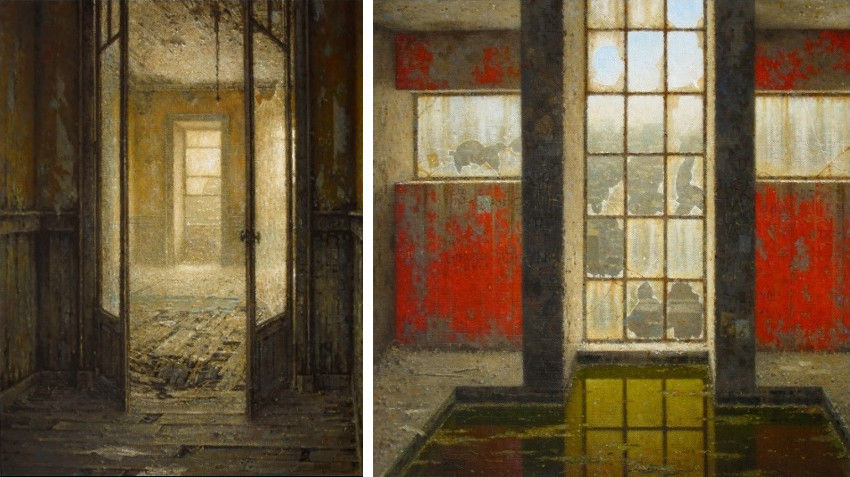 Between Presence and Absence
He was born in Besançon, and after studying interior architecture, he moved on to study visual expression at the School of Applied Arts Duperré. Benoist worked as an illustrator and graphic designer in a design advertising office for several years, before quitting his job and devoting himself to painting in the mid 90's. He gained success through his art and that allowed him to continue the formal research on an oscillating universe between presence and absence. His paintings are devoid of human presence, but at the same time, very inviting as the viewers gain entry into his forgotten worlds.
The paintings are devoid of human presence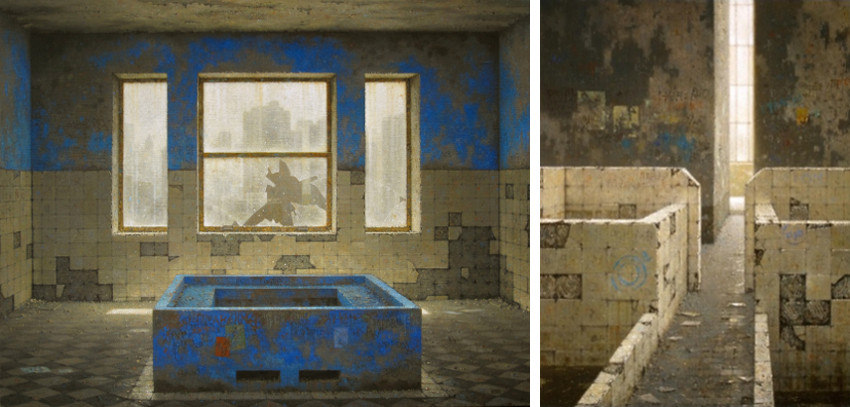 The Silent Dream
Benoist's work tell us sensations and evoke intimate fantasies as the viewers are welcomed into his decay-plagued universes, created from personal memories of places significant to the artist. The light is almost tangible and it plays with our unconscious thoughts, making us consider some other worlds, distant and forgotten, but also about the times that have ended a long ago. The pieces are silent like they are a part of some dream where even the intrusive vegetation testifies to the persistence of the living.
He is represented by Green Flowers Art Gallery in Boulogne-Billancourt.
Christian Benoist lives and works in Paris.
Featured image: Christian Benoist - La Terrasse aux Camélias (detail)
All images © Christian Benoist