There is undoubtedly a large number of emerging talents in the contemporary art scene. However, only a handful will achieve a seminal success. Hidden behind the reckless attitude and cool looks[1], Christian Rosa, a Brazil-born and Vienna-raised artist has already reached that status. And he's still in his early 30's! His abstract paintings have an improvisational feel that uplifts all the right cadences and rhythms throughout the canvas. Also, Rosa's works, classified by market experts in the subject as "easily digestible abstraction", fit perfectly into the portfolio of the bling-bling art metropolis on the American west coast.[2]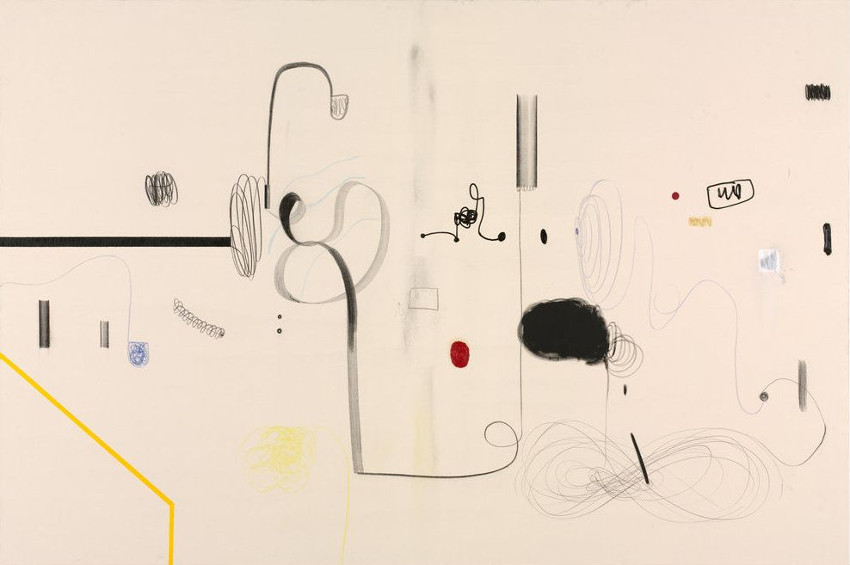 Work Mistakes of Christian Rosa
Rosa was born in Rio de Janeiro. Because his parents thought that Brazil was simply too dangerous at the time, they moved to Austria, so the artist he was actually raised and educated in Vienna, and later on moved to Los Angeles. He studied under the watchful eye of Daniel Richter at the Academy of Fine Arts where he graduated in 2012. Rosa, along with some other people of his generation, pushes the understanding of abstraction, showing that there are no limits in that world. His reductivist approach to painting (by limiting his gestures to individual physical actions that intertwine with each other across the canvas) lines this artist up with such names as Joan Miró, Julian Schnabel, Joe Bradley and Oscar Murillo. Rosa paints and draws across the surface of unprimed canvases in oil, oil stick, charcoal, and pencil. He sees his work as a discovery process in which he deconstructs the surface of the painting.
Mistakes, displaced, re-appropriated and reconfigured, are there with a purpose to explore the archaeology of painting and the notion of failure as a guiding conceptual model. His paintings are guided by chance and an instinctive trust of the energy; this helps the artist in building up a tension in his works through a style of personal and spontaneous mark making. While some may see a similarity to artists like Cy Twombly, or Jean-Michel Basquiat, Rosa's aesthetic is entirely his own.[3] Its anthropomorphic style of lyrical abstraction, like the elements of faces, animals, and movement are reduced to only a few brushstrokes like an extended meditative calligraphic scrawling.
He uses carefully selected tools such as pencils, oil sticks, oil and charcoal, and use them to create masterpieces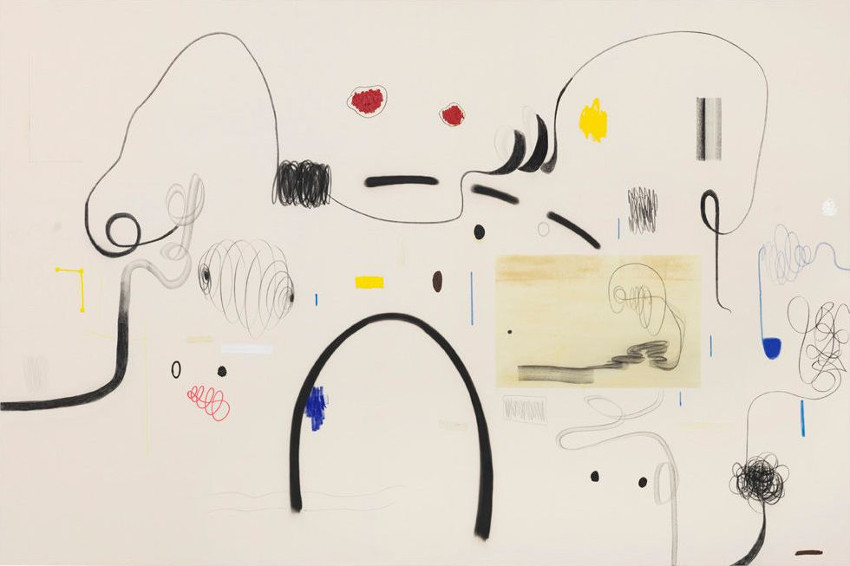 Exhibitions and Projects
Rosa moved to LA attempting to expand his portfolio. He succeeded big time! His punkish, spontaneous universe was very well accepted by Leonardo DiCaprio, Courtney Love[4], and other members of the "VIP", but also by regular people, as well as by galleries such as Fondazione Sandretto Re Rebaudengo. Even though Ibid gallery has had a strong presence in London ever since 2002, their Los Angeles space opened only in fall of 2013.[5] It was Rosa who was in charge to inaugurate this new space. He did it with a show of ten large-scale paintings. This was, at the same time, Rosa's first solo show in Los Angeles. Titled The shits and the seven dwarfs, the exhibition also showed a feature length video by Colin Snapp, a documentary filmmaker and artist, alongside a series of 35mm prints that act as an index of the American tour bus industry.
Even though Rosa grew up in Europe, in 2014, his interesting background made him an ambassador in a group exhibition at Saatchi Gallery titled Pangaea: New Art from Africa and Latin America. Pangaea was the prehistoric landmass that conjoined Africa and Latin America – and this show reunited the two former sister continents by bringing together the work of 16 of their contemporary artists. All of them intended to respond to present day complexities such as years of colonial rule, rapid urban expansion, migration and political and economic unrest. Initially inspired by Wassily Kandinsky's color philosophy, with some borrowing from the Surrealist technique of automatic drawing, Rosa's interest for this Pangaea project was for his skill to combine these influences with those from the Pangaea cultures. He is one of the many artists whose reflections on the richness of these cultures and environment are translated into an intense visual experience. In 2014, one of his first major solo shows was held at Contemporary Fine Arts in Berlin, during Berlin Gallery Weekend. On this occasion, Rosa quickly sold all 11 paintings, ranged in price from $26,500 to $58,600! All artworks involved oil, charcoal, pencil, resin, and oil stick. However, the forms created with these tools did not reveal any brushwork, remaining autonomous in their discrete areas of the canvas.
In 2015, Rosa was the executive producer for A Wonderful Cloud, Eugene Kotlyarenko's ultra-indie film about exploring a former romance.[6] The plot is basically walk through 72 hours with Katelyn and Eugene, ex-lovers-cum-business-partners, as they navigate the future of their relationship. This only barely fictional work (Kotlyarenko and his costar were once a couple), had its world premiere on March 15 at the 2015 SXSW festival.
Rosa is already a quite successful artist with a number of exhibitions and projects behind him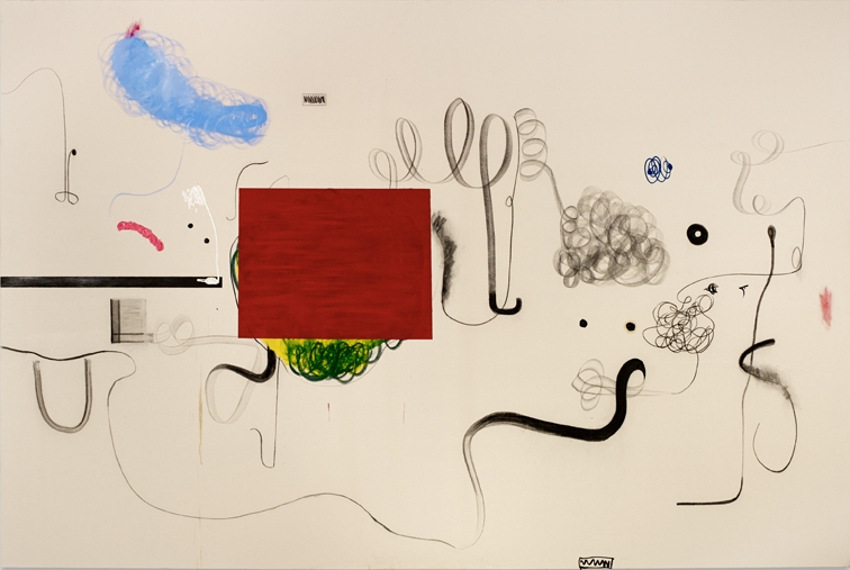 Abstract Optimism
There is a spontaneous narrative in Rosa's works, created with the help from these wildly buoyant elements painted with charcoal, resin, paint and oil stick. The pieces cause almost an empathy with all of their non-figuration, and yet all of these disparate elements come together and form vividly emotive scenes. Even as the raw elements are isolated on the canvas, as if waiting to be counted, so they merge into antic and joyful compositions that spin off into stories and even quite elaborate jokes.[7] The viewers are encouraged to see only the positive feelings in the abstractions. Completely justifiable, Rosa's style can be branded as Abstract Optimism.
He is represented by White Cube.
Christian Rosa lives and works between Vienna, Austria, and Los Angeles, USA.
Sources:
Featured image: Christian Rosa – portrait, photo credits Maxime Ballesteros, courtesy of Gallery Weekend Berlin
All other images courtesy of the artist