Christine Napanangka Michaels, an Aboriginal artist from Australia, create colorful, striking paintings from naturally extracted ochre, red, violet and coral hues. She is a part of the Aboriginal circle of artists who explore the concept of Lappi Lappi Dreaming. This concept belongs to the Aboriginal understanding of the world, called the Dreamtime, which is the symbol system and the mythology of indigenous Australians. Traditional indigenous art always contains mythological elements related to the Dreamtime, such as graphic interpretations of sacred songs, ceremonies and legends.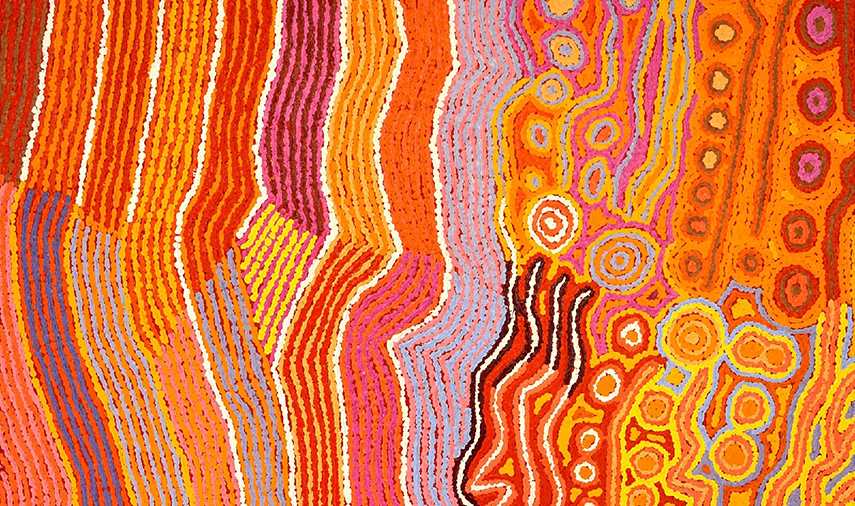 Growing Up Surrounded by Artists
Christine Napanangka Michaels was born in the early 80s in Nyirripi, which is a remote Aboriginal community. She was growing up surrounded by many skillful Warlukurlangu artists and she showed a huge enthusiasm for visual arts already as a child. Michaels attended Kormilda College, an Aboriginal boarding school in the city of Darwin and returned to Nyirripi afterwards, where she got married in 1995. Currently, she lives with her husband and four children in Yuendumu, but she often travels back to Nyriipi to visit her family. Since 2006, Michaels has been painting for Warlukurlangu Artists Aboriginal Corporation, an Aboriginal art centre in Yuendumu.
Christine Napanangka Michaels was growing up surrounded by many Warlukurlangu artists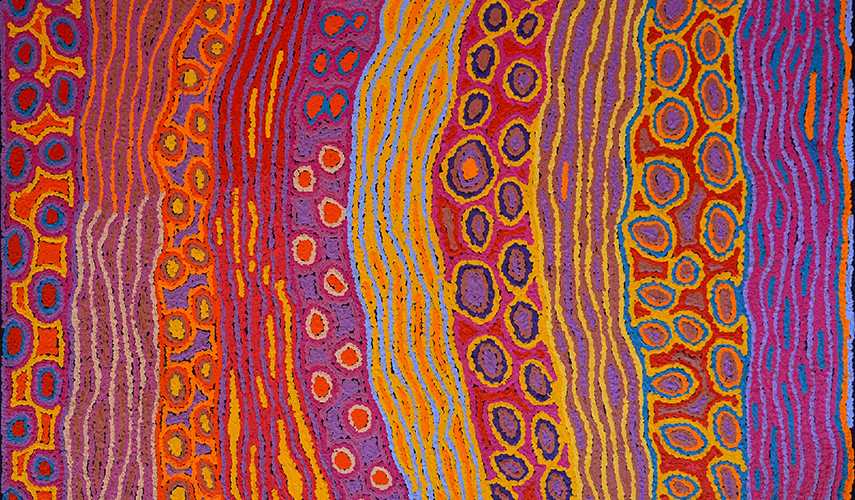 Lappi Lappi Jukkurpa Stories
Michaels's primary source of inspiration are Jukkurpa stories she heard from her family members. For example, she often depicts various motifs from Majarrdi Jukurrpa story, which is a story about a Ceremonial Dancing Skirt she heard from her aunt a long time ago. This skirt is an important element of the Warlpiri ceremony and Michaels uses bright, cheerful colors to depict this particularly joyful and positive Jukkurpa. The term Lappi Lappi, which is closely related to Michael's art, is the name of a rock hole and permanent source of water in Western Australia, considered a great natural treasure. In the time of Jukurrpa , according to the Aboriginal legends, a colorful serpent called Warnayarra made Lappi Lappi its home. One day, women and kids gathered around Lappi Lappi to sing and dance, but they accidentally made Warnayarra snake angry, so it peeked out of the hole and decided to eat them. It is interesting to note the stories behind Aboriginal painting as well as the styles of paintings are highly dependent on the geographical location of the artist.
The artist's primary source of inspiration are Jukkurpa stories she heard from her family members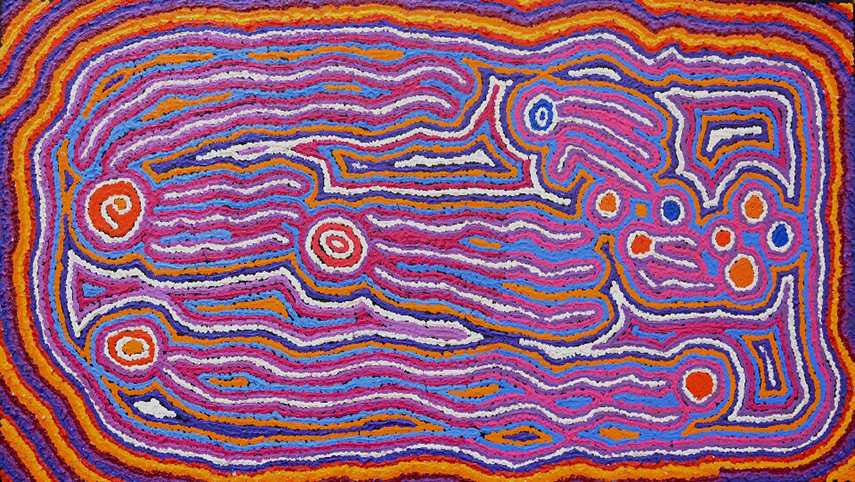 Preserving Heritage and Tradition
Christine Napanangka Michaels and her circle of artists are creating pieces which are valuable not only aesthetically, but also culturally and historically. They are also quite unique because of the geographical isolation of the Aboriginal culture and its people – even contemporary Aboriginal arts are still influenced by the traditional Dreamtime stories and mythology. Contemporary indigenous artists have won many eminent art prizes in Australia and nowadays they have successful solo and group exhibitions at both Australian and international galleries and museums.
Christine Napanangka Michaels lives and works in Yuendumu, Australia.
Featured image: Christine Napanangka Michaels - Lappi Lappi Dreaming - 234914ny (detail) - Courtesy of Flinders Lane Gallery
All other images courtesy of Kate Owen Gallery.