One of the most famous artistic duos emerging from the 20th century, Christo Vladimirov Javacheff and Jeanne-Claude Denat were a married couple who authored iconic environmental works of art. They are responsible for some of the most influential pieces of that particular artistic field, such as the wrapping of the Reichstag in Berlin, Running Fence in Sonoma and The Gates in New York City's Central Park. Despite their pieces being visually stunning due to their scale and oftentimes cloaked in controversy, Christo and Jeanne-Claude repeatedly rejected all theories that their projects contain any kind of deeper meaning other than their immediate aesthetic impact. The duo instead claimed that creating art was a process based on nothing but joy and beauty of finding new ways to present already familiar landscapes.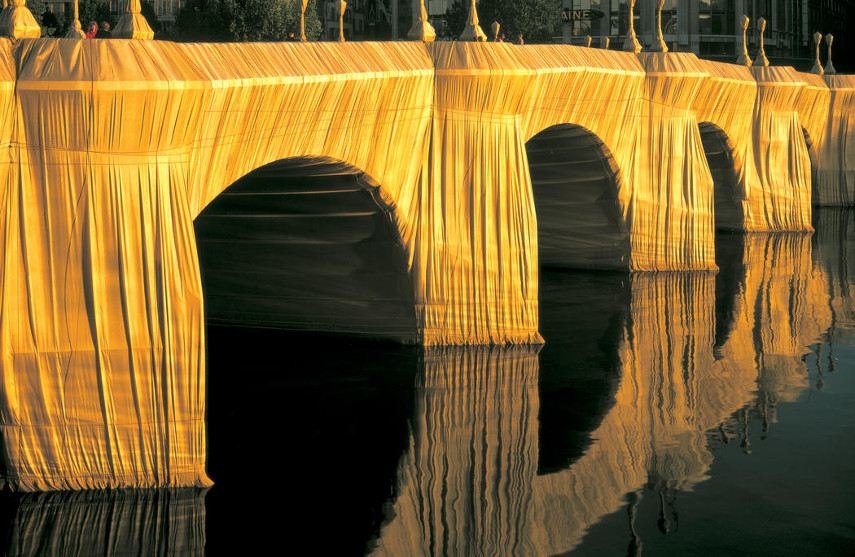 Before They Met Each Other
Christo Vladimirov Javacheff was born on the 13th of June in 1935, in the town of Gabrovo, a city in northern Bulgaria. His father was a hard worker and a businessman who ran a fabric factory whilst his mother was a secretary at the Academy of Fine Arts in Sofia. Ever since an early age, Christo was more attracted to the world in which his mother worked then his dad's factory - oftentimes, professors from the Academy would visit the Javacheff home and discuss arts with young Christo. It came as no surprise that the youngest member of the Javacheff family eventually started to attend classes at the Sofia Academy but no one expected him to display such a rebellious and unique artistic personality. After spending three years at the Academy, Christo went to Prague in 1957 - from here, he managed to get himself illegally to the West by bribing a railway official and stowing away with several other individuals on board a train transporting medicine and medical supplies into Austria. He settled in Vienna and enrolled at the Vienna Academy of Fine Arts but was yet again unable to feel satisfied with the surroundings. In the year of 1958, Christo moved to Paris, hoping that the City of Light will be ready to offer him all the artistic options Sofia, Prague and Vienna were not able to. This period of his life was marked by both financial hardship and social isolation due to not knowing the French language. Christo was earning money by painting low-cost portraits and was starting to feel that the move to Paris was a big mistake - little did he know that his world was about to take a major turn for the better as he was about to meet the love of his life.
In one of the most bizarre and romantic coincidences[1] of art history, Jeanne-Claude Denat was born on the same day and year as Christo Javacheff. She grew up in Casablanca, Morocco, where her French military father was stationed at the time. Her dad was a single parent and Jeanne-Claude's childhood was marked by loneliness as she grew up in a foreign country and had but one custodian who was often away on military duties. In 1952, she graduated from the University of Tunis, earning a degree in Latin and philosophy. Five years later, Jeanne-Claude and her father went back to France and settled in Paris. People who knew the young artist from this early period of her life described her as rather gregarious and honest, with a surprisingly strong touch of her father's military personality. She dyed her hair red, had a problem with cigarettes and worked as an overseer responsible for supervising work crews. Jeanne-Claude met Christo in October 1958 when she was commissioned to paint a portrait of her mother. Although she was engaged to Philippe Planchon, Jeanne-Claude fell in love with the young portrait artist and got pregnant by Christo. Despite that fact, she still married Planchon, but left him right after the honeymoon was finished. Her family was rather displeased with this decision, particularly because of Christo's refugee status - they've even temporarily estranged themselves from their daughter. This all changed for the better as Christo and Jeanne-Claude's son, Cyril, was born on 11th of May, 1960.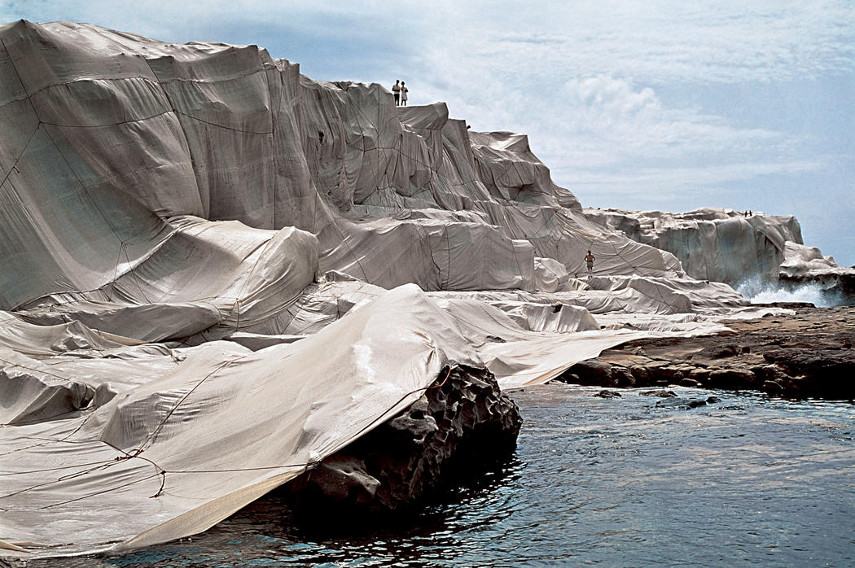 Forming an Artistic Duo
During one of her numerous interviews, Jeanne-Claude stated that she became an artist only because Christo was himself in those waters and that she would take the path of a dentist if her chosen soulmate was of that profession. In fact, it was both of them that fell in love with creating art by making it alongside each other. In 1961, Christo and Jeanne-Claude wrapped barrels at the port of Cologne and this project stands as their very first mutual collaboration[2]. A year later, the couple presented their first iconic piece, titled as Rideau de Fer (Iron Curtain). Out of protest aimed against the Berlin Wall, Christo and Jeanne-Claude blocked off Rue Visconti, a small alley near the river Seine, with oil barrels. This demonstration made the young couple famous in Parisian neo avant-garde circles. Desiring new audiences and circumstances, Christo's rebellious spirit yet again spurred him and the duo decided to relocate. They've traveled across the Atlantic in 1964 and arrived in New York City. Although poor and lacking fluency in the English language, Christo managed to include his work in several galleries, including the well-known Castelli Gallery. Soon, the duo began to create storefronts and sell them in order to finance larger artistic projects.
Throughout most of their mutual career, Christo and Jeanne-Claude's pocket was the only source of funds behind their huge-scale projects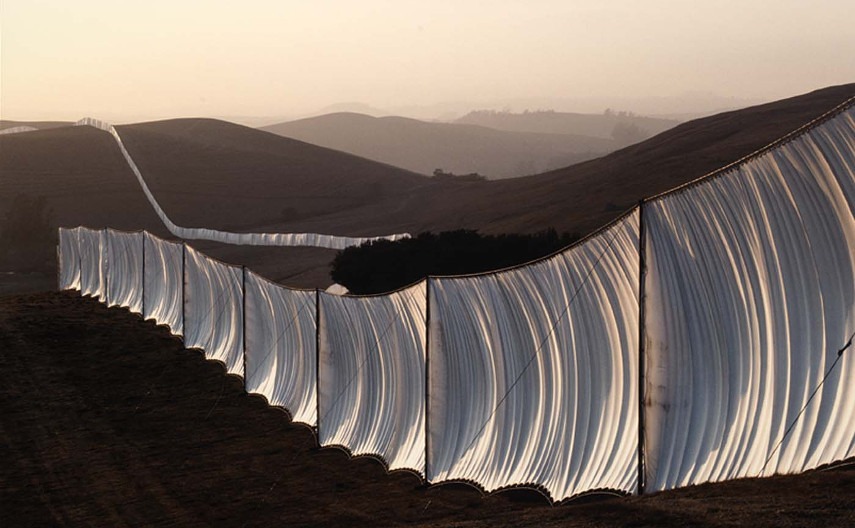 Building a Reputation
Every single project on which Christo and Jeanne-Claude worked on since 1972 has been recorded by their friend photographer Wolfgang Volz[3]. Additionally, their works have also been the center point subjects for documentary films by Albert and David Maysles. During their forming years, the duo insisted that all of their projects be credited only to Christo - this was due to the couple's prejudices against female artists in the art world. This was the cause for many problems and issues between these artists and many other individuals who wanted to promote feminism within creative circles. Standing behind their decision, Jeanne-Claude once stated the following: The decision to use only the name Christo was made deliberately when we were young because it was difficult for one artist to be established and we wanted to put all the chances on our side. Subsequently, Jeanne-Claude took on the role as Christo's manager in order to give the duo an upper hand and advance their success. The pair did not officially reveal Jeanne-Claude as the second half in the creative process until the year of 1994.
Christo and Jeanne-Claude's mature projects were greeted with much more success than their previous works. They liked to state that the goal of their art is achieving joy and beauty without inserting unnecessary political connotations - however, their work would often lead to responses associated with political and social states of our societies. Most of their projects were rooted in the 1962 project of blocking off the Rue Visconti in Paris. A year after they've successfully participated in the 1968's Documenta 4 in Kassel, Christo and Jeanne-Claude wrapped the coast of Little Bay, in Sydney, Australia, as a part of the Alcorso-Sekers Travelling Scholarship. More than one hundred laborers and 17,000 work hours were required in order to cover two and a half kilometers of coast and cliffs up to 26 meters in height with 95,600 m2 of synthetic fabric and over 56 km of rope - this was the largest single artwork ever made at this time and is a crucial piece in the history of Australia's modern art. A similar project was later performed in the Rocky Mountains near Rifle, Colorado (Valley Curtain, 1970) when a 400-meter-long cloth was stretched across a valley of Rifle Gap.
Christo and Jeanne-Claude's Golden Years
After Christo became a United States citizen in 1973, the duo launched arrangements for the Running Fence - a fabric barrier carried by steel posts and cables was to be run through the panorama and led into the sea. The fence was to be 5.5 meters high and 40 kilometers long. The project was a great success, but Christo had to pay a $60,000 fine because they did not have all the appropriate permissions. Inspired by the success of the Running Fence and spurred by the hefty sum of money fined, Christo and Jeanne-Claude started to take paid commissions. In addition, they continued to plan their future projects - like wrapping the Reichstag in Berlin and the Pont-Neuf in Paris, as well as covering footpaths in a Kansas City park (Wrapped Walk Ways). In the early 1980s, Jeanne-Claude wanted to surround eleven islands in Miami's Biscayne Bay with 603,850 m2 of pink polypropylene floating fabric. This enormous installation was completed on May 7, 1983, and was held in place for two weeks before it was taken down. As like all the other previous projects, the Surrounded Islands was completely financed by the actual artists themselves. On 3 January of 2005, work began on the installation of the couple's most protracted project - The Gates, Central Park, New York, 1979–2005. The Gates full name was intended to be a reference to the time that passed from their initial proposal until they were actualy able to go ahead with the project. A total of 7,503 gates made of saffron color fabric were placed on paths in Central Park. This project's price tag was around $21 million US dollars and it was crowned with the Doris C. Freedman Award for Public Art. Looking back at his life's work, Christo stated the following: Do you know that I don't have any works that exist? They all go away when they're finished. Only the preparatory drawings, and collages are left, giving my works an almost legendary character. I think it takes much greater courage to create things to be gone than to create things that will remain.
Fifty years of mutual artistic collaboration was crowned in 2005 with their greatest project ever - The Gates of Central Park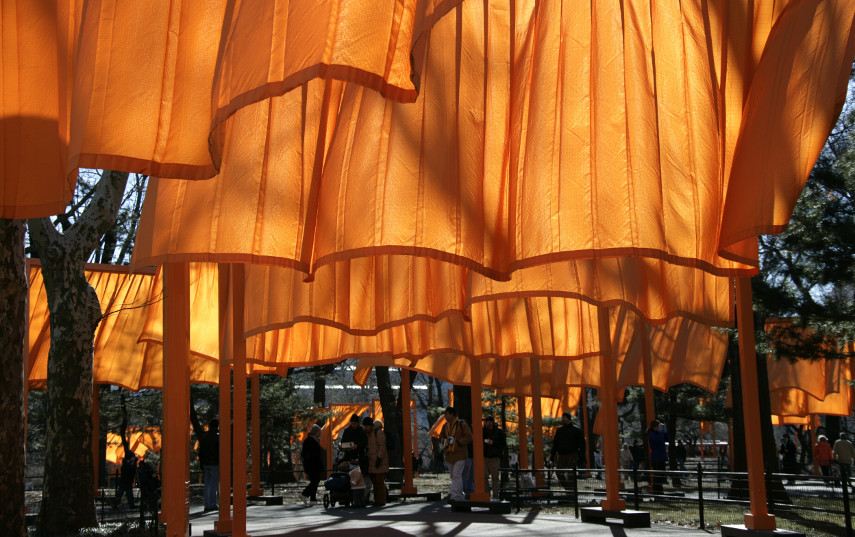 The End of the Duo
With their artistic and personal relationship lasting for over fifty years, the duo was forced to an end as Jeanne-Claude died at the age of 74[4], on November 18, 2009, as a result of complications behind a brain aneurysm. At the time of her death, she and Christo were planning a new project, titled as Over the River - they wanted to set their iconic fabric panels over the Arkansas River in Colorado. They also wanted to realize The Mastaba in which there were supposed to be 410,000 oil barrels configured as a trapezoidal prism. Although Christo never stopped being an active artist, his creative output was never the same again. Despite the rather sad ending of this incredible story that is now widely considered to be one of the most iconic tales in art history, a bright light of hope remains as the works of Jeanne-Claude Denat and Christo Vladimirov Javacheff have entered history despite their ungrateful temporary nature.
Christo died on May 31, 2020 in New York City, of natural causes. Per his wishes, the L'Arc de Triomphe, Wrapped project, delayed because of coronavirus, is still on track for September 18-October 3, 2021.
These artists are represented by Galerie Thalberg Zurich, Puccio Fine Art, Galerie Fluegel-Roncak and Gregg Shienbaum Fine Art Miami.
References:
Anonymous. Christo and Jeanne-Claude Biography, Bio [September 5, 2016]
Chernow, B., Christo and Jeanne-Claude: A Biography, St. Martin's Press, New York, 2002
Hoelterhoff, M., Jeanne-Claude -- Christo's Dynamic Muse, Bloomberg L.P., New York, 2009
Schudel, M., Jeanne-Claude and Christo, The Washington Post, Washington D.C., 2009
Featured image: Christo and Jeanne-Claude - Photo of the artists, 1988 - Image via huffingtonpost.com
All images used for illustrative purposes only.